SEC:

Tigers-Gamecocks-092212
September, 22, 2012
9/22/12
10:55
PM ET
COLUMBIA, S.C. -- Steve Spurrier knows a thing or two about playing quarterback.
He's also renowned for being hard on his quarterbacks and brutally honest when it comes to their play.
So when Spurrier says his quarterback,
Connor Shaw
, is playing with the kind of courage you simply can't teach, it's probably not a bad idea to listen to the Head Ball Coach.
Shaw, undaunted by a hairline fracture in his right throwing shoulder, was magnificent Saturday in leading No. 7-ranked South Carolina to a 31-10 battering of Missouri at Williams-Brice Stadium.
"Connor got off to a slow start. He missed his first one, I think. Nah, he was sensational," Spurrier beamed.
Shaw, who missed the East Carolina game two weeks ago and didn't finish the UAB game last week, couldn't have been much sharper in carving apart a Missouri defense that has now given up 72 points in two SEC games.
He completed a school-record 20 straight passes and finished 20-of-21 for 249 yards and two touchdowns. He also had an 80-yard touchdown run nullified by an odd clipping penalty in the first quarter.
The more he gets hit, the better he plays.
If you didn't know better, you'd think the guy was bionic.
[+] Enlarge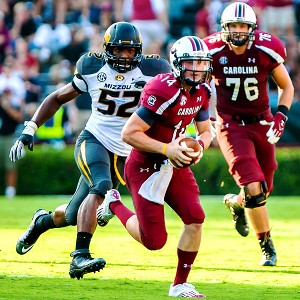 Jeff Blake/US PresswireConnor Shaw had only one incompletion against Missouri, throwing for 249 yards and two scores.
"People say he's tough, and he is," South Carolina offensive co-offensive coordinator/offensive line coach Shawn Elliott said. "But what he has is a will to win that's unlike anything I've ever seen. That's what makes him special."
Shaw, a 6-foot-1, 207-pound junior, hasn't been 100 percent since the opener when he took a knee to the shoulder against Vanderbilt. It was initially believed to be a deep bone bruise, but Shaw said X-rays later revealed a hairline fracture.
He said the pain is usually the worst at night before he goes to bed and also early in the morning. He takes his pain medication at night.
"You get to moving around in the bed and rolling on that (right) side, and you definitely feel it." Shaw said. "That's just part of it, part of this game. You're going to have some things that you have to play through. I felt better (Saturday) both mentally and physically than I have since the first game. I was ready for this game."
Indeed he was.
His toughness has been infectious on a team that was already plenty salty, especially a defense that held Missouri to 151 total yards through three quarters.
And when South Carolina's offense got rolling after the first couple of possessions, Missouri never really had a chance.
The Tigers were determined that
Marcus Lattimore
wasn't going to beat them running the ball, so they stacked the line of scrimmage and played Cover 2 in the defensive backfield to keep from getting beat deep.
Shaw threw to his tight ends, threw to Lattimore out of the backfield and hit sophomore receiver
Ace Sanders
with a 23-yard touchdown pass when he saw the Missouri cornerback come up and challenge Sanders.
"We got rolling, found a groove and stayed in it," Shaw said.
And his teammates followed his lead.
"We feed off Connor, and the thing about him is you would never even know that he had a fracture," said Sanders, whose tackle-breaking 49-yard punt return set up the Gamecocks' first touchdown.
"He just goes out and plays, and you're not going to get him off that field."
Shaw had a good feeling about this game all week. For one, he got most of the practice reps after practicing very little last week. He could also sense how disrespected his teammates felt after hearing this week that the Gamecocks were vulnerable for the upset.
"We realized that," Shaw said. "We wanted to prove what the SEC is all about."
The real proving ground for the Gamecocks is still to come. Georgia visits in a couple of weeks followed by trips to LSU and Florida.
That's one hellacious stretch, but it's a stretch that becomes a lot more manageable with Shaw playing the way he did on Saturday.
September, 22, 2012
9/22/12
8:45
PM ET
By
ESPN.com staff
| ESPN.com

Chris Low talks with South Carolina receiver Ace Sanders, who had a big punt return and also caught a 23-yard touchdown pass in the Gamecocks' 31-10 win over Missouri.
September, 22, 2012
9/22/12
7:02
PM ET
This is more the outcome SEC diehards were expecting from Missouri's first foray into the SEC. The Tigers handled themselves well in their conference debut two weeks ago in Columbia, Mo., as they fought Georgia for three quarters before falling 41-20. On Saturday in Columbia, S.C., though, the script went in favor of the SEC buzz saw.


Here's the run down from South Carolina's
31-10
pasting of the Tigers.
It was over when:
South Carolina quarterback
Connor Shaw
found wide receiver
Ace Sanders
open on a 23-yard fade route for a touchdown with 24 seconds remaining in the first half. The touchdown concluded a 21-point second quarter for the Gamecocks and gave South Carolina a 21-3 halftime lead.
Game ball goes to:
Sanders exploded in the second quarter to break open a scoreless deadlock. The junior started things off with a scintillating punt return that saw him bounce off five Missouri tacklers and one of his own blockers on a 47-yard scamper. The return set South Carolina up at the Tigers' 4-yard line, where running back
Marcus Lattimore
barreled in for the first of two touchdowns.
Sanders averaged 17.7 yards per return on six returns, and his only reception went for the touchdown that put the lead out of reach.
Game ball part II:
Shaw was flawless at the helm for South Carolina in a perfectly-designed gameplan. Shaw didn't make a single mind-blowing throw, but his patience to wait for the easy, open throw was outstanding. He completed 20-of-21 passes -- those 20 coming in a row -- for 249 yards and two touchdowns.
When the open man wasn't there, Shaw pulled the ball down and ran for 41 yards on 12 carries. It could have been much worse, but Shaw's 80-yard touchdown run in the first quarter was called back by clipping.
Key stat:
The Gamecocks' defensive front manhandled Missouri's offensive line. South Carolina limited Missouri to 109 rushing yards on 34 carries -- the Tigers did not eclipse 100 yards until the game's final minute. The Gamecocks also sacked Missouri quarterback
James Franklin
three times.
Missouri finally found the end zone with just 17 seconds left in the game -- a one-yard pass from backup quarterback
Corbin Berkstresser
to wide receiver
Marcus Lucas
.
What it means:
South Carolina got to strut its stuff for the first time since struggling in the season opener at Vanderbilt. The Gamecocks' defense mauled a proficient Missouri attack, and Shaw showed opponents that there's a lot more to fear than Lattimore in the South Carolina backfield. If Shaw can keep the offense multi-dimensional, South Carolina has to be considered a contender to win not just the SEC East, but the entire league.
There was plenty for Missouri to feel good about following its conference-opener loss to Georgia. This performance in the Tigers' first SEC road game isn't so encouraging, though. Going against one of the better squads in the league, coach Gary Pinkel and Co. earned another hard lesson on the rigors of SEC play.
September, 22, 2012
9/22/12
3:31
PM ET
COLUMBIA, S.C. -- South Carolina offensive line coach Shawn Elliott didn't hide his disappointment this week regarding how his guys had played up front to this point.
Sure enough, the Gamecocks are making some changes for the Missouri game.
Sophomore
Corey Robinson
will start at left tackle with sophomore
Mike Matulis
moving to right tackle. The odd man out is sophomore
Cody Gibson
, who had started at right tackle each of the past two games.
Redshirt freshman
Brandon Shell
started at left tackle in the opener against Vanderbilt, but struggled. That's when the Gamecocks moved Matulis over to left tackle and inserted Gibson at right tackle.
This will be South Carolina's third different starting lineup in four games against what should be the Gamecocks' stiffest test to date for their offensive line. Missouri has a lot of speed on defense and won't be hesitant about bringing the pressure.
September, 22, 2012
9/22/12
2:30
PM ET
COLUMBIA, S.C. -- Missouri gets its first taste of life on the road in the SEC on Saturday.


Consider it the battle of the Columbias.
The Tigers traveled 870 miles from their version of Columbia to take on No. 7 South Carolina, which is a fitting locale for Missouri's SEC road debut.
This place is one of the more underrated in the country when it comes to game-day atmospheres. The Cockabooses just outside Williams-Brice Stadium remain one of the more unique tailgating experiences in all of college football.
They're old cockabooses that have been renovated and turned into game-day party sites.
I've already seen a lot of black and gold in town, both Friday night and Saturday just outside the stadium.
It still seems weird to call this a conference game. But it is, and Missouri can vault right back into the Eastern Division race with an upset of the Gamecocks.
The big news of the day is that Missouri quarterback
James Franklin
is expected to start for the Tigers. He missed last week's game against Arizona State with an inflamed bursa sac in his right throwing shoulder.
South Carolina quarterback
Connor Shaw
has also been fighting a right shoulder injury, a hairline fracture, but was out throwing several minutes ago with teammates and seemed to have really good zip on the ball.
Both guys like to run, and that's a big part of the two offenses, so it remains to be seen how much more wear and tear they can absorb and still be effective.
It's a long season.
September, 22, 2012
9/22/12
2:00
PM ET

Chris Low breaks down the Missouri-South Carolina game from Williams-Brice Stadium. Both quarterbacks, Connor Shaw and James Franklin, will play despite battling shoulder injuries.
September, 22, 2012
9/22/12
12:00
PM ET
Missouri quarterback
James Franklin
is expected to start today
at No. 7 South Carolina, a source close to the program told ESPN.com.

Franklin is dealing with an inflamed bursa sac in his right throwing shoulder that kept him out of last week's 24-21 win against Arizona State. Franklin suffered the injury against Georgia on Sept. 8, when Bulldogs linebacker
Jarvis Jones
hit Franklin's arm as it was going forward on a throw.
Franklin didn't practice much last week, and redshirt freshman
Corbin Berkstresser
started in his place. Franklin's absence caused a bit of stir after coach Gary Pinkel announced that Franklin opted not to take a cortisone shot before last week's game. Franklin -- and his family -- don't believe in taking painkillers to mask pain, so Franklin refused the shot.
Franklin practiced more this week, but will still have to deal with some pain in his shoulder.