SEC:

Tigers-Rebels-111119
November, 20, 2011
11/20/11
12:00
AM ET
OXFORD, Miss. — LSU linebacker Ryan Baker promises there was no Arkansas talk on the sidelines or in the locker room Saturday.
He smiled that boyish smile while relaying the message that Ole Miss was the only topic of discussion during and after the
52-3
drubbing of the Rebels, so who knows if he was fibbing?
But would anyone have blamed the Tigers for casting aside such an overmatched opponent so quickly?
It took 28 seconds for LSU to get its game-winning score and less than a quarter before Ole Miss' student section began to shrink and file out of Vaught-Hemingway Stadium and into the Grove.
Saturday night was an imposing display of total dominance that began with a Ron Brooks' interception returned 46 yards for a touchdown on a poorly thrown pass from
Zack Stoudt
.
This "contest" was over before
Jordan Jefferson
even took the first snap of his second start of the year and it could have been worse if not for four kneel-downs ordered by LSU coach Les Miles inside Ole Miss' 5-yard line with five minutes remaining.
"We felt like if we came with it fast and physical we could jump on top of them," LSU defensive tackle Michael Brockers said. "We felt like if it gets pretty bad, they would let it down, shut it down a little bit."
LSU imposed its will, and there was nothing Ole Miss could do.
LSU's rout wasn't surprising and the speed with which it occured probably didn't shock anyone, either. It says a lot about the shape of an Ole Miss program that will say goodbye to head coach Houston Nutt after next week's game at Mississippi State, but it also says a lot about where this LSU program is.
There is no question that this is the best team in the country and during a game in which LSU could have easily played down to its competition, the Tigers never lagged or got sloppy.
"This team realizes the path that it's on," Miles said.
"Our football team recognizes that for our destiny and the things that we need to do."
Miles said he didn't bring up Oklahoma State's Friday night loss to Iowa State. He didn't mention the SEC's Saturday struggles. He didn't because it wouldn't have added any motivation.
LSU doesn't need it.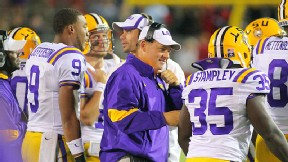 Spruce Derden/US Presswire"You don't have to sugarcoat it," coach Les Miles said of LSU's approach. "All you need to say is simply, 'This is what we do.'"
"Our plan was good. I felt like our guys came in with an edge and a want for victory," Miles said.
"Really, we felt like this is what we do. You don't have to sugarcoat it. You don't have to bring up other teams having difficulties. All you need to say is simply, 'This is what we do.'"
LSU doesn't have time to get sluggish or walk into a game. LSU sprints at and over its opponents each week. It would have been natural for LSU to spend all of its energy and emotion on the Alabama game, but somehow there is more fuel to push through to the finish.
"This team has a lot of drive. Our goals at the end of the year are to play for something significant," Baker said. "You can really see it in this team's demeanor that we really want this championship at the end of the year."
To accomplish that goal, getting past Arkansas is the next step. If LSU is the best team in the country, Arkansas might as well be the hottest one after dismantling Mississippi State
44-17
Saturday.
Since slipping by Ole Miss and Vanderbilt, Arkansas has outscored its last three opponents 137-52. What started off as just a high-powered passing game has evolved into a much more balanced offense in the past three weeks, giving the Hogs legitimate BCS aspirations.
They would love nothing more than to put a big, fat blemish on LSU's sparkling resume. An Arkansas victory would create a three-team tie in the West if Alabama beats Auburn, so there is a semifinal feel to next Friday.
A loss for the Tigers could crush their national championship hopes.
If the Alabama game was "The Game," LSU defensive end Barkevious Mingo labeled this one "The Game: Part 2."
Film sessions start Sunday. It's offense vs. defense. It's glamor verses grit.
"They love to pass the ball and we love to give pressure," Mingo said. "We'll see how that works out."
The rest of the country is anxiously waiting.
November, 19, 2011
11/19/11
9:59
PM ET
OXFORD, Miss. -- LSU just keeps rolling along after a
52-3 win
over Ole Miss.


This one was never in question and things spiraled out of control for Ole Miss (2-9, 0-7) less than a minute in, when LSU cornerback Ron Brooks took
Zack Stoudt
's pass 46 yards for a touchdown.
Ole Miss has now lost 13 straight conference games dating back to last season. This was the worst losssince a 49-0 loss to Georgia in 1974.
It was total dominance by No. 1 LSU (11-0, 7-0), who never looked ready for a letdown. It would be have been easy for the Tigers to get caught looking ahead to what should be an exciting game with rival Arkansas next week, but the Tigers came out focused and never looked sloppy.
LSU played with the attitude you'd expect a team to have against highly-ranked opponent. After a poor start against Western Kentucky last week, LSU bounced back in stellar form.
If not for a nifty 47-yard run by Ole Miss quarterback
Barry Brunetti
late in the second quarter, the Rebels wouldn't have come close to sniffing the end zone.
LSU is undeniably the country's best team and now Arkansas has the pleasure of trying to stop this crazy train.
Should be fun.
November, 19, 2011
11/19/11
9:29
PM ET
OXFORD, Miss. -- Ole Miss' run onto the field to start the third quarter hardly went noticed by Rebels' fans.
It seemed as if LSU hardly noticed the Rebels either as the Tigers methodically drove down the field for two scores in the third to go up 49-3.
LSU drove down to the goal line before its second score and tried to get
James Stampley
into the end zone twice on running plays before going for it on fourth-and-goal. There was a fumble and Stampley still managed to score.
LSU is in grind-it-out mode now and will be looking to work the clock, get some young guys some action and hope no one gets hurt. It probably isn't even too early for the Tigers to start thinking about next Saturday's game against Arkansas.
November, 19, 2011
11/19/11
8:45
PM ET
OXFORD, Miss. -- It has been all LSU, as the Tigers lead 35-3 at the half.


Best player of the half:
The star of the first half comes from the defensive side of the ball. It took just 28 seconds before we heard Ron Brooks' name after he grabbed an ugly pass from Ole Miss quarterback
Zack Stoudt
and took it 46 yards for the first touchdown of the game. Two drives later, he sacked Stoudt, forced him to fumble and then recovered that fumble, setting up the Tigers' third touchdown of the half.
Best call: Coach
Les Miles made the right decision starting
Jordan Jefferson
at quarterback. He has engineered three scoring drives and has been beating the Rebels' defense with his arm and feet. He is a perfect 7-for-7 passing for 88 yards and a touchdown. He has also rushed for 27 yards, including a long of 19.
Turning point:
This stadium was rocking just before kickoff. With the silliness we saw earlier from SEC teams that were favored, some fans had to be thinking that maybe even Ole Miss could pull off something special. Well, Brooks' interception changed everything. The crowd was completely taken out of the game and all of the attitude left the Rebels' sideline. Half of the student section was headed back to the Grove before the second quarter even started.
November, 19, 2011
11/19/11
7:56
PM ET
OXFORD, Miss. -- Well, the letdown disease sweeping the SEC missed LSU's team bus.
The Tigers jumped out to a 7-0 lead just 28 seconds into the game, thanks to a 46-yard interception returned for a touchdown by Ron Brooks.
An 86-yard drive and another Ole Miss turnover later and LSU took a 21-0 lead.
We saw just one LSU quarterback --
Jordan Jefferson
-- and two for Ole Miss --
Zack Stoudt
and
Barry Brunetti
-- in the first quarter. Stoudt was replaced after Ole Miss' third series after coughing the ball up on a sack.
LSU hasn't had to do much against Ole Miss to get on the board. The Rebels handed them the ball to set up two scores and the Tigers' long scoring drive mixed a nice blend of running and passing. The Tigers outgained Ole Miss 112-47 with nine less plays in the first quarter.
LSU doesn't look very flashy, but it looks stronger, faster and better at this point.
November, 19, 2011
11/19/11
7:21
PM ET
OXFORD, Miss. -- If Ron Brooks' interception returned for a touchdown 28 seconds into the game wasn't bad enough, Ole Miss running back
Brandon Bolden
went down with a leg injury on the Rebels' second drive.
Bolden, who fractured his left ankle in the the Rebels' season opener, limped off of the field and immediately went to the training table, where he had his ankle heavily taped.
He's trying to jog on the sideline and is walking without much of a limp.
November, 19, 2011
11/19/11
7:08
PM ET
OXFORD, Miss. -- Prior to Saturday's game with No. 1 LSU, 13 Ole Miss seniors were honored before their final home game.
Thirteen seniors tells the story of Ole Miss' depth issues during Houston Nutt's tenure.


Things have picked up in the stands as it looks like it's a packed house inside Vaught-Hemingway. The north end zone stands are covered with purple-and-yellow attire. There must have been quite the LSU caravan to Oxford Friday. It looks like there might be more LSU fans than Ole Miss fans, but the Ole Miss fans were rocking during pregame.
With all the wackiness going on in the SEC this weekend, the Ole Miss fans might be feeling better about their chances against the best team in the country.
Regardless, they are having fun down there.
Fans erupted with the traditional "Hotty Toddy" chant led by St. Louis Cardinals pitcher, and Ole Miss Alum, Lance Lynn via the video board before kickoff.
Also, LSU's T-Bob Hebert isn't expected to start at left guard, but is healthy and will play.
November, 19, 2011
11/19/11
6:35
PM ET
OXFORD, Miss. -- Ole Miss might not have much going for it right now, but that didn't stop the Grove from being lively Saturday.
With No. 1 LSU in town, the tents were up and the cocktails were flowing all afternoon. Fans understand that this season has been a disaster and they are ready for change, but there is still support from the community in this team and the senior class that will say farewell to Ole Miss tonight.


But expectations certainly aren't great when talking to fans. Most talked more about how long the Rebels could actually stay in the game, rather than picking them outright. Some were more excited about seeing the top-ranked Tigers and the handful of highlight reel plays they might make.
Fans are also wondering about the future of this program. This will be coach Houston Nutt's final home game as the Rebels' coach and the coaching rumors are swirling around the Grove. The silliest of rumors is of course the talk of Indianapolis Colts quarterback Peyton Manning retiring and moving down to Oxford to replace Nutt.
There are select few who have actually jumped on that bandwagon ...
Some fans believe Larry Fedora is the guy, but Fedora watched his
Southern Miss Golden Eagles
fall to UAB Friday night. Houston's Kevin Sumlin is getting a lot of Rebel fan love.
The bottom line is that no one knows what is going to happen with the coaching search, but people are ready to see something different from this program.
A woman by the name of Fran Wheat volunteered to help Ole Miss get its feet back on the ground by moving back to Oxford and taking over as "Team Mom." She promises to lead with an iron fist and allow no athlete to fall behind. She's willing to visit each and every player at their residences to make sure they are living correctly and focused on the tasks at hand.
She vows to whip these boys in shape and help Ole Miss' next coach anyway she can. All she needs to know is where she can send in her application.
The Tigers came out on the field for warm-ups with their fans drowning out a sparse crowd of Ole Miss fans. People are expecting the Tigers to cruise tonight, but Saturday has been a strange and slow day for SEC favorites. Nutt is 2-1 against LSU as the Rebels' coach and he's sure to have a few tricks up his sleeve for his final home game.