SEC:

Tigers-Tigers-091711
September, 17, 2011
9/17/11
7:40
PM ET
CLEMSON, S.C. -- Auburn's defensive deficiencies were masked somewhat in the opener against Utah State because the Tigers found a way to win.
The same goes for last week against Mississippi State, which was stopped at the one-inch line to end the game.
There was no masking Auburn's deficiencies on Saturday. This is a really bad defense right now, and there's no other way to say it.
[+] Enlarge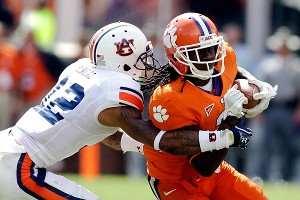 John Reed/US PRESSWIRESammy Watkins had 199 yards combined rushing and receiving as the Clemson offense rolled up 624 yards against Auburn's defense.
Clemson sliced through Auburn for 624 yards of total offense on its way to a
38-24 victory
in Memorial Stadium, snapping Auburn's 17-game winning streak and boldfacing some already serious questions about a defense that has now given up 1,603 yards in its first three games.
To his credit, Auburn defensive coordinator Ted Roof wasn't running away from any responsibility.
"I'm responsible," Roof said. "I have to go back and evaluate everything, including myself and what I'm doing."
What the Tigers aren't doing is stopping anybody. Their tackling was poor Saturday, and after opening the game with three excellent defensive possessions, they were on their heels the rest of the day.
There's no question that Nick Fairley and his dominance up front saved them more than a few times last season. They don't have that kind of game-changer anywhere on defense this season.
Instead, they have a bunch of new faces learning on the job, and it hasn't been pretty to this point.
Clemson was 14-of-18 on third down and converted 10 straight at one point. For the season, Auburn has allowed the opposition to convert 65 percent of its third downs.
Auburn coach Gene Chizik, whose background is on defense, was asked after the game if he would get more involved in the Tigers' defense.
His answer was that he would look at everything. The translation: You better believe he will.
The truth is that Chizik is already extremely involved. But his comfort level is on defense, and if there's a chance he can help this group turn it around, he's going to do anything he can.
It's a defense that was on the field for a staggering 92 plays Saturday.
You've got zero chance to win in this league like that, and Chizik knows that as well as anyone.
He also knows what's approaching in October, a brutal stretch that includes road dates at South Carolina, Arkansas and LSU.
"They're going to handle it like men, and they're going to go out tomorrow and practice again for the next game (Florida Atlantic)," Chizik said. "They're going to have short memories and learn from what we didn't do well, which is a lot of learning because we didn't do a lot well."
September, 17, 2011
9/17/11
7:00
PM ET
CLEMSON, S.C. -- Auburn's 17-game winning streak is history, and so is Clemson's history of coming up empty in big games.
Think this one didn't mean a little something extra to Clemson coach Dabo Swinney?
Granted, Swinney's the excitable type. But go
check out his postgame interview on ESPN.com
.
It was reminiscent of listening to the "Nature Boy" Ric Flair back in his glory days.
Certainly, it was a glorious day for Swinney's Tigers, who blazed their way out of an early 14-0 hole and sent the defending national champions packing in a
38-24 victory
that was a long time coming in these parts.
The Clemson players are well aware of the underachiever label that has been attached to this program for much of the past decade.
One game hardly makes a season, but there's a genuine belief on this team that this game can help propel the Tigers to a special season.
[+] Enlarge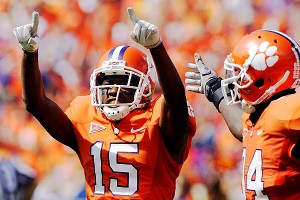 John Reed/US PresswireCoty Sensabaugh's fourth-quarter interception ended any chance of an Auburn comeback.
"I think we're respected around the nation, but in the big games, we've always come up short ever since I can remember. Today was just our time, and we're going to keep it going," said Clemson senior cornerback Coty Sensabaugh, whose fourth-quarter interception all but sealed Auburn's fate.
Auburn had made a living of doing the improbable in the fourth quarter this season, finding one way after another to survive.
Swinney had challenged his team before the game to make its own statement.
"I told our guys that they could either be victim number 18 or the guys who broke the streak," said Swinney, who took delight in pointing out that it was an Alabama graduate who was in charge of breaking the streak. "There's no better place to kill a winning streak than Clemson, S.C. I'm proud of everyone. Our guys believe."
Clemson (3-0) had been anything but impressive its first two weeks, coming back from first-half deficits to beat Troy and Wofford.
The start of this game had a similar feel, as No. 21-ranked Auburn raced out to a 14-0 lead and then a 21-7 advantage.
"We've got the kind of offense that we're never going to be out of the game," said Clemson sophomore quarterback
Tajh Boyd
, who torched Auburn's reeling defense for a career-high 386 yards passing and four touchdowns.
"We're going to keep coming at you, and we have a lot of guys that can make plays."
Boyd, making just his third career start, was brilliant. He finished 30-of-42 and didn't throw an interception.
Even after Clemson managed just 34 total yards in its first three offensive possessions, Boyd never panicked.
"We just had to find our groove, and once we did, we really did," Boyd said.
[+] Enlarge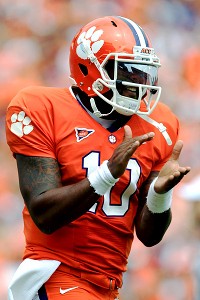 Streeter Lecka/Getty ImagesTajh Boyd torched Auburn with 386 yards on 30-of-42 passing and four touchdowns.
Nobody on Auburn's defense would disagree. Clemson converted 10 straight third downs at one point and finished with 624 yards in total offense, the third most in school history.
"This isn't last year's team," Clemson junior tight end
Dwayne Allen
said. "If we're going to lose, we're going to lose with some points on the board ... not six field goals like years past."
Added Clemson offensive coordinator Chad Morris, "This is no fluke. This is what we're supposed to do."
Of course, it helps when you bring in a talent like
Sammy Watkins
, who had 199 combined receiving/rushing yards and is the early leader in the clubhouse for college football's best true freshman receiver.
His speed is impressive. The way he delivers the blow, much like a running back, is even more impressive.
Watkins set Clemson records with 10 catches for 155 yards and had a pair of touchdowns. The only good look Auburn defensive backs got of him all day was from the backside.
"I wasn't really thinking about records. I was just focusing on beating Auburn," said Watkins, a highly rated prospect from Fort Myers, Fla., who could have gone anywhere in the country, but fell in love with Clemson's small-town charm.
"I kept thinking, 'We have to beat them.' I wasn't thinking about touchdowns. I wasn't thinking about yards. I was just thinking, 'We have to beat Auburn.' "
A year ago, it was Auburn coming back from a 17-0 deficit to beat Clemson in overtime.
The players on that Auburn team will tell you that it's the game that sent them on their way to their national championship run.
Now, it's Clemson's turn to see what it can do with Swinney's first real signature win outside the ACC.
The road sure doesn't get any easier. The Tigers get Florida State at home next week and then Virginia Tech on the road on Oct. 1.
"This is the point where Auburn started to take off last year," Boyd said. "Hopefully, we can do the same thing. We've got a tough road. We just have to keep working hard and keeping improving."
September, 17, 2011
9/17/11
3:35
PM ET
CLEMSON, S.C. -- It was billed as an offensive shootout, and that's what we got Saturday at Memorial Stadium.
But whereas it was No. 21-ranked Auburn that started out on fire, it was Clemson that proved to be the better team.


After falling behind 14-0 early, Clemson outscored the defending national champions 38-10 the rest of the way to cruise to
a 38-24 victory
and end Auburn's 17-game winning streak.
Clemson (3-0) gets its second straight key home showdown next week when Florida State comes to town. The Tigers finished Saturday with 624 yards of total offense, only the eighth time in school history that they have amassed 600 yards of total offense. It's also the most yards Clemson has ever gained against an SEC team.
For Auburn (2-1), it was another brutal defensive performance, only this time there was no surviving in the fourth quarter.
Auburn escaped against Utah State in the opener, thanks to a late onside kick, and stopped Mississippi State on the one-inch line last week. In three games, Auburn has given up 110 points.
The Clemson duo of quarterback
Tajh Boyd
and receiver
Sammy Watkins
torched Auburn's defense. Boyd passed for 386 yards and four touchdowns, while Watkins set a Clemson freshman receiving record with 10 catches for 155 yards.
September, 17, 2011
9/17/11
3:04
PM ET
CLEMSON, S.C. -- Clemson's coaches felt like when they signed
Sammy Watkins
that they had a real gem, a guy who would make an immediate difference in the Tigers' offense.
Well, three games into the 2011 season, he might be the best freshman receiver in all of college football.
Auburn's defenders have been grabbing at air all afternoon any time Watkins gets the ball. And he's made them pay to the tune of nine catches for 146 yards and two touchdowns.
In three games, Watkins has 20 catches for 283 yards and four touchdowns, and it's scary how good he is when he gets in the open field.
And with the way Auburn's tackling right now (or more accurately, not tackling), something tells me Watkins wouldn't mind going against this defense every week.
Clemson now leads 38-24
with 11:48 to play in the game, meaning Auburn has given up 110 points in its first three games.
This one isn't over yet.
September, 17, 2011
9/17/11
2:15
PM ET
CLEMSON, S.C. -- The sun has reared its head at Memorial Stadium, and so has this Clemson offense.
Clemson is torching Auburn's defense right now and has converted six straight third-downs -- all on passes. The last one was a 65-yard touchdown pass from
Tajh Boyd
to true freshman
Sammy Watkins
, who showed some impressive speed after two Auburn defenders had chances at him but whiffed.
Suddenly,
Clemson leads 28-21
and has all the momentum. The crowd is back into it, and Auburn is the team on its heels right now.
September, 17, 2011
9/17/11
1:55
PM ET
CLEMSON, S.C. -- Clemson came back from a 14-0 deficit
to tie Auburn 21-21
at the half Saturday at Memorial Stadium.
Here's a quick halftime analysis:


Turning point:
Auburn led 14-0 late in the first quarter and was dominating the game. Clemson was forced to punt after a third straight possession that went nowhere, and Auburn's
Trovon Reed
inexplicably fielded the ball in his own end zone and tried to bring it out. He was tackled on the 4, swinging the field position battle in Clemson's favor. Auburn was forced to punt a few plays later, and Clemson took over on its own 40. Clemson took advantage of the shorter field to drive for its first touchdown and get back into the game.
Stat of the half:
The two teams combined for 520 yards of total offense. Clemson managed just 34 yards in its first three offensive possessions, but exploded for 201 yards in its next three possessions to close out the half.
Best player of the half:
Clemson quarterback
Tajh Boyd
passed for 171 yards and two touchdowns and didn't throw an interception.
Best player of the half II:
Auburn running back Mike Dyer rushed for 86 yards on 10 carries and had two touchdowns, one of those a 52-yarder.
September, 17, 2011
9/17/11
1:32
PM ET
CLEMSON, S.C. -- Auburn's defense started well enough, bottling up Clemson's offense in the first quarter and tackling well.
But Clemson's past two drives have been reminiscent of what we've seen from Auburn's defense the first two games.
Clemson drove 81 yards to pull within
21-14 at the 5:06 mark
of the second quarter, and it's starting to look like Auburn's defense might be on skates now.
On that last drive, Clemson was 3-for-3 on third down, and all three conversions were at least third-and-6.
Coming into the game, Auburn had struggled on third down, allowing opponents to convert 57 percent of the time.
Clemson quarterback
Tajh Boyd
has been the beneficiary of some big-time catches by his receivers, who are starting to exploit that Auburn secondary.
September, 17, 2011
9/17/11
1:09
PM ET
CLEMSON, S.C. -- This looks like a carbon copy of the way last season's game between these two teams started, only in reverse.
Auburn leads Clemson
21-7
in the second quarter after jumping out to a 14-0 lead and has pretty much had its way offensively.
A year ago, Clemson raced out to a 17-0 lead, but Auburn rallied to win in overtime.
Both defenses had experienced their struggles coming into today's game, but Clemson is the runaway winner for the worst of the two so far.
Auburn has scored on a
Mike Dyer
52-yard touchdown run. He wasn't touched on the play.
Barrett Trotter
's 36-yard touchdown pass to
Emory Blake
came on a fourth-and-5 play.
Auburn's offensive line has given Trotter plenty of time to throw and is winning the battle up front. On Trotter's fourth-down touchdown pass, Clemson only rushed four and didn't get any pressure.
Auburn has kept Clemson's defense off balance with an array of different looks and formations. Already, we've seen direct snaps to Dyer as well as true freshmen
Kiehl Frazier
and
Quan Bray
, a pair of reverses and Dyer and
Onterio McCalebb
lining up in the same backfield.
Auburn's pace has been blistering, too, and Clemson's defense looks gassed.
September, 17, 2011
9/17/11
12:06
PM ET
CLEMSON, S.C. -- I think special teams will play a big role in today's game, which could be good news for Auburn.
Auburn is the only team in the SEC to rank in the top five in the SEC in punting (fourth), kickoff return average (second) and kickoff coverage (second). Kicker Cody Parker leads the SEC with eight touchbacks.
True freshman
Tre Mason
has also been one of the hottest return men in college football. He's the first Auburn player to ever record consecutive games with at least 150 kickoff return yards.
It's almost kickoff time. The Clemson team has gathered at the top of the hill, and here they come.
Man, coach Dabo Swinney doesn't trot down that hill, either. He sprints.
Auburn's fans are here in force. In fact, there's more blue than orange in the upper deck on the north side.
September, 17, 2011
9/17/11
11:19
AM ET
CLEMSON, S.C. -- Seeing Auburn and Clemson square off in football is a lot like watching two cousins scrap.
There are so many similarities that it's hard to count them all.
We dubbed this the Lewis Grizzard Bowl a year ago in memory of the late Southern humorist, who once quipped, "Auburn is Clemson with a lake."
Both are heavy agriculture and engineering schools. Both are located in small towns out by themselves that aren't the easiest places to get to on game day. Both campuses are sprawling with greenery and two of the prettiest places you're going to find.
Even their shades of orange are almost identical.
And, of course, they're both the Tigers.
They both have famed pregame rituals.
At Auburn, it's the flight of the War Eagle. And at Clemson, it's the touching of Howard's Rock just before the team runs down the hill into Memorial Stadium.
At Auburn, the place to hang out is any number of establishments on Toomer's Corner. At Clemson, it's the Esso Club, which is an old gas station-turned tavern.
The first three coaches in Clemson history were Auburn graduates. John Heisman was not an Auburn graduate, but he came to Clemson from Auburn. Heisman actually coached for both schools in the series. He defeated Clemson for Auburn in 1899 by a 34-0 score and then defeated Auburn as Clemson's head coach by a 16-0 score in 1902.
There are also similarities in the two teams this season.
Auburn's
Barrett Trotter
and Clemson's
Tajh Boyd
are both first-year starting quarterbacks, while both defenses have struggled the first two weeks. Clemson is ranked 90
th
nationally in total defense (411 yards per game) and Auburn 111
th
(489.5 yards per game).
This could easily be one of those games where the first team to 35 points wins.