March, 19, 2013
3/19/13
10:00
AM ET
A month after moving to a more internal role with Mississippi State's football team, Scott Sallach was made the Bulldogs' tight ends coach again, Dan Mullen announced Monday.

Sallach had been Mississippi State's tight ends coach since 2009, but was made coordinator of football scouting in February. But with Tim Brewster, who moved from wide receivers coach to tight ends coach after Billy Gonzales was hired to be the team's new receivers coach in mid-February, leaving for Florida State, Mullen decided to move Sallach back to his old position.
"Scott is both an outstanding football coach and a relentless recruiter," Mullen said in a statement through the school Monday. "When we had the opportunity to add Billy Gonzales to our staff, we anticipated this move in the future. Scott's willingness to help our program in any way should be commended. His expertise has led our tight ends to record numbers of productivity in the last four seasons."
The move also comes on the same day the NCAA suspended new recruiting legislation that deregulated which staff members can perform recruiting tasks. If the new rule stood, Sallach would have been able to recruit prospects, making him that much more important internally.
Sallach has had some past success with Bulldogs tight ends. He helped
Marcus Green
adjust to Mullen's spread offense in 2009 and watched as Green ranked second on the team with 27 catches for 306 yards. In 2011, he coached up All-SEC freshman Malcolm Johnson, who finished tied for second on the team in touchdowns and managed a team-high 18.7 yards per catch.
Mississippi State's tight ends combined to catch 34 passes for 432 yards and eight touchdowns last season.
The good news for the Bulldogs is that there won't be any change for the tight ends going forward, as they won't have to adapt to a new coaching personality or any sort of new philosophy.
It also means that with spring practice beginning Thursday, Mullen's coaching staff is now finally complete.
March, 1, 2013
3/01/13
1:45
PM ET
Making the rounds on a Friday:
February, 28, 2013
2/28/13
12:00
PM ET
February is pretty much gone? Man, this month never seems to last very long ...
February, 13, 2013
2/13/13
4:50
PM ET
Dan Mullen has added former colleague Billy Gonzales to his Mississippi State staff and shuffled some coaching duties.
Gonzales, who worked with Mullen for eight years at Bowling Green, Utah and Florida, will coach the Mississippi State receivers after spending last season as the co-offensive coordinator and receivers coach at Illinois.
"I've had the chance to work with Billy and the opportunity to add him to our staff was one we couldn't pass up," Mullen said. "His experience in developing receivers speaks for itself and he has consistently and relentlessly recruited top players at every stop of his career."

With Gonzales taking over as receivers coach, Tim Brewster will move to tight ends for the Bulldogs and take on the title of assistant head coach. Brewster coached tight ends at North Carolina and Texas before moving to the NFL and coaching the position with the San Diego Chargers and Denver Broncos.
Scott Sallach, who coached the Bulldogs' tight ends for the past four seasons, will move into the role of coordinator of football scouting.
Brewster was hired just prior to the start of last season following Angelo Mirando's resignation, which was tied to an NCAA investigation involving Mirando. The Mississippi State receivers had a big season under Brewster, who was the head at Minnesota for three and a half seasons from 2007-10 before being fired.
Chad Bumphis
,
Arceto Clark
and
Chris Smith
combined for 141 catches, 1,973 yards and 15 touchdowns. Bumphis set a school record with 12 receiving touchdowns, but all three of those players were seniors and won't be back in 2013.
"Tim and I had several conversations about the possibility of moving him back to the position he's coached for 18 years at the college and NFL levels," Mullen said. "He did an outstanding job leading our wide receivers to their most productive season last year and is a valuable asset to our staff, and his flexibility and versatility as a coach are appreciated."
Gonzales is no stranger to the SEC. He was the receivers coach and passing game coordinator at LSU in 2010 and 2011. Before that, he was the receivers coach at Florida for five years and sent seven players to the NFL draft, including 2009 first-round pick Percy Harvin and Chad Jackson, a second-round selection by the New England Patriots in 2007.
One other staff move Mullen made Wednesday was giving safeties coach Tony Hughes the title of assistant head coach.
August, 30, 2012
8/30/12
12:00
PM ET
I can smell the barbecue, chicken tenders and potato salad. It's time to put the ball and glove away. It's football season!
August, 24, 2012
8/24/12
9:30
AM ET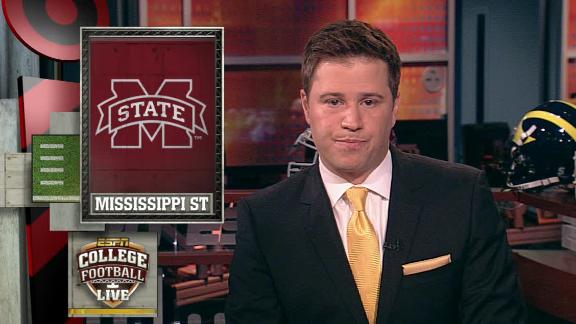 Mississippi State has confirmed an
ongoing NCAA investigation
into a "potential recruiting irregularity" and plans to cooperate fully.
ESPN's Joe Schad reported on Thursday that wide receivers coach Angelo Mirando suddenly resigned on Sunday because of the investigation related to his recruitment of at least one player on the Bulldogs' roster.
"That's been going on for the last several months," Mississippi State coach Dan Mullen said following Thursday's practice. "I'm not able to comment on any of that."
According to Schad's report, freshman defensive back
Will Redmond
was the subject of an NCAA interview that his high school coach, Marcus Wimberly, gave. However, Mullen later criticized the report and said Redmond has been practicing with the team.
Former Minnesota coach Tim Brewster, who was fired from Minnesota in 2010, was hired by Mississippi State to replace Mirando.
Mulllen said on Thursday that he didn't think the NCAA investigation would cause any sort of distraction for his team.

Knile Davis set for contact
: The moment many Arkansas fans have been waiting for is coming. Interim coach John L. Smith said that running back Knile Davis will
finally take contact
during the Razorbacks' mock game Friday night.
Friday will mark the first time Davis has gone through contact since he broke his left ankle during preseason practice last year.
Smith and his staff have been very cautious with Davis, but the redshirt junior running back has insisted for a while now that he's been 100 percent.
Smith told reporters that his plan wasn't to put Davis through contact until Arkansas' opener against Jacksonville State on Sept. 1. However, Davis resisted and Smith gave in.
It's unknown how many snaps Davis will take, but if the coaches see enough from Davis early, you better believe they'll yank him out as fast as they can. They don't want to push him too much.
We'll soon find out just how ready Davis' football legs are.

Shaw has back spasms:
South Carolina quarterback
Connor Shaw
missed most of the Gamecocks' practice
because of back spasms
. Coach Steve Spurrier said during his radio show on Thursday that Shaw's back made it tough for him to move during practice, so the coaches sent him in for treatment.
With the Gamecocks off until Saturday, the hope is that Shaw's back will heal some. It's unknown if this is serious, but with the season opener against Vanderbilt about a week away, South Carolina's staff will no doubt monitor Shaw and be careful with him in practice between now and then. Shaw has done so well since the spring that there isn't much reason to push him this close to the season.
There isn't much experience at all behind Shaw, so losing Shaw would be a major blow to the Gamecocks' offense.
August, 23, 2012
8/23/12
4:00
PM ET
Former Minnesota coach Tim Brewster will be Mississippi State's
next wide receivers coach
, a source told ESPN's Brett McMurphy.
Brewster, who was fired from Minnesota in 2010, replaces Angelo Mirando, who resigned Sunday. Sources told ESPN's Joe Schad that Mirando resigned because of an ongoing NCAA investigation related to his recruitment of at least one player on Mississippi State's roster.
A statement from the school Sunday said that Mirando's resignation was due to "unforeseen personal issues."
Mirando left the Bulldogs less than two weeks before the season opener against Jackson State, but Brewster arrives with a talented, veteran group of receivers to work with. Mississippi State's three starting receivers -- Chad Bumphis, Arceto Clark and Chris Smith -- are all seniors and have combined to catch 221 passes for 2,782 yards and 22 touchdowns in their careers.
There is also some young talent that should contribute this fall, including redshirt freshman Joe Morrow, who has received a ton of praise from the Bulldogs' staff since the spring.
Brewster went 15-30 at Minnesota, including 6-21 in the Big Ten, and had agreed to become an analyst with the CBS Sports Network this month.
November, 2, 2011
11/02/11
6:12
PM ET
By
ESPN.com staff
| ESPN.com
Coverage of the Georgia Bulldogs from DawgNation:
Notebook:
Defensive coordinator Todd Grantham says his unit will be fine if corners Brandon Boykin and Branden Smith are needed on offense.
Richt denies test results were held:

Coach Mark Richt says on the SEC teleconference that he conducts his program with the "utmost integrity" and that all rules were followed regarding the positive drug tests of running backs Isaiah Crowell, Carlton Thomas and Ken Malcome.
Recruiting update:

Catching up with 2012 tight end commit Ty Smith.
Recruiting notebook:
Three 2013 top prospects talk about their feelings toward Georgia, including 2013 running back commit Derrick Henry.
Video:
Interview with 2013 running back commit Derrick Henry interview.
Video:
Interview with Rush Probst, coach of 2012 tight end commit Ty Smith.
November, 6, 2008
11/06/08
8:03
PM ET
By
ESPN.com staff
| ESPN.com
Posted by ESPN.com's Chris Low
Just three days after announcing that Phillip Fulmer wouldn't return next season, Tennessee officials are already on the trail for the Vols' next head coach.
A source with knowledge of the search told ESPN.com that among the candidates on Tennessee's preliminary list are Minnesota coach Tim Brewster, Cincinnati coach Brian Kelly, former Oakland Raiders coach Lane Kiffin and Texas Tech coach Mike Leach. Contact has already been made or will soon be made with representatives of all four coaches.
Tennessee athletic director Mike Hamilton confirmed Thursday that the Vols' initial list had already been forwarded to Chuck Neinas, who's been hired to lead the search and will make the initial contact with coaches through their representatives.
Hamilton said he would neither confirm nor deny any specific candidates. Neinas, who runs Neinas Sports Service, has been involved in several high-profile searches over the years, including Urban Meyer to Florida, Mack Brown to Texas and Butch Davis to North Carolina.
Texas defensive coordinator Will Muschamp is another name that has been connected with the Tennessee job. Hamilton said someone with head coaching experience makes it easier to document that person's success and record, but that it wasn't a requirement.
"There are a lot of guys who have come in as a coordinator and had great success -- Mark Richt, Bob Stoops and Phillip Fulmer, to name a few," Hamilton said. "It's about hiring the right guy for your place."
Some of the other names that could end up on the Vols' list include Michigan State coach Mark Dantonio, TCU coach Gary Patterson, Air Force coach Troy Calhoun and Illinois offensive coordinator Mike Locksley. Others will emerge as well as the coaching dominoes start to fall around the country.
Whoever replaces Fulmer will be only the fifth head coach the Vols have had in football in the last 45 years.
Hamilton, who hit a home run with the hiring of basketball coach Bruce Pearl, said he's looking for somebody who can recruit nationally and be a salesman for both the university and the football program.
He acknowledged that it would be difficult to hire an NFL coach with the way coaches' contracts are structured in the NFL and the fact that their seasons run so long.
"It makes it harder to hire an NFL assistant or head coach back into the college level," Hamilton said. "I don't think it precludes it, but it's certainly another hurdle you have to get through."
Hamilton also made it clear that he's not interested in getting a raise for anybody or being used for leverage.
"We'll be competitive and pay what we have to to get the right guy for us," Hamilton said.
SEC SCOREBOARD
Saturday, 12/27
Saturday, 12/20
Monday, 12/22
Tuesday, 12/23
Wednesday, 12/24
Friday, 12/26
Monday, 12/29
Tuesday, 12/30
Wednesday, 12/31
Thursday, 1/1
Friday, 1/2
Saturday, 1/3
Sunday, 1/4
Monday, 1/12
Tweets from https://twitter.com/ESPNCFB/lists/sec