September, 11, 2014
Sep 11
4:00
PM ET
GAINESVILLE, Fla. -- When he was introduced as Florida's offensive coordinator, Kurt Roper made one thing clear about his philosophical approach. It's not about yards or drives. It's all about points.
That is why Roper was all smiles after the Gators' offense was responsible for all but seven of the team's 65 points in the season opener. It was the kind of performance that made everyone -- fans, players and coaches -- happy.
In fact, the defining moment last Saturday might have come near the end of the game when fans were chanting "We want 70!"
A reporter asked coach Will Muschamp if he had ever heard that before.
[+] Enlarge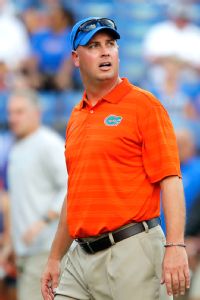 Kim Klement/USA TODAY SportsCoordinator Kurt Roper's offense totaled 655 yards on Saturday, more than twice what Florida averaged last season.
"You've been here," the embattled coach said with a laugh. "What do you think?"
In Muschamp's first three seasons, Florida's defense thrived while the offense languished near the bottom of many FBS categories. A rash of key injuries devastated any chance at a competent offense in 2013, which led to a seven-game losing streak, a 4-8 record, no bowl game for the first time since 1979, and some irate fans.
Last Saturday it all came to a head, as the Gators sought redemption in the Swamp.
"I knew the team was ready to explode and put on a great show for the fans, so I'm glad that we were able to do that," tight end
Clay Burton
said. "We have a lot more talent.
"We have a lot of belief in Coach Roper's system. As a team, we've collectively bought in to his offense, and I'm just really excited for the rest of the season. It was great. We really needed it. That's kind of an understatement, but we needed it."
For the first time in a long time, Florida's offense was able to just play. A good first drive bolstered the confidence that turned into a good first quarter, first half and so on.
"We talked about it as an offensive staff that it would be nice to have some success early, because then it does feed on itself," Roper said. "It does help."
Roper's offense was the big story of Florida's offseason. Among its promises were a faster tempo and open receivers. It delivered on both last week.
Here is a closer look at Florida's offensive improvement by the numbers:
The Gators averaged 66 offensive plays a game in 2013. They ran 50 plays in the first half against EMU and 86 total.
The total of 655 yards on Saturday was more than twice what UF averaged last season (316.7).
Florida had seven offensive touchdowns in the opener compared to 25 all of last season.
The Gators averaged 17.8 first downs last season and had 17 in the first half on Saturday.
Perhaps more important than the raw statistics was the emphatic change in Muschamp's approach to offense.
Two instances show a significant change. First, Muschamp called a timeout with 2:13 on the clock in the second quarter after linebacker
Neiron Ball
had a sack. It was clear that the coach wanted to get his offense into a two-minute drill.
Second, he told Roper in the fourth quarter not to "sit on the ball" with regards to developing true freshman backup quarterback
Treon Harris
.
Afterward, Muschamp denied that his philosophy had changed.
"Well, we hadn't been in that situation very often to be honest with you," he said. "So no, it's not really a change. He needed to go play the game."
When it was over the players basked in the afterglow of their first win since beating Arkansas on Oct. 5, 2013.
"Yeah, this is what I envisioned, just being successful, winning football games like this, winning football games big," said senior center
Max Garcia
, who transferred to Florida from Maryland in 2012.
"I couldn't say that we would have beaten Eastern Michigan last year like that. I don't think we would. Guys were really excited just to play the game today."
Andre Debose
, the gifted senior receiver/kick returner who returned for a sixth season after missing last season with a torn ACL, provided the ultimate perspective.
He was asked if he knew the last time Florida had scored as many points. He did. It was 2008, when Tim Tebow's Gators scored 70. He was asked if he recalled the opponent that day. He did. It was the Citadel.
"I've been here forever," Debose said with a huge grin. "Come on, man."
Recruited in 2009 by Urban Meyer to be "the next Percy Harvin," Debose played with Tebow, Aaron Hernandez and Riley Cooper.
None of that compared with last week's season-opening romp, he said.
"This is the most fun that I've seen everybody have in the last six years, man," Debose proclaimed. "Just our offense, we know we're good. You can see putting up 65 points.
"I haven't seen that since I've been here. So this is just amazing, man. I'm very excited about this season."