December, 11, 2014
Dec 11
8:00
AM ET
1. The race to replace senior Bo Wallace as Ole Miss' quarterback just got a bit more interesting. ESPN JC50 prospect Chad Kelly
committed to the Rebels on Wednesday
, and the former Clemson backup will have two years to play two at Ole Miss. With Wallace, a three-year starter, leaving the team after the 2014 season, the Rebels had a huge question at quarterback for 2015. DeVante Kincade, Ryan Buchanan and Kendrick Doss are all freshmen with
limited game experience at best
. Kelly adds a veteran presence to the group, having played in five games at Clemson in 2013, and he
might become an immediate frontrunner

to claim the job once he arrives on campus.
2. It probably won't come as much of a surprise that three of the five FBS assistant coaches who make more than $1 million per year reside in the SEC: Alabama's Kirby Smart and LSU's Cam Cameron and John Chavis. This according to
USA Today's assistant coach salary database
that it published on Wednesday. Not surprisingly, the SEC also had three of the top four highest-paid coaching staffs (LSU, Alabama and Auburn) and six of the top 13 (adding Texas A&M, South Carolina and Georgia). Take a look. They also have a database for
head coaches
(eight SEC coaches are in the top 20, led by Alabama's Nick Saban) and a multiple-byline feature on assistants like Dennis Erickson and Greg Robinson
who now make a comfortable living
after once serving as head coaches.
3. The Jacobs Blocking Trophy -- which goes to the player selected by the SEC's coaches as the league's top blocker -- is one of the conference's oldest awards.
LSU's La'el Collins won the award
on Wednesday, joining a list of
dozens of winners
who wound up playing in the NFL. Collins could already be doing that if he wanted. It was an option after he earned All-SEC honors as a junior, but unlike many of his teammates in recent seasons, Collins opted to play his senior season at LSU. It seems to have been a wise decision.
Several publications
have covered
this territory already, but with college football's underclassmen preparing to make their announcements on whether they will make early jumps to the pros, Collins serves as a good reminder of how players who return can sometimes help their cause. Because of an outstanding senior season, Collins will almost certainly be a much wealthier man for having waited than he would have been had he entered the 2014 draft. ESPN's
Mel Kiper Jr.

and
Todd McShay

both include Collins among their top 27 overall prospects. That leap doesn't happen for every draft prospect who stays, but it's a nice story -- and it's a valuable lesson for players who are in similar positions this year.
Around the SEC
" More all-conference honors went out on Wednesday, with the SEC's coaches naming
their individual award winners
and Athlon Sports posting
its All-SEC team
.
" With defensive coordinator D.J. Durkin preparing to coach Florida's bowl game, the Gainesville Sun's Pat Dooley examines
how interim coaches have fared
in the past with the Gators.
" The Lexington Herald-Leader's Jennifer Smith explores whether Kentucky's six-game losing streak to end the season
will hurt the Wildcats
on the recruiting trail.
" Tennessee coach Butch Jones' new contract extension
increases his buyout to $4 million
should he choose to leave before March 2016.
Tweet of the day
Pleasant surprise seeing Coach Richt in the locker room after practice today. @footballuga... http://t.co/kZqTYXhg5f

— Thomas Davis (@TD58SDTM) December 10, 2014
November, 19, 2014
Nov 19
11:00
AM ET
BATON ROUGE, La. --
La'el Collins
could be cashing NFL paychecks right now, but LSU's senior left tackle said he does not regret returning for his senior season. He soon could have reason to feel good about becoming one of the rare Tigers to put off the pros when becoming an underclassman draft pick was a legitimate possibility.
LSU coaches Les Miles and Frank Wilson both predicted recently that Collins could become a first-round pick in the 2015 NFL draft. And multiple draft analysts seem to agree.
"I think he's a dominant player in a dominant league," Miles said. "I think he looks and can defend himself at the left tackle and left guard spot. Anytime you start looking at guys that can play left guard and tackle, that's pretty strong stuff.
"The point is is what guys need and how they fit. A guy that can play left tackle and left guard, or a guy that is certainly a left tackle or a left-side guy, it just really increases his worth."
One of Collins' stated goals in returning for another year was to prove that he could play left tackle in the pros. He'd shifted there from guard in 2013 and wanted to prove he could handle either spot in the NFL in order to maximize his earning potential.
Collins believes he has done that this fall, when he has been one of the most consistent performers on the team.
"I feel like I kind of established that I can play tackle on the next level, but hey, wherever a team wants to play me at, that's what I'm willing to do," Collins said. "So it doesn't even matter to me. But just the ability to be able to play inside and outside is always a great thing, and right to left side doesn't even matter to me.
"I just try to continue to get better where I'm at right now, though, and that's left tackle. I'm just going out and working hard and just trying to make sure I can get everything that I can out of playing this position."
Apparently Collins and his coaches are not alone in that opinion.
Had he jumped to the pros after his junior season, Collins seemed likely to be selected late in the first round or in the middle rounds of the draft. However, the most recent prospect rankings from NFLDraftScout.com, ESPN's Scouts Inc. and ESPN's Mel Kiper Jr. all include Collins among the top 20 players.
"I believe he's played tremendously, especially compared to last year," right tackle
Jerald Hawkins
said. "He just seemed to upgrade his game, especially being with Coach [Jeff] Grimes."
The newest rankings from Scouts Inc. and Todd McShay rank Collins as the No. 16 overall prospect and No. 3 offensive tackle in the upcoming draft class. Collins said he has already been invited to participate in two postseason all-star games, including the Senior Bowl, although he had not accepted an invitation as of last week.
"I just kind of take it one week at a time, especially now," Collins said. "I definitely know in the future I'm going to have to take on everything that's coming my way, but I'm just taking it and just trying to embrace my last couple of weeks that I have here and just enjoy it, enjoy it with my teammates."
His time at LSU is winding toward its conclusion. After last Saturday's loss at Arkansas, LSU is 7-4 and far out of the conversation for the SEC title Collins hoped to claim when he decided to play one more college season. He has two games left as a Tiger: the regular-season finale at Texas A&M on Thanksgiving night and what will be a mid-level bowl game.
That is far from what Collins envisioned, and yet he will be richer -- figuratively and financially -- for having spent one more season at LSU. Collins believes his time spent with first-year offensive line coach Grimes has benefited him, and he seems to treasure having played a full college career at his hometown college.
"I've been just overwhelmed with falling in love with this place. Ever since I got here, it was always just a great place for me," Collins said. "LSU has just been nothing but good for me. I love the program, I love my coaches, I've learned a lot this year.
"So by me learning so much this year, it really made me realize, 'Wow, I really wasn't ready to move onto the next level.' So that's why I never really can think about it."
May, 7, 2014
May 7
3:00
PM ET
BATON ROUGE, La. –
As we detailed Tuesday
, LSU offensive coordinator Cam Cameron's NFL background played a role in the emergence of several Tigers as top draft prospects. Cameron knows how to coach talented players to perform at the pro level, and he knows what it looks like when said players possess legitimate NFL potential.
Cameron predicted recently that many of LSU's offensive draft prospects possess the potential to hang around the league for a long time after being selected in this week's NFL draft. Here are some thoughts about those ex-Tigers straight from the horse's mouth – the horse in this case being a coach who spent more than a decade in the NFL as an offensive coordinator and head coach before joining Les Miles' LSU staff last year.
[+] Enlarge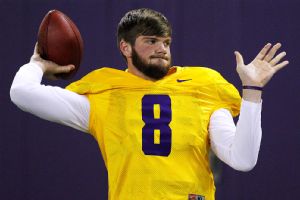 AP Photo/Jonathan BachmanCam Cameron has effusive praise for the passing ability of Zach Mettenberger.
QB Zach Mettenberger
Perhaps the greatest testimony to Cameron's impact on the LSU offense was Mettenberger's improvement in his final fall as the Tigers' starting quarterback. He had long possessed the raw tools to become a success – most notably prototypical size (he's 6-foot-5) and a strong throwing arm – but he didn't put it all together until working with Cameron.
Cameron coached NFL quarterbacks Drew Brees, Philip Rivers and Joe Flacco, and he indicated that Mettenberger has the skills to become a pro starter himself.
"You're looking for innate accuracy, a guy who can just throw the ball accurately and make it look easy. A guy who's not mechanical, a guy who just is a natural thrower and the ball goes where it's supposed to go," Cameron said. "Once you've been around great quarterbacks, you know what it feels like and you know kind of what it looks like, but it has a certain feel to it. What you [saw at LSU's pro day was] a guy throw a football like the great quarterbacks in the National Football League."
RB Jeremy Hill
Hill is another Tiger who, like Mettenberger, dealt with off-the-field issues before working with Cameron. But Cameron vouched for Hill's character, saying, "I think we all, every one of us, make mistakes. May make a mistake or two. I have no issues with Jeremy Hill. He's been a great kid since I've been here. In my dealings with him, he's where he's supposed to be when he's supposed to be there."
As far as on-the-field possibilities, there isn't much to question when it comes to Hill. He rushed for 1,401 yards and 16 touchdowns last season and set an SEC record for a back with at least 200 rushing attempts by averaging 6.9 yards per carry.
Hill's versatility and intelligence inflate his value even further.
"Really look at backs in the league. Go count how many can play on first down, second down and third down, third-down-and-short and inside the 3-yard line. You're not going to find many," Cameron said.
"He's an every-down back and he's an ascending player and he's off-the-charts smart. He is LaDainian Tomlinson-smart and LaDainian is a lot like Darren Sproles, Ray Rice – it's a who's who of guys that were great players in our system and the one thing that they all had that most people didn't know is how smart they were, football smart they were. He's just a young smart, but I think he'll be a brilliant player in the National Football League."
WR Odell Beckham
Beckham will probably be the first Tiger selected in the draft –
ESPN's Todd McShay has him going 13th overall to St. Louis
in his newest mock draft – thanks to his explosive skills as a receiver and return man.
That ability existed before Cameron's arrival, but Beckham made big strides at receiver in 2013, improving from 713 receiving yards in 2012 to 1,152 last season. Cameron credited LSU receivers coach Adam Henry, another former NFL assistant, for teaching Beckham and
Jarvis Landry
how to attack the ball as pass catchers.
"Adam Henry does a tremendous job teaching our guys how to run into the football," Cameron said. "Of course, guys who have great hands aren't cushioning the ball into their body. They just come attack the ball. And those two are the best college receivers I've been around at attacking the football, which you have to do in the NFL."
WR Jarvis Landry
Landry received plenty of love from draft analysts for his strong all-around game – as a blocker, reliable receiver and route-runner – that should translate well to the pros.
After a disappointing result running the 40-yard dash at the NFL combine, Landry helped his cause a bit by running a 4.58-second 40 at LSU's pro day. But straight-line speed is not the only kind of quickness required to play in the NFL, particularly at receiver.
"If you can't win in the first 5 yards, if you don't have short-area quickness, you're not going to last in that league because corners aren't going to play off of you," Cameron said. "And the one thing he's got … He's got NFL explosion, NFL quickness. You've got to win those first 5 yards because now they're going to get their hands off of you."
OL Trai Turner
Turner surprised some when he announced that he would turn pro after an All-SEC redshirt sophomore season. But the Tigers' former right guard has generated positive buzz since the season ended and could come off the board in the draft's early rounds, a possible outcome again strengthened by versatility.
"He has guard-center value," Cameron said. "Most people don't know that about him: If he has to play center, he could play center, because you have to. You only dress seven linemen in the National Football League on Sundays, so you've got to have a guy who can play guard and center. At least one, if not all your guards have to play center. So I think his versatility's critical."
February, 20, 2014
Feb 20
11:45
AM ET
BATON ROUGE, La. – The NFL draft combine has begun, and LSU is well represented with 11 former Tigers on the list of invited players.
Here's a look at the Tigers who are scheduled to be in attendance and when their position groups will take the field for workouts in Indianapolis.
Saturday: Tight ends, offensive line, special teams
Trai Turner
will be the first Tiger to take the stage. The right guard surprised some by entering the draft after his redshirt sophomore season. This is his chance to prove that decision wasn't a mistake. If Turner shows up in good shape and excels in the workouts and positional drills, perhaps he can work his way up some teams' draft boards.
Sunday: Quarterbacks, running backs, wide receivers
This is the showcase day for LSU talent, with five former Tigers set to take the field for workouts. Quarterback
Zach Mettenberger
would have made it six, but he is still rehabilitating an ACL tear suffered in LSU's Nov. 29 win against Arkansas.
[+] Enlarge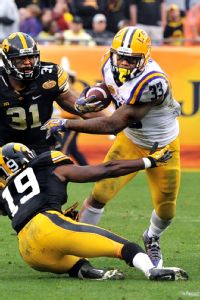 Al Messerschmidt/Getty ImagesAt the NFL combine, Jeremy Hill will try to prove any off-the-field issues are in the past.
Nonetheless, tailbacks
Jeremy Hill
and
Alfred Blue
, fullback
J.C. Copeland
and receivers
Jarvis Landry
and
Odell Beckham
are scheduled to participate in workouts on Sunday, so the NFL Network announcers should spend plenty of time talking Tigers.
Hill is one of the more intriguing running backs in the draft because of his physical abilities, but his off-the-field issues will probably come up, as well. Hill will be fine in the workouts. The most important part of his trip to Indy won't air on television. He must satisfy at least one team that his disciplinary issues are behind him and that he can be a reliable professional. Performing well in these job interviews is essential for a player with a checkered past.
Meanwhile, it wouldn't be much of a surprise to see Blue perform well in the drills and positional workouts and elevate his draft stock. He was overshadowed by Hill at LSU, but Blue has the tools to be an NFL player and he might just emerge on some radars if he's healthy and has an impressive afternoon.
Landry can help himself with a solid time in the 40-yard dash, should he choose to run in Indy. Dependable hands are his best asset, but he will wear the possession receiver label unless he surprises scouts by flashing some top-end speed. ESPN analyst Mel Kiper Jr. wrote this week that a strong combine workout might help Landry work his way into the first round. Conversely, Beckham could help his cause by catching the ball consistently and displaying some polished route-running skills. He's electric with the ball in his hands – and ESPN's Todd McShay is hyping him as one of the draft's fastest prospects – so his biggest hurdle is proving that he's more than a raw athlete.
Monday: Defensive linemen, linebackers
All three of LSU's Monday participants – defensive linemen
Ego Ferguson
and
Anthony Johnson
and linebacker
Lamin Barrow
– have something to prove to NFL scouts.
At 6-foot-1 and 230 pounds, Barrow is not the biggest guy in the world, so most teams likely view him as a situational linebacker and special-teams performer instead of an every-down player. He's athletic and has some intangibles that will probably help him interview well, but he needs to flash some physical tools during the workouts that might help him stand out a bit more.
On the other hand, Johnson and Ferguson should excel in the workouts. After all, Johnson's nickname is "Freak" and he possesses the raw athleticism to back up the hype. The problem for both players is that scouts question their motors. They look the part, but must convince teams that they can refine their games and become more consistent performers at the pro level than they were in college.
Tuesday: Defensive backs

Craig Loston
closes out LSU's long list of combine participants when he competes with the defensive backs on the final day of workouts. Loston projects as an inside-the-box safety who is best as a hitter and run stopper. He was a bit brittle in college, which might affect his draft stock, but Loston can probably help his cause in Indy by flashing some fluidity and ball skills during the defensive back drills. If teams determine he can play coverage the way he can run and hit, Loston will rise as a prospect.
October, 18, 2012
10/18/12
3:00
PM ET
By
ESPN.com staff
| ESPN.com

Mel Kiper Jr. and Todd McShay discuss how many SEC teams will be in the BCS title game, the possibility that Alabama could lose a game, and who should be on upset alert.
SEC SCOREBOARD
Saturday, 12/20
Monday, 12/22
Tuesday, 12/23
Wednesday, 12/24
Friday, 12/26
Saturday, 12/27
Monday, 12/29
Tuesday, 12/30
Wednesday, 12/31
Thursday, 1/1
Friday, 1/2
Saturday, 1/3
Sunday, 1/4
Monday, 1/12
Tweets from https://twitter.com/ESPNCFB/lists/sec