November, 12, 2013
11/12/13
7:00
AM ET
ATHENS, Ga. -- While discussing
Jonathon Rumph
's long-awaited debut after Saturday's win against Appalachian State, quarterback
Hutson Mason
immediately flashed forward to next season, when Mason should become Georgia's starter and have the 6-foot-5 receiver as one of his top weapons.
"You imagine we've got Rumph coming on and what we could have next year -- just another big tool in the toolbox, another big weapon," said Mason, who completed four passes to Rumph for 98 yards in the fourth quarter of the Bulldogs' 45-6 win. "So it's going to be something special."
[+] Enlarge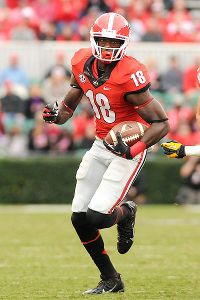 Jeffrey Vest/Icon SMIJonathon Rumph flashed his potential late in the Appalachian State game and showed why he could be a big weapon in the future -- or even sooner -- for the Dawgs.
At this point, many Georgia fans are probably asking, "Why wait until next season?" And Mason would agree with their point.
"I hope [that] boosts him and I hope the coaches see something in him and I hope he gets some more playing time because we can definitely use him," Mason said.
Injuries have ravaged Georgia's receiving corps, knocking
Malcolm Mitchell
and
Justin Scott-Wesley
out for the season and
Michael Bennett
and
Chris Conley
out for several games at a time. Rumph -- the nation's No. 1 receiver in ESPN's 2013 Junior College 100 -- has not been immune to injury issues, either, missing the first six games of the season with recurring hamstring problems before finally playing approximately 10 downs in Georgia's Nov. 2 win against Florida.
Rumph broke through with his first career catch against Appalachian State, taking a tunnel screen for a 24-yard gain early in the fourth quarter, and then breaking free for a 37-yard catch on the Bulldogs' final drive.
Bennett is back in the lineup, and coach Mark Richt said Monday that Conley might return for Saturday's visit to No. 7 Auburn, as well. But Rumph hopes that his impact this season won't be limited to four garbage-time receptions in a blowout win over an FCS opponent.
"I learned from going to juco you've always got to be patient, and when your opportunity comes and you see your crack, you've got to hit it," he said.
Rumph knows this might be his crack.
"Everybody gets their opportunity and you've got to take advantage. That's what I'm trying to do," Rumph said. "This probably is my situation for me to take advantage of my opportunity, so yeah, I'm looking at it as a chance that I can come every day to get better, better my position playing receiver and show the world my talent."
The opportunity likely would have arrived earlier in the season, but the hamstring issue that first cropped up during preseason practice -- the first time he'd ever dealt with a hamstring ailment -- knocked him out for the first two games. Then just as Rumph was preparing to return for the North Texas game, he tweaked the hamstring again.
"That's one thing I had to realize because the first time I hurt it and I came back, it was feeling real good. But it's just like a car, you've got to keep your maintenance up," Rumph said. "That's really what it was, you've got to keep getting treatment. I'm still getting treatment twice a day."
Although Rumph was a January enrollee who participated in spring practice, the lingering injury prevented him from gaining valuable practice experience in the first half of the season. He returned to practice the week of the Vanderbilt game, but didn't take the field. Then he played sparingly against Florida before finally getting some balls thrown his way against Appalachian State.
As Mason said, perhaps that performance proved to receivers coach Tony Ball that Rumph can be an asset in the passing game over the final few games. Injuries robbed Rumph -- and Georgia -- of what might have been an impressive full season, but he still has time to make a bigger impression down the stretch.
"That guy is very talented," Richt said. "The more he learns and the more reps he gets, the more chances he'll get and the better off he's going to be. It's like any other position, you've got to show coaches what you can do in practice to give them confidence to give you more opportunities and you've got to be fortunate enough to be healthy.
"I think if Jonathon was healthy since the beginning of camp, he'd be very heavy in our rotation and who knows how many catches he might have had to this point."
October, 8, 2013
10/08/13
7:00
AM ET
ATHENS, Ga. -- Mark Richt delivered the bad news on Sunday when he confirmed that tailback
Keith Marshall
and receiver
Justin Scott-Wesley
would join wideout
Malcolm Mitchell
on the season-ending injury list.
With receiver
Michael Bennett
(knee) out and All-SEC tailback
Todd Gurley
(ankle) questionable for Saturday's game against No. 25 Missouri (5-0, 1-0 SEC), No. 7 Georgia (4-1, 3-0) has little time to identify the personnel who must play larger roles in order to hang with a Tigers offense that ranks among the nation's most productive units.
Here are four groups/trends to watch as the Bulldogs move forward:
Freshman tailbacks:
With Georgia's two star backs both possibly out Saturday, it's certainly possible we will see another heavy dose of true freshmen
J.J. Green
-- who rushed for 129 yards last Saturday against Tennessee -- and
Brendan Douglas
at tailback.
[+] Enlarge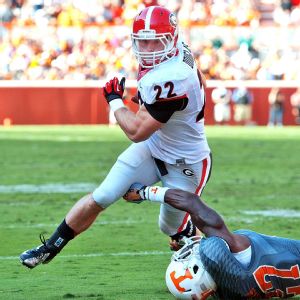 Jim Brown/USA TODAY SportsBrendan Douglas and fellow freshman J.J. Green likely will be asked to shoulder more of the load.
That isn't necessarily a scary proposition for the Bulldogs, who have seen the young duo perform well in practice and in spot duty up until last Saturday's overtime win.
"We see those guys in practice, and they do a great job of breaking tackles or shaking guys or breaking loose for touchdowns against a great defense," offensive guard
Chris Burnette
said. "Seeing them do that in practice, we know they're capable of doing that in a game."
The larger question is what happens if Gurley is unable to play Saturday. If one of the top running backs in the nation remains unable to go as the week progresses -- and he once again did not practice on Monday -- Georgia's coaches might have to take a longer look this week at freshman
A.J. Turman
.
He seemed like a certain redshirt candidate a week ago, but Richt's staff must determine whether the two freshmen who already have played and walk-ons
Kyle Karempelis
and
Brandon Harton
would be enough to carry the load without Gurley and Marshall.
"A lot may depend on how Gurley's doing," Richt said. "If Gurley comes back and you've got the other two, you don't normally have to go three backs. But if Gurley can't go, then we've got to try to figure out what we're going to do. We've got Harton and Karempelis that have played for us before, so those are possibilities. We've just got to kind of try to figure that out.
Wild cards:
Speaking of Turman, he's not the only newcomer who has not played yet and still might or might not make an impact this fall.
Receivers
Tramel Terry
and
Jonathon Rumph
-- Georgia's second- and sixth-highest-rated 2013 signees in ESPN's player rankings -- have not played to date but still could factor into offensive coordinator Mike Bobo's plans ... eventually.
Richt said "it's very doubtful that [Rumph would] be ready" for the Missouri game while still dealing with a left hamstring strain, but "after that, we're going to definitely try to get him ready."
Meanwhile, Terry struggled during preseason practice while still recovering from offseason ACL surgery and seemed set to redshirt this season. But because of the receiver attrition, the freshman might be someone the coaches eventually consider.
"I just think the longer he practices coming back from his injury, the better he'll be," Richt said. "Is he really ready for this type of competition? I don't know.
"And the fact that he hasn't had a lot of reps with our offensive unit, he's been working mainly scout team reps, and he's a freshman, so it's hard to really be ready in all the ways that you have to be ready -- not only physically, but knowing the game plan and just having experience running the routes and playing in games like that. So I'm not counting him out, but I really don't know the answer right now."
More tight ends:
Considering the level of in-game attrition that occurred at Tennessee, perhaps the most surprising statistic from that game was that neither
Arthur Lynch
nor
Jay Rome
made a reception.
Expect that to rank as a statistical anomaly moving forward.
When Georgia's receivers encountered a number of injury issues last season, Lynch and Rome were two of the top pass-catching beneficiaries. The two tight ends combined for 25 catches for 367 yards -- 251 by Lynch and 116 by Rome – over the final six games last season. In the first eight games of 2012, they combined for 10 catches and 216 yards.
Lynch and Rome have 212 yards -- 169 by Lynch and 43 by Rome -- this season.
[+] Enlarge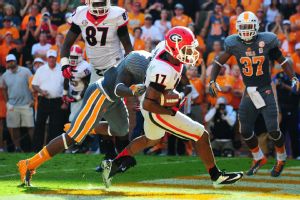 Scott Cunningham/Getty ImagesWith injuries mounting, senior Rantavious Wooten might be counted on to play a much larger role.
Replacement receivers:
Junior
Chris Conley
-- who led Georgia with 64 receiving yards and made a tremendous one-handed touchdown catch against Tennessee -- is nearly the only known quantity in the Bulldogs' receiving corps for the time being.
Yes, they have fifth-year seniors
Rhett McGowan
and
Rantavious Wooten
available, but both players have been role players throughout their careers. Beyond that, Georgia might need reserves like
Reggie Davis
,
Blake Tibbs
,
Michael Erdman
,
Kenny Townes
to pick up their production.
"We're deep in the receiver room," McGowan said. "A lot of people don't know that, because they haven't played, but they're at Georgia for a reason."
Bennett will undergo arthroscopic surgery today to determine the extent of his knee injury. Even if he receives positive news, the junior will certainly miss the Missouri game and possibly more time after that.
Since they have dealt with regular injuries over the last two seasons, the receivers believe they are well-prepared for their current situation and now must take advantage of this opportunity.
"[Receivers coach Tony] Ball always tells me, 'Prepare like you are the starter, and you never know, because you're one play away from [being] a starter,' " said Wooten, who caught two touchdowns against Tennessee. "So all the guys know that in the room, and I know that myself, and I always had that in the back of my head. Any guy could be the next man up. The coaches have the final decision on that, but at the end of the day, that's what we do, we practice, and we get ready for those types of situations."
March, 4, 2013
3/04/13
12:34
PM ET
Linking our way around the SEC on a Monday:
April, 11, 2012
4/11/12
3:20
PM ET
By
ESPN.com staff
| ESPN Insider
DawgNation Roundtable

: This week's discussion, which includes a select response from DawgNation Insider doublejoxe, focuses on the upcoming spring game: "What is the No. 1 thing you will be watching in the G-Day game this Saturday?"
David Ching writes

: Spring practice report, Day 12 -- Ready to transfer just days ago, safety Marc Deas talks about how Mark Richt's support convinced him to stay.
July, 7, 2011
7/07/11
9:26
AM ET
By
ESPN.com staff
| ESPN.com
Next up on our coaching caravan is Georgia.
Coach:
Tony Ball
Position:
Wide receivers

Experience:
He's entering his sixth season on Georgia's staff and his third as the Bulldogs' wide receivers coach. Ball, 51, coached the Georgia running backs his first three seasons in Athens from 2006-08. Prior to coming to Georgia, Ball spent eight seasons as the wide receivers coach at Virginia Tech from 1998-2005. He was the receivers coach at Louisville for three seasons in 1995-97 and also coached on the staffs at Holy Cross, UT-Chattanooga and East Tennessee State. Ball alternated between coaching running backs and receivers at those stops. Ball got his coaching start at Austin Peay in 1985-86 as a graduate assistant.
Of note:
Ball was one of two assistant coaches on Georgia's staff to receive a raise following the Bulldogs' 6-7 season a year ago. He went from $165,480 to $200,000 after receiving what Georgia athletic director Greg McGarity said was a legit offer from another school. Running backs coach Bryan McClendon was the other assistant to get a raise and went from $90,000 to $200,000. ... Ball was a standout running back at UT-Chattanooga and played for the late Joe Morrison. Ball later coached under Morrison at South Carolina in 1987 as a volunteer assistant. ... In 1977, Ball led the nation in kickoff returns with a 36.4-yard average and was inducted into the school's Hall of Fame in 2007.
His challenge:
The truth is that A.J. Green would make a lot of coaches, a lot of quarterbacks and a lot of offenses look good, but he's gone now. Ball got a glimpse of what life without Green would be like the first four games of the season a year ago when Green was serving his NCAA-mandated suspension, and it wasn't pretty. The Bulldogs clearly missed his playmaking ability. They've had time to plan without him now, not to mention the steady Kris Durham, who had 32 catches last season as a senior, and Ball's task is taking a group of receivers with decent experience and making it more dynamic and more consistent across the board. Senior
Tavarres King
, who's bigger and stronger, says he's ready to go from the second option to the go-to guy in the Bulldogs' passing game. He caught 27 passes, including three touchdowns, a year ago. Another key project for Ball is getting more out of junior split end
Marlon Brown
, who was highly recruited, but has caught just 13 passes his first two seasons. Brown showed considerable improvement toward the end of last season and during the spring. Junior flanker
Rantavious Wooten
needs to step up his game, while redshirt freshman
Michael Bennett
and true freshmen Chris Conley and Malcolm Mitchell will also factor into the equation. Conley went through the spring, so it won't be completely new to him. The Bulldogs have the best quarterback in the league in
Aaron Murray
. We'll find out about his receivers this fall.
May, 3, 2011
5/03/11
3:45
PM ET
Georgia assistant coaches Tony Ball and Bryan McClendon received significant pay raises,
according to a report
by the Atlanta Journal-Constitution.
Ball, Georgia's wide receivers coach, has been on coach Mark Richt's staff since 2006 and is set to make $200,000, which is up from the $165,480 he made last year.
McClendon, who joined the Bulldogs' staff as the running backs coach in 2009, was previously one of the lowest-paid SEC assistants. His salary was $90,000 a year, but he will now make $200,000 each year.
Georgia athletic director Greg McGarity said the raises were results of other schools reaching out to Ball and McClendon. McGarity declined to get into what schools contacted the coaches, but did say that the raises were approved in February and March.
"All I can say is they were legit offers," McGarity told the AJC. "I think the key is continuity. We had already lost two coaches to other schools. Continuity of staff is important to me and to Mark and we thought it was important to maintain stability, especially.
"They're well-deserved. Both of these men are tremendous coaches who work very hard and were underpaid, in my opinion. We had some momentum going after recruiting and they had a lot to do with that. All signs are pointing up and we needed to be proactive. We will always be proactive."
The news of Ball's raise comes just days after the Bulldogs had two wide receivers drafted in the 2011 NFL draft. Junior
A.J. Green
went fourth overall to the Cincinnati Bengals and senior
Kris Durham
went in the fourth round to the Seattle Seahawks.
Green, who was arguably the best receiver in the draft, caught 57 passes for 848 yards and nine touchdowns in his shortened 2010 season. He finished his career at Georgia with 166 receptions for 2,619 yards and 23 touchdowns.
Durham was second on the team with 32 catches for 659 yards and three scores. He finished his college career with 64 receptions for 1,109 yards and four touchdowns.
McClendon has a chance to really earn his new paycheck this fall. He has the responsibility of coaching up a talented but unproven receiving group. Junior
Tavarres King
returns as the most experienced wideout and moved to Green's flanker position this spring. He and quarterback
Aaron Murray
developed good chemistry this spring and King figures to be the go-to-receiver in Georgia's offense.
Behind him, it's a bit of a mystery.
Marlon Brown
and
Rantavious Wooten
could have the most pure talent of the bunch, but neither has yet to make much of a contribution at Georgia. Brown caught just 11 passes for 133 yards and a touchdown last year, while Wooten snatched seven balls for 41 yards and a score.
The good news for Ball is that both seemed to have their internal light bulbs come on during spring, but the next step is having that carry over to fall.
As for McClendon, he's got a stable of running backs, but inconsistency is an issue. Senior
Caleb King
made vast improvements in practice, but never really broke away from the rest of the running back pack.
Washaun Ealey
is easily the most gifted runner, but off-the-field issues have him crammed in Richt's doghouse. For now, we don't know where Ealey fits in with the running backs.
Next you have
Ken Malcome
,
Carlton Thomas
and incoming freshman Isaiah Crowell. Richt didn't hesitate when Crowell signed to say that he could be the guy this fall. Crowell brings great speed, athleticism and strength to the position, but he's young. Malcome and Thomas battled injuries this spring, but Malcome impressed in Georgia's spring game.
Both coaches have their work cut out for them this fall, but getting strong numbers out of their groups will make them well worth the recent investment.
Of note:
"Salary actions" were also completed for new offensive line coach Will Friend, who will earn $200,000 this year, and new linebackers coach Kirk Olivadotti, who will earn $250,000.