December, 22, 2014
12/22/14
12:00
PM ET
BATON ROUGE, La. -- LSU got considerable production out of its vaunted freshman class this season, but some members of the class are still waiting to contribute.
Today and tomorrow, we'll look at the freshmen who are in line to redshirt, as well as a couple who appeared in only a game or two. Today we begin with the players on offense.
OL GARRETT BRUMFIELD
Height/Weight:
6-4/309 pounds
ESPN prospect rating:
Four stars, No. 54 overall prospect on ESPN 300, No. 1 offensive guard
2014 in review:
The writing was on the wall when Brumfield and
William Clapp
signed in February in that LSU returned a wealth of experience along the line. Unless something catastrophic happened, they would most likely sit out the season and redshirt -- and that's what happened. Brumfield could be in line to play guard or center next season, particularly if one of the Tigers' underclassmen opt to enter the NFL draft.
Teammate's comments:
"Brumfield is a very athletic guy. He kind of reminds me of Trai [Turner, a former LSU lineman and rookie with the Carolina Panthers] in a way. Clapp reminds me of maybe a little smaller P.J., if you remember [former LSU center] P.J. Lonergan. So those are two guys that played really good football at LSU, and they've gotten so much better from when they came in to now. I really like those guys. They're good guys and things like that, so they have a bright future." -- junior left guard
Vadal Alexander
OL WILLIAM CLAPP
Height/Weight:
6-5/295 pounds
ESPN prospect rating:
Four stars, No. 22 offensive guard
2014 in review:
The son of former LSU captain Tommy Clapp worked behind veterans at guard and center during the season. Center might be where he eventually settles, however, with senior
Elliott Porter
completing his career and sophomore
Ethan Pocic
able to play multiple positions along the line.
Teammate's comments:
"[Brumfield and Clapp have] both been working great at guard and center. They switch back and forth with it. They practice at center one day and they go back to guard the next day. They're going at it. ...I believe there's a little competition between them two -- like they're young, but they're always trying to see who can get it in." -- sophomore right tackle
Jerald Hawkins
WR TONY UPCHURCH
Height/Weight:
6-1/230 pounds
ESPN prospect rating:
Four stars, No. 283 overall prospect on ESPN 300, No. 42 wide receiver
2014 in review:
Of the four wide receivers LSU signed in February, Upchurch probably needed the most work.
Trey Quinn
and
Malachi Dupre
contributed immediately and
D.J. Chark
also appeared in a handful of games. Upchurch needed time to slim down a bit and learn LSU's offense. He'll have to compete for playing time with a number of young wideouts in 2015.
Teammate's comments:
"He's grown a lot. From the first time I met him in the summer to yesterday, he's grown a lot. He's matured a lot. He was real heavy when he first got here and he's losing weight. He's growing as a person on and off the field. He's not doing some of the things he was doing when he first got here. He's more focused on football." – sophomore wide receiver
Travin Dural
TE JACORY WASHINGTON
Height/Weight:
6-5/221 pounds
ESPN prospect rating:
Four stars, No. 169 overall prospect on ESPN 300, No. 5 tight end (H)
2014 in review:
As with the other offensive redshirts, Washington faced a logjam at his position when he arrived at LSU in the summer. The Tigers returned four tight ends who saw the field in 2013, plus they added junior college transfer
Colin Jeter
. Washington and the other young tight ends should have a much greater opportunity to play next season with seniors
Logan Stokes
and
Travis Dickson
completing their careers.
Teammate's comments:
"I think Jacory's going to be a monster one day. He's big, tall, strong. Just coming here, they wanted him to put some size on and get used to the system and we had a lot of older guys in front of him, so they redshirted him. But it's definitely benefited him a lot. He looks a lot more comfortable out there at practice, especially blocking. I don't think he had ever blocked before he got here and he's actually going to be a very good blocker. Obviously y'all know about his receiving skills, so he's going to be very good." -- Stokes
December, 18, 2014
12/18/14
12:00
PM ET
Connor Neighbors
will be long gone by then, but LSU's senior fullback believes the Tigers have championship potential in 2015 -- as long as the roster doesn't take too hard of a hit from the NFL draft.
"There's a bunch of personalities on this team that I don't think any other team has," Neighbors said. "So if the people that are eligible to stay, if they do stay, this team could be probably the best next year. Obviously they've got to improve in some areas, but what team doesn't?"
The Tigers' title possibilities might hinge on keeping more draft-eligible players on campus than they have in recent seasons. LSU lost a whopping 17 of them to the draft in the last two years, and the on-field product has suffered as a result.
Today we'll take a position-by-position look at LSU's roster positioning and which players have decisions to weigh, starting first with the offense and then with the defense:
[+] Enlarge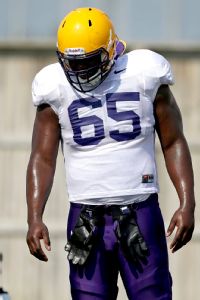 AP Photo/Gerald HerbertKeeping Jerald Hawkins would go a long way in stabilizing LSU's offensive line next season.
QUARTERBACK
Key departing seniors:
None
Key draft-eligible players:
None
Key underclassmen/not eligible for draft:
Sophomore
Anthony Jennings
(104-213, 1,460 yards, 10 TDs, 7 INTs), Freshman
Brandon Harris
(25-42, 452 yards, 6 TDs, 2 INTs)
Comment:
LSU doesn't figure to lose one of its quarterbacks, but it will remain the most scrutinized position on the offense. Jennings started most of the season and was not consistent enough, while Harris struggled in his one start and has barely seen the field since then. LSU coach Les Miles said this week that Harris "is being groomed" to compete for the starting spot in the future, so expect the Jennings-Harris battle to resume in the spring.
RUNNING BACK
Key departing seniors:
Tailbacks
Terrence Magee
(545 rushing yards, 3 TDs) and
Kenny Hilliard
(431 rushing yards, 6 TDs), fullback Connor Neighbors (four catches for 27 yards)
Key draft-eligible players:
None
Key underclassmen/not eligible for draft:
(Tailback) Freshman
Leonard Fournette
(891 rushing yards, 8 TDs), freshman
Darrel Williams
(280 rushing yards, 3 TDs), (fullback)
Melvin Jones
(five catches, 22 yards, TD)
Comment:
Nobody has a decision to make here. Magee, Hilliard and Neighbors are all seniors and Fournette, Williams and Jones will return in 2015. The Tigers are poised to add ESPN 300 tailbacks Nick Brossette and Derrius Guice to the backfield next season, and both will have the opportunity to contribute immediately following Magee and Hilliard's departures. The running game will still be in great shape.
WIDE RECEIVER/TIGHT END
Key departing seniors:
(Tight end)
Travis Dickson
(seven catches, 60 yards),
Logan Stokes
(one catch, 3 yards, TD)
Key draft-eligible players:
(Tight end) junior
Dillon Gordon
(no catches), (Receiver) redshirt sophomore
Travin Dural
(37 catches, 758 yards, 7 TDs)
Key underclassmen/not eligible for draft:
(Tight end) Sophomore
Colin Jeter
(no catches), sophomore
DeSean Smith
(no catches), (receiver) redshirt freshman
John Diarse
(13 catches, 199 yards, 2 TDs), freshman
Malachi Dupre
(14 catches, 318 yards, 5 TDs), freshman
Trey Quinn
(17 catches, 193 yards)
Comment:
The big news is that draft-eligible sophomore Dural said this week that he expects to be back at LSU next season. The speedster was the heart and soul of LSU's passing game, but he's probably making a good decision. A more consistent season in 2015 could improve his draft stock, as he started out with three 100-yard outings in the first four games, but hasn't had one since. Gordon should also return and will contribute heavily as a blocking tight end. Both positions have youngsters who are in line to contribute more heavily. Diarse, Dupre and Quinn are all freshmen who made some good things happen in their first game action, and several freshman receivers (keep an eye on
D.J. Chark
) are in line behind them. Same thing at tight end, where Colin Jeter, DeSean Smith and redshirting freshman
Jacory Washington
all could enjoy expanded roles in 2015.
OFFENSIVE LINE
Key departing seniors:
Left tackle La'el Collins, center
Elliott Porter
, right guard
Evan Washington
, right guard Fehoko Fanaika
Key draft-eligible players:
Junior left guard
Vadal Alexander
, right tackle
Jerald Hawkins
Key underclassmen/not eligible for draft:
Sophomore center/guard
Ethan Pocic
Comment:
This is the most important position group to watch. Collins has been outstanding at left tackle, winning the SEC's Jacobs Blocking Trophy as the conference's top blocker. He and Porter make two starters who are definitely leaving, and Washington and Fanaika are two of the top reserves. Where things could really go sideways is if Alexander and Hawkins opt to enter the draft, as well. LSU looks to be positioned well for a championship push next season, but having to replace four of the five starting offensive linemen would not be an encouraging sign. Both players were noncommittal when asked about the draft this week, but both of them requested draft grades from the NFL's advisory committee. Said Alexander, whom ESPN's Mel Kiper Jr. rated as the No. 7 guard prospect among draft-eligible players, "You want to focus on getting better because, stay or leave, you want the type of guy who can compartmentalize things and just focus on the here and now, and that's what I'm trying to do right now. Somebody'll lie to you and say they never think about it, but I'm not seriously thinking about it right now and I will make a quick decision after the bowl game."
December, 8, 2014
12/08/14
12:00
PM ET
BATON ROUGE, La. – For the first time since 2005, Les Miles' first season as LSU's coach, the Tigers will already be home by the time the clock strikes midnight on New Year's Eve.
Typically that's a sign of a disappointing season, which is certainly the case for a Tigers team (8-4) that fell well short of the standard that Miles set in his first decade at LSU. This was not a great season, and if the Tigers fail to win their bowl game, they will match the 2008 team for LSU's fewest wins in a season under Miles.
With all of that said, however, LSU's matchup in the Franklin American Mortgage Music City Bowl is as good as an 8-4 team could expect. The Tigers drew Notre Dame (7-5), which like LSU was ranked in the top 10 early in the season before a late slide.
Both programs have played for a national championship within the last four seasons, and while they both finished this regular season with a flop, a game featuring two of the sport's most successful programs provides a reason to get excited about playing one more game.
[+] Enlarge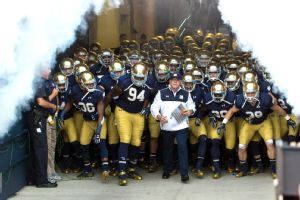 Matt Cashore/USA TODAY SportsLSU players sound eager for a shot at Notre Dame no matter the bowl game.
"It adds a little more relevancy to the opponent just because it's such a big-name program. Two great programs, us and them," LSU offensive lineman
Vadal Alexander
said. "So you grow up looking at Notre Dame and watching them play since you were little. And it's always a program that's in the national spotlight, so it's easier to really get up for it.
"No matter who the opponent would have been, we would have got up for it, obviously, but definitely Notre Dame, we can get excited for a great team like that, to play them."
The caliber of the programs should drive interest despite a 3 p.m. ET kickoff on Tuesday, Dec. 30, and the game will add to the considerable history between the Tigers and Fighting Irish.
LSU and Notre Dame have actually played 10 times, the most of any SEC opponent against the Fighting Irish. Both clubs have won five times in series history, so this will be a rubber match of sorts.
"LSU and Notre Dame, they have some history with each other in bowl games," LSU running back
Terrence Magee
said. "So growing up, Notre Dame is a big program. They've been on the big stage lately playing Alabama in the national championship, and I think it's going to be a big matchup for us. I'm excited about it."
Oddly enough, the bowl trip also will help LSU's seniors cross Nashville off the list of SEC towns where they will have played. The Tigers haven't played in Music City since 2010 and while several fifth-year seniors (including
Connor Neighbors
,
D.J. Welter
,
Travis Dickson
,
Evan Washington
and
Justin Maclin
) were on LSU's team that season, none of them played in the Tigers' 27-3 win over Vanderbilt.
Missouri is the only SEC team that LSU hasn't faced in the last five seasons, and Mizzou, Kentucky and South Carolina are the only SEC towns where the Tigers haven't played in that period.
But the location of this game is only a footnote. After all, nobody on either of these teams set a preseason goal of finishing the year with a bowl game in Tennessee. It's the opposition that drives interest for fans and players alike.
"It really doesn't matter, the destination," LSU cornerback
Jalen Collins
said. "I feel like the opponent is the bigger part. It's who we're playing and how we finish the game."
In that regard, both clubs are getting off lucky. Notre Dame lost five of its last six games after ranking as high as fifth at one point. LSU dropped two of the last three after it ranked eighth early in the season.
Obviously the season didn't end the way fans of either school once hoped, so getting to face a big-name opponent in a bowl game was far from a foregone conclusion. The sunny side of the teams' late stumbles – certainly from the bowl's perspective, as this is probably the best pairing in Music City Bowl's 17-year history – is that they paved the way for a bowl pairing that's actually interesting.
Both teams were better last season, but Notre Dame's bowl game against Rutgers and LSU's against Iowa didn't do much for anybody. At least now we get to see two of the sport's most historically significant programs meet. All things considered, that's not so bad.
August, 12, 2014
8/12/14
10:30
AM ET
»
More team previews:
ACC
|
Big 12
|
Big Ten
|
Pac-12
|
SEC
Previewing the 2014 season for the
LSU Tigers
:
2013 record:
10-3 (5-3 SEC). Beat Iowa 21-14 in the Outback Bowl.
Key losses:
QB
Zach Mettenberger
, RB
Jeremy Hill
, WR
Odell Beckham
, WR
Jarvis Landry
, LB
Lamin Barrow
, S
Craig Loston
, DT
Ego Ferguson
, DT
Anthony Johnson
, RB
Alfred Blue
.
[+] Enlarge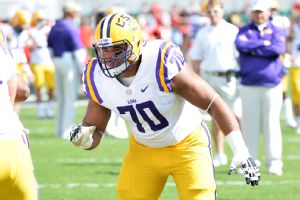 Scott Clarke/ESPN ImagesLa'el Collins will anchor an LSU offensive line that will try to pave the way for the Tigers' inexperienced, albeit talented, skill-position players.
Key returnees:
OT
La'el Collins
, DE
Danielle Hunter
, DE
Jermauria Rasco
, RB
Terrence Magee
, CB
Tre'Davious White
, OG
Vadal Alexander
, WR
Travin Dural
, LB
D.J. Welter
, LB
Kwon Alexander
, OT
Jerald Hawkins
, S
Jalen Mills
.
Instant impact newcomers:
RB
Leonard Fournette
, QB
Brandon Harris
, WR
Malachi Dupre
, WR
Trey Quinn
, LB
Clifton Garrett
, S
Jamal Adams
, CB
Ed Paris
, DB
John Battle
.
Breakout player:
It's tempting to focus on Hunter or sophomore cornerbacks White and
Rashard Robinson
here, but let's go with Fournette. As the nation's No. 1 overall prospect and headliner of ESPN's second-ranked 2014 recruiting class, the star tailback has already generated a ton of buzz. Magee,
Kenny Hilliard
and freshman
Darrel Williams
will all get some touches, but anything short of immediate stardom for Fournette would be a bit of a letdown.
Key position battle:
Quarterback competitions always generate the most attention, and that will be the case this August at LSU. The battle between early enrollee Harris and sophomore
Anthony Jennings
started in spring practice -- and the freshman won the first round by clearly outplaying Jennings in the spring game. LSU's coaches were in no rush to name a starter at the time, though, so Jennings still has a chance to prove he deserves the job. He engineered the game-winning, 99-yard touchdown drive to beat Arkansas after replacing an injured Mettenberger and got a win (despite a disappointing performance) in his lone start, the bowl win over Iowa. Impressive dual-threat talent Harris is going to be awfully difficult to hold off, however.
Most important game: Oct. 4 at Auburn.
Sure, the Alabama game (Nov. 8 at Tiger Stadium) is the game every LSU fan has circled, and the Aug. 30 opener against Wisconsin carries plenty of intrigue, but the Tigers' midseason visit to the defending SEC champs might be the key to the season. LSU handed Auburn its only regular-season loss last season and has won six of the past seven in the series.
Biggest question mark:
LSU is inexperienced at several key positions (most notably quarterback, receiver and defensive tackle), so the new starters' abilities to quickly adapt to the grind of SEC football will likely determine whether the Tigers become serious contenders in the Western Division this season.
Upset special: Oct. 11 at Florida.
The Tigers will be only a week removed from what could be a street fight against Auburn when they visit The Swamp. Injury-depleted Florida became a punch line last season, but the Gators have plenty of talent and a chip on their shoulders after crumbling in 2013. LSU is understandably favored here, but getting a win will not be easy here.
Key stat: 12-211.
With Landry and Beckham combining for 72 percent of LSU's receiving production (2,345 of 3,263 yards), there weren't a lot of balls to go around to everyone else. LSU's tight ends combined for just 12 catches and 211 yards, led by
Dillon Gordon
(6-88) and
Travis Dickson
(5-109). Cam Cameron's offenses have typically made good use of the tight end, and the group believes it will be more active in the passing game this fall. Keep an eye on sophomore
DeSean Smith
(1-14), who caught a touchdown in LSU's spring game -- a day when the tight ends combined for eight catches and 131 yards.
Preseason predictions:
ESPN Stats & Information:
8.01 wins
Bovada over-under:
9 wins
Our take:
Les Miles has led the Tigers to a school-record four straight seasons with at least 10 wins. Because of the massive production losses on offense -- including the first combination of a 3,000-yard passer, a 1,000-yard rusher and two 1,000-yard receivers in SEC history -- the Tigers are one of the biggest wild cards in the SEC. The defense looks like it's rounding into the impressive form that characterized LSU's best teams of the 2000s, but the Tigers' record will likely rest on the progress the new quarterback makes, whether Fournette immediately lives up to his advance billing, and whether at least a couple of the young receivers can handle big roles. The window for this team is probably somewhere between eight and 10 wins. Let's split the difference in our prediction and go with 9-3.
August, 5, 2014
8/05/14
7:45
PM ET
BATON ROUGE, La. -- By now it's no secret that LSU's offense will be loaded with freshmen and inexperienced underclassmen. Perhaps that's why offensive coordinator Cam Cameron has emphasized since spring practice that his veterans have to do more than lead by example.
"There's no room for quiet leaders anymore. It's time for people to step up and start talking," said running back
Terrence Magee
, an understated senior who admitted that vocal leadership does not come naturally. "And if that's what I've got to do, then I'm willing to do it."
That's a theme that has resonated throughout the offensive roster. A crew of future stars like
Leonard Fournette
,
Malachi Dupre
and
Brandon Harris
joined the team this year, and the older players understand that the rookies need to see -- and hear -- things being done the right way.
Many older players already wanted to mentor the youngsters through their actions, but the verbal portion of leadership is new to some. Magee and senior left tackle
La'el Collins
both identified right tackle
Jerald Hawkins
as a naturally quiet starter who has become more verbal since Cameron sent that message in the spring. Collins added running back
Kenny Hilliard
and quarterbacks Harris and
Anthony Jennings
to the list of burgeoning vocal leaders.
"It's definitely more natural to me because that's just the way it was when I got here," Collins said. "That's something that I picked up on and it kind of died down a little bit, but it's just something that Coach Cam is kind of reinstating."
If Cameron's efforts are successful, they can have an impact far beyond the 2014 season as the young players continue to mature, Collins said.
"Guys around here and our younger guys especially, they need to see that. They need to see that is what sets the trend," Collins said. "That's what gets the young guys on one accord with us, makes sure we're moving in the same direction and when they become veterans, they'll be able to pass that along."
Moving around:
As Coach Les Miles indicated before camp, quarterbacks Harris and Jennings switched practice groups in Monday and Tuesday's split-squad workouts. And they weren't alone.
Jennings practiced with the varsity on Monday -- a group largely composed of starters with a handful of freshmen mixed in -- and shifted to the reserves/freshmen group on Tuesday afternoon, and vice versa for Harris. That gives both players a chance to work with a full range of personnel.
"This is designed so that everybody's getting maximum reps, and it may be as deceptive as we want this linebacker to be with that linebacker so he can see it being done extremely well," Miles said. "So don't spend a lot of time saying, 'Why's he here, why's he there?' It is fully for a teaching purpose and for everybody to get really great reps."
In addition to the quarterbacks, several other players switched from the afternoon to the morning group on Tuesday. Among Tuesday's morning newcomers were tight ends
DeSean Smith
and
Logan Stokes
, after
Dillon Gordon
and
Travis Dickson
worked with the first-teamers on Monday, and safety
Jalen Mills
. Backup quarterback
Jared Foster
also practiced with the morning group after working in the afternoon Monday.
Right guard competition:
LSU has four starters back along the offensive line, but the competition for the vacant starting position could last well into the season.
Hoko Fanaika
was the first to line up at right guard with the starting offensive line Tuesday, but he and fellow senior
Evan Washington
know their battle will truly renew once the team begins practicing in pads on Friday.
"We've been getting pretty much equal reps," Fanaika said after Tuesday morning's practice.
Miles and offensive line coach Jeff Grimes -- both former right guards in college -- have individually worked with the guards in practice this week, and Fanaika said their instruction has been helpful.
"[Miles] just pretty much sharpens up my technique," Fanaika said. "Whatever Grimes teaches me, he just adds on, so he's just helping me better my craft."
Plenty of reps for RBs:
LSU has only four scholarship tailbacks on the roster -- Magee and fellow senior Hilliard, plus Fournette and fellow freshman
Darrel Williams
-- so there have been plenty of carries to go around for the backs in the split-squad workouts.
That's a major change for the veterans, who encountered a significantly different depth-chart situation when they first became Tigers. Hilliard was a reserve who rushed for 336 yards and eight touchdowns for the 2011 SEC championship club, while Magee played much less, totaling 27 carries for 133 yards that season as
Spencer Ware
,
Michael Ford
,
Alfred Blue
and Hilliard played bigger roles.
"When I got here, it was about six or eight of us and we were fighting for reps. You might get one or two a day," Magee chuckled on Monday. "But me and Kenny, we're getting our share of them right now, and Darrel and Leonard, they're going to get their share of them this afternoon. We'll be glad when we all come together and it's all four of us so we don't have to take the whole load."
Quote of the day:
Miles on watching freshman tailback Fournette practicing Monday for the first time at LSU in helmet and shorts, since the team doesn't practice in full pads until Friday: "That's kind of like having Tiger Woods on a golf course with a putter. You just want to see him tee off, don't you? Well, we have to put pads on before we can see him tee off."
April, 25, 2014
4/25/14
9:00
AM ET
Editor's note: On Thursday, we examined LSU's success on third down last season (the Tigers led the nation by converting 57.1 percent of the time) and the importance the quarterbacks will play in remaining successful. Today we explore how much production the Tigers must replace at the skill positions in order to remain effective on third down.
BATON ROUGE, La. -- Among ESPN's top-10 quarterback prospects for the upcoming NFL draft, LSU's
Zach Mettenberger
posted the best third-down conversion percentage (53.7) of the bunch.
Certainly it helped that Mettenberger possesses a cannon for a right arm and the experience that comes with being a fifth-year senior. But even Mettenberger would agree that he greatly benefited from the freakish playmaking abilities of receivers
Jarvis Landry
and
Odell Beckham
and tailback
Jeremy Hill
.
That foursome helped LSU lead all FBS teams with a 57.1-percent conversion rate on third down last season, but now all four are waiting to hear their names called in next month's NFL draft.
That leaves offensive coordinator Cam Cameron and the other offensive assistants with the burden of replacing some incredibly productive players who were often at their best on third down.
On Thursday, we looked at the role young quarterbacks
Anthony Jennings
and
Brandon Harris
will play in LSU's third-down fortunes in the fall. We'll do a bit more of that in a second, plus we'll examine LSU's third-down production at receiver and running back in an effort to identify which returning players have the most experience at keeping drives alive by achieving all-important first downs.
Mettenberger was outstanding on third down last season, averaging 16.6 yards per completion and throwing only one interception against nine touchdowns. That's going to be nearly impossible for either Jennings or Harris to duplicate this season, but it should help that the two youngsters have the ability to run as well as throw.
Mettenberger hung out in the pocket as if his sneakers were made of lead, but Jennings and Harris are both quick enough to move the chains on the run. Harris, in particular, showed his speed in the Tigers' spring game with a 41-yard run, and he also converted for a first down or touchdown on six of the last eight times he was under center on a third down.
Jennings struggled in that department in the spring game, with the offense converting for a first down just once in his seven attempts on third down. He also threw an interception that linebacker
Deion Jones
returned for a 67-yard touchdown on a third down.
Mettenberger should send a thank you note to Landry for all the times he made a clutch grab to extend a drive or end one with a touchdown. The junior wideout made a catch on 28 of the 35 times he was targeted, with 20 of the receptions earning a first down and six more going for a touchdown. He finished the season with 474 receiving yards and an average of 16.9 yards per catch on third down alone.
Beckham's solid numbers are unfairly overshadowed by Landry's, as Beckham caught a pass on 15 of the 25 times he was targeted on third down, gaining 272 yards in the process. Thanks to a pair of penalties against defenders, LSU actually picked up more first downs (16) on passes in which Beckham was targeted than there were instances when he actually caught the ball (15). He averaged 18.1 yards per catch on third down.
LSU's problem is that only two of its top six third-down targets will be back this fall.
Travin Dural
(five catches, 97 yards, two touchdowns on third down) returns, but wideout
Kadron Boone
(four catches, 93 yards and two touchdowns) and tailback
Alfred Blue
(three catches, 46 yards) are both gone.
It wouldn't be a surprise to see tailback
Terrence Magee
(three catches, 46 yards), tight ends such as
DeSean Smith
,
Travis Dickson
and
Dillon Gordon
and fullback
Connor Neighbors
play more active roles on third down in Landry's and Beckham's absence. The Tigers might also lean heavily on a new crop of receivers (including redshirt freshman
John Diarse
and signees
Malachi Dupre
and
Trey Quinn
) on key downs once the season begins.
Hill was superb when Cameron called his number on third down last season, averaging 13.2 yards per carry and achieving either a first down or a touchdown 13 times in 18 tries. Included in that fairly small collection of carries was a 49-yard touchdown on a third-down run against Auburn, a 69-yard burst for a score against Mississippi State and a 37-yard score that put away the Tigers' Outback Bowl victory over Iowa.
Magee and Kenny Hilliard, meanwhile, posted fairly pedestrian numbers in limited work on third down. Both players receieved eight carries on third down, with Magee achieving three first downs and two touchdowns (he also lost a fumble) and Hilliard getting two first downs and two touchdowns.
The fullback typically earns some short-yardage carries in LSU's offense – senior
J.C. Copeland
picked up two first downs and scored twice in four carries on third down – so it will be interesting to see whether Neighbors or
Melvin Jones
continue that trend.
Freshman tailback
Leonard Fournette
will be another player to watch here, as the nation's top overall prospect will certainly earn some carries when the Tigers need to move the chains or hammer the ball into the end zone. Fournette and fellow signee
Darrel Williams
aren't on campus yet, but the Tigers' lack of backfield depth means they must be ready to perform once the season arrives.
April, 22, 2014
4/22/14
9:00
AM ET
LSU's spring practice ended two weeks ago, leaving a full 15 weeks before the Tigers return to the practice field.
The position battles that started in the spring will continue through summer workouts before resuming in front of coaches in August. Let's take a look at what happened in a few of those spring battles and what we'll be watching between now and Aug. 30, when the Tigers open the season against Wisconsin.
Defensive tackle:
The spring was as much a feeling-out process as anything for defensive line coach Brick Haley. He mostly rode two departed veterans last fall while using youngsters
Christian LaCouture
and
Quentin Thomas
in spot duty. LaCouture and Thomas jumped into leading roles during the spring, and Haley also tested
Maquedius Bain
,
Greg Gilmore
and
Frank Herron
(at times) in the middle. Haley has probably established a mental pecking order with the group, but August and the early-season games will certainly play important roles in cementing the coach's opinions. It will also be worth watching how signees such as
Travonte Valentine
perform once they arrive on campus, as they might allow Haley to utilize a true rotation in the middle.
[+] Enlarge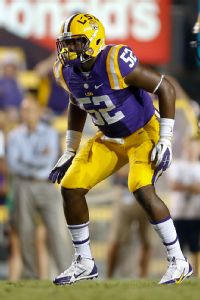 Derick E. Hingle/USA TODAY SportsSophomore linebacker Kendell Beckwith moved inside and was impressive this spring.
Linebacker:
This should be a fun bunch to watch in the fall. While
Kwon Alexander
,
Lamar Louis
and
D.J. Welter
seemed to rank among John Chavis' first options during the spring, it's apparent that the Tigers' defensive coordinator has no shortage of talented options. One of the intriguing spring storylines was
Kendell Beckwith
's transition to middle linebacker behind Welter. The linebackers as a group had an excellent spring game, with
Ronnie Feist
leading all tacklers with 14 stops and both Alexander and
Deion Jones
picking off
Anthony Jennings
passes and returning the interceptions for touchdowns.
Clifton Garrett
is one of the Tigers' highest-rated 2014 signees, and he could add even more intrigue to the competition for playing time once practice resumes.
Quarterback:
Surely you've heard by now that the battle between Jennings and freshman
Brandon Harris
appears to be wide open entering the summer months. Jennings has a slight experience advantage, but Harris was the more effective performer in the spring game. Both players made plenty of mistakes, however. Their offseason preparation in the next few months will be enormously important once August arrives.
Right guard:
This is another battle that the coaches said was wide open once the spring concluded.
Evan Washington
shifted from tackle to guard and seemed to take the leading role in the competition. Fellow senior
Fehoko Fanaika
and sophomore
Ethan Pocic
are lurking, however. It wouldn't be much of a surprise to see all of them play some scrimmage downs against Wisconsin -- or in Weeks 2 and 3 against Sam Houston State and Louisiana-Monroe -- as new offensive line coach Jeff Grimes weighs his options. Coach Les Miles complimented all three players after the spring game, so it seems that the coaches would be comfortable playing any of the candidates.
Safety:
Injuries caused this position to remain as a bit of a mystery during the spring.
Jalen Mills
remained in a starting role, and
Ronald Martin
seemed to be faring well in a return from a fractured right foot. He was injured again by the end of the spring, however, joining
Corey Thompson
(knee surgery) on the sideline by the time the spring game rolled around. Mills and
Rickey Jefferson
were the top options in the spring game, but the Tigers could use any number of combinations when the season arrives -- especially once highly-rated safety prospect
Jamal Adams
and the other signees make it to Baton Rouge this summer. Once the Tigers are back to full strength in August, this should make for one of the most intriguing position battles.
Tight end:
This will be a fun position to track in the fall. They had plenty of playing time last season, but barely made a blip as receivers. They seem to be confident that they will make a more well-rounded contribution in 2014. Sophomore
DeSean Smith
and signee
Jacory Washington
possess intriguing receiver skills, and
Dillon Gordon
,
Travis Dickson
and
Logan Stokes
worked this spring to prove that they are well-rounded players at the position. It's a big group, but all of them should have roles to fill during the season.
Wide receiver:
They were the walking wounded for much of the spring, with
Avery Peterson
,
Kevin Spears
,
John Diarse
and
Quantavius Leslie
all spending time in non-contact jerseys. That was a tough blow for a group that has a lot to prove after
Odell Beckham
,
Jarvis Landry
,
Kadron Boone
and
James Wright
all left the roster after last season.
Travin Dural
-- who had an outstanding spring game with five catches for 130 yards and two touchdowns -- seemed to solidify his spot as the No. 1 receiving option for now. But this will become one of the Tigers' most interesting position battles in August once a star-studded signing class, led by
Malachi Dupre
and
Trey Quinn
, arrives to challenge the returning wideouts.
April, 8, 2014
4/08/14
1:00
PM ET
BATON ROUGE, La. -- LSU is scheduled to hold its final spring walk-through on Tuesday, which will officially send the Tigers into the offseason.
As Les Miles' club wraps up its 15 spring workouts, here are five things we took away from the last month on the practice field:
[+] Enlarge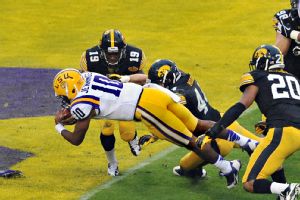 Al Messerschmidt/Getty ImagesAnthony Jennings' ability as a running quarterback will be a weapon LSU can utilize this fall.
1. Those QBs can move:
Having seen
Anthony Jennings
play a bit as a freshman, we already knew he had some wiggle. But freshman
Brandon Harris
looks to be at least his equal in the running-quarterback department after he had 76 rushing yards and a touchdown in last Saturday's spring game.
Whichever quarterback wins the starting job, it's a certainty that his playing style will differ wildly from predecessor
Zach Mettenberger
, who stood like a stone in the pocket. With either Jennings or Harris under center, defenses will have to respect that he can take off and make big plays with his legs.
"Oh boy, isn't that fun to see?" Miles asked, referring to a 41-yard run that Harris made in the second quarter. "You go back in there and the defense makes a mistake and let me tell you what happened: One of those linebackers went over there to the other side with one of those backs and did not stay home. And so that quarterback came out the back side and suddenly 41 yards later, he's run out of bounds.
"That's something you can't do, either, so when you line up against a quarterback with that kind of ability -- and both of our guys have it -- you'd better keep that linebacker home."
Jennings still seems to have a tendency to hold on to the ball too long while looking to pass. Iowa sacked him four times in the Outback Bowl, and his defensive teammates got to him four times in the spring game. Harris seemed to have a better idea when to tuck it and run, which doesn't seem to be a terrible idea for either of them, as they can both be dynamic runners when they leave the pocket.
2. Linebackers will be strong:
Saturday was a great day for LSU's linebackers. Not only did
Kwon Alexander
and
Deion Jones
both intercept Jennings' passes and take them to the house for touchdowns, but
Ronnie Feist
(14 tackles) and
Lamar Louis
(seven tackles, 0.5 tackle for a loss) were their respective teams' leading tacklers.
Feist seemed to be everywhere, continuing what Miles said was an impressive spring from a physicality standpoint.
"When he hits you, you're hit," Miles said of Feist. "There's no pretend to it."
Senior middle linebacker
D.J. Welter
apparently left a major impression on his coaches this spring as well. Not only was he among the defense's honorees in awards for leadership and for outstanding performance, but he was the lone winner of the Jimmy Taylor Award, the team's comprehensive spring award for outstanding leadership, effort and performance.
3. Offensive playmakers still must emerge:
It seemed like a foregone conclusion even before spring practice started that some of the team's top offensive players for 2014 weren't on campus yet. Spring didn't do much to change that perception.
Kenny Hilliard
and
Terrence Magee
-- who dealt with a sprained ankle for much of the spring -- were adequate at tailback, but freshman
Leonard Fournette
will inject some star power to the position once he arrives on campus. Likewise,
Malachi Dupre
,
Trey Quinn
and the new receivers will add explosiveness at a position that was riddled with injuries throughout the spring. The receivers were nearly nonexistent in the spring game.
LSU wide receivers totaled seven catches for 200 yards and two touchdowns on Saturday. Sounds pretty good, right? But five of the catches, 130 yards and both touchdowns came from one player:
Travin Dural
.
Otherwise, the group frequently dropped passes and misplayed catchable balls, proving that they need every bit of the available practice time this summer to develop chemistry with their quarterbacks. Dural looks like a star in the making, but the others have a lot to prove from a consistency standpoint.
4. Tight end talk seems legit:
DeSean Smith
and the Tigers' other tight ends expressed hope this spring that they would get more opportunities to catch passes in 2014 than they did last season, when wideouts
Jarvis Landry
and
Odell Beckham
got most of the looks from Mettenberger.
They said that's how things had been going in practice, and Saturday looked to continue that trend. Smith led the way with three catches for 45 yards and a touchdown, but
Dillon Gordon
(2-32),
Logan Stokes
(1-26),
John David Moore
(1-20) and
Travis Dickson
(1-8) also made receptions. In all, the tight ends accounted for eight of the Tigers' 21 catches in the final spring scrimmage, and offensive coordinator Cam Cameron seems pleased with the weapons he has at his disposal at the position.
"Every year, with different personnel, creates a whole new set of opportunities, and I think the opportunities for our tight ends are going to be critical," Cameron said. "I was thrilled -- for the most part -- I thought they made the most of it."
5. Defense is on the comeback:
Judging by the way the White team (which featured the starters) throttled the Purple team's offense on Saturday, it looks like LSU's first-team defense has the potential to rank among the SEC's best this fall.
The Purple team accounted for 179 yards of offense on 46 plays -- 53 rushing on 27 carries and 126 passing on 6-for-19 attempts. The Purple converted for a first down just once out of 11 third downs.
After saying earlier in the week that he overthought things in his first season as a starter, defensive end
Danielle Hunter
seems to have cut loose now. He recorded two sacks on Saturday and was a regular presence in the Purple team's backfield.
He was only one member of a sizable group of defensive players on both teams who flashed major potential in the scrimmage. Things seem to be looking up for defensive coordinator John Chavis' bunch.
October, 24, 2013
10/24/13
7:00
AM ET
ATHENS, Ga. --
Brendan Douglas
has been the hurdler and the hurdlee, so he has firsthand knowledge of the embarrassment that accompanies an opponent leaping directly over you. The thing is, the Georgia tailback still isn't sure what he should have done when teammate
Jordan Jenkins
hurdled his attempted block during the Bulldogs' second preseason scrimmage.
It wasn't like he dove at Jenkins' ankles on the play. The 5-foot-11 back was nearly standing straight up when he lunged to block Jenkins, and the linebacker simply jumped straight over him.
"You're just like, 'What am I supposed to do?' He just cleared me," chuckled Douglas, who also hurdled cornerback
Shaq Wiggins
in the same scrimmage. "I didn't dive on the ground or anything. I just kind of lunged at him a little bit and then he was over me. I didn't know if I should like grab his foot or what. It's kind of like you've just got to let him go at that point."
[+] Enlarge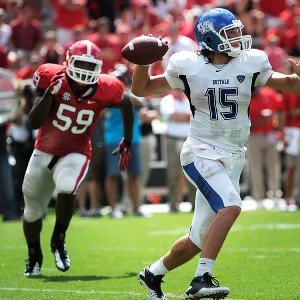 John Amis/AP PhotoGeorgia linebacker Jordan Jenkins says the art of hurdling a blocker is a matter of desire and swagger.
After clearing Douglas' block, Jenkins landed on his feet just a few steps from quarterback
Christian LeMay
and so spooked LeMay that he threw a pass directly to linebacker
Amarlo Herrera
.
"I was shocked I got over him," Jenkins said. "Actually I stopped and thought, 'Oh God, I got over him,' and I just tried to get LeMay."
Two months later, teammates still marvel at the athleticism required for Jenkins to pull off such a move.
"That was crazy," tailback
J.J. Green
said. "I've never seen something like that where somebody was standing straight up and you just jump right over them."
Most Georgia fans were first introduced to the in-game hurdle when All-America tailback Knowshon Moreno famously jumped over a Central Michigan defender in a 2008 victory. However, Moreno's legend began to grow two years earlier when as a redshirting freshman on the scout team, he jumped over teammate Donavon Baldwin in practice.
"That was probably most impressive one I've seen," offensive coordinator Mike Bobo said. "He did it down on the turf [practice] fields and I think he kept his feet and went on and scored."
Hurdle sightings have become much more prevalent over the last few years as the sport's increasingly big and athletic players have demonstrated the ability to avoid blocks or tackle attempts at their ankles by simply jumping over their opponent.
Bulldogs tight end
Arthur Lynch
has attempted it a number of times, most recently when he successfully cleared Missouri defensive back
Randy Ponder
's diving tackle attempt along the UGA sideline, bringing some electricity back into Sanford Stadium after the Bulldogs had fallen behind 28-10 in the second quarter.
"I thought it really did bring the crowd back into it [against Missouri] and also just kind of gets into the mind of your opponent, as well," Lynch said. "I know like in a boxing match, if you go for the body shot, body shot, body shot, go up top, you've got a guy thinking. I think it's the same concept. If you run somebody over, the next play he's going to lower his shoulder and not be able to see anything, and [you can] go over the top."
But Lynch's successful hurdle still surprised his teammates -- even his buddy
Aaron Murray
.
"I didn't think he could get that high," said Murray, Georgia's quarterback. "I don't think anyone did, but that was pretty sweet."
On the final defensive play of Georgia's 44-41 win against LSU, Jenkins attempted his pass-rush hurdle again, but it didn't go quite as smoothly. Rushing from the right side, he tried to soar over a block from LSU's
Travis Dickson
– and he was nearly successful again.
He cleared Dickson with his right leg, but the LSU tight end caught Jenkins' left leg and flipped him into the air. Tigers quarterback
Zach Mettenberger
stepped backward with Jenkins flying toward him and
Leonard Floyd
rushing into his face and threw incomplete for a turnover on downs that sealed Georgia's win.
"I didn't pick up my leg like I was supposed to," Jenkins said. "It's like when you try to jump a hurdle in track, if you don't pick up that back leg, you'll fall down."
Nonetheless, the hurdle is proving to be an effective-enough technique that Georgia tight ends coach John Lilly instructs his players to look for chances to leap over smaller defenders who will try to take out their legs instead of attempting a traditional tackle.
But even when a player sees his opponent lowering his head and preparing to hit him low, Jenkins said it takes a little something extra to attempt the hurdle instead of a different method of getting away.
"You've got to have that swagger to do it," Jenkins said. "As long as you have it in your mind, if you know you can do it, if you have it in your head thinking, 'I know I can get this guy' and just commit to that, you can do it. But if you're half-guessing yourself, it ain't going to work out."
October, 4, 2013
10/04/13
12:30
PM ET
Kickoff is just a day away. Week 6 might not offer any marquee matchups in the SEC, but there are plenty of intriguing games across the league. Here's one last look around the conference to get you ready for Saturday.