October, 2, 2014
10/02/14
12:30
PM ET
Diehard SEC enthusiasts, let this soak in for a moment: The college football world cares more about what's happening in the state of Mississippi than Florida-Tennessee week.
Florida-Tennessee is just another game as two great rivals, who have lost the art of good-natured trash talk that added so much to this game, are unranked and unfit for a playoff run.
Granted, Florida's nine-game winning streak in the series -- against four different Tennessee coaches -- hasn't exactly helped it keep national interest. But to see this game moved from the third Saturday in September to a noon ET kick feels wrong.
"When I saw that the time was a noon game, that's just disrespectful because it's basically like, 'You guys hurry up and play, get your game over with, and all the big-money games will be playing at 3:30 and at night time,'" said former Tennessee running back Jabari Davis. "I felt like it was kind of a slap in the face."
The unfortunate truth is the sport has moved on without this game, and it's easy to see why.
[+] Enlarge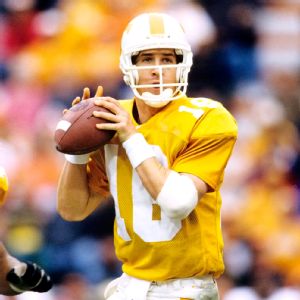 RVR Photos/USA TODAY SportsPeyton Manning went 0-4 against the Gators, a fact Florida fans love to repeat.
The disappearance of the iconic coaching matchup of Steve Spurrier and Phillip Fulmer, parity in the East, the decline of both programs and the emergence of the West have put this game on the back burner.
When these teams clashed in the 1990s, they did so as the SEC's best.
"You look at it and whoever won that game, we felt, was going to go win the SEC," said Tennessee native and former Florida linebacker James Bates. "It was pretty much fact."
That's no longer the case.
"I feel like, 'My gosh, college football, it's Florida-Tennessee weekend," Bates said. "Isn't this a beautiful thing?'"
Pitted against each other in the East, they were hitting their strides at the perfect time. Florida already had Spurrier, a Tennessee native, and Tennessee was introducing Fulmer, whom Spurrier continuously gigged.
Even with Florida winning seven of 10 in the '90s, this game was must-see TV and must-win for the teams.
There were good games, but former Florida receiver Chris Doering isn't ready to say Tennessee was Florida's equal.
"I wouldn't say it was a mutual respect," Doering said. "We were aware that they were probably the most competitive team in the conference, outside of us, but we felt like we had their number. We felt like we owned them and we felt like we were in their minds.
"The fact of the matter is they always had an excuse and always found a way to let us win that game."
It's like the game never truly died.
You had "Faxgate" in 1991, Florida christening Neyland Stadium's new grass field with a 31-0 win in '94, and Peyton Manning watching his 30-14 second-quarter lead in the Swamp turn into a 62-37 romp by the Gators in '95.
There was Deon Grant's one-handed interception and Collins Cooper's missed overtime field goal that gave Tennessee a victory in '98, which stopped a five-game losing streak to Florida and prompted fans to flood the field in Knoxville.
"In a lot of cases for a lot of Tennessee fans, they can lose every game, but if they beat Florida, they'll be satisfied," said former Tennessee running back Travis Stephens.
Did Jabar Gaffney
really
hold on to the ball long enough in 2000?
"Of course he did. Are you kidding me? That was a touchdown," Doering said.
In 2001 the Vols, 18-point underdogs, stunned arguably Spurrier's most talented team with a 34-32 victory in which Stephens gashed Florida's defense for 226 rushing yards and two touchdowns, and quarterback Casey Clausen directed the Tennessee band in "Rocky Top" for all of Gator Nation to see -- and hear.
"That was a game that we weren't expected to win at all," Stephens said with a laugh. "Nobody gave us a chance at all. It'll live on for a long time."
It was a playoff game before playoff games were cool, fashioned with roses -- for a perceived trip to the Rose Bowl -- and cigars in Tennessee's locker room, and a campus celebration that same night.
[+] Enlarge
Scott Halleran/Getty ImagesSteve Spurrier loved to get under Tennessee's skin when he was the Gators coach.
"I don't think I went to bed that night because I was up partying," Davis said. "That's when I found out how real Tennessee football was. We were like a rock band coming in preparing for a tour."
There was plenty of talking, too, but mainly from the Florida side.
Bates wondered aloud to a reporter if Neyland's record-setting crowd in 1996 left early because it had to watch "The Jeff Foxworthy Show" and later created an alter-ego named Luther Ogle to mock Tennessee fans.
Spurrier dug at Manning, who never beat Florida:
I know why Peyton came back for his senior year. He wanted to be a three-time star of the Citrus Bowl
.
Spurrier coupling Tennessee with the Citrus Bowl:
I heard they just hung a new sign outside the Citrus Bowl in Orlando: Winter Home of the Tennessee Volunteers
.
Constantly:
You know you can't spell Citrus without U-T
.
"For a head coach to come out and talk the way he did, it kinda rubbed you the wrong way, but it's not like you can get on the field or fight him," said former Tennessee defensive end Leonard Little.
Added Bates: "As much as I loved to beat them and rub it in to my friends, the fact that the head coach and the leader of the University of Florida football program would add to the misery of all those Tennessee fans for all those years ... by jabbing them and jabbing them, that made it even more fun."
In fairness to the Head Ball Coach, Tennessee did play in the Citrus Bowl three times from 1993-96.
Saturday's game comes with limited national gusto, but it's still special for the opposing sides. With both teams looking to reclaim some pride, Saturday serves as a barometer for both programs.
"For the players in this game, it doesn't really matter what time it is," said former Tennessee wide receiver Jayson Swain. "The game could be at midnight, it could be at six in the morning, it can be in a parking lot, it doesn't matter; it's Florida-Tennessee. Let's rumble. Let's do it."
January, 20, 2010
1/20/10
11:22
AM ET
By
ESPN.com staff
| ESPN.com
What makes a great game? What makes a memorable game?

Most of the time, that depends on where you sit.

Again, though, picking just 10 games that stick out in the SEC over the last decade is a thankless task.

My question: Can I pick 10 over the last two seasons?

While realizing some memorable contests are going to be left out, here's our stab at the 10 best games the decade had to offer in the SEC:

1. Florida 31, Alabama 20, 2008 SEC championship game: The No. 1 and No. 2 teams in the country went toe-to-toe for three classic quarters in a game that lived up to every bit of its hype. But in those final 15 minutes, Tim Tebow took over with one clutch play after another, and the Gators -- playing without injured star Percy Harvin -- turned in a flawless quarter to earn a spot in the BCS National Championship Game.

2. Arkansas 50, LSU 48 (3 OT), 2007: Easily one of the more shocking games of the decade. Darren McFadden rushed for 206 yards and three touchdowns and threw for another score, as unranked Arkansas knocked off No. 1 LSU at home on the final weekend of the regular season. Arkansas' Matterral Richardson intercepted Matt Flynn's two-point conversion pass in the end zone to clinch the win for the Hogs. It was Houston Nutt's final game at Arkansas, and LSU limped away thinking it had blown its chance to play for a national title. But the right teams lost, and the Tigers climbed back into position in the final BCS standings and whipped Ohio State for their second national title of the decade.

3. Florida 17, South Carolina 16, 2006: Talk about a surreal setting. Steve Spurrier was back at the Swamp ... but wearing different colors and standing on the opposing sideline. His Gamecocks outplayed the No. 6 Gators most of the day. South Carolina had a chance to win it at the end, but Jarvis Moss blocked Ryan Succop's 48-yard field goal attempt as time expired to save the Gators. It was his second blocked kick of the game and the third by Florida. The Gators would go on to win their first of two national titles under Urban Meyer.

4. Tennessee 34, Florida 32, 2001: The game was pushed back to the end of the season because of the 9/11 terrorist attacks. Florida was No. 2 and Tennessee No. 5. The Vols, who hadn't won in the Swamp since the 1970s, got a career-high 226 yards rushing from Travis Stephens and survived a two-point conversion pass attempt in the end zone at the end of the game to put themselves in prime position to play for the national championship. They couldn't make it stand up, though, and were upset the next week by LSU in the SEC championship game.

5. LSU 28, Florida 24, 2007: The black-and-blue game of the decade, for sure. The Tigers and Gators went at it in one of the hardest-hitting, most physical games you'll ever see. Three different times, Tim Tebow led the Gators to 10-point leads over the No. 1-ranked Tigers. But LSU coach Les Miles kept gambling on fourth down, and the Tigers -- namely Jacob Hester -- kept converting. Hester had two fourth-down conversions on the game-winning drive and scored the go-ahead touchdown on a third-and-goal play.

6. Arkansas 71, Kentucky 63 (7 OT), 2003: It was the longest game in NCAA history, taking nearly five hours to play. The Hogs prevailed in the seventh overtime when DeCori Birmingham scored on a 25-yard touchdown run. They then stopped the Wildcats on fourth down.

7. Ole Miss 31, Florida 30, 2008: It's the game that led to "The Promise" from Tim Tebow, and it's also the last game the Gators lost before reeling off 22 straight victories. The Rebels shocked the No. 4 Gators in the Swamp. Jevan Snead passed for two touchdowns and ran for another, and Kentrell Lockett blocked an extra point attempt late in the fourth quarter. But the clincher came with 40 seconds to play when the Rebels stopped Tebow on fourth down and less than a yard from the Ole Miss 32. Tebow was hit in the backfield and never made it back to the line of scrimmage.

8. Georgia 24, Auburn 21, 2002: Auburn and Georgia have specialized in playing thrilling games over the years, but the 2002 contest was one of the best. The Bulldogs won it with 1:25 left to play when David Greene hit a leaping Michael Johnson with a 19-yard touchdown pass on a fourth-and-15 play to clinch the Eastern Division title. The Bulldogs went on to win their first SEC title in 20 years.

9. Kentucky 43, LSU 37 (3 OT), 2007: In one of the biggest wins in Kentucky history, the Wildcats took down the No. 1 Tigers in Lexington, settling off a wild celebration in the Bluegrass. Quarterback Andre Woodson threw a 7-yard touchdown pass to Steve Johnson in the third overtime, and LSU couldn't answer on its possession. Charles Scott was stopped on fourth-and-2 by Kentucky's Braxton Kelley, sealing the Wildcats' first victory over a No. 1 team since 1964.

10. Alabama 12, Tennessee 10, 2009: Terrence Cody made more than a few big plays during his two seasons at Alabama, but nothing compares to his blocked field goal as time expired to save the Crimson Tide against the Vols. It was Cody's second blocked field goal of the day, and he ripped off his helmet and went racing across the field in celebration afterward. Alabama seemingly had the game under control, but Tennessee drove for a late touchdown and then recovered an onsides kick to move into position. The Crimson Tide prevailed without scoring a touchdown. Leigh Tiffin kicked four field goals, including a 50-yarder and 49-yarder.