April, 29, 2014
Apr 29
2:30
PM ET
GAINESVILLE, Fla. -- Soaring temperatures and a lack of football tells you that spring is over in Florida. It's time for the long days of summer.
The Gators will work out in the weight room, delve deeper into playbooks and conduct drills with each other. Fifteen signees are expected to enroll in June, several of whom come with legitimate hopes for immediate playing time.
With more than three months before Florida practices again, there are still several questions that must be answered. Here are a few:
[+] Enlarge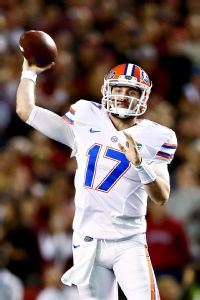 Streeter Lecka/Getty ImagesSkyler Mornhinweg will try to hold off a couple of true freshmen for the right to back up Jeff Driskel.
1. Who's the backup QB?
Jeff Driskel
is entrenched as the starter, but with his history of injuries, the Gators must prepare their backups like never before.
When Driskel was lost for the season last September, whole sections of the UF playbook went with him. That can't happen again, and it doesn't seem that it will, because Florida has more depth at quarterback than it has had in a long time.
True freshman
Will Grier
split reps throughout the spring with third-year sophomore
Skyler Mornhinweg
, and true freshman
Treon Harris
will enter the fray in August. The prevailing thought is that Grier is more talented and athletic than Mornhinweg and got a leg up on Harris by enrolling early.
But overlooking Mornhinweg, who started the last three games of 2013, would be a mistake. The coaches valued his experience and decision-making enough to cut into Grier's development this spring, and Mornhinweg rewarded them by showing improvement in the passing game.
He doesn't have Grier's arm or Harris' mobility, but Mornhinweg could easily be Driskel's primary backup.
2. What happens if the injury bug strikes again?
Injuries devastated Florida's 2013 season, but 2014 has yet to be a whole lot better.
Seven scholarship athletes missed all of spring recovering from injuries. Two others were limited to just a few days of practice in non-contact jerseys. Six more players got hurt during practice and missed time.
The good news? Every one of those players is expected to participate fully in fall camp. The bad news? Florida still hasn't developed enough depth to overcome losses at key positions such as quarterback, defensive tackle or cornerback.
One big injury could hurt in more ways than one, so other than simply having some better luck this fall, the Gators will need their young backups to prove they can handle larger roles.
3. Will UF finally have a dangerous receiver?
It's a stunning statistic, but Florida hasn't had a receiver record 600 or more yards in a season since 2009 when wideout Riley Cooper had 961 and tight end Aaron Hernandez had 850.
A lot will depend on the new scheme, Driskel's improvement in accuracy and decision-making, as well as the offensive line's ability to pass block. But if all of those things happen, the Gators believe they finally have the wide receivers to make hay.
Senior
Quinton Dunbar
, a solid possession receiver, is the leader on and off the field. A trio of sophomores --
Demarcus Robinson
,
Ahmad Fulwood
and
Chris Thompson
-- brings size, speed and much-needed athleticism.
Andre Debose
, back for a sixth year of eligibility after a torn ACL in 2013, is a talented wild card.
The numbers might not match those of Cooper or Hernandez, but Florida will be thrilled with even one pass-catching threat after four years of going without.
4. What can the Gators expect out of the backups on both lines?
If you listened to the coaching staff, the answer after spring was not much. A familiar refrain from head coach Will Muschamp and Co. was that there was "a huge drop-off" in effectiveness between the first and second units on the offensive and defensive lines.
That wasn't a motivational ploy. It's a real problem.
On the offensive line, the Gators have one backup -- junior
Trip Thurman
-- they appear comfortable with. Given the injury histories of the starters, a lack of depth here could be the biggest concern on the team. Florida will need reserves
Drew Sarvary
,
Cameron Dillard
and
Kavaris Harkless
to improve rapidly. Redshirt freshman
Roderick Johnson
and true freshman
Nolan Kelleher
must come back from the injuries that cost them the entire spring, or the O-line could see another revolving-door season.
On the defensive line, Florida needs more from redshirt freshmen DTs
Jay-nard Bostwick
and
Caleb Brantley
, who showed flashes of talent but little consistency. This could be an area where UF benefits from some heralded true freshmen who arrive in June.
Gerald Willis III
,
Thomas Holley
and
Khairi Clark
could all be in the mix on the D-line in fall camp.
5. Will there be enough carries for all of the running backs?
The players say yes, but that was during a spring that didn't include former starter
Matt Jones
and true freshman
Brandon Powell
, both out with injuries.
Sophomore
Kelvin Taylor
looks to be the starter, senior
Mack Brown
is a reliable backup, and redshirt freshman
Adam Lane
emerged as another weapon. But none of the three has breakaway speed. Although they run with similar styles, UF's backs believe they will all play. Duke's offense in 2013 supports that notion, as offensive coordinator Kurt Roper employed four tailbacks throughout the season.
"Our offense is definitely not stingy and we're going to pass the ball around and use each other in different situations," Lane said. "I wouldn't say it's really roles, but in some situations some fit better."
Still yet to be resolved is where Powell and Jones fit. Powell has speed and wiggle and could be a change-of-pace back. Jones will get a look at the B position (typically manned by tight ends and fullbacks), where he could do damage as a pass-catcher and get more playmakers on the field at the same time.
"But he's going to play the running back positon as well," Muschamp cautioned.
Ultimately, the Florida offense will still be predicated on running the ball, so it's possible five backs could share the load.
March, 28, 2014
Mar 28
2:00
PM ET
GAINESVILLE, Fla. -- Most high school seniors treat their final spring break as a sacred event.
Treon Harris
, however, is not like most.
Instead of relaxing on a beach, the Florida quarterback signee is taking the concept of gym rat to new extremes by spending nearly his entire spring break at UF to immerse himself in the Gators' new offense, get a jump on the playbook and ensure that he doesn't lose too much ground in the QB competition.
[+] Enlarge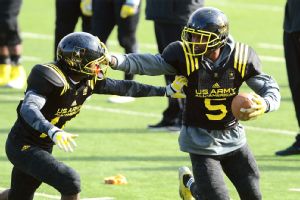 John Albright/Icon SMIFlorida dual-threat QB signee Treon Harris (5) is spending his spring break immersing himself in the Gators offense.
Harris, a four-star prospect out of Miami Booker T. Washington High, was one of the most important recruits in the Gators' 2014 class. A 5-foot-11, 186-pound dual-threat QB, Harris was the nation's No. 7 prospect at his position and No. 163 in the ESPN 300. He led his high school to a 14-0 record, a consensus No. 1 ranking and the national championship that goes with it.
It was easily the kind of senior year that most players would celebrate with some time off. Instead, Harris' last blast for spring break has been highlighted by shadowing Florida's quarterback group from Monday through Friday.
He spoke with ESPN.com earlier this week:
How important was it to drive up to campus and see the offense firsthand?
"It means a lot to me. I'm coming in in the summer to get my workouts in, so I wanted to see a peek at what I'm going to be doing. I can't wait, but you've got to be patient and learn from these guys who've been here. I've just been in the meeting today learning how the offense is going to work."
What were your impressions of the Gators' new offense, their new coordinator Kurt Roper and how you might fit in?
"Coach Roper, you know his style of coaching is the same thing I came out of high school doing -- spread offense, no-huddle, fast-paced. Let's play ball. I see myself fitting in perfectly, playing fast, playing smart, the same things Florida is doing."
Was it hard to flip from Florida State to Florida on signing day?
"No sir. You've got to do what's best for you. At the end everything came to me. FSU has a lot of quarterback depth, man. Their pro-style offense doesn't really fit me well. [Florida's] offense fit me the best. I knew [on his official visit on Jan. 17] and I told coach [Will] Muschamp. ... Before Coach Roper got here I was watching Duke play. I always hoped I could play in an offense like that. By God's work at the end of the season Coach Roper came to Florida. They called me and came to my house. I came up here and everything ended up playing out to get me here. We worked it out."
Did the presence of another top-rated QB prospect and early enrollee in Will Grier deter you at all?
"Once you're in college, you've got to compete to play the quarterback position, so it doesn't matter where you're at. Will Grier, he's a great athlete, but I'm coming up here to get a spot. I watched all the quarterbacks today. They were working on improving their timing and everything like that. I think I can run better. I can throw the ball just like those guys. I've just got to come in and learn my playbook and I'll be good to go."
Do you think you can win the backup job?
"I've got big confidence. I love to compete against good guys. Coach Roper says the best are going to play in this offense, and I'm coming here to learn things and pick it up fast because I'm behind. But that's why I'm up here in the spring. I'm in meetings, learning, taking my notes. So when fall comes I'm going to be on point and get that role. It's going to take hard work and dedication, coming up here and showing that I'm a leader and that I can lead my team and my offense to a national championship."
How often have you heard people talk about your size at the quarterback position?
"I hear it a lot, but like Coach Roper says, size doesn't mean nothing. Everybody saw what
Johnny Manziel
did, guys like him, mobile quarterbacks have proven that height doesn't really mean nothing. We just go, 'Let me show y'all what I can do.' (Laughs) …
Russell Wilson
,
Drew Brees
, they won [Super Bowls]. They're short guys but they throw like 6-5 guys. That doesn't really mean nothing. It's all about the heart and the passion that you've got for football. You've got to love this game to be a quarterback."
February, 25, 2014
Feb 25
2:30
PM ET
Florida's offense has to get going in 2014 or major change could be coming. This player had his 2013 season cut short, but has a chance to really turn his career and the Gators around this fall:
Spotlight:
Quarterback
Jeff Driskel
, 6-foot-4, 239 pounds, redshirt junior
[+] Enlarge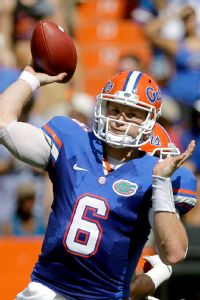 AP Photo/John RaouxJeff Driskel's injury was a major factor in Florida's collapse last season.
2013 summary:
Driskel had his junior season cut short in the third game of the season, when he broke his right leg against Tennessee. During his three starts, he threw for 477 yards on 41 of 62 passing. He also threw two touchdowns to three interceptions and rushed for 38 yards and one more score.
The skinny:
Despite what many might think about Driskel's limited time on the field in 2013, he showed flashes of growth before his leg injury against the Vols. Coach Will Muschamp points to the Miami game as Driskel's best passing game yet because of his ability to throw the ball downfield. He passed for 291 yards in that game, but also had two costly interceptions. Driskel hasn't lived up to the hype of being the nation's No. 1 quarterback prospect in the 2011 class, but he's also about to work with his third offensive coordinator in his time at Florida. The good news for Driskel is that new offensive coordinator Kurt Roper's spread attack will have him in the shotgun more, which is similar to what he did in high school. Running more zone-read plays should also help him see more of the field and use his legs more. But he has to show that he's still a top leader on this team, he has to develop even better chemistry with his receivers and he has to make better decisions in the pocket. Driskel has gotten into a habit of getting careless with where he puts the ball and taking too long in the pocket. That can't happen if the Gators are going to rebound from a 4-8 2013 season. There's a lot of pressure on Driskel, and home fans turned on him at times in 2013. He's shaken that off, but wants to prove himself. He'll also get some good competition from true freshman
Will Grier
, who is already on campus, and incoming freshman
Treon Harris
, who ran a similar offense in high school to what Roper ran while at Duke. This is easily Driskel's most important offseason with the Gators.
Past spotlights:
February, 5, 2014
Feb 5
10:00
PM ET
GAINESVILLE, Fla. -- Head coach Will Muschamp didn't get every player he wanted in Florida's recruiting class of 2014. No one ever does. But still, Muschamp was beaming with pride and excitement on Wednesday.
He and his coaching staff reeled in
the nation's No. 6-ranked class
. Quite a feat, considering the Gators were coming off a 4-8 season.
"We're really pleased," Muschamp told ESPN.com. "We went through a really difficult fall [season], and any time that happens it creates a lot of negativity around your program. We've got three new coaches in Kurt Roper, Coleman Hutzler and Mike Summers, and I thought our staff did a great job of coming together and coming out with a top-10 class. Not that the ranking is important, but we signed some really good football players in this class."
[+] Enlarge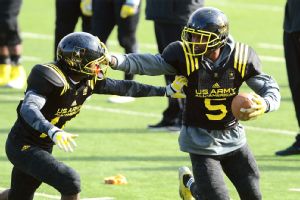 John Albright/Icon SMILanding QB Treon Harris (5) was nice for the Gators, but the fact he was a Florida State commit before flipping to Florida made it that much better.
That remade Florida coaching staff is celebrating what was a very smooth signing day. All 13 of their commitments signed and faxed in national letters of intent to join
nine early enrollees
. Before mid-day, the Gators added two key prospects to
finish the class with 24 recruits
.
Wide receiver
C.J. Worton
, a former FSU commit, picked the Gators over West Virginia on Wednesday morning. Then, UF flipped
Treon Harris
from the arch-rival Seminoles. Harris, the nation's No. 7-ranked dual-threat QB prospect, had been committed to FSU since last July.
Both recruits embodied the Gators' new approach to recruiting for Roper's offense, which is expected to make use of spread and option elements.
"At the quarterback position, we needed to be able to be more mobile at that position, to [have] a dual-threat guy that can throw it and run," Muschamp said, adding that Florida also wanted to recruit "more of a slot receiver, a true slot that can win in some matchups inside.
"So being able to have [Roper] certainly helped solidify things with
Ryan [Sousa
] and get C.J."
There's just as much excitement over the rest of Wednesday's haul. Florida scored big in signing three of the nation's top prospects at positions of great need.
David Sharpe
is the No. 2 offensive tackle in the nation, while
Gerald Willis III
and
Thomas Holley
are respectively ranked the Nos. 2 and 3 defensive tackle prospects.
Another key recruit, ESPN 300 athlete
J.C. Jackson
, provided some of the only real drama of the day. Rumors had been swirling that he was considering Miami and FSU.
"It's amazing," Muschamp said. "I don't really follow the Internet much, but there's so much hearsay and as much information as there is out there, in my opinion, there's a lot of misinformation. I get tons of phone calls about, well, I heard this, I heard this. I mean I can't keep up with all the what-I-heard stuff. ...
"I know he looked at some other places, no different than a lot of kids do, and I encourage kids to go make sure they're making the right decision, to go take a look at another place. We never felt it was that much in the balance, maybe as what a lot of people seemed to think. We never felt that way."
Jackson ultimately had a drama-free signing day, quietly sending his paperwork to UF early in the morning.
There were also some high-profile letdowns, as the Gators came up short in recruiting top-50 prospects like
Adoree' Jackson
,
Lorenzo Carter
and
Damian Prince
.
But the end result is a class full of potential, which fits well with Florida's general theme of renewal and cleaning the slate.
"I think our staff has done an outstanding job," Muschamp said. "At the end of the day it's still the University of Florida. It's a top-10 public institution. It's a bigtime degree. You're going to get a great education. It's one of the few places in the country and I tell parents this and I tell recruits this where you can realistically win a national championship on and off the field. ...
"We had a rough fall, but being here and building those relationships with some of these young men for two years, two and a half years, they also saw us win 11 games the year before. They understand that and they are close to our program. I think they kind of understand where we're headed with the program and they're excited about our future."
The bright future, the highly ranked class, the good vibes -- it all made for a light-hearted and jocular head coach.
"Y'all know me," Muschamp said with a laugh. "I don't get overly concerned with [rankings]. I was watching ESPN this morning and somebody said Tom Luginbill was the No. 1-ranked junior college player when he came out.
"I
intercepted Tom Luginbill, so that'll tell you how important those rankings are. And I texted him this morning just to remind him of that."
February, 5, 2014
Feb 5
8:35
PM ET
The Southeastern Conference had a strong finish the 2014 recruiting class. Alabama, which received a commitment from four-star outside linebacker
Rashaan Evans
(Auburn, Ala./Auburn) on Wednesday, finished with the top overall class by a landslide, and seven of the top 10 recruiting classes in the country are in the SEC. Here's a closer look at some of the top news from around the SEC on national signing day.
Top class
[+] Enlarge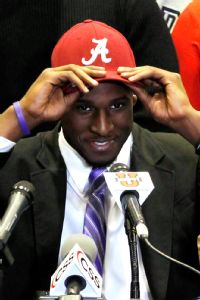 AP Photo/Butch DillESPN 300 OLB Rashaan Evans, who chose Bama over Auburn, made a great class even better.
There is no question Alabama had the top overall class. The Crimson Tide finished with 27 signees, including 19 ranked in the ESPN 300 and five five-star prospects. In addition to the incredible class Alabama put together leading up to signing day, the Crimson Tide were also able to land Evans, the No. 52 player in the country. Evans chose Alabama over arch-rival and hometown Auburn Tigers.
The Alabama class was led by the No. 1 offensive tackle in the country,
Cameron Robinson
(West Monroe, La./West Monroe), the No. 2-ranked defensive end
Da'Shawn Hand
(Woodbridge, Va./Woodbridge) and the No. 2-ranked cornerback in the country
Tony Brown
(Beaumont, Texas/Ozen), who is already enrolled.
The SEC West alone had three schools, Alabama, LSU and Texas A&M, finish in the top five of the final recruiting team rankings. In all, 13 of the 14 SEC schools finished in the top 40 of the team recruiting rankings.
South Carolina, LSU and Georgia finish strong
South Carolina had arguably the best finish of any class in the SEC. The Gamecocks were able to flip ESPN 300 defensive end
Dexter Wideman
(Saluda, S.C./Saluda) from Florida State and defensive tackle
Blake McClain
(Jacksonville, Fla./Sandalwood) from Nebraska. They were also able to land ESPN 300 defensive backs
Chris Lammons
(Fort Lauderdale, Fla./Plantation) and
Wesley Green
(Lithonia, Ga./Martin Luther King) giving the Gamecocks a very athletic secondary.
If South Carolina was the best, LSU wasn't far behind. The Tigers were able to land the No. 1 wide receiver in the country
Malachi Dupre
(River Ridge, La./John Curtis) and ESPN 300 defensive tackle
Travonte Valentine
(Hialeah, Fla./Champagnat Catholic). Dupre chose LSU over UCLA, Ole Miss, Alabama and FSU. Valentine had decommitted from three different schools – Louisville, Florida and Miami -- over the course of his recruitment before finally settling on LSU. The Tigers were also able to hang on to defensive end
Davon Godchaux
(Plaquemine, La./Plaquemine), who had been wavering on his commitment leading up to signing day.
Georgia, meanwhile, added five-star defensive end
Lorenzo Carter
(Norcross, Ga./Norcross), who chose the Bulldogs over LSU, FSU and Florida. They also added four-star wide receiver
Isaiah McKenzie
(Plantation, Fla./American Heritage). The ESPN 300 wide receiver wasn't even considering Georgia until earlier this week, but a late offer from the Bulldogs was enough for McKenzie to pull the trigger and sign with Georgia.
Several schools lose commits
Signing day was full of surprises, including several prospects who backed off of their commitments and signed with a different school. Three-star defensive tackle
Cory Thomas
(McCalla, Ala./McAdory), a long-time Tennessee commit, spurned the Volunteers and signed with Mississippi State. But not all was good news for Mississippi State. Ole Miss was able to steal junior college defensive back
Tee Shepard
(Fresno, Calif./Holmes CC), the No. 22-ranked player in the ESPN JC 50. The Vols took another hit when three-star offensive tackle
Orlando Brown Jr.
(Duluth, Ga./Peachtree Ridge) unexpectedly signed with Oklahoma. The Volunteers, however, were able to land four-star defensive tackle
Michael Sawyers
(Nashville/The Ensworth School), and had the No. 5 recruiting class in the country -- one that included 11 players ranked in the ESPN 300.
Quarterback
Treon Harris
(Miami/Booker T. Washington) backed off his pledge to FSU and signed with Florida. Offensive tackle
Andrew Mike
(Tucson, Ariz./Sabino) was only a part of Vanderbilt's class for one short day, but the three-star tackle flipped on Tuesday night and signed with Florida on Wednesday. Four-star Alabama safety commit
Chris Williams
(Kingsland, Ga./Camden Co.) flipped and signed with UCF because of personal family reasons. Four-star wide receiver
DeSean Blair
(Jacksonville, Fla./Sandalwood) flipped his commitment from Louisville and signed with Missouri.
Vanderbilt able to rebound
The Vanderbilt class may not be filled with four- and five-star prospects, but the job new head coach Derek Mason did to rebuild the Commodores' class is nothing short of amazing. After James Franklin left to take the head coaching job at Penn State and a string of decommitments followed, Vanderbilt was down to eight verbal commitments. After an impressive few weeks of recruiting the Commodores finished with 22 signees, including 17 prospects ranked three stars or higher.
The class is led by ESPN 300 defensive tackle
Nifae Lealao
(Sacramento, Calif./Capital Christian) and four-star running back
Dallas Rivers
(Stone Mountain, Ga./Stephenson). After losing ESPN 300 quarterback
Kyle Carta-Samuels
to Washington, Vanderbilt was able to flip Pitt quarterback commit
Wade Freebeck
(Fort Lauderdale, Fla/St. Thomas Aquinas) and former ECU commit
Shawn Stankavage
(Raleigh, N.C./Cardinal Gibbons).
February, 4, 2014
Feb 4
4:00
PM ET
National signing day is a huge day for future college football stars. It's a crazy day for fans. And it's a very important day for college coaches.
Signing days can make or break programs, as those noisy fax machines provide an early glimpse into the future.
Some coaches make a killing on signing day, some kick back because their classes are already pretty much taken care of, and others sweat and grind down those nails. On Wednesday, the SEC should yet again bathe in the glory that is a successful signing day, but there are still some coaches who need to have big days as they guide their programs forward.
Who are some of those SEC coaches this year? Let's take a look:

Bret Bielema, Arkansas:
It's no secret that Bielema's first season in Fayetteville wasn't much of a success, but a strong closing on signing day could provide this program with some much-needed momentum. What Bielema
needed in this class
was depth up front on both sides of that ball and help at receiver, linebacker and in the secondary. Getting eight total linemen helps, and ESPN 300 defensive tackle
Bijhon Jackson
(El Dorado, Ark./El Dorado) could make an immediate impact.
Still, the Razorbacks are looking to secure letters of intent from ESPN 300 defensive end
Solomon Thomas
(Coppell, Texas/Coppell), who visited Fayetteville on Jan. 24. He'd be a major snag, as would be four-star linebacker
Sharieff Rhaheed
(Fort Pierce, Fla./Fort Pierce Central) and Florida State athlete commit
JoJo Robinson
(Miami/Miami Northwestern). Finding another receiver and getting any of these targets would certainly bolster a class that currently
ranks No. 32 in the ESPN RecruitingNation class ranking
s and would provide Bielema with the quality players he needs to help get things going at Arkansas.

Will Muschamp, Florida:
The Gators have been hot on the recruiting trail since the 2013 season ended. It's almost as if last year's 4-8 record didn't even happen. But Muschamp is still holding out hope on a handful of talented prospects who could help make an immediate impact for a Florida team looking to get back to national relevancy. Five-star defensive end
Lorenzo Carter
(Norcross, Ga./Norcross) would be a major get for the Gators, who need depth at the linebacker/defensive end hybrid Buck position. Florida is also looking for another playmaker on offense, and five-star cornerback
Adoree' Jackson
(Gardena, Calif./Junipero Serra) could be that guy. Florida would let him play either side of the ball, and the Gators' track and field program is
very attractive to Jackson
.
Florida also needs another receiver and is looking to add depth at quarterback and on the offensive line. Former Florida State wide receiver commit
C.J. Worton
(Homestead, Fla./South Dade) could join this class, while current FSU quarterback commit
Treon Harris
(Miami/Booker T. Washington) is seriously considering the Gators. ESPN 300 offensive tackle
Damian Prince
(Forestville, Md./Bishop McNamara) is fresh off a visit to Florida and would be a big addition at a position that needs help going forward. Muschamp did really well in January, but there are still guys at positions of need that Florida needs to close with.

Derek Mason, Vanderbilt:
He was way behind the 8 ball before he even stepped on Vanderbilt's campus, but Mason grabbed some major momentum over the weekend
with six commitments
. After dipping into single digits after Mason arrived, Vanderbilt is back up to
17 verbals in this class
. Mason has already done a good job of filling this class back out, but he'd like to add some more quality bodies on Wednesday.
Keep an eye on ESPN 300 defensive tackle
Nifae Lealao
(Sacramento, Calif./Capital Christian), who is fresh off of a visit to Vandy. He's someone who could provide early help up front. The Commodores are also still in the hunt for Tennessee ESPN 300 defensive end commit
Derek Barnett
(Brentwood, Tenn./Brentwood Academy). Grabbing another wide receiver and running back would also be a nice way to close as Mason looks to provide Vandy's fan base with a little more excitement on signing day.
February, 4, 2014
Feb 4
12:00
PM ET
And just like that, national signing day is a day away.
The future is almost here, folks, so here's one last recruiting scorecard for the 2014 recruiting season.
As of Tuesday, seven SEC teams rank in the top 10 of
ESPN's recruiting class rankings
. Alabama and Texas A&M lead the charge for the league, ranking first and second, respectively. Alabama has 27 verbal commitments, with 18 in the ESPN 300. Four are five-star prospects. Texas A&M has 23 commitments, including 11 ESPN 300 members and two five-star prospects.
How's the rest of the SEC doing before signing day? Let's take a look:

ALABAMA
2014 verbal commitments:
27
Spotlight:
Defensive end
Da'Shawn Hand
of Woodbridge, Va., is a huge addition for the Crimson Tide. He's the nation's No. 2-ranked defensive end and could provide an immediate spark to a front seven that wants to generate more pressure on opposing backfields.
ESPN 300 members:
18 (Hand; OT
Cameron Robinson
of West Monroe, La.; CB
Tony Brown
of Beaumont, Texas; RB
Bo Scarbrough
of Tuscaloosa, Ala.; CB
Marlon Humphrey
of Hoover, Ala.; S
Laurence Jones
of Monroe, La.; OLB
Christian Miller
of Columbia, S.C.; WR
Cameron Sims
of Monroe, La., QB
David Cornwell
of Norman, Okla.;
Ross Pierschbacher
of Cedar Falls, Iowa; ATH
Ronnie Clark
of Calera, Ala.; ILB
Shaun Dion Hamilton
of Montgomery, Ala.; DT
Joshua Frazier
of Springdale, Ark.; C
Josh Casher
of Mobile, Ala., C
J.C. Hassenauer
of Woodbury, Minn.; WR
Derek Kief
of Cincinnati; DT
O.J. Smith
of Bossier City, La.)
Key targets:
After gaining Humphrey's recent commitment, No. 1-ranked wide receiver
Malachi Dupre
of River Ridge, La., remains the Tide's top target.

ARKANSAS
2014 verbal commitments:
23
Spotlight:
Defensive tackle
Bijhon Jackson
of El Dorado, Ark., is the top player in the state and ranked as the nation's No. 6 defensive tackle. At 6-foot-2 and 334 pounds, Jackson can clog the middle for the run, but has the quickness off the line to be a threat against the pass as well.
ESPN 300 members:
2 (Jackson; OT
Brian Wallace
of St. Louis)
Key targets:
Offensive lineman
Rashawn Shaw
of Fort Pierce, Fla., was very much on Arkansas' radar, as the Hogs look to add much-needed depth up front, but he recently committed to Wake Forest. Florida State receiver commit
JoJo Robison
recently visited and could be one to watch with Arkansas, as could ESPN 300 linebacker
Sharieff Rhaheed
of Fort Pierce, Fla.

AUBURN
2014 verbal commitments:
21
Spotlight:
Tre Mason
might be gone, but Gus Malzahn hopes he has a solid replacement in running back
Racean Thomas
of Oxford, Ala. The nation's No. 5 running back runs hard and has the explosiveness to make some real noise in Auburn's offense. He's also elusive and strong enough to stretch plays.
ESPN 300 members:
10 (Thomas; QB
Sean White
of Fort Lauderdale, Fla.; CB
Stephen Roberts
of Opelika, Ala.; CB
Kalvaraz Bessent
of Kingsland, Ga., ILB
Tre' Williams
of Mobile, Ala.; ATH
Nicholas Ruffin
of Atlanta; DE
Justin Thornton
of Prichard, Ala.; DT
Dontavius Russell
of Carrollton, Ga.; ATH
Stanton Truitt
of Monroe, Ga.; RB
Kamryn Pettway
of Prattville, Ala.)
Key targets:
Auburn is almost done with this class, but ESPN 300 linebacker
Rashaan Evans
of Auburn, Ala., and defensive end
Andrew Williams
of McDonough, Ga., are still in the mix. Florida State quarterback commit
Treon Harris
is also very much in the mix for the Tigers.

FLORIDA
2014 verbal commitments:
21
Spotlight:
Quarterback
Will Grier
of Davidson, N.C., is already on campus and gives the Gators a real quality body to work with behind
Jeff Driskel
. Grier appears to be he future of the position, and he totaled 4,989 passing yards with a national-best 77 touchdowns and rushed for another 1,251 yards with 13 more scores in 2013.
ESPN 300 members:
12 (Grier, CB
Jalen Tabor
of Washington, D.C.; OT
David Sharpe
of Jacksonville, Fla.; DT
Gerald Willis III
of New Orleans; DT
Thomas Holley
of Brooklyn, N.Y.; ATH
J.C. Jackson
of Immokalee, Fla.; WR
Moral Stephens
of Perry, Fla.; CB
Duke Dawson
of Cross City, Fla.; ATH
Brandon Powell
of Deerfield Beach, Fla.; DE
Justus Reed
of Clearwater, Fla.; S
Quincy Wilson
of Fort Lauderdale, Fla.)
Key targets:
ESPN 300 members
Lorenzo Carter
(defensive end from Norcross, Ga.),
Damian Prince
(offensive tackle from Forestville, Md.) and
Adoree' Jackson
(athlete from Gardena, Calif.) remain the Gators' top targets, while
Treon Harris
from Miami and former Florida State receiver commit
C.J. Worton
from Homestead, Fla., are very much in the mix.

GEORGIA
2014 verbal commitments:
19
Spotlight:
The Bulldogs have had some recent success at the running back position and just added to it with
Sony Michel
of Plantation, Fla. The 5-11, 194-pound Michel is the nation's No. 2 RB and is an every-down back who can do it all. He has a chance to see the field early in his career at Georgia.
ESPN 300 members:
9 (Michel; DT
Lamont Gaillard
of Fayetteville, N.C.; RB
Nick Chubb
of Cedartown, Ga.; ATH
Malkom Parrish
of Quitman, Ga.; QB
Jacob Park
of Goose Creek, S.C.; TE
Jeb Blazevich
of Charlotte, N.C.; OG
Isaiah Wynn
of Saint Petersburg, Fla.; DE
Keyon Brown
of Wauchula, Fla.; WR
Shakenneth Williams
of Macon, Ga.)
Key targets:
ESPN 300 defensive end
Lorenzo Carter
of Norcross, Ga., is the top remaining target on the Bulldogs' board. Georgia appears to be in good shape for the five-star prospect. Georgia is also hoping to gain ground with
Rashaan Evans
and is still in the hunt for South Carolina linebacker commit
Bryson Allen-Williams
.

KENTUCKY
2014 verbal commitments:
28
Spotlight:
After being committed to Florida State for a year, defensive end
Denzel Ware
of Crestview, Fla., committed to Kentucky, before decommitting, and then committing again. He appears solidly committed to the Wildcats and has tremendous upside to match his explosiveness off the line.
ESPN 300 members:
6 (Ware; QB
Drew Barker
of Hebron, Ky.; WR
Thaddeus Snodgrass
of Springfield, Ohio; RB
Stanley Williams
of Monroe, Ga.; CB
Darius West
of Lima, Ohio; CB
Kendall Randolph
of Tallahassee, Fla.)
Key targets:
With Elam in hand, the Wildcats are looking to add to their defensive line with fellow ESPN 300 member
Travonte Valentine
of Hialeah, Fla.

LSU
2014 verbal commitments:
19
Spotlight:
Running back
Leonard Fournette
of New Orleans was the recruit LSU had to have. Not only is he the nation's No. 1 overall player but he immediately fills the need at running back with
Jeremy Hill
's departure. His excellent combination of size, speed and strength will get him on the field early in Baton Rouge.
ESPN 300 members:
14 (Fournette; S
Jamal Adams
of Lewisville, Texas; ILB
Clifton Garrett
of Plainfield, Ill.; OG
Garrett Brumfield
of Baton Rouge, La.; TE
Jacory Washington
of Westlake, La.; S
Devin Voorhies
of Woodville, Miss.; WR
Trey Quinn
of Lake Charles, La.; QB
Brandon Harris
of Bossier City, La.; S
Edward Paris Jr
. from Arlington, Texas; DE
Davon Godchaux
of Plaquemine, La.; OLB
Donnie Alexander
of New Orleans; WR
D.J. Chark
of Alexandria, La.; DE
Deondre Clark
of Oklahoma City; WR
Tony Upchurch
of Pearland, Texas)
Key targets:
Five-star cornerback
Adoree' Jackson
is still on the board, as is
Lorenzo Carter
. ESPN 300 receiver
Malachi Dupre
from River Ridge, La., is in the mix and would be a major get for the Tigers.

MISSISSIPPI STATE
2014 verbal commitments:
21
Spotlight:
ESPN 300 athlete
Jamoral Graham
of Decatur, Miss., has been committed for nearly a year and gives the Bulldogs their most versatile commitment. The 5-11, 180-pound Graham has 4.4 speed and can play on both sides of the ball. He will probably end up as a defensive back for the Bulldogs.
ESPN 300 members:
2 (Graham; WR
Jesse Jackson
of Petal, Miss.)
Key targets:
Committed ESPN 300 defensive tackle
O.J. Smith
(Alabama) of Bossier City, La., and three-star defensive tackle commit
Cory Thomas
(Tennessee) are still in the mix with the Bulldogs.

MISSOURI
2014 verbal commitments:
27
Spotlight:
With the Tigers losing two starting linebackers from the 2013 team, the addition of outside linebacker
Brandon Lee
of Indianapolis could be big down the road. There will be a lot of competition for those open spots, and Lee has a chance to get some reps, especially with him already being on campus. He has good speed and should fit any scheme once he adds some weight.
ESPN 300 members:
2 (Lee; OT
Andy Bauer
of St. Louis)
Key targets:
ESPN 300 defensive tackle
Poona Ford
of Hilton Head, S.C., is one of the Tigers' top remaining targets, as is four-star linebacker
Sharieff Rhaheed
of Fort Pierce, Fla. Tennessee defensive end commit
Derek Barnett
is also still on Mizzou's radar.

OLE MISS
2014 verbal commitments:
24
Spotlight:
It won't be easy to replace
Donte Moncrief
, but adding wide receiver
Markell Pack
of Purvis, Miss., to the roster will help soften the blow early. He's a natural playmaker who can get to the next level quickly with his speed. He'll need to add some weight when he gets on campus, but he's a major get at a position of need.
ESPN 300 members:
4 (Pack; OG
Rod Taylor
of Jackson, Miss.; DT
Garrald McDowell
of Covington, La.; S
C.J. Hampton
of Meridian, Miss.)
Key targets:
Yet again,
Malachi Dupre
is in the mix here, as are ESPN 300 members defensive end
Andrew Williams
, safety
Steven Parker II
of Jenks, Okla., and running back
Dacorius Law
from Haines City, Fla.

SOUTH CAROLINA
2014 verbal commitments:
18
Spotlight:
Defensive end
Dante Sawyer
of Suwanee, Ga., might not be
Jadeveon Clowney
, but he could help ease the pain of losing that physical freak. One plus about Sawyer is that he's versatile enough to play both defensive end and outside linebacker, which should allow the Gamecocks to move him around and show different looks to opposing offenses.
ESPN 300 members:
7 (Sawyer; CB
D.J. Smith
of Marietta, Ga.; TE
Kevin Crosby
of Bamberg, S.C.; WR
Shaquille Davidson
of Gaffney, S.C.; OLB
Bryson Allen-Williams
of Ellenwood, Ga.; OG
Donell Stanley
of Latta, S.C.; ATH
Terry Googer
of College Park, Ga.)
Key targets:
ESPN 300 cornerback
Wesley Green
of Lithonia, Ga., and former Florida cornerback commit
Chris Lammons
are top targets for the Gamecocks, as is Florida State defensive tackle commit
Dexter Wideman
.

TENNESSEE
2014 verbal commitments:
34
Spotlight:
The Vols need to add more athleticism and playmaking ability to the wide receiver position, and
Josh Malone
of Gallatin, Tenn., could step right in and get a healthy amount of reps this spring. Having him on campus now will help him as he continues to develop into a more sound receiver.
ESPN 300 members:
11 (Malone; S
Todd Kelly Jr
. of Knoxville, Tenn.;RB
Jalen Hurd
of Hendersonville, Tenn.; OLB
Dillon Bates
Ponte Vedra Beach, Fla.; RB
Derrell Scott
of Havelock, N.C.; DE
Dewayne Hendrix
of O'Fallon, Ill.; S
Cortez McDowell
of Locust Grove, Ga.; ILB
Gavin Bryant
of Jackson, Ala.; CB
D'Andre Payne
of Washington, D.C.; ATH
Evan Berry
of Fairburn, Ga.; DE
Derek Barnett
of Brentwood, Tenn.)
Key targets:
Four-star defensive tackle
Michael Sawyers
from Nashville has become a very important target for the Vols, who need another interior linemen. Tennessee's staff is still going after Alabama commit
Bo Scarbrough
.

TEXAS A&M
2014 verbal commitments:
23
Spotlight:
Defensive end
Myles Garrett
of Arlington, Texas, is a major addition to this Texas A&M class. The Aggies need more playmakers on defense, especially up front, and Garrett, the nation's No. 1-rated defensive end has a chance to compete for immediate playing time and should add more of a presence in the pass rush.
ESPN 300 members:
11 (Garrett; ATH
Speedy Noil
of New Orleans; QB
Kyle Allen
of Scottsdale, Ariz.; ATH
Nick Harvey
of Richmond, Texas; WR
Frank Iheanacho
of Houston; DT
DeShawn Washington
of Nederland, Texas; OLB
Otaro Alaka
of Houston, Texas; DE
Qualen Cunningham
of Chandler, Ariz.; RB
Shaun Nixon
of Austin, Texas; ATH
Armani Watts
of Forney, Texas; OLB
Josh Walker
of Gilmer, Texas)
Key targets:
Safety has become a spot of need, so the Aggies are going after ESPN 300 safeties
Steven Parker II
of Jenks, Okla., and
Mattrell McGraw
of River Ridge, La. ESPN 300 linebacker
Kenny Young
from River Ridge, La., is also still on the board.

VANDERBILT
2014 verbal commitments:
17
Spotlight:
Running back
Dallas Rivers
of Stone Mountain, Ga., is the Commodores' top commitment and he's been solid with Vandy since committing last March. He's the type of playmaker Vandy needs going forward and will provide a grinder in the middle of the field, who can also stretch the field with his speed.
ESPN 300 members:
1 (Rivers)
Key targets:
The Commodores are in the hunt for Tennessee ESPN 300 defensive end commit
Derek Barnett
.
February, 4, 2014
Feb 4
10:30
AM ET

With less than 24 hours remaining until the craziness that is national signing day, most recruiting classes are already filled up. There are, however, some key questions that need to be answered. Here's a look at five bold predictions heading into national signing day.

1. Alabama will lose a commit

January, 29, 2014
Jan 29
2:00
PM ET
With one week left until national signing day, 13 of the 14 schools in the SEC have spots in the
ESPN class rankings
. As expected, Alabama continues to have a stranglehold on the top spot with Texas A&M sitting at No. 2. All told, the conference has four schools ranked in the top five, seven in the top 10 and nine in the top 20.
To continue reading this article you must be an Insider
January, 22, 2014
Jan 22
2:00
PM ET

The SEC continues to dominate the Recruiting Nation
class rankings
nationally, with 13 of the 14 programs in the conference ranked in the top 40. That includes four of the top five, seven of the top 10 and 10 of the top 30. As expected, Alabama continues to lead the pack, and the Crimson Tide has a large lead coming down the stretch.
To continue reading this article you must be an Insider