August, 21, 2014
Aug 21
1:00
PM ET
GAINESVILLE, Fla. -- Preseason camp is a time of constant evaluation, with players' fortunes rising and falling in each day of competition.
That part is over for the
Florida Gators
, who now shift into preparations for Week 1 opponent Idaho.
UF held its 16th and final preseason practice on Wednesday, and in recent days the Gators' depth chart has begun to take shape.
"We'll sort through the depth chart of guys we can count on moving forward, and guys that need to get more reps, and guys whose reps will dwindle," coach Will Muschamp said. "I mean, that's just part of it.
"Your tape is your résumé. The guys that are producing and playing well and doing it the way we want to do it, those are the guys that'll play."
Muschamp listed his biggest concerns, and they haven't changed much throughout the last two weeks.
Florida needs to develop depth behind its starters on both lines. The offensive line is the bigger concern.
Roderick Johnson
and
Trip Thurman
have emerged as reliable backups, but that still only gives UF seven linemen it can count on.
"We need to have eight or nine," Muschamp said. "That's a critical issue."
As of now, Florida is turning to juco transfer
Drew Sarvary
to be the backup center and
Antonio Riles
to play guard on the second unit. Riles was a defensive lineman until he changed positions late in the spring.
The issue on Florida's defensive line is mainly a matter of experience, as young players such as
Joey Ivie
,
Jay-nard Bostwick
and
Caleb Brantley
will be pressed into duty. Ivie is the only player of the three who has ever taken a snap for the Gators.
Still, Muschamp is bullish on their potential.
"Jay-nard Bostwick is a guy that's improved tremendously," he said. "We really worked on his lower-body flexibility. He's really made some big strides. I think Caleb Brantley has made some strides. Joey Ivie has made some strides."
Another large concern is at backup quarterback. The Gators are planning to turn starter
Jeff Driskel
loose in the running game, and with his history of injuries, the need for a backup is greater than ever.
The candidates are
Skyler Mornhinweg
, a third-year sophomore who started the final three games of last season; true freshman
Will Grier
, who enrolled in January and participated in spring practice; and true freshman
Treon Harris
, who arrived in the summer.
Mornhinweg is more of a pocket passer, while Grier and Harris are more athletic and can run the ball.
Muschamp has said Florida will play its backup QB in the first game. He also said he wouldn't want to rotate quarterbacks.
"I'd rather name a guy and go with it," he said. "I think it's hard, especially with an inexperienced player. They need to get as many reps as possible."
While UF coaches haven't seen any of their backup QBs separate themselves, there is a sense of urgency as the team is days away from its first game week.
"It's obviously getting close to decision-making time," offensive coordinator Kurt Roper said on Tuesday, "but I also think it's a fluid thing that can change at any time just because you don't know what's going to happen.
"So obviously we've got to start on who's going to spend the time getting the two reps as much as possible."
A handful of other jobs remain up for grabs, such as placekicker and punter. Nowhere is the competition more wide open than in the secondary, where Florida is very young and inexperienced.
"Still no separation in the secondary other than Vernon [Hargreaves III] and Keanu [Neal]," Muschamp said of his top cornerback and top safety, respectively. "Got some guys who have done some decent things, we just have to be more consistent."
With just over a week before kickoff, the clock is ticking on UF's final decisions.
April, 29, 2014
Apr 29
2:30
PM ET
GAINESVILLE, Fla. -- Soaring temperatures and a lack of football tells you that spring is over in Florida. It's time for the long days of summer.
The Gators will work out in the weight room, delve deeper into playbooks and conduct drills with each other. Fifteen signees are expected to enroll in June, several of whom come with legitimate hopes for immediate playing time.
With more than three months before Florida practices again, there are still several questions that must be answered. Here are a few:
[+] Enlarge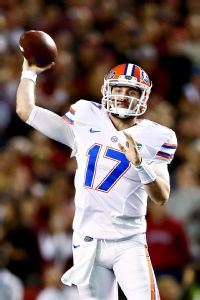 Streeter Lecka/Getty ImagesSkyler Mornhinweg will try to hold off a couple of true freshmen for the right to back up Jeff Driskel.
1. Who's the backup QB?
Jeff Driskel
is entrenched as the starter, but with his history of injuries, the Gators must prepare their backups like never before.
When Driskel was lost for the season last September, whole sections of the UF playbook went with him. That can't happen again, and it doesn't seem that it will, because Florida has more depth at quarterback than it has had in a long time.
True freshman
Will Grier
split reps throughout the spring with third-year sophomore
Skyler Mornhinweg
, and true freshman
Treon Harris
will enter the fray in August. The prevailing thought is that Grier is more talented and athletic than Mornhinweg and got a leg up on Harris by enrolling early.
But overlooking Mornhinweg, who started the last three games of 2013, would be a mistake. The coaches valued his experience and decision-making enough to cut into Grier's development this spring, and Mornhinweg rewarded them by showing improvement in the passing game.
He doesn't have Grier's arm or Harris' mobility, but Mornhinweg could easily be Driskel's primary backup.
2. What happens if the injury bug strikes again?
Injuries devastated Florida's 2013 season, but 2014 has yet to be a whole lot better.
Seven scholarship athletes missed all of spring recovering from injuries. Two others were limited to just a few days of practice in non-contact jerseys. Six more players got hurt during practice and missed time.
The good news? Every one of those players is expected to participate fully in fall camp. The bad news? Florida still hasn't developed enough depth to overcome losses at key positions such as quarterback, defensive tackle or cornerback.
One big injury could hurt in more ways than one, so other than simply having some better luck this fall, the Gators will need their young backups to prove they can handle larger roles.
3. Will UF finally have a dangerous receiver?
It's a stunning statistic, but Florida hasn't had a receiver record 600 or more yards in a season since 2009 when wideout Riley Cooper had 961 and tight end Aaron Hernandez had 850.
A lot will depend on the new scheme, Driskel's improvement in accuracy and decision-making, as well as the offensive line's ability to pass block. But if all of those things happen, the Gators believe they finally have the wide receivers to make hay.
Senior
Quinton Dunbar
, a solid possession receiver, is the leader on and off the field. A trio of sophomores --
Demarcus Robinson
,
Ahmad Fulwood
and
Chris Thompson
-- brings size, speed and much-needed athleticism.
Andre Debose
, back for a sixth year of eligibility after a torn ACL in 2013, is a talented wild card.
The numbers might not match those of Cooper or Hernandez, but Florida will be thrilled with even one pass-catching threat after four years of going without.
4. What can the Gators expect out of the backups on both lines?
If you listened to the coaching staff, the answer after spring was not much. A familiar refrain from head coach Will Muschamp and Co. was that there was "a huge drop-off" in effectiveness between the first and second units on the offensive and defensive lines.
That wasn't a motivational ploy. It's a real problem.
On the offensive line, the Gators have one backup -- junior
Trip Thurman
-- they appear comfortable with. Given the injury histories of the starters, a lack of depth here could be the biggest concern on the team. Florida will need reserves
Drew Sarvary
,
Cameron Dillard
and
Kavaris Harkless
to improve rapidly. Redshirt freshman
Roderick Johnson
and true freshman
Nolan Kelleher
must come back from the injuries that cost them the entire spring, or the O-line could see another revolving-door season.
On the defensive line, Florida needs more from redshirt freshmen DTs
Jay-nard Bostwick
and
Caleb Brantley
, who showed flashes of talent but little consistency. This could be an area where UF benefits from some heralded true freshmen who arrive in June.
Gerald Willis III
,
Thomas Holley
and
Khairi Clark
could all be in the mix on the D-line in fall camp.
5. Will there be enough carries for all of the running backs?
The players say yes, but that was during a spring that didn't include former starter
Matt Jones
and true freshman
Brandon Powell
, both out with injuries.
Sophomore
Kelvin Taylor
looks to be the starter, senior
Mack Brown
is a reliable backup, and redshirt freshman
Adam Lane
emerged as another weapon. But none of the three has breakaway speed. Although they run with similar styles, UF's backs believe they will all play. Duke's offense in 2013 supports that notion, as offensive coordinator Kurt Roper employed four tailbacks throughout the season.
"Our offense is definitely not stingy and we're going to pass the ball around and use each other in different situations," Lane said. "I wouldn't say it's really roles, but in some situations some fit better."
Still yet to be resolved is where Powell and Jones fit. Powell has speed and wiggle and could be a change-of-pace back. Jones will get a look at the B position (typically manned by tight ends and fullbacks), where he could do damage as a pass-catcher and get more playmakers on the field at the same time.
"But he's going to play the running back positon as well," Muschamp cautioned.
Ultimately, the Florida offense will still be predicated on running the ball, so it's possible five backs could share the load.
April, 16, 2014
Apr 16
9:00
AM ET
GAINESVILLE, Fla. -- Fresh faces were everywhere at Florida this spring.
A poor season in 2013 brought a clean slate. A new offense brought opportunities at every position. A large group of redshirt freshmen and true freshmen brought a much-needed infusion of talent.
Going into spring practice,
our list of players to watch
consisted of quarterback
Jeff Driskel
, cornerback
Jalen Tabor
, wide receiver
Demarcus Robinson
, tight end
DeAndre Goolsby
, and running back
Adam Lane
.
Now that football is finished for a few months, we'll take a look at the spring results and see who else stood out.
[+] Enlarge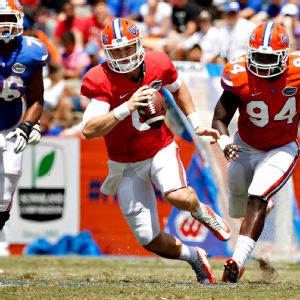 Rob Foldy/USA TODAY SportsFlorida QB Jeff Driskel is healthy again and it showed in the spring game.
Driskel:
The fourth-year junior had a very good spring in terms of health, leadership and command of the offense. He capped it with a solid spring game, going 18-for-32 for 167 yards and a touchdown.
Tabor:
It says a lot when a true freshman is thrown right into the competition for a starting cornerback job. At 6-foot-1, 188 pounds, Tabor used his long arms to make plays in coverage. He still needs to work on his press technique and where to keep his eyes, but it's easy to see that he has great athleticism and natural instincts.
Robinson:
He came in with a lot of hype last season as a true freshman and didn't respond well to the rigors of college life, but this spring Robinson lived up to expectations. He is clearly Florida's most complete receiver and best hope for a star in the passing game.
Goolsby:
The true freshman has the talent to become Florida's top pass-catching tight end. He drew the attention and praise of head coach Will Muschamp and offensive coordinator Kurt Roper. But most young tight ends struggle with inline blocking, and Goolsby was no exception. He still has a lot to learn before he gets regular playing time.
Lane:
Out of 12 redshirt freshmen, Lane made the biggest splash this spring. He proved to be very tough to tackle because, at 5-7, 222 pounds, he's built like a fire plug and never stops moving his feet. The Gators rode the "Lane Train" to a team-leading 12 carries for 67 yards (5.8 yards per carry) in the spring game.
Dante Fowler Jr.:
Not enough can be said about the junior buck linebacker's importance in Florida's defense. The Gators simply need him to become a pass-rushing menace. He showed up in better shape this spring, commanded the respect and attention of his teammates and delivered on the field with consistency.
Trenton Brown:
The mammoth senior began the spring looking like a backup at right tackle, but by the spring game Brown convinced his coaches that he was among Florida's five best offensive lineman and started at right guard. At 6-8, 361, Brown is easy to spot, especially when he's clearing running lanes.
Jarrad Davis:
As a true freshman last year, Davis made a late-season breakthrough and followed that up with a very good spring. He consistently earned first-team reps and the praise of his coaches and teammates. Davis has quickly become a leader and clearly has a very bright future.
Hunter Joyer:
After very limited offensive contributions over his first three seasons, the senior fullback was something of a revelation at the B position. He showed good hands, even on intermediate routes. Joyer sustained a minor knee injury in the spring game but earned praise afterward. "[He] did a great job this spring," Muschamp said.
Bryan Cox Jr.:
It's unclear if the third-year sophomore was just a spring starter or if he can stick with the first unit this fall, but there's no denying that Cox stood out. With a nonstop motor, he forced coaches to experiment with moving junior
Jonathan Bullard
inside to defensive tackle. At the very least, Cox stepped forward to show that he can provide quality depth.
Duke Dawson:
The "other" true freshman cornerback on the roster came in with less acclaim than Tabor but had just as much success this spring. Dawson is solid in coverage and plays with more of a physical edge than Tabor. "We're excited about him, too," said defensive coordinator D.J. Durkin.
Veterans who performed up to their coaches' expectations included sophomore cornerback
Vernon Hargreaves III
, junior left tackle
D.J. Humphries
, sophomore tailback
Kelvin Taylor
, senior safety
Jabari Gorman
, senior running back
Mack Brown
, senior wide receiver
Quinton Dunbar
and senior right tackle
Chaz Green
.
Several other players developed well enough to win consideration for playing time this fall. They were: junior slot receiver
Latroy Pittman
, junior guard/center
Trip Thurman
, sophomore safeties
Keanu Neal
and
Marcus Maye
, sophomore linebacker
Daniel McMillian
, redshirt freshmen defensive backs
Nick Washington
and
Marcell Harris
, and true freshman defensive end
Taven Bryan
.
April, 14, 2014
Apr 14
9:00
AM ET
GAINESVILLE, Fla. -- In keeping with tradition, Florida concluded a month of practices with a feel-good scrimmage in front of thousands of fans and called the spring a success.
Coming off of a terrible 2013 season, the Gators desperately needed changes and positive feelings. They got that and more.
Florida satisfied head coach Will Muschamp's top priorities by installing a new offense, developing confidence, discovering some new players and rehabilitating some old ones.
Here's what else happened this spring:
[+] Enlarge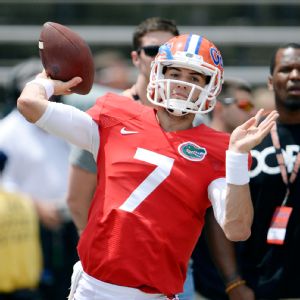 AP Photo/Phil SandlinFreshman Will Grier showed a quick release in Florida's spring game.
Quarterbacks in command:
From the opening of the first practice, it was obvious the QBs had studied hard and grasped the no-huddle spread offense. They led the installation process and made enough progress with fundamentals and basic principles to add wrinkles throughout the spring. Junior
Jeff Driskel
clearly separated himself as the starter in camp and had the strongest arm. He got into a good rhythm in the spring game and showed what the offense can do (against much of Florida's first-team defense). The battle for the No. 2 quarterback spot was a draw. Sophomore
Skyler Mornhinweg
improved as a passer throughout the spring and split reps with true freshman
Will Grier
. The much-anticipated prospect didn't disappoint, as Grier showed he has an extremely quick release and a bright future.
Deeper at receiver:
The Gators have been painfully short of playmakers on offense in recent years, but the numbers are tilting in their favor. Florida will lean heavily on senior starter
Quinton Dunbar
and three talented sophomores who gained valuable experience last season in
Demarcus Robinson
,
Ahmad Fulwood
and
Chris Thompson
. The three combined for 13 receptions in Saturday's spring game. Robinson led the way with five catches for 53 yards, including a 31-yard, highlight-reel touchdown. The biggest proof of concept for the offense was that it did what everyone promised it would -- get the ball to players in space.
Still some concerns:
After years of departures to the NFL, Florida has a very young secondary. There's plenty of talent, but it appears likely that at least one of the true freshman cornerbacks --
Jalen Tabor
and
Duke Dawson
-- will start either at corner or nickel. There will also be two new starters at safety, with an open spot still up for grabs opposite senior
Jabari Gorman
. ... The issue Muschamp harped on the most throughout the spring was a "huge" drop-off in ability from his first team to the second team on the offensive and defensive lines. Mental and physical stamina is part of the problem. ... Florida still isn't getting much offense from its tight ends and fullbacks. "We're still looking for that consistent playmaker at the B-position," Muschamp said Saturday. He did single out true freshman
DeAndre Goolsby
for praise. ... Though there weren't any major injuries this spring, the bug still looms. Florida on Saturday held out two key starters on defense in defensive end
Dante Fowler Jr
. and cornerback
Vernon Hargreaves III
. There was no reason to expose them to risk, and can you blame a team that lost one of its best players in
Ronald Powell
to a torn ACL in the spring game two years ago?
Kick in the pants:
Muschamp said he's talked to a lot of mental conditioning coaches to try to help place-kicker
Austin Hardin
iron out his mechanics. Hardin, who struggled mightily in his first season as UF's kicker, made all four of his field-goal attempts in the spring game and won his coach's praise for achieving some consistency. Hardin will still have to fight off a few walk-ons who will try to take his job.
Position changes:
Senior offensive tackle
Trenton Brown
moved inside to guard, performed well as a starter in the spring game and will stay there. At 6-foot-8 and 361 pounds, the Gators love his ability to be a people-mover in the running game. ... Florida gave junior
Trip Thurman
a long look at guard throughout the spring before giving him second-team snaps at center in Saturday's game. ... Redshirt freshman
Antonio Riles
moved from defensive line to offensive guard midway through spring. Florida coaches like his athleticism and said he looked natural on the O-line, but the real reason for the move might have more to do with three highly touted defensive line signees who are coming this summer:
Thomas Holley
,
Gerald Willis III
and
Khairi Clark
. ... Redshirt freshman
Marqui Hawkins
wasn't making much of an impact at wide receiver early in the spring so he was moved to safety, where he played some in high school. Florida felt good about its numbers at receiver and needed more help in the secondary.
What's next:
The Gators are on their own as far as workouts, as veteran players typically organize drills throughout the summer to stay sharp. Driskel said he plans to throw a lot and work on timing with his receivers. Muschamp said it best in outlining the next phase for his players: "Still got a way to go, 112 days until we report. Our older players understand the importance of this time of year. Understanding in all three phases, taking the next step schematically, being in shape, being ready to go and understanding what it's going to take to be successful and win in this league."
March, 24, 2014
Mar 24
10:00
AM ET
GAINESVILLE, Fla. -- Ask Will Muschamp a simple question and most often you'll get a simple answer.
Like, what are you looking for in the early days of spring practice?
"Just effort," the head coach said last week as Florida held its first three practices.
Trying to turn the page from a nightmarish 2013 season, it's especially important to keep things as simple as possible this spring. Like all teams getting back onto the field, they're putting a lot of work into fundamentals, but Florida also has the complicated task of introducing a new offense.
[+] Enlarge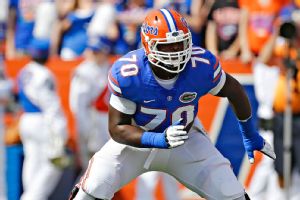 AP Photo/John RaouxWith a new offensive line coach, D.J. Humphries and the Gators linemen are changing lineups.
"That's the balance," Muschamp said. "If you have priorities 1 and 1A, it would be the installation and the confidence of our offense, and then field goal kicking. Right now, those are priorities for me."
With Week 1 in the books, it's clear that the coaching staff will take its time and gradually unveil the new offense. For now, practice is much more about the basics of technique, tempo and lining up properly.
"I wouldn't get too involved with where people are," Muschamp said. "We're trying to install the offense. I've been through it defensively. You don't want to get too dialed in personnel-wise right now. You're really kind of just trying to teach the offense. As we move through it then we will start narrowing down positionally what we're trying to do with certain guys at certain positions and what fits them best.
"I think the best coaches I've been around, they put their guys in situations to be successful. Don't ask a guy to do something he can't do or he's not as accomplished maybe that somebody else can do. …"
The fact of the matter is that Florida still has to do a lot of evaluations. This is the first opportunity for new offensive coordinator Kurt Roper to see what he's got, see players' strengths and weaknesses and see which players have been able to translate their work from offseason meetings into something positive on the field.
For instance, in the early days of spring practice Florida quarterbacks have thrown a lot of passes to the tight ends. But with one true freshman seeing his first action and two seniors who combined for four catches last season, it's likely that Roper is trying to figure out how much they can handle. It's not necessarily a true indication of what fans can expect in the finished product this fall.
The same goes for new offensive line coach Mike Summers, who watched film to assess his players before practice began and is now trying various combinations to find out what works best. Florida's first team has most often been junior left tackle
D.J. Humphries
, junior left guard
Trip Thurman
, senior center
Max Garcia
, junior right guard
Tyler Moore
and senior right tackle
Chaz Green
. But senior right tackle
Trenton Brown
, who started the last five games in 2013, has gotten his chances with that unit as well.
It's a work in progress, and on both sides of the ball there are constant evaluations being made by the coaching staff.
"You've got to take it from the meeting room to the field," Muschamp said. "That's part of our evaluation. And then we're going to have to make game day adjustments. We have to make practice adjustments. If you can't make the adjustment out there, you're not going to make it in front of 90,000 people. That's part of the evaluation, and I tell our coaches all the time to make some adjustments. I'll walk up to [defensive coordinator D.J. Durkin] and say, 'Let's switch how we're doing this' in the middle of practice. And if kids can't handle it, that's part of our evaluation."
The Gators expect to have a whole new look on offense this fall, but there's a very different feel to this spring for UF's well-established defense. That gap between the two sides of the ball is one of the big challenges for Florida's coaching staff this spring.
"When you get into spring, you want to install together, which we do offensively and defensively," Muschamp said. "But there's a lot of give and take on what we can and can't do, because what we don't want to do is get too far ahead of the offense. We're in the third year of our [defensive] scheme, and our older kids have a very good understanding of what we are and who we're going to be. ...
"Our number one priority -- and [Durkin] understands that and our defensive players understand that -- is the installation of the offense. I've explained that to our entire football team. They understand that."
Ask Muschamp the simple question of what he's evaluating at this point, and his expectations are clearly much higher for the defense.
"Always from the guys that are back on the defensive side of the ball [it's] retention," he said. "The guys on the offensive side of the ball, with what we've been able to give them, did a good job of taking it to the field for the most part. But good enthusiasm, and guys are excited about what we're doing. We're pleased with that."
March, 18, 2014
Mar 18
1:00
PM ET
Schedule:
The Gators' first spring practice is Wednesday. It's open to the public and free, along with seven other practice sessions. Spring football concludes Saturday, April 12 with the annual Orange & Blue Debut, which starts at 1:30 p.m. ET.
What's new:
After a 4-8 season in 2013, a couple of key offensive coaches were replaced. Offensive coordinator Brent Pease was fired and replaced with Kurt Roper, who was in the same position at Duke. Offensive line coach Tim Davis was fired and replaced by Mike Summers, who coached the OL at USC in 2013. Special teams coordinator Jeff Choate left to coach at Washington and was replaced with Coleman Hutzler, who coached special teams at New Mexico.
[+] Enlarge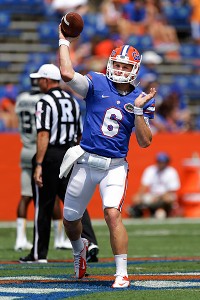 AP Photo/John RaouxFlorida pushed back the start of spring practice to ensure that previously injured players such as Jeff Driskel could participate.
On the mend:
Florida pushed back the start of spring football by about 7-10 days in order to insure the full participation of several players who were injured last fall. Most notable among them are QB
Jeff Driskel
(broken leg), LBs
Antonio Morrison
(torn meniscus) and
Jeremi Powell
(torn ACL), and O-linemen
Tyler Moore
(broken elbow) and
Chaz Green
(torn labrum). Still,
the Gators will be without nine players this spring
, including two former starters -- RB
Matt Jones
(torn meniscus) and DT
Leon Orr
(broken wrist).
On the move:
The biggest shuffling will happen on the offensive line, which lost three senior starters and another key reserve who transferred.
Max Garcia
, who started at left guard and left tackle last season, will move to center. Moore, who played tackle in 2013, moves to guard.
Trenton Brown
, who started five games at right tackle, will also see time at guard. And junior
Trip Thurman
, a reserve at guard and tackle who's been praised for his offseason work, will also get a look at center.
New faces:
Eight true freshmen and a juco guard
enrolled in January
. The biggest impact is likely to come from CB
Jalen Tabor
, who should compete for a starting job. QB
Will Grier
will have a chance to become Driskel's primary backup. TE
DeAndre Goolsby
could stand out as a pass-catcher. Juco guard
Drew Sarvary
should compete for a spot on the two-deep roster.
Taven Bryan
has a chance to impress at defensive end. DB
Duke Dawson
will get a look at cornerback and safety.
Kavaris Harkless
provides depth at guard. RB
Brandon Powell
(foot) will be a non-contact participant. Guard
Nolan Kelleher
(back) is waiting on a second opinion before he's cleared to participate.
Question marks:
There are so many following a subpar season. The biggest issue for Florida is making the most of its 15 allotted practices to install a new offense. Roper can often be heard telling his new students to play fast, but it will take time for new plays, new schemes and new principles to become second nature. The Gators' problems on offense ran deep. The line was porous in pass protection, often giving the quarterbacks precious little time to scan the field. When there was time, the receiving corps had trouble getting open. All of those issues must be addressed, as head coach Will Muschamp is betting his job on new hires Roper and Summers to restore competence to one of the worst passing attacks in the nation.
Florida was not great on defense last season, either. It's true that the offense got so bad that Muschamp publicly complained about the effect it had on his defense, but he also had some gripes of his own. The Gators' run defense, for one, slipped badly and got worse as the season went along. After DT
Dominique Easley
got hurt, the middle of UF's defense never recovered. It's a high priority for the Gators to find and develop some linemen who can win one-on-one battles. Also, for the second straight year, the secondary lost a lot of experienced players. Florida is deep and talented and will put pressure on several young players to progress quickly.
Key battle:
There are several to choose from, but the most important and tightest competition will probably happen at middle linebacker. Morrison is the incumbent but performed below expectations last season. Senior
Michael Taylor
is a solid option and should push Morrison, but Taylor has always struggled in coverage. The wild card is sophomore
Jarrad Davis
, who came on strong as a true freshman when he drew raves for his speed, athleticism and ability to absorb coaching.
Breaking out:
This is a team desperate for skill players to produce. Florida signed five talented wide receivers in 2013, and three --
Ahmad Fulwood
,
Chris Thompson
and
Demarcus Robinson
-- saw immediate playing time. With at least one starting WR job up for grabs, the Gators are counting on those three and redshirt freshmen
Alvin Bailey
and
Marqui Hawkins
to mature. Roper's offense depends upon getting its best weapons the ball in space. At this time, any of those five could become the team's most dangerous weapon. Regardless of who it is, a reliable pass-catching threat must emerge this spring.
Don't forget about:
On a young team, senior
Quinton Dunbar
will be counted on for leadership and more. He's been a solid possession receiver and has improved in each of his three seasons, but the Gators will ask Dunbar to take the next step. A certain starter, Dunbar needs to consistently separate and catch everything that comes his way. Florida's QBs need their senior receiver to be something of a security blanket.
All eyes on:
It's all about the offense for a program that has consistently fielded one of the nation's best defenses. Driskel and Grier will be in the brightest spotlights, as only quarterbacks can be. They will be the easiest measuring sticks of the progress that Roper's offense makes, and hundreds of fans will come to practice to see if things are indeed improving. The shotgun, zone-read options and spread elements of the new scheme are tailor-made for these two QBs. Roper (and therefore Muschamp) will be counting on their QBs to make the offense look good.
January, 7, 2014
Jan 7
1:00
PM ET
GAINESVILLE, Fla. -- Florida fans clung to a dubious silver lining after Florida's miserable 4-8 season in 2013:
It can't get any worse!
And it's true. The Gators had terrible luck, enough injuries to fill an entire season of "Grey's Anatomy" and a team that couldn't wait for all of it to be over.
But can they really bounce all the way back to the Top 25?
Right after the season ended Monday night, Florida made Mark Schlabach's always fun
Way-Too-Early Preseason Top 25
.
The case for
[+] Enlarge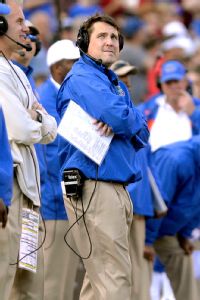 AP Photo/Phil SandlinWill Muschamp is banking on a 2014 bounce-back.
New offensive coordinator Kurt Roper has had a lot of success, and the excitement he helped generate during Duke's superlative season in 2013 is coming with him to Gainesville. He'll install an much more diverse, uptempo offense that would seem to better fit mobile quarterback
Jeff Driskel
.
Speaking of Driskel, he and most of last season's wounded should be healthy in 2014. That alone gives coach Will Muschamp reason for optimism. By the final game of last season, he was dumbstruck by just how many players were out: "There were a bunch of [talented] guys that didn't play for us today. They were all on the sidelines in street clothes. We have good football players and we have a good staff. We just got to get back healthy and continue to move forward.
"We're going to be fine. We're going to have a good football team next year, I can assure you of that. Sitting in that locker room with those guys, we're going to be fine. And that's what's encouraging for me. It's damn encouraging."
The case against
The injury bugaboo is still lurking. If Driskel misses time, as he has in each of his three seasons, the Gators will be forced to turn to true freshman
Will Grier
or sophomore
Skyler Mornhinweg
. The transfer of
Tyler Murphy
cost Florida a reliable backup at the most important position.
The offensive line is paper thin as well. Beyond
D.J. Humphries
,
Max Garcia
,
Tyler Moore
,
Chaz Green
and
Trenton Brown
, there are only a handful of scholarship linemen on the roster. Just one -- rising junior
Trip Thurman
-- has even taken a college snap. That's a whole lot of inexperience ticketed for UF's line in 2014.
There are plenty of other reasons for pessimism, such as a lack of proven playmakers at receiver and tight end, some shuffling needed in the secondary after losing three upperclassmen at cornerback and a dearth of pass-rushers off the edge. Then there's the always-difficult schedule.
But with a sizable recruiting class ranked in the top 10 and some fresh ideas from three new coaches, it's a lot more fun to imagine a Gators turnaround next fall.
Click here to view the full Way-Too-Early Preseason Top 25 poll.

Click here to see how all of the schools in the Way-Too-Early Preseason Top 25 are faring in recruiting for the Class of 2014.
August, 21, 2013
8/21/13
4:00
PM ET
GAINESVILLE, Fla. -- Unhappiness has turned out to be a good thing for Florida's offensive line in 2013.
It's the reason
Tyler Moore
and
Max Garcia
left their respective schools a year ago and transferred to Florida. The addition of those two versatile players gives the Gators their toughest, most physical and best offensive line in coach Will Muschamp's three seasons.
Now everybody's happy.
"Oh, man, it's the greatest decision of my life," Garcia said.
Garcia was one of several Maryland players who transferred after the 2011 season, which was coach Randy Edsall's first in College Park. Though he started all 12 games at left tackle as a sophomore, Garcia said he had personal, academic and athletic issues during his freshman season.
When it was over, he decided he needed a change.
"I think you come to college just to be happy personally and athletically and academically, just find the right fit for you," Garcia said. "It's all about being happy. As a player you don't really get much more than being happy."
[+] Enlarge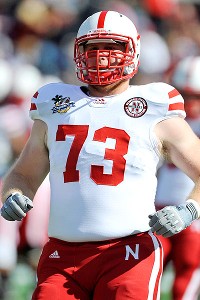 Brad Barr/US PresswireTyler Moore set a Nebraska record with four starts on the offensive line as a true freshman before transferring to Florida.
After looking at several schools, Garcia said he believed he could be happy at Florida. It didn't take him long to realize he was correct.
"I met Coach Muschamp and [offensive line] Coach [Tim] Davis and I met the offensive line here and I just felt at home coming down here to Florida," said Garcia, who is a 6-foot-4, 307-pound redshirt junior. "Aside from football, this is where I found Christ. He came into my life here so since I've been here last August my life has just changed forever and it's for the better."
Moore's situation was a bit different. He started the first four games and played in nine as a freshman tackle at Nebraska in 2011, but he was unhappy with the amount of playing time he got and he also believed he wasn't being treated fairly.
He was so disgruntled that when he left school just before practice began in August 2012 he thought he was done with football.
"Little things that I had to deal with at Nebraska made me slowly hate the game after so much time being there," said Moore, whose father, great uncle and cousin played at Nebraska. "Of course everyone wants more playing time, but I believe I should have gotten more playing time throughout the year. I was busting my butt all year practicing and trying to get some playing time and still only got a few plays here and there. It's just what the coaches want to do."
The 6-5, 315-pound Moore returned to St. Petersburg, Fla., and spent the 2012 academic year at St. Petersburg College. But as time passed, he realized he missed playing football and he considered Florida State before choosing UF.
They took different paths, but Moore and Garcia have one thing in common: Both can play multiple spots on the line. That makes them among the Gators' most valued players.
Moore, a redshirt sophomore, was expected to battle with redshirt senior
Chaz Green
for the starting right tackle spot but instead has spent the entire camp working at right guard in place of injured starter
Jon Halapio
(torn pec). He can play all five positions, although he hasn't snapped at UF yet.
"He's very intelligent. He gets it," Muschamp said. "We've been able to plug him in across the board. He could play center if he had to. You can't ever not emphasize enough the intelligence, and [he's] a guy that can go in and play different spots, different angles, different assignments and different techniques from playing inside as opposed to playing outside.
"He can do a lot of things for us. He's going to be a huge member of our football team."
Garcia is the starter at left guard and pairs with left tackle
D.J. Humphries
to instantly upgrade the left side. The staff moved him to left tackle for a practice and Muschamp said he performed well despite not having taken a snap there since he arrived in Gainesville.
"We got rave reviews from some of the assistant coaches there at Maryland about the type young man he was," Muschamp said. "So he was highly endorsed as a football player but more than anything as a person."
Moore and Garcia aren't the only offensive linemen who can play multiple spots on the roster. Redshirt senior
Kyle Koehne
, Green and redshirt sophomore
Trip Thurman
can as well, and Muschamp said that will be a staple of his linemen going forward.
"We always try to recruit guys who can play multiple positions," Muschamp said. "That means they're smart and they can do some different things for us. You'd like to be two-deep at every position and two guys that can rotate other than that. You better have a bunch [of versatile offensive linemen] and you've got to prepare for injuries."
August, 16, 2013
8/16/13
9:30
AM ET
GAINESVILLE, Fla. -- Florida fans better get a good look at senior wide receiver
Solomon Patton
this season because guys like him are going to be hard to find around here from now on.
Small guys.
The 5-foot-9, 171-pound Patton doesn't really fit into coach Will Muschamp's philosophy that bigger is better. Not just on the line of scrimmage, either. Big receivers. Big defensive backs. Big linebackers.
[+] Enlarge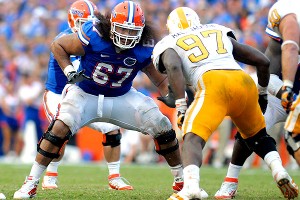 AP Photo/Phelan M. EbenhackGuard Jon Halapio, at 6 feet 3 and 321 pounds, meets Will Muschamp's size criteria to compete in the SEC.
Size does matter at Florida now. Muschamp believes it's the best way to have success in the Southeastern Conference.
"This is a big man's league," he said. "When you go pay to watch a boxing match, you don't go watch the featherweights fight. You go watch heavyweights fight. This is a heavyweight league.
"So we need have a big, physical team. You can still be really fast, but you better be big and physical if you want to win in this league right now."
Muschamp is in his third season and working on his fourth signing class, and he has certainly made the Gators a bigger, more physical team in that short period of time. To see the difference, look at UF's roster from 2009. The Gators had five starters or key contributors who were 5-9 or shorter: Jeff Demps, Chris Rainey, Ahmad Black, Markihe Anderson and Brandon James.
This year's team has only one starter that small: 5-9 safety
Cody Riggs
. Patton is a role player (he's the jet sweep guy) and the shortest player on scholarship is 5-7 freshman running back Adam Lane -- who weighs 222 pounds.
Muschamp's philosophy goes further than just the size of the players. He wants the bulk of his 85-man roster to be comprised of what he calls big-skill positions: offensive and defensive linemen, linebackers and tight ends. He wants 50. Right now he has 42 (see breakdown below).
Muschamp wants 15-17 offensive linemen, and the Gators are close to that number. They have five scholarship tight ends, too. The defensive line is where the problem is. The Gators are short on ends, especially speed rushers. There are eight scholarship defensive tackles, but only three have played in a game (
Dominique Easley
,
Leon Orr
and
Damien Jacobs
), and just two bucks (hybrid defensive end/linebacker).
It'll take at least a couple more signing classes for the Gators to be as stocked along the defensive line as Muschamp would like. Muschamp believes long-term success at Florida -- and therefore the SEC -- depends on beefing up those defensive numbers.
And not just to compete with Alabama and Nick Saban, either.
"When big guys run out of gas, they're done," Muschamp said. "We don't ever want our big guys up front to play more than six or eight snaps in a row and have the intensity you've got to play with to be successful in this league. So you can't ever have enough defensive linemen or pass rushers, especially the way the game's going.
"You look in our league at Missouri and Kentucky and Tennessee, a lot of schools are going to a little bit of a Big 12 model, like Texas A&M, where they're spreading the field, and you can't ever have enough guys that can play in space and rush the passer. The most exerting thing in football is rushing the passer. Those guys are battling against a 315-pound guy and trying to push the pocket, so you can't ever have enough of those guys."
Here's the breakdown of what Muschamp calls the big-skill players:
Offensive line
Ideal number:
15-17
Number on the roster:
14.
Tyler Moore
,
Quinteze Williams
, Rod Johnson, Octavius Jackson, Cameron Dillard,
Trip Thurman
,
Jon Halapio
,
D.J. Humphries
,
Jonotthan Harrison
,
Chaz Green
,
Max Garcia
,
Trenton Brown
,
Ian Silberman
,
Kyle Koehne
.
Comment:
The Gators will lose four players to graduation but have four offensive line commits for 2014, three of whom weigh more than 300 pounds. The line has gotten bigger, stronger and more physical since Muschamp called them soft at the end of his first season.
Defensive tackle
Ideal number:
8-10
Number on the roster:
8. Damien Jacobs,
Joey Ivie
, Leon Orr,
Darious Cummings
, Jay-nard Bostwick, Caleb Brantley, Antonio Riles, Dominique Easley.
Comment:
Not a lot of experience here, but the four freshmen (Ivie, Bostwick, Brantley and Riles) will gain valuable experience as part of the rotation this season.
Defensive ends
Ideal number:
6-8
Number on roster:
4.
Alex McCalister
,
Jonathan Bullard
, Jordan Sherit, Bryan Cox.
Comment:
Easley also can play end. This is perhaps the most flexible position, with several players having the ability to play inside on passing downs to get the best pass rushers on the field.
Bucks
Ideal number:
4-6
Number on roster:
2.
Dante Fowler
,
Ronald Powell
.
Comment:
This position also needs to be beefed up quickly, with Powell likely leaving after this year if he has a good season. Some flexibility here, too, because Cox and McCalister could spend time here.
Linebackers
Ideal number:
9-12
Number on roster:
9.
Michael Taylor
,
Matt Rolin
,
Jeremi Powell
, Jarrad Davis,
Neiron Ball
,
Darrin Kitchens
,
Daniel McMillian
,
Alex Anzalone
,
Antonio Morrison
.
Comment:
UF has one bona fide stud (Morrison) and a mix of veteran role players and freshmen. McMillian is a player to watch. He could become a starter by midseason. This is an important position group because it produces a lot of special teams players.
Tight ends
Ideal number:
3-5
Number on roster:
5.
Clay Burton
,
Tevin Westbrook
,
Kent Taylor
,
Colin Thompson
, Trevon Young.
Comment:
A lot of players, but little production so far. Burton, Westbrook and Thompson are mainly blockers, but there's optimism that Thompson can develop into someone who can work the middle of the field.
March, 27, 2013
3/27/13
2:30
PM ET
By
ESPN.com staff
| ESPN.com
DawgNation
From David Ching

: Cornelius Washington had a relatively quiet senior season at Georgia, but after a star turn at the NFL combine, the defensive end is making the most of his soaring draft stock.
More from Ching

: With 10 starters returning, it was no surprise to see the defense dominating during Georgia's first scrimmage of the spring.
GatorNation
From Michael DiRocco
:
Trip Thurman
's injury is the latest malady to befall Florida's offensive line and suddenly the Gators are facing some big problems this spring.
GeauxTigerNation
From Gary Laney
: With 28 participants, headlined by Tyrann Mathieu and
Barkevious Mingo
, LSU's pro day is a must-watch event.
More from Laney

: 2015 CB
Xavier Lewis
might have had a rough day at Sunday's National Underclassmen 5-star Challenge, but he's not letting that slow down a recruitment that has several SEC schools, including LSU, showing interest
TideNation
From Alex Scarborough
: Football is a copycat game, and with all their success, nobody is being imitated more than the Crimson Tide.