June, 24, 2013
6/24/13
3:00
PM ET
Every year, players come and go in college football. With the turnover teams can either grow or take steps back.
It's time to check out Kentucky's strongest position and weakest position heading into the 2013 season:
Strongest position: Defensive line

New coach Mark Stoops really lucked out when it came to his defensive line. The Wildcats have the pieces in place up front to cause some real discomfort for opposing offenses. The foundation up front could help mask the issues the Wildcats have at linebacker and in the secondary due to inexperience. Inside, Kentucky has starters
Donte Rumph
and
Tristian Johnson
return, along with the talented
Mister Cobble
, who showed vast improvement last year and this spring. Rumph registered four sacks and six tackles for loss last year, while Cobble and Johnson combined for 3.5 sacks and 5.5 tackles for loss. Two starters are gone outside, but
Alvin Dupree
is moving from linebacker to end. He was Kentucky's best pass-rusher last year (12.5 tackles for loss and 6.5 sacks) and could be even more of a threat to passing games with his hand in the ground. Dupree is All-SEC material. And he'll have help from junior college transfer Za'Darius Smith, who registered 47 tackles, 11 for loss and 6.5 sacks at the juco ranks last fall. He had a very good spring and should come in and make an immediate impact. Freshman Jason Hatcher should also help on the outside as well.
Weakest position: Secondary and/or pass-catchers
The Wildcats are really hurting to find a consistent receiving threat now that
La'Rod King
is gone.
Demarco Robinson
and
Daryl Collins
will be in their third years this fall, and while they have big-play potential, they just haven't been able to live up to that potential. Yes, the quarterback play hasn't been great, but there comes a point where players have to step up and figure out a way to make plays. Both players were held under 300 yards last year. It doesn't help that three seniors are gone, making this a very young group overall. Only four players return with any experience from last year, with only Robinson catching more than 20 passes. Freshman Ryan Timmons has a chance to play right away, along with juco standouts Javess Blue and Steven Borden, who was on campus this spring.
As for the secondary, the Wildcats lost three starters and safety
Ashely Lowery
is working his way back onto the field after his horrific car accident. Both cornerback and safety are littered with youngsters, which means that incoming players will have a pretty good shot at getting valuable playing time. Regardless, the secondary is going to be younger and more inexperienced than Stoops would like in his first year. Sophomore corners
J.D. Harmon
(two interceptions),
Cody Quinn
(five pass breakups) and
Fred Tiller
(two pass breakups) are the only returners with any stats at corner. There is a little more experience at safety, but not much. Getting senior
Dakotah Tyler
back from his knee injury will be big, but he's only played sparingly for the Cats during his career.
March, 22, 2013
3/22/13
2:00
PM ET
New Kentucky coach Mark Stoops understands that he and his staff have a lot to do in the development department.
"There's not one position on our field that we don't need to improve," Stoops said earlier this week.
But one area of the Wildcats' team that he doesn't have to worry too much over is the defensive line. What was once a group of underachievers entered the spring as Kentucky's strength, with a hunk of experience returning.
[+] Enlarge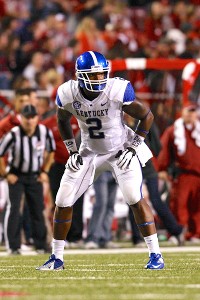 Richey Miller/CSM (Cal Sport Media via AP Images)Junior Alvin Dupree played both linebacker and defensive end last year, but the coaches want him to focus more on end this spring.
The Wildcats will miss ends
Collins Ukwu
and
Taylor Wyndham
, but rising junior
Alvin Dupree
, who has really impressed Stoops and the staff so far, is working out at end more this spring, and junior college transfer Za'Darius Smith is expected to make an immediate impact at the other end spot.
Add that rising senior tackles
Donte Rumph
,
Tristian Johnson
and
Mister Cobble
are back, and the Wildcats will have a pretty talented defensive front to work with this fall. And in this league, you can never have too many bodies along that defensive line.
"You have to be good up front in this league, and I feel like we have a foundation there with those guys," Stoops said.
It should be fun to watch Dupree adjust more to having his hand in the ground this fall. He played that hybrid linebacker/defensive end position in Rick Minter's defense last season and was one of the Wildcats' most active players. He was second on the team with 91 tackles and led Kentucky with 12.5 tackles for loss and 6.5 sacks.
Teams might not have time to double-team him with Smith potentially lining up on the other side. Keeping him in this class and having him enroll early were huge for this staff. Early reports out of Lexington were that he was tearing things up in the weight room before spring practice started.
Smith has good size at 6-foot-6, 257 pounds and was productive as a pass-rusher and a run stopper during his juco days. He registered 11 tackles for loss and 6.5 sacks last year, and the thought is that one of those end spots is his to lose.
As for tackle, Stoops feels pretty confident about what he has there. It took a while for Rumph and Cobble to come around, but they made strides in 2012. Rumph, Johnson and Cobble combined for 11.5 tackles for loss and 7.5 sacks. For this defense to improve, those numbers have to increase in 2013, but if they continue to trend up, their play should take some pressure off of a younger linebacker corps.
It should also help the Cats be tougher against the run this fall. Kentucky surrendered 161.7 rushing yards per game last season and 4 yards per carry. Opponents also scored 25 rushing touchdowns against the Cats, which tied for second most in the SEC last year. Kentucky gave up 150-plus yards in 10 of 12 games last year.
With a more defensive-minded coach running things and more reps under these players' belts, the hope is that the Cats are tougher against the run. And they'll have to be because teams just don't survive in this league if they can't stop the ground game.
March, 18, 2013
3/18/13
11:00
AM ET
Schedule:
The Wildcats opened spring practice Monday morning, and will conclude the spring with their annual Blue/White Spring Game on April 13, at 7 p.m. ET at Commonwealth Stadium.

What's new:
The entire coaching staff is new in Lexington. Former Florida State defensive coordinator Mark Stoops replaced Joker Phillips as the Wildcats' head coach. Neal Brown takes over as Kentucky's offensive coordinator/quarterbacks coach, while D.J. Eliot left FSU with Stoops to become the Wildcats' defensive coordinator/linebackers coach. Derrick Ansley is Kentucky's new cornerbacks coach and Jimmy Brumbaugh takes over as the new defensive line coach. Tommy Mainord will coach wide receivers, while Vince Marrow will coach up the Wildcats' tight ends. Bradley Dale Peveto will coach the safeties and be the special teams coordinator. John Schlarman will coach Kentucky's offensive line, while Chad Scott coaches running backs.
On the mend:
Running back
Josh Clemons
missed all of last season with a knee injury that he suffered halfway through the 2011 season and could be limited this spring. The amount he works out this spring will depend on well his knee responds. Rising senior safety
Dakotah Tyler
will miss spring ball while he recovers from a knee injury he suffered last year. Freshman cornerback
Shawn Blaylock
also suffered a knee injury last year and is still recovering as well. Tight end
Anthony Kendrick
will also miss spring practice with a foot injury.
On the move:
Junior
Alvin Dupree
played both linebacker and defensive end last year, but the coaches want him to focus more on end this spring. With a new staff, position changes are expected to develop as practice continues and the new staff gets to see how players look on the field.
New faces:
The Wildcats welcomed in three early enrollees. Junior college transfers Za'Darius Smith (defensive end) and Steven Borden (tight end) joined true freshman quarterback Reese Phillips.
Question marks:
With wide receiver
La'Rod King
gone, Kentucky is in desperate need of someone stepping up to be the go-to guy in the passing game. King wasn't a game-changer, but he was the team's most reliable offensive weapon in 2012. Youngsters
Demarco Robinson
and
Daryl Collins
will be looked at first, and while both have big-play potential, they both have a lot of room to grow on the field. The Wildcats also looking for someone to take over at the running backs spot. The good news is that a handful of players come back, but finding that No. 1 guy is a priority. The Wildcats also lost three starters in the defensive backfield. Replacing do-it-all safety
Martavius Neloms
will be particularly hard for the Wildcats to do, but there are young options for Kentucky's new staff.
Key battle:
With injuries derailing
Maxwell Smith
's second year as the Wildcats' starting quarterback, all eyes will be on this position. Along with Smith, who needed ankle surgery last year, Kentucky will have two rising sophomores competing this spring in
Jalen Whitlow
and
Patrick Towles
, who both saw time last year. Smith enters the spring as the starter, but he will have to hold off the two youngsters, who gained valuable experience last year. Plus, this is a new staff, so Smith's spot from a year go isn't guaranteed. With the heavy amount of passing Brown wants out of his offense, figuring out the quarterback situation is the top priority for the Wildcats this spring.
Breaking out:
Really, anyone at wide receiver is a candidate to break out because the Cats expect to sling the ball around a ton this spring. Robinson was a candidate to break out last year, but fell short of expectations. Collins has the potential too with his playmaking ability, but he also he still has a lot of room for improvement. The same can be said at the tight end position as well. Stoops was very excited about the offseason reports he got about Za'Darius Smith in the weight room and with
Collins Ukwu
gone, he's expected to start right away. Offensive tackle
Jordan Swindle
was a backup last year and the previous staff really raved about him. Two starters are gone up front so he could get a shot to move around and help even more this spring. Also, keep an eye on young running backs
Dyshawn Mobley
and
Justin Taylor
.
Don't forget about:
The Cats' strength could be the defensive line this year. Bringing in Za'Darius Smith was big, but Kentucky also returns rising senior defensive tackles
Donte Rumph
,
Mister Cobble
and
Tristian Johnson
. Rumph and Cobble finally started playing up to their potential last season, and are expected to be even better this fall. Stoops and Eliot have to be pretty excited about working with this group.
All eyes on:
With a team that has struggled as much as the Wildcats have over the last two years, everyone will be watching to see how players respond to a new coaching staff. Stoops brings in a more defensive-minded philosophy, but he certainly understands how important it will be to get the offense off the ground. Brown's high-flying pass attack has fans excited, but players have to buy into the new scheme and have to get comfortable with it this spring. It's all about finding the right level of comfort in Lexington this spring.
March, 21, 2012
3/21/12
3:05
PM ET
Schedule:
Kentucky opened its spring practice Wednesday morning and will conclude with the Blue/White Game on April 21. All practices are closed to the public.
What's new:
Kentucky welcomed two new assistants to Joker Phillips' coaching staff during the offseason. Mike Cassity returned to his alma mater this year and will coach the Wildcats' defensive backs. Cassity coached Kentucky's defensive backs from 1980-81. Pat Washington also joined Kentucky's staff to coach wide receivers and to be the passing game coordinator after Tee Martin left to coach wide receivers at USC.

On the mend:
Quarterback
Morgan Newton
will only do some light tossing and handoffs as he recovers from shoulder surgery. Defensive end
Collins Ukwu
will miss drills after undergoing labrum surgery. Running back
Josh Clemons
will be non-contact throughout the spring because he's rehabbing from the torn meniscus he suffered last season. Defensive tackle
Tristian Johnson
will be limited this spring because of a shoulder injury. Wide receiver
Gene McCaskill
is being evaluated day-to-day because of knee issues that he's dealt with the last couple of years. Offensive lineman
Tyler Davenport
won't go through contact either this spring because of a knee injury and center
Sam Simpson
is out indefinitely with a back injury. Linebacker
Jabari Johnson
won't go through contact either because of shoulder surgery.
On the move:
Marcus Caffey
is making a significant move for the Wildcats as he switches from running back to cornerback, which is a position that needs all the bodies it can get this year.
Eric Dixon
is also moving from safety to cornerback to help the Wildcats with numbers.
Bookie Cobbins
is moving from quarterback to wide receiver.
Questions:
The Wildcats enter spring with a lot of questions on both sides of the ball. Kentucky must replace three starting offensive linemen from last season. The good news is that vets
Larry Warford
and
Matt Smith
are back, but Kentucky will work rising sophomores
Darrian Miller
(left tackle) and
Zach West
(left guard), and junior-to-be
Kevin Mitchell
(right tackle) with the first-team offense. Miller started two games last year and the coaches are high on him, but there won't be a lot of experience behind Warford and Smith. Kentucky is also looking for another wide receiver to step up opposite
La'Rod King
, who proved to be the Wildcats' best receiving option in 2011. Outside of King, Kentucky returns just one receiver --
E.J. Fields
-- who registered 10 more receptions in 2011. Kentucky will likely have to look to its youngsters and is hoping for a couple of redshirt freshmen to stand out, like Cobbins,
Daryl Collins
and
Rashad Cunningham
. Kentucky is also replacing two starting corners and safeties (
Winston Guy
was a Spur) and three linebackers after
Ridge Wilson
was dismissed before spring. Converted corners Caffey and Dixon will come in handy at corner because Kentucky needs the most help there.
Don't forget about:
Kentucky's offense was dead last in the SEC last season, but the Wildcats had some success at times running the ball. Kentucky's offense took a major hit when Clemons went down with that devastating knee injury last fall. The coaches expected big things from him and when he's healthy he's arguably the Wildcats' best offensive weapon. But Kentucky also returns rising senior
CoShik Williams
. He's added 10 pounds of muscle and could help Kentucky develop a solid rushing tandem once Clemons is healthy again.
Raymond Sanders
is another running back to keep an eye on. Injuries wrecked his 2011 season, but if he's healthy he'll help Kentucky's offense as it looks for more consistency.
Waiting in the wings:
Quarterback
Maxwell Smith
won't have to fight off Newton this spring, as Newton recovers from shoulder surgery, but he'll get an up-close glimpse of his summer competition when 2012 signee Patrick Towles visits Lexington during his Spring Break. Towles will be on hand to take in as much of the Wildcats' offense as he can. Towles will arrive this summer with a lot of hype following him from high school and might already be the most athletic of the bunch at quarterback.
Breaking out:
Kentucky is once again searching for playmakers this spring and it hopes to find a few at wide receiver. Cobbins, Collins and Cunningham are all players the coaches are excited about working with in the next month and with receiver so wide open, each will have the opportunity for a big spring. Kentucky also needs players to step up at linebacker, cornerback and the Spur position. All the starters from those positions are gone, including Kentucky's best player in linebacker
Danny Trevathan
. Attempting to replace Trevathan at the Will spot is rising sophomore
Malcolm McDuffen
. Underclassmen
Tim Patterson
and
Demarius Rancifer
are also players the coaches are excited about using at linebacker.
Josh Forrest
and
Miles Simpson
are also battling at the Spur.
All eyes on:
Smith ended up being the best option Kentucky had at quarterback last season, despite some rocky play, but an injury kept him out of the season finale against Tennessee. It worked out that wide receiver
Matt Roark
managed well enough to guide the Wildcats to their first win over the Vols in 26 years. Smith now enters the spring with questions surrounding his game and the pressure of having to hold off Newton and Towles this summer. Coaches and players have more confidence in Smith now, but he'll have to continue to develop as more of a passer and generate more confidence in has abilities this spring. He'll have to start making those around him better, especially the wide receivers, who enter spring as a very unproven group. Smith could either run away with the starting job this spring or make the competition that much more fierce once the others start throwing with him this summer.