February, 18, 2014
Feb 18
11:10
AM ET
Former Alabama running back
Dee Hart
was arrested Sunday for
possession of marijuana and giving false information
, according to reports.
Hart, who was a top recruit for Alabama in 2011, was supposed to head into the fall for his junior season on the field, but the school announced that he is no longer part of the football team. He hasn't been with the team since Alabama's 45-31 loss to Oklahoma in the Allstate Sugar Bowl.
Here's the statement from Alabama on Hart's status:
"Dee Hart has not been a part of the football team since the bowl game and has not participated in any of the offseason program. Hopefully he will learn from this mistake and continue to work toward completing his degree, which he is on track to do by the summer."
[+] Enlarge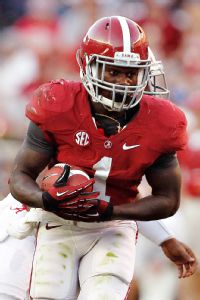 AP Photo/ Butch DillDee Hart never really got his career off the ground at Alabama.
It's unknown if Hart could return to the team beforehand, but this recent arrest certainly won't help him. Hart might have been a top recruit for the Crimson Tide a few years ago, but he was never able to really make much movement on the Tide's depth chart. Hart suffered season-ending ACL injuries in 2011 and 2012 and tried out at cornerback last year before moving back to running back.
Hart rushed for 78 yards and a touchdown on 22 carries in 2013 and had 166 yards and a touchdown on 43 career carries with Alabama.
With the return of back-to-back 1,000-yard rusher
T.J. Yeldon
and backups
Kenyan Drake
and
Derrick Henry
, it might have been tough for Hart to rise through the ranks at running back. Not to mention, rising sophomore
Altee Tenpenny
, a former ESPN 300 recruit, saw action last season and
Tyren Jones
, also an ESPN 300 prospect in 2012, redshirted last year. The arrival of highly touted five-star athlete
Bo Scarbrough
won't help either, with Scarbrough expected to start his Alabama career at running back.
Heading into the spring, it appears the top spot at running back is going to come down to Yeldon or Henry, who had a breakout performance in the Sugar Bowl. Hart might have a tremendous amount of athleticism and his work ethic was once thoroughly praised by coach Nick Saban, but the chances of him jumping those two was minimal. The chances of him pushing the others out of the way at this point in his career was going to be a mountain to climb as well.
Alabama will be fine without Hart, but here's hoping Hart lands on his feet soon.
April, 16, 2013
4/16/13
12:25
PM ET
Alabama will be without one of its top offensive athletes for the rest of spring after true freshman running back Derrick Henry
fractured his tibia in Saturday's scrimmage
, according to his high school coach Bobby Ramsay.
Henry, who was the No. 1-rated athlete in the 2013 recruiting class, was having a very solid spring until his injury and was actually the Crimson Tide's third-leading rusher through two scrimmages. Alabama was already dealing with rehabilitation efforts from backs
Jalston Fowler
and
Dee Hart
, who both suffered season-ending knee injuries last year.
While the Tide will have to wait to see if Henry will be back up to speed this fall, Alabama does have three more highly recruited running backs arriving this summer.
Alvin Kamara
,
Tyren Jones
and
Altee Tenpenny
were all top-10 running backs in the 2013 class and were also ESPN 150 members. Plus, 1,000-yard rusher
T.J. Yeldon
returns along with rising sophomore
Kenyan Drake
, who rushed for 281 yards and five touchdowns on 42 carries last season.
Alabama certainly won't be short at the running back position this fall, but they'd love to get Henry back on the field. He could be a real difference-maker in this offense. With his 6-foot-3, 238-pound frame, he's a mismatch waiting to happen on the field. He can be a threat carrying the ball and catching it out of the backfield.
This is why Nick Saban loves stocking up on running backs.
"To me, to have really good depth at running back, you need five really good players," Saban said on national signing day. "Three of those guys usually play a lot, so I know in your guys' little fantasy football world you put these guys' names down, but there are circumstances. I think a lot of these guys are going to have a good opportunity to contribute next year."
September, 3, 2012
9/03/12
1:25
PM ET
By
DawgNation staff
| ESPN.com
David Ching writes

: Georgia's high-ranked signing haul from February is quickly paying off, as several freshmen already are filling big roles for the Bulldogs on game day.
Ching

: Freshman tailback Todd Gurley's big debut could be considered one of the best of the Mark Richt era.
Ching

: UGA power rankings, Week 1
Kipp Adams writes

: Opponents are on the lookout for four-star Naim Mustafaa, and so are college programs. The Georgia commit has three official visits planned.
Adams

: Georgia's top Class of 2013 recruit Shaq Wiggins took a little trip into No Man's Land this past weekend, visiting the Bulldogs' archrival, the Florida Gators.
Adams

: Georgia target Tyren Jones didn't take long to start having a banner year in 2012.
Radi Nabulsi writes

: Georgia commits weigh in on the Bulldogs' season opener, and they aren't shy about assessing the team's struggles with an unexpectedly feisty Buffalo squad.
Nabulsi (Video):
Catching up with Georgia safety commit Quincy Mauger.
August, 23, 2012
8/23/12
6:44
PM ET
By
DawgNation staff
| ESPN.com
David Ching writes:
Aaron Murray is the SEC's most experienced QB, but big wins have eluded him and he's focusing on fixing the small things, hoping they will lead to bigger rewards.
Ching

: Practice notes. After Wednesday afternoon's scrimmage, Mark Richt didn't exactly declare Ken Malcome Georgia's starting tailback, but the veteran Bulldog was glad to know his coach presumed he would get the nod.
Ching

: The Bulldogs' regulars versus the scout team played one half of a scrimmage in Stanford Stadium and Mark Richt spotted "Buffalo" a 35-0 lead before "Georgia" rallied back to send the game to overtime.
Kipp Adams writes

: What does such a large and nearly full Class of 2013 mean for the top Georgia targets still out there? That question and more in this week's DawgNation recruiting mailbag.
Ching
Around the hedges in 80 Days

: Regardless of whether he cracks the lineup this fall, long snapper Nathan Theus knows he has an excellent chance to become the full-time snapper for the next three seasons once the senior ahead of him exhausts his eligibility.
August, 17, 2012
8/17/12
4:37
PM ET
By
ESPN.com staff
| ESPN.com
David Ching writes:
Entering Year 2 of the no-huddle offense, Aaron Murray & Co. have Georgia exuding the confidence that comes with knowing the scheme better every day, and looking forward to even more productivity in 2012.
Ching

: A no-nonsense, no-huddle Q&A with Georgia offensive coordinator Mike Bobo.
Ching

: Two tackles, a pass breakup and the halting of a Murray drive via interception in a scrimmage has netted sophomore safety Corey Moore plenty of praise from defensive coordinator Todd Grantham.
Kipp Adams writes Inside the DawgHouse

: Catch up on the latest DawgNation Insider exclusive recruiting news.
Adams

: Class of 2013 UGA commit Brandon Kublanow works overtime as a top Dawgs recruiter in bringing two hot prospects to Athens for their first visits.
Radi Nabulsi (video):
Arthur "Artie" Lynch interview
July, 1, 2012
7/01/12
4:36
PM ET
Radi Nabulsi writes

: ESPN 150 four-star running back Alvin Kamara doesn't buy into heady recruiting pitches. For him, playing time and instant impact matter most.
David Ching writes

: With starting safeties Bacarri Rambo and Shawn Williams wrapping up their careers, Marc Deas needs to step up in his sophomore season if he is to outgrow his status as a perpetual backup.
Ching

: Class of 2012 signee Leonard Floyd completes a summer school course to qualify for college, and now he's heading to UGA.
May, 31, 2012
5/31/12
2:15
PM ET
By
ESPN.com staff
| ESPN.com
Kipp Adams writes

: The DawgNation recruiting mailbag this week covers several questions that all seem to branch from one potentially cataclysmic recruiting event: Four-star commit Derrick Henry could jump ship and roll to the Tide.
Radi Nabulsi (Video):
Lifelong Gators fan D.J. Smith talks about his latest offers, from Florida and Georgia.
David Ching writes:
For UGA's Athletic Association staff, finding new and innovative ways to keep fans coming back -- and coming back happy -- is at the forefront of the school's ever-expanding spectator amenities.
May, 23, 2012
5/23/12
2:27
PM ET
Kipp Adams writes

: Talented O-lineman Brandon Kublanow has long considered an offer from UGA to be a dream, but a host of other programs thought the same of him. He took his time through the recruiting process, but followed his heart Wednesday and became a Bulldog.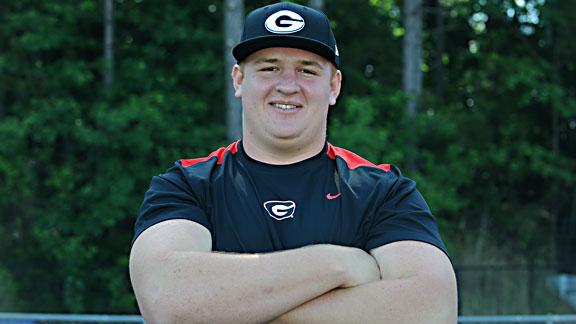 Adams

: Super competitive, strong and intense, Kublanow will afford Georgia great versatility on the O-line. It also doesn't hurt that his HS coach says Kublanow is the best lineman he has seen in 16 years of coaching.
Video interview:
Brandon Kublanow
DawgNation Roundtable

: UGA tied for the second biggest NFL class in the 2012 draft, and it could've been bigger. Who among the newest Bulldogs to go pro will have a banner career?
February, 16, 2012
2/16/12
2:43
PM ET
By
ESPN.com staff
| ESPN.com
Kipp Adams writes

: Georgia has lost a few players in the secondary to dismissal in recent weeks, and will lose more to graduation in a year. Filling holes in that group will likely be a priority in 2013 recruiting.
Radi Nabulsi writes

: 2013 RB Tyren Jones often stole the spotlight at Marietta (Ga.) Walton HS as a junior. Already, Georgia and Clemson are keeping an eye out for what he'll do as a senior as another battle between the schools for a top back seems to be taking shape.
Adams writes

: Buford (Ga.) High has churned out a succession of top O-linemen, and the tradition will continue in 2013 with Josh Cardiello.
Adams writes

: The Kell Longhorns of Marietta, Ga., have been transformed into one of the best programs in the state, and the host of talent there includes 2013 ATH Brendan Langley, who this week racked up five offers in three days.