March, 26, 2014
3/26/14
10:00
AM ET
COLLEGE STATION, Texas -- One of Kevin Sumlin's top priorities since becoming
Texas A&M
's head coach more than two years ago has been building a team that could compete in the trenches in the SEC.
[+] Enlarge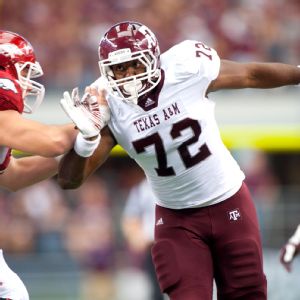 Rob Tringali/SportsChrome/Getty ImagesGavin Stansbury will be in the mix to be a big contributor on the Aggies defensive line.
Central to that effort is building the caliber of offensive and defensive lines necessary to win in the league. With a strong offensive line already on campus upon his arrival, Sumlin and his staff have been able to focus their efforts on recruiting SEC-caliber defensive linemen. So far, the Aggies appear to have done a good job stockpiling talent on the defensive line in the last two recruiting classes.
While young players continue to come in, that puts the onus on veterans on the roster to step it up. That's certainly the case at defensive end, where the Aggies had two true freshmen see time last year (
Jay Arnold
and
Daeshon Hall
) but also have a handful of veterans (
Gavin Stansbury
,
Julien Obioha
,
Tyrell Taylor
and
Tyrone Taylor
).
Arnold and Hall are both sitting out spring recovering from injuries and Stansbury has been limited as well, but Sumlin addressed the state of his defensive ends on Monday.
"Obioha has been good," Sumlin said. "He hasn't had any problems with that back, which has been great for us. Stansbury, we know what he can do so we just want him to be completely healthy, which has given the Taylors a lot of reps because we don't know what they can do. They haven't been put in those positions to have to play a bunch of snaps and be counted on. Gavin has proven to us what he can do on Saturdays when he's healthy. When he's not healthy, it's a different guy. So we want to make sure he's healthy for the fall."
Once Arnold and Hall are healthy, it stands to reason both will figure into the mix at defensive end in the fall since both did enough to earn playing time a season ago. But the current crew will also be joined in the summer by a trio of highly touted freshmen from the 2014 recruiting class: five-star prospect
Myles Garrett
, ESPN 300 prospect
Qualen Cunningham
and three-star prospect
Jarrett Johnson
.
That means now is the time for inexperienced players to prove they're worthy of playing time, because the competition will only get stiffer come August.
"That puts some of the onus on the Taylors to kind of show us what they can do and get them going because we've got two other D-ends in the program who have shown what they can do in Jay Arnold and Dae Dae (Daeshon Hall)," Sumlin said. "They're getting healthy and out running now. And the guys we recruited are obviously guys we expect to come in here and compete to play. In our way of thinking ... it's time for the Taylors to show what they can do and we're giving them every opportunity to do that right now."
Though the Aggies have been precautionary with Stansbury this spring, Sumlin was encouraged by his progress last season and feels like he is now a proven commodity.
"Defensively, Gavin was probably the most improved player that we had coming through the year," Sumlin said. "That's why I said, when he's healthy, he's really, really effective for us."
Obioha is a two-year starter who said earlier this spring that he feels good. His veteran presence will be welcome in the fall, too.
For the Taylor twins, Tyrell (a senior) and Tyrone (a redshirt sophomore), now is the time to perform, Sumlin says.
"What we're trying to do right now is get the guys healthy that have experience and the Taylor twins, who don't have that type of experience, they need to prove where they are in their capability to be able to help us win," Sumlin said.
March, 21, 2014
3/21/14
1:00
PM ET
COLLEGE STATION, Texas -- Texas A&M's work toward putting a defensive product on the field that is drastically better than the one that lined up in 2013 is among the most important offseason tasks.
Climbing out of the SEC cellar in major defensive statistical categories is critical if the Aggies wish to succeed in the SEC West. Central to that goal is the performance of the Aggies' defensive line, a unit that is a work in progress this spring.
[+] Enlarge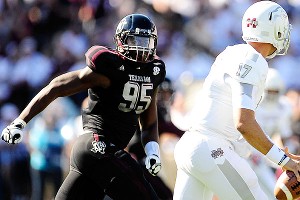 Stacy Revere/Getty ImagesJulien Obioha is a season contributor on the Aggies' DL. Now he's looking for some help.
There's a mix of missing bodies due to injury (defensive ends
Jay Arnold
,
Daeshon Hall
and
Tyrone Taylor
) as well as one to a suspension (
Isaiah Golden
,
who recently withdrew from school but is expected back
). That has given a chance for new faces to get turns in the rotation and show their worthiness to the coaching staff.
"Zaycoven [Henderson] has continued to impress," head coach Kevin Sumlin said of the true freshman, who enrolled in January.
Henderson, at 6-foot-1 and 310 pounds, appears to be a possible instant-impact player. The four-star 2014 prospect, who was previously committed to TCU and Texas before eventually landing in Aggieland, brings the size and ability the Aggies need to improve their quality and depth at defensive tackle. That's significant for a run defense that allowed 222 rushing yards per game and ranked 110th nationally (as well as last in the SEC) in that area.
Another defensive tackle making waves this month is one from the previous recruiting class: 2013 signee
Justin Manning
.
Ranked as the top defensive tackle in the state of Texas in his class, and the ninth-best nationally, Manning didn't see a snap of game action last fall while he redshirted. But Golden's absence has allowed Manning to get some time in the two-deep this spring and show the improvements he has made.
"[He] showed some twitch that he had in high school," Sumlin said. "He lost a little weight; when he got here he was out of shape. He has come on."
If Henderson and Manning can contribute, that helps bolster the Aggies up the middle, where they already have veteran
Alonzo Williams
and sophomore
Hardreck Walker
, who also contributed as a true freshman. With ESPN 300 defensive tackle DeShawn Washington arriving this summer and Golden expected to return, the Aggies could begin to show the kind of depth Sumlin has been pining for since taking over the program.
At defensive end, there's a mix of veterans and youth.
Julien Obioha
, who has been a starter since his true freshman season, is now a junior. Senior
Gavin Stansbury
is coming off his best season in Aggieland, showing flashes of his potential last fall. Senior
Tyrell Taylor
is back also and has been getting turns this spring.
The two young players at the position who are sitting out with injuries this spring -- Arnold and Hall -- both saw time as true freshmen last season, suggesting a promising future for each. And in the summer, the Aggies will welcome the services of five-star recruit
Myles Garrett
as well as ESPN 300 defensive end
Qualen Cunningham
and three-star prospect
Jarrett Johnson
.
Obioha said he is looking forward to the increased depth.
"I'm really excited," he said. "My first couple of years here I had to play 60-70 plays [per game] and you don't want to play that much. When you think about a two-deep or a three-deep, you want to play maybe 35 plays and having those 35 plays be where you can come 100 percent every play and you're not tired."
Defensive line coach Terry Price's message to his group this spring has been clear.
"Last year, bottom of the SEC, bottom 25 in the nation, that's not going to happen this year, that's been the message," Obioha said. "We're going to be completely different this year from the bottom to the top and it all starts with the D-line."
October, 25, 2013
10/25/13
11:45
AM ET
COLLEGE STATION, Texas — The words "youth" and "inexperience" are frequently used to describe the Texas A&M defense this season.
The struggles are significant. The Aggies rank near the bottom of the FBS in most defensive statistical categories. According to ESPN Stats & Information, the five teams that have allowed more yards per game than the Aggies -- New Mexico State, Idaho, California, Nevada and Indiana -- have a combined record of 8-27.
Texas A&M is fortunate enough to have a 5-2 record (2-2 in the SEC). It certainly helps to have one of the nation's most high-powered offenses and a reigning Heisman Trophy winner at quarterback (
Johnny Manziel
).
For defensive coordinator Mark Snyder and his staff, it has been a challenge from the start of the season. Suspensions, injuries and ineffectiveness are all to blame.
The Aggies currently have 11 freshmen in their defensive two-deep depth chart. Two true freshmen (defensive tackle
Isaiah Golden
and linebacker
Darian Claiborne
) are starting. The four defensive line first-team spots include Golden and two sophomores. At linebacker, a former receiver who moved to linebacker this offseason (
Nate Askew
) is the starter at strongside linebacker. Of the seven linebackers on the Aggies' two-deep, only one (
Steven Jenkins
) started a full season at the position before this year.
Head coach Kevin Sumlin's first signing class that was completely under his watch had 32 members, 18 of whom were on defense. Of those 18, a dozen have already played this season.
But how did the Aggies get to this point, playing this many freshmen and newcomers? There are some juniors and seniors on the field, but there aren't nearly as many as there were a year ago when the Aggies went 11-2 in their debut season in the SEC.
In 2012, the Aggies were fortunate to have the benefit of some good leaders on defense and others who were productive. At linebacker, Sean Porter and Jonathan Stewart both provided leadership and production. Along the defensive line, Spencer Nealy made the move from defensive end to defensive tackle effectively despite not having the ideal size for the position. Steven Terrell was a steady and heady player at free safety. All four of those players were seniors and part of the 2009 recruiting class. So was Dustin Harris, who didn't always start but played plenty at cornerback and was the team's primary punt returner.
One defensive player still remains from that 2009 class: defensive tackle
Kirby Ennis
, who started last season and this year but suffered a season-ending knee injury on Sept. 28 against Arkansas. But last year's A&M starting defense was more than half made up of what turned out to be a solid recruiting class on the defensive side of the ball.
So to understand why A&M is in the position it is now, take a look at the recruiting classes on defense since then:
In 2010, the Aggies signed seven defensive players and two more that were offensive players but eventually moved to defense. Defensive end Damontre Moore turned out to be a star, but declared for early entry into the 2013 NFL draft with a year of eligibility remaining. For a team that's lacking in its pass rush (only three FBS teams have fewer sacks than Texas A&M's seven this season) a guy like that could help. Of the remainders in that class, three are starting: Toney Hurd Jr. at nickel back, Gavin Stansbury at defensive end and Askew, who was recruited and spent his first three years at receiver, at strongside linebacker. Two others (defensive tackle Ivan Robinson and quarterback Clay Honeycutt, who's now a reserve safety) are playing but not starting. Nehemiah Hicks was considered to be either a defensive end or tight end and became a tight end. The other two players in the defensive class are no longer on the team.
The 2011 class -- the final class signed by former head coach Mike Sherman -- brought 13 defensive players. Deshazor Everett, a cornerback with ability to play safety, is currently the defense's best player. Safeties Howard Matthews and Floyd Raven and linebacker Steven Jenkins also emerged as starters out of that group. One of the big fish landed late in that class, defensive end Brandon Alexander, has rarely played. He's now getting some playing time at tight end. Linebacker Donnie Baggs entered this season as the starting middle linebacker but is now a reserve. Tyrell Taylor is rotating at defensive end. The rest of the group hasn't made any impact at all. Five players in that group are no longer with the program.
The 2012 class, the first one Sumlin signed after essentially two months on the job, had some holdovers that committed to the program under Sherman. It is a mixed bag. Four of those players are starting as either true sophomores (Julien Obioha at defensive end, Alonzo Williams at defensive tackle and De'Vante Harris at cornerback) or in one case, a senior (cornerback Tramain Jacobs, who was a junior college transfer). Defensive end Tyrone Taylor, brother of Tyrell, gets some playing time at defensive end. Edward Pope, who was a receiver/defensive back, is playing receiver for the Aggies. A car accident took away one member from that class -- defensive tackle Polo Manukainiu, who died in a crash in July and is being honored by the team every week this season. A spinal injury took away another member, linebacker Michael Richardson, who played as a freshman. He had successful surgery and was fortunate to not suffer any major physical issues, but is no longer playing football. Defensive back Kenneth Marshall, though on the team, was not part of the 105-man roster during preseason training camp. Linebacker Jordan Richmond transferred to Navarro College in the offseason and one player in the class, defensive tackle Edmund Ray, never made it to campus because of qualifying issues.
June, 24, 2013
6/24/13
4:00
PM ET
After a very long hiatus, our SEC mailbag is back this week to celebrate the first day of summer!
We've missed you guys, but we can't do it without you, so don't forget to
send in as many questions as you want
each week. We get comments a lot, but questions get published. Remember that.
On to the questions:
Phillip in Little Rock, Ark., writes:
Every year we hear how the gap between the SEC and the rest is narrowing and every year that prophecy proves incorrect. The SEC always has seven or more teams in the Top 15 in recruiting every year. What is your take on this? Do you think the gap is narrowing, and if not how much longer can it go on?
Edward Aschoff:
Well, if you look at the SEC recruiting classes right now, it doesn't look like that trend is going to end in 2014. Nine SEC teams are currently ranked within the top 15 of the ESPN class rankings, and one of those teams is Kentucky. South Carolina and Vanderbilt will push to get in there as well, as the year goes by. I think the SEC could be in store for its toughest few years coming up. There are maybe five or six legitimate national championship contenders in the SEC right now and I think the league will be even better next year.
Alabama will still be elite, while Florida and Georgia could be very, very good in 2014. LSU will be more experienced, South Carolina might get hurt along the defensive line, but should return a lot of talent pretty much everywhere else. Texas A&M will likely lose
Johnny Manziel
, but will be stacked at the skill positions and in the front seven. Vanderbilt will be good again, Tennessee should be better, Auburn could be a real threat in the West and Ole Miss will display more of that impressive 2013 class.
But the league could really beat up on itself in the next few years. The good news for the conference is the first two years of the playoff will come with only eight conference games. You'll see the SEC champ in the four-team playoff, but getting a second team in the playoff could be tough if the conference gets 10 legit BCS conference games before the SEC championship.
---
dropkicked meeko in Atlanta writes:
In regards to your recent future power rankings, how far will UK rise if they have two top 10 classes back to back, and do you think they can keep these guys from switching commitments to other SEC powers?
Edward Aschoff:
Interesting choice in your name there. Meeko is actually looked at as a hero on the blog. You must be a rookie or just learning your way around the blog. You'll learn to love him. As for Kentucky, I think you'll only see the Wildcats rise in the power rankings if the defense can look out for the offense more often than not. The defense is in very good hands with Mark Stoops in charge, but the Wildcats have to find consistent playmakers on offense. There are no true go-to guys on the roster at the skill positions. The good news is that running backs
Raymond Sanders
and
Dyshawn Mobley
really impressed this spring and incoming freshman receiver Ryan Timmons could be a stud. There are some youngsters who have shown flashes here and there, like
Demarco Robinson
and
Daryl Collins
, but consistency has been an issue for this offense the last couple of years.
Development is key. Stoops will be able to recruit, especially in and around Ohio, but he and his assistants have to start developing because they just didn't happen before he got there. Players have to buy in and they have to mature on the field or the wins won't come. It can't just be about recruiting. If Stoops continues to recruit well and real development takes place, Kentucky will move up.
---
Caleb in Big Rock/TN writes:
Do you think Tennessee can sustain the recuiting success they are having this season over the next couple of years?
Edward Aschoff:
It's hard to say right now because no games have been played. I think Butch Jones has brought some real excitement to the program and the recruiting trail. But we all know that this is a what-have-you-done-for-me-lately world, and if recruits aren't impressed with the Vols this fall or start paying attention to other, more successful schools, it could hurt Tennessee next year. One thing he can sell is that there is plenty of playing time out there for prospects to have once they get on campus. That will really help. I think Jones is doing a great job, but wins and losses go a long way, and fans have seen Tennessee reel in top recruits with little results coming on the field.
---
Bruce in Osceola, Mo., writes:
Do you think Missouri will be bowl eligible this year? When do you think Missouri will be competitive in the SEC?
Edward Aschoff:
If the offense stays healthy and quarterback
James Franklin
plays with the confidence he had in 2011, the Tigers will go bowling. I think the defense will be fine. The defensive line played pretty well this spring and has good depth, and the secondary should be decent. I worry about the youth at linebacker, but a good front can hide those issues. For me, it's about that offense getting its act together. It has to be a tougher unit all around. This team just wasn't built for SEC play last year. There is so much talent at receiver and running back, but inconsistency and those injuries to Franklin and the offensive line killed the receiving corps last year. Running back
Henry Josey
has what it takes to be a star, but he can't do it alone.
There are four nonconference games out there for this team to win, leaving just two SEC games. The game at Vanderbilt is big, along with the home game against Tennessee and the trip to Kentucky. There are two wins there if the Tigers can stay healthy. If not, it's going to be tough with the rest of the SEC slate that Missouri has. I think the Tigers squeak by with six wins.
As for finally becoming truly competitive, it'll happen when the lines get bigger, more SEC-caliber players get on campus. Missouri was behind in the physical department last year. Recruiting has to get better from here on out, too.
---
Dave in Belton, Texas, writes:
The August date for the Aggies and Tide in College Station is interesting to me. Both are working in new-but-good offensive lines, and both are retooling defensive lines. D-Line wasn't necessarily the strength for either team last year, and now it's an open question for both. Is it going to be harder for the Aggies' new D-Line to stop the Bama power game, or for the new Bama D-Line to keep their contain on Manziel? Which team would benefit the most from moving this game to November?
Edward Aschoff:
I think Texas A&M will have a tougher time stopping Alabama because that running game just pounds and pounds and pounds. The Aggies lost so much in that front seven, especially along the defensive line. Replacing Damontre Moore will be tough enough, but two senior tackles are gone as well.
Kirby Ennis
started 11 games last year, but ran into legal trouble before spring practice and was suspended. Youngsters like
Alonzo Williams
,
Tyrone Taylor
and
Tyrell Taylor
will be thrown right into the fire this fall. You'll see some growing pains up front for the Aggies against Alabama. Alabama's defensive line isn't great right now, and playmakers still have to step up, but I think having a solid linebacker corps coming back and Kirby Smart running the defense will go a long way to stopping Manziel. Now, I'm not saying Manziel will be ineffective against the Tide, but I do think Alabama's defense will be much better prepared to defend him. Remember, Smart and his defense made great adjustments in the second half of this game last year.
April, 15, 2013
4/15/13
4:00
PM ET
COLLEGE STATION, Texas -- Texas A&M wrapped up spring football on Saturday with the annual Maroon and White game. After 15 practices, there's plenty to take away, but here's five things we learned during the Aggies' spring:


April, 12, 2013
4/12/13
5:00
PM ET
Five SEC schools -- Kentucky, Ole Miss, South Carolina, Texas A&M and Vanderbilt -- will close spring practice with their annual spring games Saturday.
These really are just glorified scrimmages, but they're a chance for fans to see what players and coaches worked on during all those practices.
Here are five things to watch this weekend:
1. Defending down low:
Ole Miss might return a host of starters on the defensive side of the ball, but the Rebels are very thin along the defensive line this spring. Defensive tackle
Isaac Gross
went down with a groin injury on the first day of spring practice and end
C.J. Johnson
has missed most of spring with a broken fibula. The Rebels were already dealing with the departures of seniors
Gilbert Pena
,
Uriah Grant
and
Jason Jones
. Injuries and graduation have left the Rebels down six bodies up front this spring. Defensive line coach Chris Kiffin has been impressed with
Carlos Thompson
and
Woodrow Hamilton
this spring, but also keep an eye on sophomore
Channing Ward
and juco transfer Lavon Hooks. Ward is getting more comfortable, while Hooks has the talent to be a stud for the Rebels.
2. Quarterback musical chairs:
Kentucky coach Mark Stoops has been playing his quarterback cards very close to the vest this spring.
Maxwell Smith
entered as the favorite, but the staff has handed out a good amount of reps to rising sophomores
Jalen Whitlow
and
Patrick Towles
, who shared reps last year while Smith was out with injuries. The reps will be split evenly among the three quarterbacks, and all three are expected to line up for both the Blue and White teams Saturday. This battle is far from over, and Saturday could be really big for one of these guys.
3. New defensive faces:
Texas A&M lost a lot of defensive firepower from its 2012 team. All-American defensive end
Damontre Moore
is gone and so are linebackers
Jonathan Stewart
and Sean Porter. Overall, the Aggies are having to replace five starters from the front seven. Defensive end
Julien Obioha
and linebacker
Steven Jenkins
(projected starters) are out with injuries, so fans will have the opportunity to see a lot of youngsters on defense Saturday. Keep an eye on early enrollee linebackers
Tommy Sanders
,
Reggie Chevis
and
Brett Wade
and young linemen
Tyrone Taylor
,
Tyrell Taylor
and
Alonzo Williams
.
4. Wideout help:
With
Ace Sanders
gone, South Carolina is searching for more receiving help this spring.
Bruce Ellington
, who led the Gamecocks with 600 receiving yards and caught seven touchdowns last season, needs someone to help out and take some of the pressure off of him. Speed demon
Damiere Byrd
was third on the team in receiving yards last year but caught just 14 passes. Then there's
Nick Jones
, who caught 12 passes but entered the spring as one of the Gamecocks' three starting receivers. There's also rising sophomore
Shaq Roland
, who has all the talent to be a star but has struggled with his focus. He has the ability to excite the crowd here and there Saturday.
5. Replacing Rodgers:
Now that
Jordan Rodgers
is gone, Vanderbilt has a real quarterback competition on its hands.
Austyn Carta-Samuels
and
Patton Robinette
entered the spring as the top two quarterbacks, but
Josh Grady
moved over to the position from wide receiver. While Grady is a big-time athlete, it looks like things will really come down to Carta-Samuels and Robinette. Both are athletic, but Robinette brings a little more to the table with his legs. Both will quarterback opposite teams, so we'll really get to see these guys compete on Saturday.