SEC:

Urban Meyer steps down
December, 9, 2010
12/09/10
8:46
AM ET

Andrea Adelson talks with Florida punter Chas Henry about Urban Meyer's resignation.
December, 8, 2010
12/08/10
5:27
PM ET
Now that Urban Meyer is stepping down as Florida's coach (again), the obvious next question: Who's next in line to coach the Gators?

Here's your proverbial short list (in alphabetical order):

Jon Gruden: What job does Gruden's name not come up for? A color analyst on "Monday Night Football," Gruden was linked to the Miami job last week, before taking his name out of consideration by affirming his commitment to ESPN. He won a Super Bowl as the head coach of the Tampa Bay Buccaneers and has strong ties throughout the state of Florida.

Dan Mullen: Could be one of the first calls Florida athletic director Jeremy Foley will make (or probably has already made). Mullen has done a terrific job in two seasons as Mississippi State's head coach, and the Gators' offense hasn't been the same since he left as their offensive coordinator.

Chris Petersen: Foley had great success the last time he went out West and brought in an innovative coach with an exciting brand of offense. Meyer came to Florida from Utah. Petersen has built a powerhouse at Boise State. He's had chances to go elsewhere in recent years, but hasn't budged. This may be the job that changes that.

Bobby Petrino: In his third season at Arkansas, he has the Hogs in a BCS bowl game for the first time in school history. He's one of the top offensive minds in the game and was on Foley's radar when Meyer was hired back in 2005. Giving Petrino the keys to Florida's recruiting machine could be scary for the rest of the SEC. He does have a sizeable buyout, more than $3 million if he leaves before the end of this year.

Bob Stoops: Maybe he's settled in at Oklahoma for good. Maybe not. Like Petrino, Stoops was another one of the names you heard prominently when Meyer got the job. He makes a lot of sense. Stoops definitely knows his way around the Florida program, having been Steve Spurrier's defensive coordinator in the 1990s, and he also has a good relationship with Foley.

Charlie Strong: Like Mullen, Strong is another former Meyer assistant who has done well in his first head-coaching gig. He has Louisville in a bowl game in his first season. Strong consistently put out dominant defenses at Florida and is also a fabulous recruiter. Bringing him back would make for a very smooth transition.

Kyle Whittingham: The Gators had success with one coach from Utah. Why not take a shot on the guy who replaced Meyer at Utah and has continued that success? The only difference with Whittingham is that he has a defensive background.

December, 8, 2010
12/08/10
4:20
PM ET
Urban Meyer had it right the first time.
He tried to step away last season from the pressure-cooker that is Florida football, but was talked out of it (or talked himself out of it -- whichever you want to believe) and reversed course the next day, saying he would return.
He lasted all of one season.
Meyer has stepped down again, and this time, you'd have to think for good. At least, from Florida.
[+] Enlarge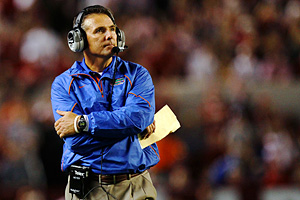 Kevin C. Cox/Getty ImagesUrban Meyer will coach his last game for Florida in the Outback Bowl against Penn State on Jan. 1 in Tampa.
The university has scheduled a news conference for later today, and it's hard to imagine Meyer doing an about-face for the second straight year.
And while some people may be surprised, I'm sure not. I knew what Meyer himself knew a year ago when he tried to step down the first time.
This job (just about any SEC job, for that matter) isn't one you wade into unless every fiber of your body is completely committed and on board. Meyer isn't wired to do something part of the way, which is the reason all the leave of absence talk last season made no sense to anybody who really knew him.
If he's going to do something, he's going to do it all the way.
Meyer's first order of business is making sure that he's healthy and happy. He owes that to himself and to his family.
Clearly, there were real health concerns that prompted his first resignation. But there's also a quality of life element involved here, being able to spend real time with your family and not having the overwhelming stress of coaching an SEC football team hanging over your head 24 hours a day.
There is no such thing as truly escaping that stress. It's a matter of coping with it.
Some guys cope better than others.
Besides, I never got the feeling that Meyer's family was real enamored with his returning to the sideline a year ago, and it could be that Meyer knew all along, at least down deep, that he would give Florida one more year and then make his break.
The reality is that Meyer hasn't been the same -- the program hasn't been the same -- since Alabama ended the Gators' 22-game winning streak last season in the SEC championship game.
The next morning, Meyer was taken by ambulance to the hospital with severe chest pains, and just a little more than a year later, here we are with the Gators looking for a new head coach.
Only 46, Meyer is still extremely young. It's difficult to imagine that he won't be back for another taste in the coaching world at some point.
Something tells me he will be picky.
Whoever replaces him has huge shoes to fill.
His tenure at Florida was a short one, although six seasons at the same school in this era of the SEC seems like an eternity with the way this league chews up and spits out coaches.
Still, what Meyer squeezed into six seasons at Florida is staggering, the kind of run we may never see again in this league in such a short window.
Two national championships, three BCS bowl appearances, a Heisman Trophy winner and a 17-2 record against the Gators' traditional rivals (Florida State, Georgia, Miami and Tennessee).
Yes, the ending was bizarre, to say the least.
The results, though, create a legacy that will only endure.
December, 8, 2010
12/08/10
2:38
PM ET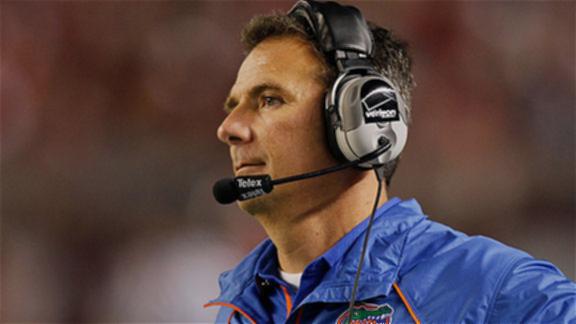 Huge news out of Florida.
Urban Meyer is stepping down
as as the Gators' coach.
Meyer will coach the Outback Bowl and then step aside. The school has called a news conference for 6 p.m. ET on Wednesday.
We'll have more on this later.