June, 17, 2014
Jun 17
10:00
AM ET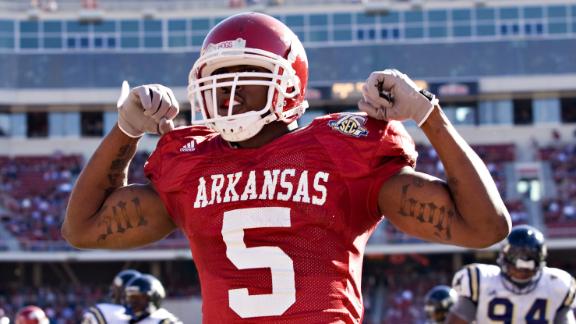 Who really deserves to claim the title of "Running Back U" for the 2000s?

1. Arkansas (104 points)
In perhaps the biggest upset at any position, Arkansas can call itself "Running Back U" for the 2000s. Certainly
Darren McFadden
played the biggest role in the Razorbacks' claim, but he got an assist from
Felix Jones
and
Peyton Hillis
. Those former backfield mates are among six Arkansas running backs who have been drafted since 2001, helping the Hogs barely edge Oklahoma for the top spot.
Award winners:
McFadden, Walker (2006, 2007), Camp (2007).
Consensus All-Americans:
McFadden (2006, 2007).
First-team all-conference:
Fred Talley (2002),
Cedric Cobbs
(2003), Darren McFadden (2005, 2006, 2007).
NFL first-round draft picks:
Jones (2008), McFadden (2008).
NFL draft picks, Rounds 2-4:
Cobbs (Round 4, 2004),
Knile Davis
(Round 3, 2013).
NFL draft picks, Rounds 5-7:
Hillis (Round 7, 2008),
Kiero Small
(Round 7, 2014).

2. Oklahoma (102 points)
When someone like
Adrian Peterson
has been on your campus, you have to start there when discussing Oklahoma running backs. But one of the main reasons the Sooners racked up such a considerable point total is the Big 12's unusual practice of honoring fullbacks on its all-conference team. In addition to the Petersons and DeMarco Murrays, there are also several blocking backs included in the Sooners' 12 all-conference running backs who made our list.
Award winners:
None.
Consensus All-Americans:
Peterson (2004).
First-team all-conference:
Quentin Griffin
(2002), Peterson (2004, 2005, 2006),
J.D. Runnels
(2005),
Brody Eldridge
(2007),
DeMarco Murray
(2008, 2010), Matt Clapp (2008),
Trey Millard
(2011, 2012, 2013).
NFL first-round draft picks:
Peterson (2007).
NFL draft picks, Rounds 2-4:
Griffin (Round 4, 2003), Murray (Round 3, 2011).
NFL draft picks, Rounds 5-7:
Runnels (Round 6, 2006), Patrick (Round 7, 2008), Trey Millard (Round 7, 2014).

3. Alabama (100 points)
Arkansas'
Alex Collins
and
Jonathan Williams
had better pick it up this season, or the Alabama train is going to roll to the top spot. The Crimson Tide once again has one of the nation's most talented backfields with
T.J. Yeldon
and
Derrick Henry
set to join the likes of
Mark Ingram
,
Trent Richardson
and
Eddie Lacy
as top point producers from Alabama.
Award winners:
Ingram, Heisman (2009); Richardson, Walker (2011).
Consensus All-Americans:
Ingram (2009), Richardson (2011).
First-team all-conference:
Kenneth Darby
(2005), Ingram (2009), Richardson (2011), Lacy (2012), Yeldon (2013).
NFL first-round draft picks:
Ingram (2011), Richardson (2012).
NFL draft picks, Rounds 2-4:
Le'Ron McClain (Round 4, 2007),
Glen Coffee
(Round 3, 2009), Lacy (Round 2, 2013).
NFL draft picks, Rounds 5-7:
Ahmaad Galloway (Round 7, 2003), Darby (Round 7, 2007),
Brad Smelley
(Round 7, 2012).

4. Auburn (86 points)
Auburn hasn't been as flashy as its in-state rival -- the Tigers don't have a single award winner or consensus All-American in the 2000s -- but few schools have been as consistent at developing solid tailbacks. Perhaps the most memorable names are the stars from the undefeated 2004 team --
Ronnie Brown
and Carnell "Cadillac" Williams -- but
Rudi Johnson
, Kenny Irons,
Ben Tate
and
Tre Mason
all made big impacts at Auburn, as well.
Award winners:
None.
Consensus All-Americans:
None.
First-team all-conference:
Johnson (2000), Williams (2003, 2004), Brown (2004), Irons (2005, 2006), Michael Dyer (2011), Mason (2013).
NFL first-round draft picks:
Brown (2005), Williams (2005).
NFL draft picks, Rounds 2-4:
Heath Evans
(Round 3, 2001), Johnson (Round 4, 2001), Irons (Round 2, 2007), Tate (Round 2, 2010), Mason (Round 3, 2014).
NFL draft picks, Rounds 5-7:
Jay Prosch
(Round 6, 2014).

4. Wisconsin (86 points)
Montee Ball
is Wisconsin's only major award winner and consensus All-America tailback from the 2000s, but the Badgers have an impressive tradition of turning out 1,000-yard rushers. Among the program's top producers from this era are 2001 first-round pick
Michael Bennett
,
Brian Calhoun
and
Anthony Davis
, among others. Ball posted huge yardage and touchdown totals in 2011 and 2012 -- which explains why he was a two-time All-American and won the 2012 Doak Walker Award -- but it's the run of consistency at running back that makes Wisconsin a producer of top rushers.
Award winners:
Ball, Walker (2012).
Consensus All-Americans:
Ball (2011, 2012).
First-team all-conference:
Davis (2001), Calhoun (2005), P.J. Hill (2006),
John Clay
(2009), Ball (2011, 2012).
NFL first-round draft picks:
Bennett (2001).
NFL draft picks, Rounds 2-4:
Calhoun (Round 3, 2006), Ball (Round 2, 2013),
James White
(Round 4, 2014).
NFL draft picks, Rounds 5-7:
Davis (Round 7, 2005),
Bradie Ewing
(Round 5, 2012).

6. Oregon (82 points)
Although the Ducks have ranked among the nation's top programs over the past half-decade, LaMichael James' 2010 Doak Walker Award is the only major award that an Oregon player has won at any position in the 2000s. James is the Ducks' top point producer out of the backfield in recent years, but they also won points with backs like
Maurice Morris
and
Onterrio Smith
before Chip Kelly's rushing attack turned Oregon into the offensive juggernaut that we see today.
Award winners:
James, Walker (2010).
Consensus All-Americans:
James (2010),
Kenjon Barner
(2012).
First-team all-conference:
Smith (2002),
Jonathan Stewart
(2007), James (2010, 2011), Barner (2012).
NFL first-round draft picks:
Stewart (2008).
NFL draft picks, Rounds 2-4:
Morris (Round 2, 2002), Smith (Round 4, 2003),
LaMichael James
(Round 2, 2012),
De'Anthony Thomas
(Round 4, 2014).
NFL draft picks, Rounds 5-7:
Barner (Round 6, 2013).

7. USC (78 points)
Reggie Bush
was actually a two-time All-American, but we aren't factoring the 2004 nod he received because that was as an all-purpose player, not a running back. Nonetheless, Bush's standout 2005 season was the main points driver as the Trojans cracked the top 10 largely because of the former No. 2 overall NFL pick's accomplishments. It bears mentioning, however, that USC has already had eight running backs drafted in the 2000s.
Award winners:
Bush, Heisman (2005), Camp (2005), Walker (2005).
Consensus All-Americans:
Bush (2005).
First-team all-conference:
Bush (2004, 2005).
NFL first-round draft picks:
Bush (2006).
NFL draft picks, Rounds 2-4:
Justin Fargas
(Round 3, 2003),
LenDale White
(Round 2, 2006),
Joe McKnight
(Round 4, 2010).
NFL draft picks, Rounds 5-7:
Malaefou Mackenzie (Round 7, 2003),
David Kirtman
(Round 5, 2006),
Allen Bradford
(Round 6, 2011),
Stanley Havili
(Round 7, 2011).

8. Penn State (72 points)
Larry Johnson's huge 2002 season accounts for much of Penn State's point production -- he generated 52 points between winning three national awards, becoming a consensus All-American, winning first-team all-conference honors and getting drafted in the 2003 first round -- but the Nittany Lions have had five running backs drafted and
Evan Royster
also won all-conference honors in 2009.
Award winners:
Johnson, Camp (2002), Maxwell (2002), Walker (2002).
Consensus All-Americans:
Johnson (2002).
First-team all-conference:
Johnson (2002), Royster (2009).
NFL first-round draft picks:
Johnson (2003).
NFL draft picks, Rounds 2-4:
Omar Easy
(Round 4, 2002),
Michael Robinson
(Round 4, 2006),
Tony Hunt
(Round 3, 2007).
NFL draft picks, Rounds 5-7:
Royster (Round 6, 2011).

9. Oklahoma State (70 points)
There's nothing flashy about Oklahoma State's point production here. No national awards, and just
Kendall Hunter
among its All-Americans. But the Cowboys have been outstanding at producing all-conference running backs, with Hunter (twice) and
Tatum Bell
ranking among their eight backs who made the coaches' first team.
Award winners:
None.
Consensus All-Americans:
Hunter (2010.
First-team all-conference:
Bell (2003),
Dantrell Savage
(2007), Hunter (2008, 2010),
Keith Toston
(2009), Bryant Ward (2009, 2010),
Joseph Randle
(2012).
NFL first-round draft picks:
None.
NFL draft picks, Rounds 2-4:
Bell (Round 2, 2004),
Vernand Morency
(Round 3, 2005), Hunter (Round 4, 2011).
NFL draft picks, Rounds 5-7:
Randle (Round 5, 2013).

10. California (66 points)
Considering how Cal shares a conference with splashy programs like Oregon and USC, perhaps it's understandable that its success developing tailbacks might fly a bit under the radar. But just look at the Bears' résum&eacute, starting with
Marshawn Lynch
,
Jahvid Best
and
J.J. Arrington
. There have been some enormously productive tailbacks who got their start in Berkeley.
Award winners:
None.
Consensus All-Americans:
Arrington (2004).
First-team all-conference:
Adimchinobe Echemandu
(2003), Arrington (2004), Lynch (2006),
Justin Forsett
(2007), Best (2008).
NFL first-round draft picks:
Lynch (2007), Best (2010).
NFL draft picks, Rounds 2-4:
Arrington (Round 2, 2005),
Shane Vereen
(Round 2, 2011).
NFL draft picks, Rounds 5-7:
Echemandu (Round 7, 2004), Forsett (Round 7, 2008).

10. Virginia Tech (66 points)
Frank Beamer's Hokies are another bunch who trotted out productive tailback after productive tailback. Virginia Tech hasn't won a national award and has only
Kevin Jones
among its All-America backs, but its list of all-conference backs -- including first-round picks Jones and
David Wilson
, along with
Lee Suggs
, Brandon Orr and
Ryan Williams
-- features some players whose running abilities fit perfectly with Beamer's winning formula in Blacksburg.
Award winners:
None.
Consensus All-Americans:
Jones (2003).
First-team all-conference:
Suggs (2000), Jones (2003), Orr (2006), Williams (2009), Wilson (2011).
NFL first-round draft picks:
Jones (2004), Wilson (2012).
NFL draft picks, Rounds 2-4:
Suggs (Round 4, 2003), Williams (Round 2, 2011).
NFL draft picks, Rounds 5-7:
Jarrett Ferguson (Round 7, 2002), Cedric Humes (Round 7, 2006).
REST OF "RUNNING BACK U" RANKINGS
62 -- Boston College; 60 -- Michigan, Ohio State; 58 -- Stanford; 56 -- LSU, Miami; 52 -- Georgia Tech, Oregon State; 50 -- West Virginia; 48 -- BYU; 44 -- Arizona, Michigan State, Pittsburgh, TCU; 42 -- Texas; 40 -- Clemson, Iowa, Nebraska; 36 -- Kansas State, Rutgers; 32 -- Georgia, Minnesota; 28 -- Florida State, Louisville, Tennessee, UCLA; 26 -- Illinois, Maryland, Syracuse; 24 -- Virginia; 20 -- Colorado, North Carolina; 18 -- Baylor, Mississippi State, Wake Forest; 16 -- Florida, Northwestern, Washington, Washington State; 14 -- Ole Miss, South Carolina, Texas Tech; 12 -- Iowa State, Kentucky; 10 -- Kansas, N.C. State, Texas A&M; 8 -- Missouri, Utah; 6 -- Arizona State, Duke, Indiana, Notre Dame; 2 -- Vanderbilt
May, 10, 2013
5/10/13
1:15
PM ET
The team I wanted to see face Alabama last season in the BCS National Championship was Oregon. It's the matchup the entire country wanted to see.
No offense, Notre Dame fans, but seeing that high-octane Oregon offense go up against Alabama's defense would have made for much better theater than what we ended up getting in South Florida in January.

Wouldn't it be great if you could play college football matchmaker and turn some of these dream match-ups into realities during the season?
We've come up with five such matchups and want you to select which one would be the most attractive by voting in our SportsNation poll.
Alabama versus Oregon is one of the choices. Who knows? Maybe we'll finally get to see the Ducks and Tide square off in the final BCS National Championship before we go to a playoff in 2014.
Think Florida versus Ohio State would stir a few emotions with Urban Meyer taking on his old team? It would be the battle of Meyer's two dream jobs. Come to think of it, is it possible to have two dream jobs? In Meyer's world, you can.
I realize that Texas athletic director DeLoss Dodds, in all of his arrogance, said recently that Texas gets to decide when Texas and Texas A&M play again. Ask anybody in that state, and it can't be soon enough. Surely we'll see those two old rivals playing again sooner rather than later.
Here's one for you: South Carolina and Steve Spurrier going up against Lane Kiffin and the West Coast version of USC. Spurrier's not the biggest Kiffin fan. Then again, who in the SEC is? Something says the buildup to that game could be as entertaining as the game itself.
Finally, LSU and Notre Dame played 10 times between 1970 and 2006 and are all knotted up, 5-5. It's time to break the tie. Talk about two of the best fight songs in all of college sports and two programs steeped in tradition.
Well, you have the rundown. Tell us which matchup you'd most like to see, and we'll go over results next week.
December, 11, 2012
12/11/12
3:15
PM ET
New Tennessee coach Butch Jones made his best pitch to bring one of the Vols' most famous players back home, but Tee Martin decided Tuesday to stay put at USC.

Martin, who quarterbacked Tennessee to the 1998 national championship, turned down an offer to return to his alma mater and coach wide receivers. He flew to Knoxville on Monday to meet with Jones, but decided he wouldn't pull a "Lane Kiffin" and bolt after one year despite a deal that would have paid him as much as $400,000 per year. Of course, the irony there is that Kiffin is Martin's boss at USC and spent 14 tumultuous months as Tennessee's head coach in 2009.

Just recently, Tennessee had two years added to its NCAA probation stemming from violations that occurred on Kiffin's watch. And, now, he's able to keep Martin on the West Coast.

Something says Kiffin will receive even fewer Christmas cards from Tennessee fans this year.

As for Martin, he told Volquest.com that USC had a bright future and the timing simply wasn't right for him to leave.

"It was great to get an offer and have the chance to return to my alma mater," said Martin, whose flirtation with Tennessee is expected to get him a raise at USC. "I wanted to see what the feeling would feel like and look in coach Jones' eyes and see what he had planned for Tennessee. That's why I came across the country. In the end, I just couldn't leave my situation at USC."
July, 6, 2012
7/06/12
10:49
PM ET
By
ESPN.com staff
| ESPN.com
BEAVERTON, Ore. -- When Max Browne and Cooper Bateman met for the first time, they talked about the future.
They were at the Elite 11 regional in Oakland, Calif., and they couldn't help but laugh. Even though it was their first encounter, they had been linked for months, ever since it was announced in March that Browne and his Sammamish (Wash.) Skyline teammates would travel to play Bateman and Murray (Utah) Cottonwood during the 2012 high school football season.
"Everyone says it's Bateman versus Browne, Cottonwood versus Skyline," Browne said. "We're both laid-back guys and great quarterbacks, obviously. It was fun just to joke around."
From the moment that Sept. 7 game was announced, both quarterbacks understood it would surround their summers as they followed each other from that Elite 11 regional to The Opening to the Elite 11 finals and, eventually, the game itself.
Interaction is inevitable when two highly touted prospects who play the same position end up at the same events. There is a natural competition between the athletes, but as much they want to prove they belong among the top quarterbacks in the country, there is a mutual respect that comes when two people share circumstances.
For Mason Kelley's full story from The Opening,
click here
.
March, 27, 2012
3/27/12
9:00
AM ET
The Pac-12 is the conference of quarterbacks. The SEC is all about defense.
Oh, and winning national championships.
But as good as the defenses are in the SEC, what role does poor-to-middling offense play in that perception? As in, what would happen if those defenses played against a series of future NFL quarterbacks, as Pac-12 (and Big 12) defenses do?
The question before us is this: How would USC quarterback
Matt Barkley
do against those rough-tough SEC defenses?
Ted Miller
: It's sort of a chicken and the egg question. Are SEC defenses so good because they rarely play against A-list quarterbacks? Or do Pac-12 quarterbacks pile up eye-popping numbers because they don't play against SEC defenses?
[+] Enlarge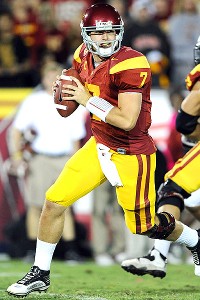 Harry How/Getty ImagesWould Matt Barkley be as successful if he played against SEC defenses all season?
Is it more notable that four of the top 11 quarterbacks in the nation in terms of passing efficiency in 2011 were from the Pac-12, compared to none in the top 20 from the SEC? Or is it more important that six SEC defenses ranked in the top 17 in pass efficiency defense compared to zero for the Pac-12?
It's hard to say. It's likely a person's home -- Los Angeles or Baton Rouge -- has a large influence on his or her opinion.
Pac-12 fans would be prone to point out: In 2005, LSU ranked No. 3 in the nation in passing efficiency defense. But in the Tigers' trip to Tempe that season, Arizona State's Sam Keller completed 35 of 56 passes for 461 yards with four touchdowns and no interceptions in a 35-31 defeat.
Or this: LSU's defense did a nice job against Oregon's offense in the 2011 season opener. Of course, the Ducks scored more points on LSU than ANY OF THE OTHER 13 TEAMS LSU PLAYED.
Apologies for the caps lock. Reckless typing.
While we can all acknowledge the SEC -- at least the elite teams -- play better defense than the rest of the nation, it is also worth noting that when future first-round NFL draft picks played quarterback in the SEC, they put up good numbers, whether we're talking about the Manning brothers, Matt Stafford or Cam Newton. And I'm sure, one day in the future --perhaps this decade! -- we'll be able to add a name to that list.
There are some nice quartebacks in the SEC:
Tyler Wilson
,
AJ McCarron
and
Aaron Murray
. All three seem like they'd have a good chance of winning the backup job at USC. Maybe.
Chris Low
: No way am I going to argue that Barkley wouldn't have success in the SEC.
He's a future pro and probably the front-runner to win the Heisman Trophy in 2012.
The question is: How much success would he have, and would he hit the proverbial wall going against SEC defenses on a weekly basis?
My feeling is that all quarterbacks hit that wall. Any coach will tell you (ask your buddy Lane Kiffin) that what separates SEC defenses is the speed in the front seven, particularly in the defensive line. There are fast players all over the country in college football, but the SEC has cornered the market on fast, explosive defensive linemen and pass-rushers who also have the size and strength to overpower people.
That's the difference, and that's where Barkley would notice the greatest difference.
It wasn't a banner year for quarterbacks in the SEC last season. And, yes, I realize that's an understatement. But it was a banner year for premier defensive players. That's why the first round of the NFL draft next month is going to look like an SEC who's who. As many as 10 SEC defensive players could go in the first round.
Don't sleep on the SEC's quarterback class this coming season, either. Wilson may be a future first-rounder. Murray has thrown nearly 60 touchdown passes in his first two seasons, and we all saw what McCarron did in the BCS title game against an LSU defense that was outstanding.
Barkley's a big-time talent, no question. But it's a different game when you're trying to throw from your back.
And in this league, ALL QUARTERBACKS (sorry, my caps tend to lock up, too) encounter that problem.
Ted Miller
: Truth is, Wilson, Murray and McCarron are good quarterbacks who look like guys with NFL futures. Loved how McCarron handled the pressure of the title game, and Murray has Pac-12-type talent.
[+] Enlarge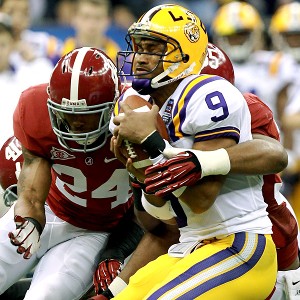 Ronald Martinez/Getty ImagesAlabama's defense smothered Jordan Jefferson and the LSU Tigers in the BCS championship game.
We're trash talking here, but if you can't acknowledge what is real, well, then it's just noise.
And the reality of this debate is this: Barkley would be more challenged on a weekly basis by SEC defenses than by Pac-12 defenses -- which I believe are underrated but still a step behind the SEC for the reasons the Inimitable Low mentioned above. If Barkley played at Vanderbilt, Mississippi State or Kentucky, he'd just be the best quarterback in the history of those programs while leading those teams to "historic" seasons. Like a third-place finish in their divisions.
Yet what makes Barkley, Barkley is not just Barkley. It's USC. It's his supporting cast. It's receivers
Robert Woods
and
Marqise Lee
, who will both have NFL careers. And two tight ends who will also. And a good offensive line, and a 1,000-yard rusher who averaged 6.9 yards per carry in 2011 (
Curtis McNeal
).
By the way, if you wonder where USC's true potential Achilles heel is this year, it's the defensive line. The Trojans have three A-listers -- guys who would be touted in the SEC -- but are thin thereafter. That's a problem for a team that views itself as a national title contender.
That's ultimately the rub here, too. If all goes according to plan, Barkley and USC should be in position to play for the national title. It's hard to imagine that wouldn't be against another SEC team.
Now, Chris, wouldn't it be fun if it were USC and LSU? Recall that in 2003, LSU won 1/16 of the national title when no one in the entire world thought LSU was better than USC, other than computers obviously loaded with all sorts of viruses.
Or USC-Alabama? Great history, and Saban versus Barkley & Co. would certainly attract plenty of eyeballs.
Chris Low
: One of the most compelling things that could happen to college football next season would be for USC and Barkley to take their shot at an SEC defense in the money game.
Then, we could quit debating and let it play out on the field. As much as I knew that Alabama and LSU were the two best teams in the country last season, there was a part of me that wanted to see Oklahoma State against either the Alabama or LSU defense in the BCS title game.
It's the matchup we all want to see: A high-powered offense versus a suffocating defense.
Maybe that's what we'll be treated to this fall.
Of course, I go back to the 2010 national title game, and Oregon had been short-circuiting scoreboards all season long. The Ducks go up against an Auburn defense that had been opportunistic, but wasn't one of the best in the SEC that season statistically. But in that game, Auburn put the clamps on Oregon and won 22-19.
The Tigers won because the Ducks couldn't block Nick Fairley.
And that's what the Trojans would run into if they find themselves up against an SEC team next January in Miami.
It won't come down to Barkley. Sure, he'll make a few plays. He's legit. But what it will come down to is the group of guys blocking for Barkley, and that's where it always gets ugly against SEC defenses.
In the meantime, just make sure the Trojans get there. They've been known to stumble along the way, and what we're left with is a bunch of hollow chatter about what they would have done (or could have done) had they made it to the party.
We'll check the guest list in December and chat again then.
February, 3, 2012
2/03/12
4:15
PM ET
Talk about the irony of all ironies.
Urban Meyer is being called out again by one of the rival coaches in his league about recruiting tactics.
Remember the firestorm Lane Kiffin started almost three years ago to the date when he accused Meyer of cheating, albeit wrongly, during a post-signing day celebration?


That was an SEC tussle. Meyer was at Florida at the time and Kiffin at Tennessee for his 14 months of scorched earth detail.
It made for some pretty captivating theatre, as Kiffin was clearly doing anything and everything he could to get under Meyer's skin. What ended up happening was that Kiffin got under SEC commissioner Mike Slive's skin more than anybody, which led to Kiffin being officially reprimanded by the SEC and landing a permanent spot in Slive's doghouse.
Now, here we are three years later, and Kiffin is at USC, where he's toned it down considerably and done a terrific job coaching the Trojans despite severe NCAA sanctions, and Meyer is just wrapping up his first recruiting class, a star-studded one, at Ohio State.
This time, it's Wisconsin's Bret Bielema accusing Meyer of "illegal" recruiting tactics, although Bielema declined to be specific. One of the things that apparently irked Bielema was Meyer taking offensive lineman Kyle Dodson away from Wisconsin when Dodson had been committed to the Badgers.
That doesn't exactly qualify as illegal, but it does qualify as being funny, especially to those of us in SEC locales.
Come on, they're squabbling in the Big Ten about one school stealing another school's recruits?
In the SEC, that's a pre-requisite for recruiting. They give courses in this league on how to flip players and how to make your school look really good and the school(s) you're recruiting against look really bad.
Some call it negative recruiting. Others call it surviving in the dog-eat-dog world of the SEC.
It's a big-boy league, and that's not changing any time soon.
Meyer knows that better than anyone. The pressure to win in this league is mind-numbing and never subsides. It's one of the main reasons he's no longer coaching in the SEC, although the football games on Saturdays at Ohio State generally rise above the level of just another extracurricular activity.
Perhaps the most telling thing to come out of this whole ordeal was Bielema's quote to Matt Hayes of The Sporting News.
"I can tell you this: We at the Big Ten don't want to be like the SEC -- in any way, shape or form," Bielema said.
As Hayes points out in his piece, Bielema was referring to recruiting tactics and not necessarily the success the SEC has had on the field, specifically winning six straight BCS national championships.
Hey, Bielema is truly one of the good guys in the coaching profession and has done a bang-up job at Wisconsin.
But the truth is that until the Big Ten quits worrying so much about how the SEC goes about its business and instead gets down to the business of winning some games that count, any comparison of the two leagues is pointless.
And that's in any way, shape or form.
January, 5, 2012
1/05/12
4:01
PM ET
Has something seemed odd to you about the BCS bowls this year? Does it seem like ... oh wait, West Virginia just scored again.
Does it seem like ... wait, there goes
De'Anthony Thomas
. Don't think he'll get caught from behind.
Does it seem like ... wait, would somebody please tackle
Justin Blackmon
?
Does it seem like there have been a lot of points this bowl season?
It's not just you. There have been a lot of points. More points than ever before. And by huge quantities.
So far, BCS bowl teams have averaged a total of 77 points in the Rose, Fiesta, Orange and Sugar bowls. That, folks, is nearly 26 points more than last year (51.6). And it's nearly 11 points better than the previous high of 66.3 from 2001-02.
Perhaps pairing two SEC teams in the title game has created a black hole sucking all defensive stinginess into the LSU-Alabama rematch, which you might recall went 9-6 with no touchdowns in their first meeting. West Virginia scored 10 touchdowns -- 10! -- against Clemson. Alabama gave up 12 TDs all season.
Speaking of Clemson: ACC. Well, well, well.
After the Tigers ingloriously fell 70-33 to the Mountaineers, we got our second story from the BCS bowl season: The ACC's insistence on throwing up on itself in BCS bowl games.
The conference that was once expected to challenge the SEC is now 2-13 in BCS bowl games. That's hard to do. You'd think in 15 BCS bowls the conference could get lucky at least five or six times. But no, it insists on making ACC blogger Heather Dinich, a genuinely nice person, into some sort of Grim Reaper
every bowl season
.
Heck, the Big East has won seven BCS bowls -- second fewest among AQ conferences -- but it's 7-7.
Of course, this all ties together, and we're here to bring out a bow, but first a warning: If you don't want to read about how good the SEC is for the 56,314th time this year, then stop reading. I'd recommend an episode of "South Park" or perhaps a John le Carré thriller as an alternative for passing the time.
We can all agree the SEC plays great defense right? Alabama and LSU will play for the title Monday with the nation's top-two defenses. Do you think perhaps that it's not a coincidence that the conference that is 16-7 in BCS bowl games plays great defense?
The only other AQ conference with a winning record in BCS bowl games is the Pac-12, which is 11-7. The Pac-12 isn't known for defense, either, but USC was when it won the conference's last national title in 2004.
The only team to win a BCS national title without an elite defense was Auburn in 2010, but the Tigers' defense seemed to find itself late in the season. Since 1999, eight national champions had a top-10 defense. Other than Auburn, the lowest-rated defense to win a BCS national title was Ohio State in 2002. It ranked 23rd in the nation in total defense.
Three of the four BCS bowl games have been thrillers. Two went to overtime. We've seen big plays all over the field in the passing game and running game. Yet, if things go according to script in the title game, we'll see none of that. We might not see more than a couple of plays that go for more than 20 yards. We might not see any.
Some might call that boring. It might seem that both offenses are so paranoid of making a mistake that they are stuck in mud, both in game plan and execution.
But, snoozefest or not, when the clock strikes zero a team from the SEC will hoist the crystal football for a sixth consecutive time.
That might say something about playing better defense.
December, 5, 2011
12/05/11
9:10
PM ET
My Heisman Trophy ballot has changed every week for the last couple of months.
I'm not surprised there are more than three players going to the trophy presentation.
Five players were invited to New York for Saturday night's Heisman Trophy presentation -- quarterbacks
Andrew Luck
of Stanford and
Robert Griffin III
of Baylor, tailbacks
Montee Ball
of Wisconsin and
Trent Richardson
of Alabama and cornerback Tyrann Mathieu of LSU.
It's a shame the Heisman Trust didn't have room for three more quarterbacks because Houston's
Case Keenum
, USC's
Matt Barkley
and Boise State's
Kellen Moore
were just as deserving.
With five finalists going to New York, it figures to be one of the closer votes in recent Heisman Trophy history.
The closest vote in Heisman Trophy history came just two years ago, when Alabama tailback Mark Ingram edged Stanford's Toby Gerhart by only 28 points. Ingram received 227 first-place votes, Gerhart got 222 and Texas quarterback Colt McCoy, the second runner-up, received 203.
Given the number of finalists and their geographical regions, we could have another really close finish on Saturday night.
Luck, the runner-up to Auburn's Cam Newton last season, entered the 2011 season as the Heisman Trophy favorite. His performance didn't slip much this season, as he completed 70 percent of his passes for 3,170 yards with 35 touchdowns and nine interceptions.
I still feel Luck might be the most valuable player on any team in the country. Without him, there's no way the Cardinal is ranked No. 4 in the country and playing No. 3 Oklahoma State in the Tostitos Fiesta Bowl. Luck has done more with less, as Stanford lacks the game-changing playmakers that other teams have.
But Luck might still be the second-best quarterback in New York. Griffin, who is widely known as RG3, completed 72.4 percent of his passes for 3,998 yards with 36 touchdowns and six interceptions. He also ran for 644 yards with nine touchdowns.
Without him, the Bears wouldn't have beaten TCU, Oklahoma and Texas. Griffin's one drawback: He had a late interception that sealed the Bears' fate in a 36-35 loss at Kansas State on Oct. 1 and threw two picks in a 59-24 loss at Oklahoma State on Oct. 29. But with everything else RG3 has done this season, it's easy to give him a mulligan for the miscues.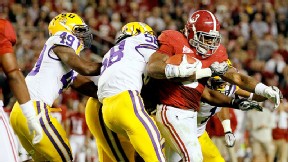 Kevin C. Cox/Getty ImagesRunning back Trent Richardson has been at his best in Alabama's biggest games.
I still believe Richardson is the best player in the country. He looked like the best player on the field in No. 2 Alabama's 9-6 loss in overtime to No. 1 LSU on Nov. 5. He had 89 rushing yards and 80 receiving yards in a game where every yard mattered. He finished the season with 1,583 yards with 20 touchdown runs and three touchdown catches. He's also Mr. Dependable, not losing a fumble in his past 520 touches and only once in 614 career touches.
Ball has been a scoring machine for the No. 10 Badgers this season, running for 1,759 yards with 32 touchdown runs and six touchdown receptions. His 38 total touchdowns are one shy of matching former Oklahoma State running back Barry Sanders' NCAA single-season record of 39 set in 11 games in 1988. Ball's production helped lead the Badgers to a Jan. 2 date against Oregon in the Rose Bowl Game presented by VIZIO.
Mathieu fell off my ballot after he was suspended from playing in the Tigers' 45-10 victory over Auburn on Oct. 22 for smoking synthetic marijuana. But his big plays helped the Tigers overcome deficits in each of their last two victories, over Arkansas and Georgia in the SEC championship game.
Mathieu -- aka the "Honey Badger" -- is the best player on the top-ranked team. He leads the Tigers with 70 tackles and has forced six fumbles and recovered five. He also is the most dynamic punt returner I've seen since Florida State's Deion Sanders. Mathieu has scored four touchdowns -- two on fumble returns and two on punt returns.
To penalize Mathieu for one foolish mistake wouldn't have been right. After all, Newton was briefly ruled ineligible at Auburn last season and 2010 Heisman Trophy finalist
LaMichael James
of Oregon was suspended from playing in last season's opener.
June, 6, 2011
6/06/11
6:14
PM ET
Championships are won and lost on the field. That is, if you get a chance to play for one.

Auburn never got a chance to play for the BCS national championship in 2004 despite going unbeaten, taking down four top-10 teams that season and producing four first-round NFL draft picks.

It's hard to fathom now how that could happen when you see the SEC's streak of national championships at five years and counting -- by four different teams.

Nonetheless, the news Monday that the 2004 BCS national championship won by USC would be officially vacated in light of the NCAA's denial of USC's appeal was another frustrating reminder on the Plains of how the team that deserved to play for the title that year never got that chance.

How would Auburn have stacked up that season against USC or Oklahoma?

We'll never know.

What we do know is that USC shellacked Oklahoma that evening in Miami, 55-19, and looked dominant in doing so.

And while it would have been intriguing to at least see Auburn get a shot at the Trojans, it doesn't make sense to think that the 2004 national title should now be automatically handed over to the Tigers simply because they finished No. 2 in the Associated Press poll that season.

As much as Tommy Tuberville, Cadillac Williams, Ronnie Brown and Co. would love to be sporting those 2004 national championship rings, something tells me they wouldn't want to acquire them this way.
March, 14, 2011
3/14/11
11:22
AM ET
ATHENS, Ga. -- If he could,
Jarvis Jones
would pen one giant thank you note to the entire state of Georgia.
[+] Enlarge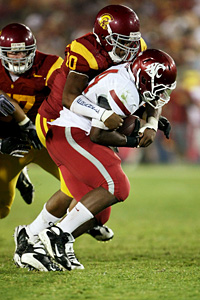 Stephen Dunn/Getty ImagesJarvis Jones, 10, is happy to be at Georgia after a stint at USC.
It's a gesture that would be well received, although an All-SEC season at linebacker would be even better received.
Jones, who initially decided to leave the state and attend Southern California out of high school after a fierce recruiting battle, says he's back where he belongs. He jokes that he's just relieved that they would let him back into the state.
"I'm thankful every day that I've been here, that coach (Mark) Richt would give me an opportunity, that the university would give me another opportunity, that the state would let me come back home," said Jones, who has three years of eligibility remaining and will step in next season at strongside linebacker.
Georgia defensive coordinator Todd Grantham says there's no question that the 6-3, 245-pound Jones gives the Bulldogs an element they were missing at linebacker last season.
"He could play inside if we needed him to, but he'll make more plays outside," Grantham said. "Justin (Houston) was a better pass-rusher. But as linebackers go and playing the linebacker position, we didn't play with anybody like Jarvis last year."
For that matter, there were times on the scout team last season when his teammates say he was the best player on the field.
"He's always energized, always enthusiastic, always hyped and running to the ball on every play," senior cornerback Brandon Boykin said. "A lot of people are going to feed off of him, and he's definitely somebody who's going to come in and change the game."
As ironies go, it was an injury during his freshman season at USC that led Jones back to Georgia.
He suffered what USC doctors said was a pinched nerve in his neck during the 2009 season and missed the final five games. The USC doctors wouldn't clear him medically to play again for the Trojans.
Jones sought opinions from other doctors, who said that he would be able to play again after rest and rehabilitation. But the USC doctors wouldn't relent.
"I was young, and the only thing I was thinking about was football," recalled Jones, who's from Columbus, Ga. "I was so far away from home, and the only reason I came to L.A was to play football. All of a sudden, they're telling me I can't play anymore.
"I felt like I'd had everything snatched from me, especially with three other doctors telling me I could play, I still had some fire in my heart and never gave up."
Jones left USC last June and returned home. He wasn't sure where he was going to play again. He just knew that he would play again.
It was about that time that Jones' high school coach informed him that Georgia was interested.
"I know a lot of people were mad that I didn't come here in the first place," Jones said. "But the way they opened their doors and accepted me like I was fresh out of high school tells you a lot about this school and the people here.
"They took me through all the different tests when I visited, and coach Richt was right beside me the whole way. I told him, 'This is where I want to be. I want to be a Bulldog.'"
Jones admits that he's probably more of a natural at inside linebacker, and that's where he played at USC.
But he also trusts Grantham implicitly and has seen what outside linebackers have done in his system.
"Watching how he developed Justin and other guys is something I want to be a part of," Jones said. "I know I can be a great player, especially with a coach like coach Grantham. I know he's going to push me and put me in the best position for me to excel and help this team.
"The main thing is that I'm just glad to be here. Maybe it's late, but I plan making the best of what I have left."
November, 10, 2010
11/10/10
3:00
PM ET
It's time for a blogger debate! And it doesn't get much better than when we match the SEC and Pac-10.
Our topic: No. 1 Oregon and No. 2 Auburn. Who's better and why?
Both are unbeaten, and if the season ended today, they'd play for the national title.
We've got lots of football left, and probably many more plot twists in the hunt for the national title, but there's no reason we can't engage in a hypothetical, is there?
So the Pac-10 blog -- Ted Miller -- and the SEC blog -- Chris Low -- have decided to meet for some civilized debate on Auburn versus Oregon.
Ted Miller
: Chris, since things are so quiet in the sleepy SEC, I think we should spice things up with a Pac-10-SEC blogger debate! It seems like a long time since we last had a debate between our two conferences. How'd that one go? Let's see I championed Taylor Mays and you celebrated Eric Berry. Wait.
Why did I bring that up
?
Anyway, our topic is Oregon and Auburn: Who's better and why.
[+] Enlarge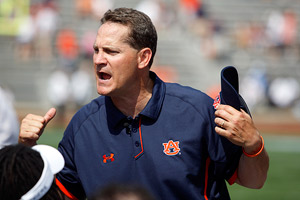 John Reed/US PresswireGene Chizik has silenced those critical of his hiring last year but getting Auburn off to a 10-0 start this season.
This is a potential national title game between the No. 1 Ducks and No. 2 Tigers, who are both unbeaten and feature Heisman Trophy candidates leading high-powered offenses.
You get first blood. Tell me about Auburn. It seems like it wasn't too long ago that Jay Jacobs was getting hounded for hiring Gene Chizik. Guessing that's died down a wee-bit.
Chris Low
: No doubt, Ted. I wonder where that obnoxious guy is now, the one yelling at Jacobs as he was leaving the airport after finalizing the deal with Chizik? Maybe Jacobs knew what he was doing after all. The guy with the 5-19 record at Iowa State has done all right by himself on the Plains. He has a Heisman Trophy-caliber quarterback and the SEC's leading rusher in Cam Newton, a 6-foot-6, 250-pound freak of nature who runs like Bo Jackson and also has an NFL arm. Keep your eyes, too, on freshman running back Mike Dyer, who they haven't had to lean on much this season, but is oozing with talent and has fresh legs for this stretch run. The Tigers' defensive numbers are nothing to write home about, but they do have the kind of dominant interior defensive lineman, Nick Fairley, who can take over games. Georgia coach Mark Richt said Fairley's the closest thing he's seen to Warren Sapp. Auburn's calling card defensively has been making plays at key times in the fourth quarter. The Tigers have been a serviceable defense through three quarters this season, but they've been a championship-caliber defense in the fourth quarter -- which is why they're 10-0.
So tell me about Oregon?
[+] Enlarge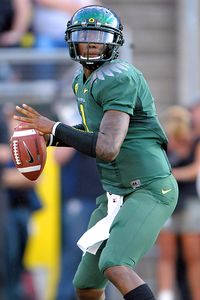 Kirby Lee/Image of Sport/US PresswireSophomore Darron Thomas was thrust into the starting quarterback job and has performed admirably.
Ted Miller
: Speaking of coaches: How about Oregon's Chip Kelly? How could he possibly expect to top winning the Pac-10 and playing in the Rose Bowl his first season? How about contending for a national title in his second? The Ducks, however, expected to be here when the 2009 season ended because just about everybody was coming back from the Pac-10 champions. That is until a guy you are now familiar with -- quarterback
Jeremiah Masoli
-- got caught up in some off-field issues and eventual got himself booted from the team. That seemingly left a void behind center, but sophomore
Darron Thomas
has not only filled Masoli's shoes, he's gone up a few sizes: He's 15th in the nation in passing efficiency and 21st in the nation in total yardage. Meanwhile, speedy running back
LaMichael James
is the top Heisman alternative to your guy, Newton. As for the defense, it's like the offense: Extremely fast. It ranks 13th in the nation in scoring defense and it has forced 28 turnovers, second-most in the nation. Folks often underestimate the Ducks' defense because it gives up some yards -- it ranks 29th in the nation in total defense -- but that's because the offense scores so quickly: The nation's No. 1 offense ranks 115th in the nation in time of possession. But the Ducks only give up 4.45 yards per play. Our factoid of the day is that number would rank No. 1 in ... wait for it ... the SEC!
Obviously, we're talking about two very good teams that have done impressive things on their way to remaining unbeaten. I know we both have Oregon ahead of Auburn in our power rankings, but give me the case for Auburn.
Chris Low
: Ted, I think what separates Auburn is Newton. Nobody has been able to stop him. If you commit to taking away the run, he's proved he can beat people throwing the ball. And if you come after him and/or don't have enough people in the box, he's been magic running the ball. Keep in mind, too, that we're not talking about a 220-pound guy running the ball. We're talking about a 250-pound guy who's physical, tough and doesn't run out of bounds. In the red zone, he's the great equalizer, because he gains 3 yards when he falls forward and has the size and the strength to push the pile. On top of it all, he's always a threat to throw the ball. Similar to Oregon, Auburn doesn't flinch if somebody puts 30-plus points on the board, because the Tigers' mentality is that they're going to score 50. Their offensive coordinator, Gus Malzahn, will make you defend everything -- reverses, throwback passes, passes to the backs, even passes to Newton. He caught a touchdown pass two weeks ago against Ole Miss. The Tigers also play at a tempo on offense that has opposing defenses gasping for air in the fourth quarter. But when they have to, they can put teams away and finish games by running the ball. They're fourth nationally (one spot ahead of Oregon) this week in rushing offense with an average of 307.2 yards per game. Auburn's top four rushers -- Newton, Dyer,
Onterio McCalebb
and
Mario Fannin
-- are all averaging at least 6.4 yards per carry. Do the Ducks have any answers for that running game?
[+] Enlarge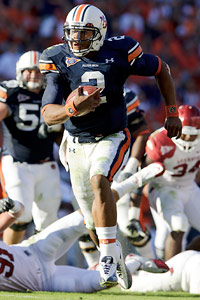 Paul Abell/US PresswireAuburn's Cam Newton is just as dangerous with his arm as he is on his feet.
Ted Miller
: That's what's so interesting about this as a potential national title game match -- there's an odd familiarity that both teams will have with each other despite never crossing paths. My guess is Malzahn and Kelly already have studied each other, just in terms of mutual admiration. And both defenses will be familiar with up-tempo, no-huddle, spread-option offenses that can power you and finesse you and throw downfield. Further, the Ducks have played against a number of big, fast, capable quarterbacks with NFL futures: Washington's
Jake Locker
, Ohio State's
Terrelle Pryor
and Stanford's
Andrew Luck
. The results have been mixed. Last year, Luck and Pryor got them. Luck beat the Ducks with uncanny downfield accuracy, which is why he'll go No. 1 in this spring's NFL draft. Pryor shocked them with the best passing game of his career in the Rose Bowl. Locker missed this year's game, but he's never had much luck against Oregon. In general, Oregon has a good run defense: Opponents are averaging 3.38 yards per rush. But the Ducks are undersized. A physical Stanford team had some success, rushing for 177 yards. But one thing about Oregon on both sides of the ball: It is masterful with halftime adjustments. They shutout Stanford, owners of the nation's No. 5 scoring offense, in the second half, and have given up just 48 points in the second half this year -- just seven in the fourth quarter!
Obviously, two very good teams that have done impressive things on their way to remaining unbeaten. I know we both have Oregon ahead of Auburn in our power rankings, but give me the case for Auburn if it played Oregon in the national title game. How do you see it going?
Chris Low
: Well, if that happens, the first thing we all better make sure we have is a calculator. That and make sure there's no danger of a power surge to the scoreboard. You're right about Oregon. Nobody in the country has been better in the second half. The Ducks' ability to score points in bunches is amazing, but the Tigers are equally adept at going on head-spinning scoring sprees. Just ask Arkansas, which saw Auburn roll up 28 points in the fourth quarter in Xbox-like fashion. I have no doubt that an Auburn-Oregon matchup would be played in the 40s. I think the difference, though, would be Auburn's ability to put the breaks on the track meet and run the football in the fourth quarter, especially with Newton being so good at converting on third down. So I'm going Auburn 45, Oregon 41 in a game that rates up there with the Texas-USC classic to decide the 2005 national title.
Ted Miller
: That's clearly something we can all agree on: This likely would be a highly entertaining, offensively driven national title game if these two teams manage to get themselves there. Further, I think, after never getting a USC-SEC title game, folks on both coasts would enjoy an SEC-Pac-10 matchup. No trash-talking there, right? And I do see a clear advantage for Auburn: It has been tested. It's played five games decided by eight points or fewer, and three decided by a field goal. The Ducks closest game? An 11-point win at Arizona State. But that's also why I'd pick Oregon in this one. Oregon beat the No. 6 team in the nation, Stanford, by 21 points. It shut Andrew Luck out in the second half. And I look at all of Auburn's close games: Mississippi State, Clemson, South Carolina, Kentucky and LSU, and think: None of them would be within 10 points of the Ducks. Maybe LSU, because any game Les Miles touches is surprising. And I think Vegas would agree with me. So if we ended up with an Oregon-Auburn national title game, my guess is the Tigers would go TD for TD with the Ducks in the first half, then the Ducks would pour it on late for a 50-35 win. But I reserve the right to change my mind, particularly because I think the Tigers' toughest test -- Alabama -- is ahead.
Moreover, both teams should be advised: You probably should get to the Jan. 10 date in Glendale before you start trash-talking each other. At least before you use your best stuff.
July, 6, 2010
7/06/10
11:14
AM ET
By
ESPN.com staff
| ESPN.com
When Lane Kiffin bolted for Southern California back in January, there were several reports that he and his staff tried to take several of Tennessee's recruits with them.
In fact, some of the players who had already signed with the Vols and were scheduled to enroll early said Ed Orgeron advised them not to enroll at Tennessee after Kiffin took the job at USC.
It sounds like Derek Dooley can play that game, too -- and it's all on the up and up.
Southern California defensive end
Malik Jackson has decided to transfer to Tennessee
, taking advantage of the NCAA rule that says juniors and seniors at a school facing NCAA sanctions can transfer and be eligible to play right away.
The 6-foot-4, 265-pound Jackson, who had 3.5 sacks last season in a backup role for the Trojans, is supposed to be at Tennessee this week to begin summer school. He has two years of eligibility remaining and gives the Vols some much-needed help on the defensive line.
Tennessee had been working Jackson for a while, and he actually took a visit to Knoxville to see the campus last month. He hit it off with the Vols' coaches and decided that Tennessee was where he wanted to finish his college career.
There had already been rumblings that some of the USC coaches were upset with the Tennessee coaches for targeting their players and that some serious bad blood was brewing.
Something says that Kiffin and Orgeron won't be hanging out with Dooley, Lance Thompson and some of the other Vols assistants at the coaches convention next year.
September, 14, 2009
9/14/09
1:02
PM ET
By
ESPN.com staff
| ESPN.com



Pat Forde recaps a busy weekend in college football, including Matt Barkley's performance, Terrelle Pryor's struggles and Tate Forcier leading Michigan to a win over Notre Dame.