September, 4, 2014
Sep 4
4:00
PM ET
GAINESVILLE, Fla. -- The debate over Florida fans' attendance at the Swamp, which has lagged since 2010, was ready to resume last Saturday.
It was a brutally hot day, the Gators were coming off a 4-8 season and were set to play an FBS bottom-feeder in Idaho -- all factors that have kept fans away recently.
Then came the storm that washed away the game. But the rain didn't dampen the fans' enthusiasm. In fact, it might have had the opposite effect.
Pelted in a downpour for hours, about 35,000 fans stayed and cheered. They got especially loud when the game kicked off at around 10 p.m. ET.
"To me that was really the highlight of the night," said
Valdez Showers
, who returned the kick 64 yards to the Idaho 14-yard line to a deafening roar. "When we came out of the tunnel again and I saw all the fans there. It really shocked me.
"I know I can speak for the team. That surprised us a lot. We were definitely thankful they were out there supporting us."
It hasn't always been the case since Will Muschamp replaced Urban Meyer as head coach.
In Muschamp's first season opener in 2011, a 137-game sellout streak at the Swamp ended. Since then, the attendance debate has featured plenty of theories, reasons and excuses.
The student section, in particular, has taken the brunt of the criticism with pockets of empty seats near the top of the stands, even during some of Florida's bigger home games in 2013.
Despite increased enthusiasm for last week's scheduled season opener, and despite UF's attempts to rally its student fan base, the Idaho game was shaping up to be more of the same.
Some student tickets that were unclaimed by the midweek deadline were being re-sold a few hours before kickoff.
One student summed up the typical thought process before a game.
"It depends on who the opponent is and how we're doing and what the weather is like," said Derek Dusome, a senior studying mechanical engineering. "I think a big part of it is the weather and then also frustration when we're losing against weaker teams. When it's 90 degrees, we're out in the sun, not on the shady side, it can be really hot."
The shady side, or west side, of the stadium is where alumni and other fans sit. In recent years they've had a clear view of the empty seats on the east, or student, side.
"It makes me sad, because I'm a true fan," said Bill Warrington, a 20-year season-ticket holder who graduated from UF in 2006 with a PhD in nursing science and physiology. "I like to stay for the entire game, and I like to go in early to see the pageantry."
Animosity between alumni and students has become more common in recent years at Florida. But as Saturday's storm rolled in, it also brought something very different for the rain-soaked fans who remained -- unity.
"That was pretty surprising," junior left tackle
D.J. Humphries
said on Tuesday. "That got me pretty excited, when we saw the fans still into it. Even throughout the whole time when we were standing in the tunnel during the delays you could see the fans still in the stands dancing to the music in the rain. That had us pretty excited as well.
"They were into it. They had us pretty fired up."
In the aftermath, Muschamp gushed his appreciation.
"It was absolutely amazing," he said on Monday. "The people that were there -- and there were still a bunch there -- it was loud and it was electric and it was fun."
Imagine what a clear forecast and a few wins might bring.
September, 2, 2014
Sep 2
4:00
PM ET
GAINESVILLE, Fla. -- Florida coach Will Muschamp was in an exceptionally good mood for his weekly news conference on Monday. He was working the crowd, cracking jokes.
There wasn't much football to discuss after
an epic storm suspended the season opener
. But on the bright side, it wasn't raining and his Gators still have an unblemished record.
"[We] watched all the plays from
Saturday
night," he joked. "Took a long time."
[+] Enlarge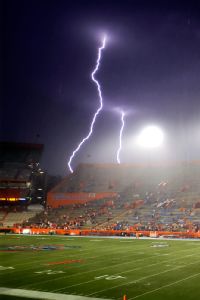 AP Photo/Phil SandlinThe Swamp became just that on Saturday night, canceling Florida's opener.
After enduring a nearly three-hour delay because of lightning, the Gators and Vandals took the field before an appreciative but soaked crowd.
Maybe he had lightning strikes on his mind, but Muschamp used the word "electric" when asked to describe the atmosphere. He used it again, describing the Gator locker room before the players emerged.
"
It was electric," he said. "The guys were jacked."
Unfortunately the storm only let up enough for the teams to run exactly one play.
It was, at least, a satisfying play for Florida and its football-starved fans. The appropriately named Valdez Showers took the opening kickoff 64 yards to the Idaho 14 before another lightning strike sent everyone off the field and into the belly of the stadium.
Safe to say it would be the most analyzed single play from Week 1 by any college football team in America.
"Jarrad Davis got the hard-hat award -- he did," Muschamp said on Monday, trying to convince reporters the team had actually given out an award. "He had a great block on the kickoff return.
"A great job by Marcel Harris sealing the edge, Valdez bouncing it. Andre Debose put a devastating block on their kicker, and we were able to get the ball down the sideline. So, very well executed."
Showers said he might have scored had the field not been so slippery.
"I was definitely looking to cut back," he said. "But I knew there was a chance I would slip, so I was just trying to get as much yardage as I could."
Showers, the fourth-year junior receiver who said he's played in worse conditions growing up in the ice and snow of fall football in Michigan, wasn't on the field when Florida lined up for its first play. When the referees signaled another stoppage, his first thought -- and that of everyone in the stadium -- was "not again."
The Gators spent most of the night in limbo, as NCAA rules stipulate a 30-minute delay for every lightning strike within eight miles of the field.
"To put things in perspective for everything, between the hours of 5
o'clock
that afternoon and 11, we had 1,100 strikes of lightning within a six- to eight mile radius of our stadium," Muschamp said. "We had two-and-a-half inches of rain between 5 and
11 o'clock,
and the last strike of lightning within six miles of the stadium was at
12:38 [a.m.]
.
"It was an issue, not just of the playing conditions of the field -- it was awful -- but we had lightning all over the place. It was going to be very difficult to be able to get the game in."
Muschamp checked the forecast over and over, while the team stayed prepared by going over plays.
"They had a book that thick they were reading through," the coach said of the game and team officials. "And I was just watching the radar."
Outside, the field was being punished by rain, wind and lightning.
The Gators mostly sat around and waited. Late at night, a second team meal was ordered and delivered by a nearby sandwich shop.
The electric atmosphere as well as the rain and lightning eventually died down. Florida is still waiting to start its 2014 season.
"I've never been a part of anything like it," Muschamp said. "We're all disappointed."
August, 27, 2014
Aug 27
11:00
AM ET
GAINESVILLE, Fla. -- If you ask Kurt Roper the coach to go back in time and evaluate Kurt Roper the quarterback, you'll get a belly laugh as he describes himself essentially as a recruiting whiff.
"Not good enough!" he chortles. "A miss!"
It's easy for Roper, now the offensive coordinator of the
Florida Gators
, to wax nostalgic about his all-too-brief career as a college quarterback since he's carved out a reputation as something of a quarterback whisperer more than two decades later.
A winning quarterback at Ardmore (Okla.) High School, Roper was good enough to earn a scholarship to play quarterback for the
Rice Owls
. His first meeting with his offensive coordinator, the late Mike Heimerdinger, brought a sense of inadequacy that offense was something far more complex than what he was used to.
[+] Enlarge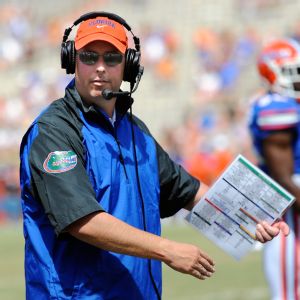 AP Photo/Phil Sandlin"He's always a positive guy, and we need that around here," Jeff Driskel said of new offensive coordinator Kurt Roper.
"We're having a meeting the night before the first practice and he starts talking to me about defenses," Roper says. "And I had never even
thought
about defenses. I'm sitting there going, 'Hey wait a second, what play are we running? Tell me the play.'
"And he's talking to me about how a defense is going to be manipulated by this formation and it's going to remove this guy. And I'm already looking out the window and I see the other guys going to eat dinner. I'm thinking, 'What am I doing? What's going on here?' "
A week later Roper was moved to defensive back.
The irony that he is now known for being a coordinator, QB coach and play caller is not lost on Roper. His vivid recollection of that first meeting illustrates how far he's come.
"It was all eye opening," Roper said last week. "I don't really know that I start getting a huge understanding of [offense] until I really started coaching it and Coach Cut started teaching me how to coach it."
Coach Cut is David Cutcliffe, a graybeard of Southern football who's been head coach at Duke since 2008.
Cutcliffe became a mentor to Roper, and the two worked side by side at Ole Miss, Tennessee and Duke. Their long partnership came to an end when Roper was hired in December to fix Florida's ailing offense.
"When I called Coach Cutcliffe about Kurt, he wasn't happy I was calling about Kurt," said Florida coach Will Muschamp, Roper's new boss. "But he certainly endorsed him as a football coach and a man."
Roper gives plenty of credit to Cutcliffe for the no-huddle spread offense he is installing at UF. But there were other key influences that have shaped his approach to coaching.
His father, Bobby Roper, brought intensity to his son's football upbringing.
"He was a defensive coordinator," Kurt said. "He was really a no-nonsense guy. He was really intense and tough to grow up around if things weren't necessarily going well all the time on the football field."
Roper also counts two of his position coaches at Ole Miss -- offensive line coach John Latina and running backs coach Rich Bisaccia -- as influences. Latina showed Roper how a sound offensive system helps make a sound line. Bisaccia helped foster Roper's ability to connect in his relationships with players and head coaches.
Joker Phillips, under whom Roper worked as the QBs coach at Kentucky in 2005, added the uptempo element Roper brought to Duke and now Florida.
The amalgamation of his past and the present opportunity to redefine and revive an offense that floundered for the previous three years are what make Roper the Gators' most important offseason addition.
After what Duke accomplished last season, Roper's presence commanded immediate respect. His personality brought a sense of calm and instilled confidence in his new players.
"He's always a positive guy, and we needed that around here," said starting quarterback
Jeff Driskel
, a fourth-year junior who has witnessed most of Florida's recent struggles from under center.
To a man, Florida's offensive players beam when they speak about their relationships with Roper. They say he's fun and funny and always has a story to tell from his football past.
"He's like a player out there," receiver
Valdez Showers
said. "He loves the game. He's always got energy. There's not one day where he comes out there down. You feed off his energy.
"He's always uptempo, so you want to be uptempo. That's the way the offense goes."
On the verge of a crucial season, the Gators' offensive players are exuding the kind of attitude that hasn't been seen at UF since Tim Tebow's days.
They say they owe it to Roper and his offense. It's made them believers from early in spring practice when installation began to more recently in preseason camp and into their preparation for the fall.
"We've made a lot of big plays against a really good defense," Driskel said of facing Florida's vaunted D. " When that happens, you start to feel a little bit more excited and a little bit more confident. ...
"We had a really great, great camp. We protected the ball and made big plays. When you put those two things together, you're going to be looking at a pretty good offense."
And a pretty good offensive mind behind it.
May, 2, 2014
May 2
2:00
PM ET
GAINESVILLE, Fla. -- With spring practice fully digested, let's take a look at which
Florida Gators
' stock is up and who's on the way down.
RISING
[+] Enlarge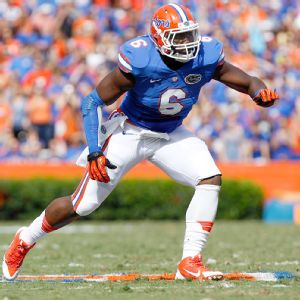 Kim Klement/USA TODAY SportsDante Fowler Jr. looks ready to terrorize SEC quarterbacks after a strong spring.
Dante Fowler Jr.:
The hybrid defensive end/linebacker altered his diet and dropped some body fat before spring. He quickly proved to be Florida's most consistent pass-rushing threat and showed flashes of dominating offensive linemen. While Fowler became an obvious team leader off the field, it appeared that many of his teammates were in awe of his talents on the field.
Starting O-line:
Junior left tackle
D.J. Humphries
shook off last season's struggles and looked more like the prospect who arrived at UF with elite status. Junior
Tyler Moore
looked comfortable at left guard and was largely recovered from a broken elbow. Senior
Max Garcia
consistently earned praise despite struggling with shotgun snaps in his transition to a new position. Senior
Trenton Brown
played well enough to force the coaches to find a starting spot for him at right guard. Senior right tackle
Chaz Green
held off Brown's challenge and showed that he's finally healthy after missing last season with a torn labrum.
Demarcus Robinson:
The sophomore receiver was in the doghouse and suspended twice last year but came back with more maturity and focus this spring. His talent was so obvious in practice one teammate called him "a freak." A physical presence at 6-foot-2 with speed and vision, Robinson looks like UF's best chance for a breakout star in the passing game.
Bryan Cox Jr.:
Going into spring, Florida didn't have much at the defensive end position beyond Fowler and junior
Jonathan Bullard
. Cox opened his coaches' eyes with a non-stop motor that always showed up in film review and allowed them to experiment with Bullard at tackle. Cox might not be a starter in the fall, but the sophomore assured himself a lot of playing time with his spring performance.
Adam Lane:
The redshirt freshman isn't high up on the running back depth chart, but he excited coaches and teammates with his running style. At 5-7 and 222 pounds, Lane is built like a bowling ball. He doesn't have breakaway speed, but always seems to bounce off defenders and fall forward.
FALLING
Brian Poole:
As one of the few upperclassmen in UF's secondary, Poole had an opportunity to grab the coveted starting job opposite
Vernon Hargreaves III
. Instead of standing out, however, he blended in with two true freshman competitors and could wind up back at the nickel cornerback position where he played last fall.
Caleb Brantley:
Much is expected of the redshirt freshman who was one of the nation's top Class of 2013 prospects. Florida is urgently trying to develop some difference-makers on the D-line, but Brantley doesn't always respond well to coaching and his motor runs hot and cold.
Valdez Showers:
It has been an adventurous few months for Showers, who converted from safety to running back last August and spent all of spring as a slot receiver. He showed he still needs to work on his hands and fell behind
Latroy Pittman
, but Showers can expect more chances and playing time this fall.
Antonio Riles:
Position changes are rarely a good sign in college football, but it's still early for the redshirt freshman who moved from defensive tackle/end to offensive guard. Coaches and teammates say he's got natural ability to play the O-line, but this move might have more to do with Florida's incoming D-line talent.
Raphael Andrades:
Already a junior despite hardly playing in 2013, the wide receiver surprised many by playing as a true freshman and even starting three games. But he has just two career receptions and is now buried deep on an expanding depth chart.
REBOUNDING
Austin Hardin:
The sophomore kicker showed that he's not giving up his job without a fight. After working on his mechanics throughout the offseason, he was consistent in practice and hit all four of his field goals in the spring game. Hardin will have to fend off more competition in fall camp.
April, 23, 2014
Apr 23
2:00
PM ET
Editor's note: With Florida's spring practice now in the rearview mirror, we'll clean out the notebook this week and touch on a few remaining topics.
GAINESVILLE, Fla. -- The numbers from the spring game weren't eye-popping, but it's clear that Florida's new offense will make greater use of a deeper receiving corps.
A scheme that utilizes a lot of three- and four-receiver sets surely brings more opportunities, and that's good news for a couple of pass-catchers who were marginalized in recent years.
[+] Enlarge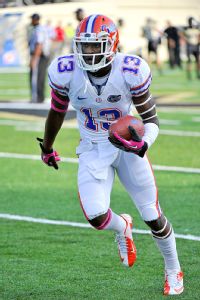 Frederick Breedon/Getty ImagesLatroy Pittman is looking forward to contributing more on offense.
Juniors
Valdez Showers
and
Latroy Pittman
were given a chance at the slot position this spring, and as the offense was installed they became contributors.
"Valdez and Pitt have done a good job at that," offensive coordinator Kurt Roper said. "I think we've got good depth at that position from both those guys. They've done a good job."
Roper explained what he needs from the slot receiver.
"What you try to do is put a receiver in there that is going to be productive," he said. "I don't think I necessarily look at size. … I don't sit there and say, 'OK, here's the body type.'
"But at the same time the big body is easier to see. It's just every year, who's going to be productive in that position, knowing that we're going to count on him to be physical, blocking at the point of attack on the nickel linebacker out there, and still elusive enough to catch bubbles and be good in space."
Pittman (6-foot, 210 pounds) and Showers (5-11, 190) have the size and athleticism to fit Roper's ideal slot receivers.
"It's not a big change for me," Pittman said. "I'm a big-bodied guy, so going across the middle or taking those big shots from a safety or a linebacker isn't much concern for me at all. I love that kind of physicality. That's my game."
They showed up in the spring game. Pittman had two catches for 31 yards, while Showers had one catch for 11 yards. Compared to last season it was plenty of evidence that the two are being utilized in the Gators' uptempo spread offense.
Showers, a former safety, has only played one season of offense in college football. He had 18 catches for 102 yards and a touchdown a year ago when he was more of a pass-catcher out of the backfield.
"Valdez transformed from a DB to a receiver," said senior
Jabari Gorman
, who used to play next to Showers at safety. "He's a dual threat. He can run the ball, he can catch it. He's got nice routes.
"I think he's happy over there. He looks comfortable over there. You've got a guy like that that can move and create different problems for other teams. He's a playmaker and we need that on our offense."
Pittman was relegated to blocking duty in first two seasons, catching just four passes in his career. He was an early enrollee two years ago, and he made waves as a spring standout. But his production never carried over to the fall.
The biggest adjustment Pittman said he's made has been in his own maturation.
"You come out of high school being that guy and it's just a real shell shock when you feel like you deserve something and you don't get it," he said. "In reality if you just sit back and relax and humble yourself, you realize that things will come when you deserve to get them."
Heading into his third year and playing in an offense that spreads the ball around, Pittman is believes his time is coming and he's ecstatic.
"Just coming in with the confidence that I have now, just knowing that the coaching staff is behind me, everything is going great," he said. "We have a bunch of guys making plays. It's just real. It's a whole different feel."
February, 17, 2014
Feb 17
2:00
PM ET
GAINESVILLE, Fla. -- In the last decade, more than any other time in its history, Florida's status as a recruiting juggernaut has been proven.
Once head coach Steve Spurrier established his alma mater among college football's elite, blue-chip talent started flocking to UF. The Gators also recruited well under Spurrier's replacement, Ron Zook. Then Florida won two national championships with coach Urban Meyer.
The fact that Florida has thrived on the recruiting trail despite Meyer's soap-opera departure and some sub-par seasons on the field is a testament to the strength of the brand.
This week we count down the
five most impactful UF recruiting classes in the last decade
, not including Florida's most recent class, which isn't even fully assembled on campus yet.
No. 5 on our list in order of impact is the Class of 2011, head coach Will Muschamp's first class, which was
ranked No. 12 by ESPN
.
[+] Enlarge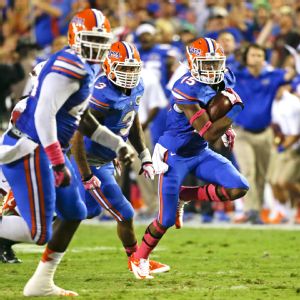 AP Photo/John RaouxLoucheiz Purifoy's big-play ability at cornerback allowed him to stand out in three seasons at Florida and should get him selected high in this year's NFL draft.
The stars:
This is easy.
Marcus Roberson
and
Loucheiz Purifoy
became lockdown cornerbacks and were the only three-and-done players from this 19-man class. Roberson made an instant impact, starting his first 10 games as a true freshman, and Purifoy first emerged as a special-teams terror. By the end of their college careers, the two clearly established NFL pedigree -- Roberson for his advanced technique, Purifoy for his supreme athleticism. They are expected to be picked no lower than the second round this May.
The contributors:
Several players stand out in this class, including a few starters. Among them, starting quarterback
Jeff Driskel
is the one who could still push his way into the star category if he improves during his final two seasons of eligibility. Other starters have carved out significant roles for themselves, including fullback
Hunter Joyer
, safety
Jabari Gorman
and tight ends
Clay Burton
and
Tevin Westbrook
.
Valdez Showers
successfully converted from safety to running back last season. And
Kyle Christy
was a record-setting punter who stumbled in 2013 and will fight to take his job back this year.
The letdowns:
Some of the top talents in this class never panned out at UF, as eight of the 19 players transferred and one quit football after injuries derailed his career. The biggest name to transfer was QB
Jacoby Brissett
, who started four games at Florida but left for NC State after losing the competition for the starting job to Driskel. WR
Ja'Juan Story
, TE
A.C. Leonard
, RB Mike Blakely and S
De'Ante Saunders
were four of the Gators' five highest-rated recruits in the class. Transfers Story, Blakely and WR
Javares McRoy
were recruited by Meyer for his spread-option offense and never quite fit Muschamp's pro-style scheme. Leonard and Saunders made strong impressions on the field, but both ran afoul of the law and transferred to Tennessee State.
The results:
There have been high points, such as an 11-win season in 2012 in which Florida was just one Notre Dame loss away from playing for the national championship. But there have been more low points, such as a 7-6 season in 2011 and a numbing 4-8 season in 2013. The results on the field have been uneven, but there's still time for this class to distinguish itself.
December, 30, 2013
12/30/13
4:30
PM ET
GAINESVILLE, Fla. -- Florida's new offensive coordinator, Kurt Roper, is known for his ability to adapt his offense to his players. It's one of the biggest reasons he was hired.
Will Muschamp is a head coach who needs results right away, and the Gators are expected to try just about anything to achieve them -- uptempo, no-huddle, spread, zone read. You name it.
After three years of a pro-style offense that had a heavy emphasis on downhill running, there will be changes.
Practice time will be at a premium, but Roper has a plan.
He'll start with incumbent quarterback
Jeff Driskel
and find what he does best. Then Roper will do the same with his offensive line and skill positions.
"I think you've got plenty of time through spring practice and through fall practice to make those decisions," he said. "So you get 15 opportunities in spring practice to make those decisions, and then you get 29 practice opportunities in the fall to keep making those decisions and finalizing going into fall camp.
"So everything moves fast, but you've got to figure those things out."
Here are some keys to Florida's offense next year.
Run, Driskel, run
[+] Enlarge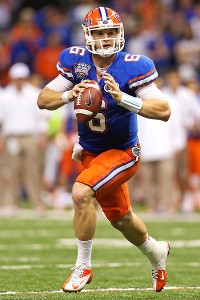 Matthew Stockman/Getty ImagesIt seems likely that Jeff Driskel will run more in Florida's new offense in 2014.
The majority of Roper's success has come in the passing game, but this season at Duke proved he can succeed calling plays in a much more balanced spread offense. Blue Devils quarterback
Brandon Connette
, who started three games this season, has 13 scores on the ground. He and starter
Anthony Boone
have combined to score 17 of Duke's 25 rushing TDs.
Look for the read-option to come back at Florida in 2014. It won't take Roper long to see that Driskel's best success as a college QB came mostly on the ground.
One of former offensive coordinator Brent Pease's goals for 2013 was to get Driskel comfortable as a pocket passer, but it didn't happen in his injury-shortened season. In his two full games, Driskel ran 17 times for just 38 yards (2.2 yards per carry). Then he was hurt a few minutes into Game 3. It was a lost season. But if those first two games were any indication, the Gators weren't planning to use as much of the read-option that Driskel had good success with in teaming with tailback Mike Gillislee in 2012.
Look for Florida to turn Driskel loose, hope he stays healthy and not worry about redshirting incoming freshman
Will Grier
or a possible second QB signee who would likely be a dual-threat athlete.
Pray for the offensive line
This is where it all starts, and there's no doubt Florida has a lot of room for improvement. With
D.J. Humphries
,
Max Garcia
,
Tyler Moore
,
Chaz Green
and
Trenton Brown
, Florida has the makings of a capable line. But only one of those five -- Garcia -- played a full season in 2012. The injury bug hit the OL as hard as any position, so it will be critical for this group to miss as little time as the injury gods will allow. There is some size and talent on the bench, but zero starting experience.
Changing to more of a spread offense should benefit this unit more than any other on the offense, as it struggled mightily in pass protection throughout the last two seasons. The comparative simplicity of zone blocking will also help more of Florida's inexperienced players get on the field sooner. The Gators redshirted three offensive linemen in 2013 and hope to sign four or five more this year.
Another technique -- cut blocking -- could be incorporated next season, depending on Roper's scheme and the yet-to-be-hired offensive line coach. After Florida lost to Georgia Southern in November, Muschamp lamented how the cut block "negates talent" of the defense. In 2014, the Gators might prefer to be on the other side of that equation.
Any receivers who can get open?
This has been one of the most confounding problems at UF since Riley Cooper and Aaron Hernandez thrived as Tim Tebow's favorite targets in 2009. There are plenty of decorated recruits on the roster. The wideouts have had proven position coaches such as Pease and Joker Phillips mentoring them. In steps Roper, who has produced 1,000-yard receivers in four of six seasons at recruiting-challenged Duke. It's time for some of Florida's talented youngsters to step forward and demand the ball, and there is at least one starting job available.
[+] Enlarge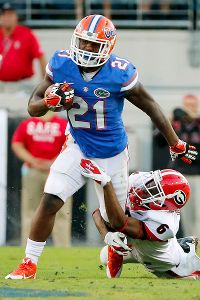 Sam Greenwood/Getty ImagesKelvin Taylor showed plenty of promise as a freshman.
The freshmen who played the most in 2013 --
Ahmad Fulwood
and
Demarcus Robinson
-- have the size to create mismatches. Another freshman who burned his redshirt late in the season,
Chris Thompson
, has plenty of speed. With all of the WR screens Roper likes to call, the Gators will miss senior
Solomon Patton
, a speedy jitterbug who could have thrived in the new offense. Perhaps a replacement can be found in freshman
Alvin Bailey
, who redshirted in 2013.
The tight end position took a huge step backward when Jordan Reed left early after a solid 2012 season. Florida lacked any semblance of a down-the-middle pass-catching threat in 2013, as
Tevin Westbrook
and
Clay Burton
combined for four catches. The Gators have commitments from three TE/H-backs, so don't be surprised if a freshman emerges.
Bigger-play running backs
Tailback is one position that won't keep Roper awake at night, as the Gators have a bevy of talented runners. Florida entered the 2013 season expecting
Matt Jones
to become one of the SEC's best running backs. And while hopes are still very high for Jones, the Gators believe they found another featured back in
Kelvin Taylor
after Jones was lost for the season with a knee injury.
Mack Brown
gives UF a reliable backup, and the coaching staff is excited about the potential of
Adam Lane
, who redshirted last season.
Where Florida's tailbacks can improve is in hitting more big plays. Taylor averaged 4.6 yards a carry and Brown averaged 3.7. But explosive plays are more likely to come from Jones or little-used
Valdez Showers
, who averaged 8.6 yards per carry. The Gators are also hoping to sign a speed back who could play right away and complement the group of grinding runners already on the roster.
May, 6, 2013
5/06/13
10:00
AM ET
FLORIDA GATORS
2012 overall record: 11-2
2012 overall record:
11-2
2012 conference record:
7-1 (2nd Eastern Division)
Returning starters:
Offense: 6; defense: 4; kicker/punter: 1

Top returners
QB
Jeff Driskel
, C
Jonotthan Harrison
, RG
Jon Halapio
, RB/WR
Trey Burton
, DE/DT
Dominique Easley
, CB
Loucheiz Purifoy
, CB
Marcus Roberson
, S
Jaylen Watkins
, P
Kyle Christy
Key losses
RB Mike Gillislee, TE Jordan Reed, DT Sharrif Floyd, S Matt Elam, S Josh Evans, LB Jon Bostic, LB Jelani Jenkins
2012 statistical leaders
(*returners)
Rushing:
Mike Gillislee (1,152 yards)
Passing:
Jeff Driskel* (1,646 yards)
Receiving:
Jordan Reed (559 yards)
Tackles:
Josh Evans (83)
Sacks:
Dominique Easley* (4.0)
Interceptions:
Matt Elam (4)
Spring answers
1. Back in business:
Sophomore
Matt Jones
running back had a fantastic spring and the coaching staff is convinced he'll be a more than capable replacement for Gillislee. The 6-foot-2, 228-pound Jones is a perfect fit for Will Muschamp's power-run offense. He's a straight-ahead, downhill runner, who runs through contact and gets tough yards. The offense will be built around him, especially with the questions surrounding the passing game. Redshirt junior
Mack Brown
and freshman
Kelvin Taylor
, the son of former UF standout running back Fred Taylor, give the Gators solid depth at the position.
2. Lined up:
UF's offensive line made strides in 2012 and it will be even better in 2013. The addition of transfers --
Max Garcia
(Maryland) and
Tyler Moore
(Nebraska) -- gives the Gators a pair of former starters to add to an already solid base with Harrison and Halapio. Plus, sophomore
D.J. Humphries
is an immediate upgrade from
Xavier Nixon
at left tackle. Garcia will start at left guard and pair with Humphries to give Driskel better blind-side protection than he had a year ago.
3. The middle is settled:
With the loss of Bostic and Jenkins, the Gators needed a middle linebacker. The staff moved sophomore
Antonio Morrison
from weakside linebacker, and Morrison showed pretty quickly he was up to the task. He's not the biggest middle linebacker the Gators have had (6-foot-1, 230 pounds), but he is certainly one of the most physical. Morrison hits like he weighs 260 pounds -- just ask 245-pound former FSU quarterback EJ Manuel, whom Morrison leveled last season. Morrison proved he could handle making the defensive calls and he should easily step into the role Bostic held for the past two seasons.
Fall questions
1. Receiver issues ... again:
The Gators have problems at wide receiver and must get better at the position or the offense will again struggle. That's been the case since the 2009 season ended. The latest attempted solution is former Kentucky head coach Joker Phillips. He has coached receivers for 18 seasons at Kentucky (1991-96 and 2003-2009), Cincinnati (1997), Minnesota (1999-2000), Notre Dame (2001) and South Carolina (2002). NFL players Steve Johnson (Buffalo) and Randall Cobb (Green Bay) are among the receivers Phillips worked with during his tenure at Kentucky. He also coached Craig Yeast, Keenan Burton, Dicky Lyons Jr. and Derek Abney, all of whom rank in the top five in school history in career receptions or career receiving yardage. Can Phillips get consistent production out of
Quinton Dunbar
,
Andre Debose
,
Raphael Andrades
,
Latroy Pittman
, Burton or
Solomon Patton
? Can he turn one of the five freshmen -- notably
Demarcus Robinson
or
Ahmad Fulwood
-- into the big-time playmaker the Gators have lacked since Riley Cooper? Zach Azzani, Aubrey Hill and Bush Hamdan have tried and failed.
2. Safety dance:
There's some concern about the Gators' safeties because some of the younger and less experienced players haven't developed as the staff had hoped.
Cody Riggs
and Watkins, who started at corner early last season, will begin August practices as UF's two starting safeties. They have both played there during their UF careers and there are no concerns about those two players, but there are some about
Valdez Showers
,
Marcus Maye
and
Jabari Gorman
. Realistically, the Gators are better off with Riggs and Watkins starting because that gives UF the chance to get its top four defensive backs on the field at the same time instead of working Watkins, Riggs, Roberson, Purifoy and
Brian Poole
in a rotation at cornerback. Still, those other three need to earn more trust from the coaching staff.
3. Just for kicks:
Kickers
Austin Hardin
and
Brad Phillips
struggled throughout the spring. Neither is as reliable or as good from long range as Caleb Sturgis was, but it's the first part that's more important. The offense, especially if the receivers don't get any better, will continue to have a hard time consistently moving the ball. Sturgis was able to bail the Gators out because they needed only to get to the 35-yard line to be in range for a makeable field goal. That mark may have to be the 20 in 2013. Unless Hardin or Phillips makes a major leap this summer, expect the Gators to go with the kicker who practices the best each week.
November, 14, 2012
11/14/12
12:30
PM ET
Florida coach Will Muschamp said during Wednesday's SEC coaches call that starting quarterback
Jeff Driskel
is
out for Saturday's game with Jacksonville State
.

Driskel suffered an ankle injury in Florida's 27-20 win against Louisiana-Lafayette last Saturday and was listed as doubtful at the beginning of the week. Driskel has been in a walking boot and on crutches this week, so no one should be surprised at the news. Muschamp added that Driskel wasn't going to be able to practice on Wednesday.
And since he can't practice on Wednesday, he won't play Saturday, Muschamp said. Fellow sophomore
Jacoby Brissett
will get the start against the Gamecocks.
"I have a lot of confidence in Jacoby, and this is his opportunity," Muschamp said. "I'm looking forward to seeing him play."
Muschamp said Driskel's ankle injury was a "day-to-day" issue and he wasn't sure if he'd be available for next week's game against No. 10 Florida State in Tallahassee.
Driskel's injury puts Florida's offense in an awkward situation. Obviously, the offense has to go on, but Driskel and his receivers need all the time on the field they can get. Florida's passing game has really taken some steps back in the past few weeks, and heading into the FSU game without Driskel in the lineup does nothing for generating better chemistry.
He'll have to really be on those mental reps in practice.
Muschamp also said three other players are out for Saturday's game: wide receiver
Andre Debose
(knee), safety
De'Ante Saunders
(knee) and linebacker
Neiron Ball
(ankle).
Muschamp also said defensive back
Valdez Showers
and offensive lineman
Ian Silberman
are questionable with shoulder injuries. Offensive linemen
Xavier Nixon
and
James Wilson
are both probable with knee injuries.
Muschamp comments on Floyd
A USA Today story concerning defensive tackle
Sharrif Floyd
's
adoption by Kevin Lahn
last year has raised questions outside of Florida's football program about his eligibility, but Muschamp said he was aware of everything going on and was "absolutely never concerned about any eligibility issues" surrounding Floyd's situation, and never thought what Floyd or Lahn did was wrong.
"Sharrif's a fine young man," Muschamp said. "Everything is above board that the University of Florida has handled in Sharrif and Kevin Lahn. What is wrong with someone caring about someone else? What is so bad about that is my question. The young man has done nothing wrong. My statements speak for themselves in what I said a year ago, and I stand by it today."
April, 26, 2011
4/26/11
4:55
PM ET
The loss of senior cornerback Janoris Jenkins, who was
dismissed from the team Tuesday
, leaves a major hole in Florida's already inexperienced secondary.
Let's face it: Jenkins was Florida's best defensive player and arguably the Gators' best player overall. So, it took a lot of guts for Florida coach Will Muschamp to dismiss him.
[+] Enlarge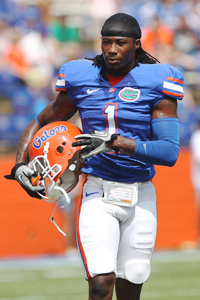 Kim Klement/US PresswireSenior corner Janoris Jenkins was dismissed from the Gators after his second drug-related arrest in three months.
Jenkins, a three-year starter, was named to the All-SEC first team by the Associated Press in 2010 and held the SEC's top two receivers from 2010 -- South Carolina's
Alshon Jeffery
and Alabama's
Julio Jones
-- to a combined 10 catches for 72 yards in two games.
He seemed to take his entire side of the field out of play and had eight career interceptions.
So where does Florida turn now that Jenkins is gone?
Florida now turns to sophomore Cody Riggs, redshirt junior Jeremy Brown and fifth-year senior Moses Jenkins to carry its secondary.
Fortunately, they all received quality reps in practice after Janoris Jenkins missed all of spring practice recovering from shoulder surgery.
None of Florida's immediate options has a lot of experience, but Brown and Riggs did play extensively in 2010.
Brown, who missed his first two seasons at Florida because of a severe back injury, started 10 of the 11 games he appeared in last season. He recorded three interceptions, including one that went 52 yards for a touchdown.
Riggs played in all 13 of Florida's games in 2010, starting three, and recorded one interception.
Moses Jenkins started Florida's season opener, but missed most of the rest of the season with an elbow injury. He returned on Nov. 20 against Appalachian State and started in Florida's 31-7 loss to Florida State -- a game in which FSU quarterback
Christian Ponder
picked on him.
Then there's sophomore Jaylen Watkins, who appeared in 10 games last season, but mostly on special teams.
Of those four, Riggs and Brown could be the best options at the two corner spots for Florida. Brown was impressive at times last year and didn't seem to be bothered by his back, but he occasionally looked like a player who had been out of football for two years by getting turned around on deep plays.
Riggs was a pleasant surprise for the Gators last season, earning more playing time throughout the season, but he was picked on from time to time. In his defense, he was fresh out of high school and going up against SEC talent.
Moses Jenkins has the most experience, but a concussion in 2009 and an elbow injury in 2010 have really impacted his career.
After that, Florida will have to look at its incoming freshmen for help.
Florida signed four potential corner prospects in its 2011 recruiting class. One of those signees -- De'Ante Saunders -- went through spring practice, but struggled at times and was listed as a backup in the nickel corner spot.
Former Fort Lauderdale, Fla., St. Thomas Aquinas standout Marcus Roberson probably has the most skill of Florida's defensive back signees, but with his size he could potentially move to safety. This recent development could force Florida's coaches to keep him at cornerback longer than expected.
Signees Louchiez Purifoy and Valdez Showers were two of Florida's most athletic recruits in this class, but are pretty raw at the corner position. It would be hard to believe Florida's coaches would expect either to be able to contribute at the corner spot early for the Gators.
There is talent there, but it clearly lacks experience. It says a lot about Muschamp to kick a player off with Janoris Jenkins' ability, especially considering the bind his secondary is now in.
SEC SCOREBOARD
Saturday, 12/27
Saturday, 12/20
Monday, 12/22
Tuesday, 12/23
Wednesday, 12/24
Friday, 12/26
Monday, 12/29
Tuesday, 12/30
Wednesday, 12/31
Thursday, 1/1
Friday, 1/2
Saturday, 1/3
Sunday, 1/4
Monday, 1/12
Tweets from https://twitter.com/ESPNCFB/lists/sec