November, 25, 2013
11/25/13
2:00
PM ET
Good luck finding a rivalry in college football as deep-rooted, passion-filled and polarizing in one state as the Iron Bowl.
Alabama and Auburn get it on every year in late November, and they spend the remaining 364 days in that state reliving the game.
It's not just football. It's life.
And while it's a rivalry that has spawned scores of legendary names, games, moments and memories, it has been a while since an Iron Bowl has meant more for both sides going into the game than the one that will be played Saturday afternoon on the Plains.
[+] Enlarge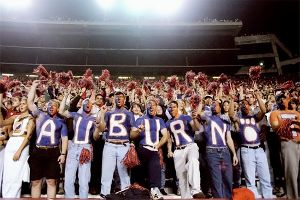 Elsa Hasch/Getty ImagesThe anticipation for Saturday's Iron Bowl on The Plains is palpable.
It's only the second time in Iron Bowl history that both teams have been ranked in the top five nationally. Alabama is No. 1 and Auburn No. 4 in the latest BCS standings.
The only other time came in 1971, when Alabama entered the game No. 3 in the Associated Press poll and Auburn was No. 5. The Crimson Tide rolled the Tigers and Heisman Trophy winner Pat Sullivan 31-7 that day to capture the SEC championship.
The buildup to that game was obviously huge, especially with both teams being unbeaten and Sullivan being announced as the Heisman winner on Thanksgiving night, two days before the game.
The same goes for the 1989 game, which was the first Iron Bowl to be played at Auburn. Previously, the game had always been played in Birmingham at Legion Field, and there are a lot of Auburn people who will tell you that there will never be a more important game in the series for them than that 1989 affair.
Of course, it helped that the Tigers beat the No. 2 Crimson Tide 30-20 in Auburn's Jordan-Hare Stadium to earn a share of the SEC championship along with Alabama and Tennessee.
One of the strangest Iron Bowls was played in 1993, when Auburn was on probation after being hit with NCAA sanctions. The game couldn't be shown on television. So other than those at Jordan-Hare Stadium that day, the only people who saw Auburn's 22-14 win were the 40,000 or so fans who watched the game on closed-circuit television at Bryant-Denny Stadium on Alabama's campus. Auburn's victory completed an 11-0 season under first-year coach Terry Bowden.
The game in 2010 will go down as the most electrifying comeback in the series. Cam Newton and Auburn rallied from 24 points down to win 28-27 in Tuscaloosa and save the Tigers' national championship season.
Legendary names on both sides have left their mark in this series.
Ken Stabler's Run in the Mud in 1967 will never be forgotten, nor will Bo Jackson's going over the top in 1982 to beat Alabama in what was Bear Bryant's last Iron Bowl.
Perhaps the most stunning finish came in the 1972 Punt, Bama, Punt game. Auburn's Bill Newton blocked a pair of punts in the fourth quarter and both were returned for touchdowns by David Langner to give Auburn a 17-16 win over No. 2 Alabama.
It's hard to find a more thrilling game than the 1985 classic. Van Tiffin booted a 52-yard field goal in the closing seconds to give Alabama a 25-23 win. There were four lead changes in the fourth quarter alone.
So as we try to put into perspective where Saturday's game ranks in the annals of this storied rivalry, we could go on endlessly talking about the memorable players, plays and games that the Iron Bowl has provided.
But in terms of stakes for both teams, I'm not sure we've seen anything quite like this.
Alabama is chasing history and looking for a third straight national championship, something that hasn't happened in the modern era.
Imagine the thrill for Auburn to be able to end the Crimson Tide's historic run right there on the Plains, especially when you consider the way Auburn was reeling this time a year ago.
The Tigers were putting a miserable 3-9 season to bed in which they closed out their SEC schedule with a 38-0 blowout loss to Georgia and an even more lopsided 49-0 loss to Alabama.
Now, a year later, here they are going toe-to-toe with Alabama, with the SEC's Western Division title on the line. Not only that, but Auburn could thrust itself right into the middle of the national championship picture with a win, especially if Florida State or Ohio State stumbles in these next two weeks.
For a rivalry that has given college football junkies just about everything we could ask for over the years (and then some), this game Saturday might be the most anticipated yet because of what it means to both sides.
Let's hope the game can match the stakes.
August, 5, 2010
8/05/10
11:00
AM ET
By
ESPN.com staff
| ESPN.com
You asked for it. Well, you get it.
As ESPN.com continues with its countdown of the 50 most-painful outcomes in college football history, I've come up with the most agonizing loss for each SEC team. Some of these games have already been featured in the
House of Pain countdown
, and some may still be yet to come.
This is going to be painful for some of you, but here goes:

ALABAMA
Notre Dame 24, Alabama 23 (Sugar Bowl); Dec. 31, 1973:
It was perhaps the most hyped game in Alabama's storied history with two coaching giants -- Bear Bryant and Ara Parseghian -- going head-to-head in a classic duel. But the No. 1-ranked Crimson Tide lost a heartbreaker, ending their perfect season. They had already won the UPI national championship, but the Irish vaulted to No. 1 in the AP poll.

ARKANSAS
Texas 15, Arkansas 14; Dec. 6, 1969:
It was dubbed the 'Game of the Century." Texas was No. 1 and Arkansas No. 2. President Richard Nixon was in the stands that night at Razorback Stadium, and the Hogs built a 14-0 lead. But the Longhorns rallied with quarterback James Street completing an improbable 44-yard pass to tight end Randy Peschel on a fourth-and-3 play to set up the winning touchdown. Street, a wishbone quarterback, had only thrown 80 passes all season.

AUBURN
Alabama 25, Auburn 23; Nov. 30, 1985:
In Bo Jackson's final SEC game, Alabama's Van Tiffin kicked a 52-yard field goal with six seconds left to send the No. 7-ranked Tigers reeling in the 50th Iron Bowl. The Crimson Tide streaked downfield with no timeouts remaining and less than a minute on the clock to get in field goal range. There were four lead changes in the fourth quarter alone.

FLORIDA
Georgia 27, Florida 10; Nov. 5, 1966:
The Gators, led by senior quarterback Steve Spurrier, were ranked No. 7 nationally and unbeaten, but were no match for arch-rival Georgia that day in Jacksonville. The Gators' SEC championship hopes were derailed, and they had to wait until 1991 to win their first SEC title, Spurrier's second year as coach at his alma mater. Spurrier still hasn't forgiven the Bulldogs.

GEORGIA
Penn State 27, Georgia 23 (Sugar Bowl); Jan. 1, 1983:
The No. 1-ranked Bulldogs were on the doorstep of a second national championship and unblemished season in three years, but fell behind 20-3 to the Nittany Lions and could never catch up. Heisman Trophy winner Herschel Walker played his final game for the Bulldogs and didn't have a run that was longer than 12 yards. In the 36 games that Walker played for Georgia, the Bulldogs lost only three times.

KENTUCKY
Tennessee 7, Kentucky 0; Nov. 25, 1950:
Bear Bryant's No. 3-ranked Wildcats lost a chance at an undefeated season and outright national championship in the regular-season finale, dropping a heartbreaking 7-0 decision to the Vols after a winter storm hit Knoxville and dumped 10 inches of snow on the ground the morning of the game. The loss stung even more after Kentucky went on to defeat No. 1-ranked Oklahoma in the Sugar Bowl and snap the Sooners' 31-game winning streak.

LSU
Tennessee 14, LSU 13; Nov. 7, 1959:
One week after Billy Cannon's historic punt return for a touchdown to beat Ole Miss on Halloween night, No. 1-ranked LSU was upset at Tennessee when Cannon was stopped at the goal line on a two-point conversion attempt in the fourth quarter. Cannon claims to this day that he got in. The loss ended the Tigers' 19-game winning streak and their hopes of a second consecutive national championship.

MISSISSIPPI STATE
Tennessee 24, Mississippi State 14; Dec. 5, 1998:
It's the closest the Bulldogs have come to winning an SEC championship in the modern era. They led No. 1-ranked Tennessee 14-10 late in the fourth quarter in what remains Mississippi State's only trip to the SEC championship game. But the Vols got a pair of touchdown passes from Tee Martin 28 seconds apart to escape and go on to win the national championship that season.

OLE MISS
LSU 7, Ole Miss 3; Oct. 31, 1959:
Billy Cannon's Halloween magic on an 89-yard punt return for a touchdown spoiled what could have been one of the greatest seasons in Ole Miss history. It's the only game the Rebels lost all season, and they only gave up 21 points in 11 games. They wound up beating LSU in a Sugar Bowl rematch, but lost out on a chance to win the outright national championship when they couldn't get Cannon on the ground two months earlier.

SOUTH CAROLINA
Navy 38, South Carolina 21; Nov. 17, 1984:
If ever there was proof that the "Chicken Curse" really exists, it's that dreary November day in Annapolis, Md., 26 years ago. The No. 2-ranked Gamecocks were unbeaten and on their way to playing for a national championship, but were inexplicably upset by a Navy team that finished 4-6-1 that season. The Gamecocks had a chance earlier in the week to lock in a Sugar Bowl berth (win or lose) if they would commit, but they were holding out for the Orange Bowl. They wound up tumbling to the Gator Bowl and were beaten by Oklahoma State.

TENNESSEE
LSU 31, Tennessee 20; Dec. 8, 2001:
Tennessee's program hasn't been the same since. The Vols were coming off an epic win over Florida in a game that was moved to the end of the season because of the 9/11 terrorist attacks and were all set to face Miami in the Rose Bowl and play for their second national championship in four years. But they couldn't get past LSU in the SEC championship game. The Tigers rallied from 10 points down and won despite losing their starting quarterback and starting running back to injuries during the game.

VANDERBILT
Tennessee 20, Vanderbilt 17; Dec. 1, 1973:
Leading No. 19-ranked Tennessee 17-13 with less than two minutes left in rain-soaked Neyland Stadium, Vanderbilt punter Barry Burton, an eventual All-American at tight end, dropped the snap. The Vols recovered inside the 40 and scored the winning touchdown in the waning seconds. The Commodores, under first-year coach Steve Sloan, missed out on their chance to become bowl eligible for the first time in 18 years and finished 5-6.
SEC SCOREBOARD
Saturday, 12/20
Monday, 12/22
Tuesday, 12/23
Wednesday, 12/24
Friday, 12/26
Saturday, 12/27
Monday, 12/29
Tuesday, 12/30
Wednesday, 12/31
Thursday, 1/1
Friday, 1/2
Saturday, 1/3
Sunday, 1/4
Monday, 1/12
Tweets from https://twitter.com/ESPNCFB/lists/sec