September, 11, 2014
Sep 11
4:30
PM ET
COLLEGE STATION, Texas -- Even though its season-opening win over South Carolina was a smashing success, Texas A&M still showed flaws in its 52-28 rout of the Gamecocks.
They most noticeable one turned up in the secondary on the night of Aug. 28, as the Aggies yielded 366 passing yards, a total that included two blown coverages that resulted in 69- and 46-yard touchdown passes.
Taking into account that their next opponent was much weaker than its first one, Texas A&M did show some improvement in that area in a 73-3 win over FCS foe Lamar on Saturday. And when reigning Conference USA champion Rice comes to town in a couple days, the Aggies will have more chances to see how their secondary has progressed.
Still, there are signs of optimism for the group. True freshman
Armani Watts
has been a pleasant surprise, sliding into the free safety position and immediately becoming a playmaker. In the season opener, he broke up two passes, including one that would have been a touchdown. He also intercepted a pass.
"Armani has been a pleasant surprise back there," defensive coordinator Mark Snyder said. "I think [secondary coach] Terry [Joseph] has done a good job of getting across the message that we need to become more physical, disciplined, all those things. "
Watts is providing quality play at a position the Aggies sorely needed after they struggled at free safety in 2013. Big plays being given up were a routine occurrence, and Joseph is working on making sure that isn't happening this fall.
Both Snyder and Kevin Sumlin have been pleased with what their new secondary coach has done so far.
"Terry is very detailed-oriented," Snyder said. "He not only talks about the secondary, but he'll also talk about what's going on up front at the linebacker position, what's going on up front with the D-line, to give a broader perspective of what the whole defense is about, not just doing 'my role' or 'my job.' As kids get older, that's the way it should be. We've had to play catch-up there, but as time goes on, you see that maturation."
The unit is not operating with a full deck, either. Junior cornerback
De'Vante Harris
has been out nursing an injury he suffered during preseason training camp so redshirt freshman
Victor Davis
has had to slide into his position opposite senior corner
Deshazor Everett
.
Howard Matthews
continues to patrol strong safety, but the Aggies have added depth across the secondary thanks to their 2014 recruiting class and emerging veterans like
Devonta Burns
, who is the team's primary nickel back.
Allowing only 153 passing yards and not allowing any big pass plays was a sign of progress last week in the win over Lamar.
"There weren't a lot of guys [who] cut loose and were running free; we challenged routes," Sumlin said. "You've got to say there was at least some improvement from a week ago when we had a busted coverage for a touchdown and a bad eye violation with Howard for a touchdown."
Eye discipline will be tested further this week when Rice arrives. The Owls will use play action passing regularly so it'll give the Aggies an opportunity to see how they've progressed. But so far, Snyder is pleased with what he is seeing.
"I think Terry has done a good job of getting across the message that we need to become more physical, disciplined, all those things," Snyder said. "We're playing a little bit of catch-up there. I've been pleased with the progress of those guys. We'll see a lot more over the next couple of weeks where we're at."
August, 1, 2014
Aug 1
12:00
PM ET
COLLEGE STATION, Texas -- Texas A&M begins preseason training camp today. In about four weeks, they'll take the field at South Carolina to open the 2014 season. Here are some things to watch throughout camp:
[+] Enlarge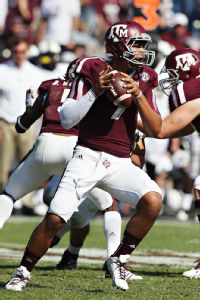 Bob Levey/Getty ImagesFormer three-star recruit Kenny Hill, a sophomore, played in five games last season. Could he be the successor to Johnny Manziel?
1. The quarterback battle:
Kenny Hill
or
Kyle Allen
? That's the question that has been asked and will continue to be until coach Kevin Sumlin and offensive coordinator/quarterbacks coach Jake Spavital make a decision on who the starting quarterback will be on Aug. 28 at South Carolina. Hill, a sophomore, has slightly more experience after seeing some playing time in a backup role last season. Allen, the true freshman, enrolled early in January to catch up. Allen had a solid spring, as did Hill until an arrest for public intoxication caused him to miss the final two scrimmages and the final week of spring practice. But both players were told they were on even footing entering summer 7-on-7 workouts. How much each has progressed in the past three months will be displayed early on in training camp. Expect a decision midway through August.
2. Defensive line depth:
The Aggies lost two starting defensive linemen for off-the-field reasons: defensive end Gavin Stansbury (left team for personal reasons) and defensive tackle Isaiah Golden (dismissed after two arrests). For a team that struggled to stop the run last season, that doesn't help as the unit tries to find the quality depth necessary to succeed in the SEC. Fortunately for the Aggies, they get two players who missed spring football because of injuries back for training camp -- sophomore defensive ends
Jay Arnold
and
Daeshon Hall
, both of whom saw playing time last season. There are also several veterans (
Julien Obioha
,
Alonzo Williams
,
Tyrell Taylor
) and youngsters (
Hardreck Walker
,
Justin Manning
,
Zaycoven Henderson
) not to mention a few incoming recruits to help the unit, but the Aggies have to find answers quick to improve on a disastrous 2013.
3. Safety play:
Sumlin hasn't been shy about saying it and it's true: the Aggies have to get better play from their safeties. They return three players who started last season --
Howard Matthews
,
Floyd Raven
and
Clay Honeycutt
. Matthews got positive reviews from defensive coordinator Mark Snyder in the spring. Keep an eye on
Devonta Burns
, who saw time in the spring at safety and nickel cornerback, as someone who could be in the mix. And an influx of 2014 recruits could help here as well.
4. Fabulous freshmen:
The Aggies' 2014 class was a top-five haul for a reason. They brought in some big-time talent, so don't be surprised if some of those freshmen make waves quickly in camp. Receiver
Speedy Noil
already impressed in the spring and will look to build on that this month. Five-star defensive end
Myles Garrett
is the highest-ranked player nationally the Aggies have signed since Reggie McNeal in the 2002 class. With depth concerns on the defensive line and Garrett's college-ready physique, it's safe to say he'll find a way on the field in short order. Henderson, who was an early enrollee, likely figures into the rotation at defensive tackle. And of course, all eyes are on Allen at quarterback to see if he can win the starting job.
5. Right side of the O-line:
Sophomore
Germain Ifedi
, who started all of 2013 at right guard, saw much time at right tackle during spring drills and is listed as the starter there heading into camp. If that holds, the battle on the offensive line -- a unit that returns four of five starters -- will likely be at right guard where
Joseph Cheek
saw first-team action and junior college transfer
Jermaine Eluemunor
saw second-team work in spring. Veteran guard and starter
Jarvis Harrison
, who missed spring because of shoulder surgery, should be ready to go at left guard. He has a capable backup behind him in
Garrett Gramling
, who started two games last season and saw virtually all the first-team work at left guard this spring. Left tackle (
Cedric Ogbuehi
) and center (
Mike Matthews
) is set in stone.
A few other notes:
" Redshirt freshman cornerback
Victor Davis
, who was arrested on a shoplifting charge in his hometown of Rosenberg, Texas, last month, is still serving an indefinite suspension. Sumlin said on Wednesday that Davis still has some things to do internally in order to get back in the team's good graces.
" Sumlin noted that every one of the class of 2014 recruits is qualified academically and on campus.
Kealvin "Tank" Davis
, the Aggies' offensive tackle recruit from Garland (Texas) Lakeview Centennial, was the last player Texas A&M was waiting on in that regard and he arrived on campus Wednesday and will be ready to go. This is the second consecutive year the Aggies have not lost a signee to qualification issues (the 2013 class only had one player who didn't make it to campus, Kohl Stewart, who was a first-round pick in the MLB draft).
" The Aggies will practice in helmets only Friday and Saturday, have meetings only on Sunday (no practice), helmets and shoulder pads on Monday and Tuesday and they'll have their first full-padded practice on Wednesday. Thursday will be their first two-a-day practice followed by a single practice on Aug. 8, then a scrimmage on Aug. 9.
July, 25, 2014
Jul 25
3:45
PM ET
Another week, another off-field incident. That is the way it has been this offseason in the SEC, and this past week was no different.
Texas A&M suspended cornerback
Victor Davis
after he was arrested and charged with shoplifting, and defensive end Gavin Stansbury, who was arrested in April, left the team for personal reasons.
At Georgia, Mark Richt dismissed yet another player a day after defensive lineman Jonathan Taylor was arrested for aggravated assault.
These incidents are just the latest in what has been a troubling offseason for the SEC. With media days behind us and fall camps about to begin, we want to know which team's offseason issues will present the greatest on-field questions for this season.

In Tuscaloosa, the media's pick to win the SEC has had its fair share of off-field incidents.
Dillon Lee
and
Jarran Reed
were both arrested for driving under the influence,
Altee Tenpenny
was caught with marijuana, and
Kenyan Drake
was arrested for disobeying a police officer. None of the players involved has been dismissed, but this is becoming both a problem and a distraction for Alabama.
Across the state, Auburn is still trying to figure out what to do with quarterback
Nick Marshall
. The potential Heisman Trophy contender was given a citation for possession of marijuana this month, but will he miss any time as punishment? To make matters worse, teammate
Jonathon Mincy
was arrested for the same thing, possession of marijuana, just two weeks prior.
The school that has been in the news the most this offseason is Georgia. Four players were arrested in March for theft by deception. Two of those four, Taylor and
Tray Matthews
, were later dismissed for separate incidents. A third,
Uriah LeMay
, opted to transfer. Back in February, safety
Josh Harvey-Clemons
also was dismissed from the program following multiple violations of team rules.
At Missouri, it was three strikes and you're out for star wide receiver
Dorial Green-Beckham
. The sophomore was arrested for the second time on drug-related charges in January, and after being involved in an altercation with his girlfriend in April, he was dismissed from the team. Green-Beckham has since joined Oklahoma.
Lastly, there is Texas A&M, which has not seen any decline in off-field distractions since quarterback Johnny Manziel left. Quarterback
Kenny Hill
was arrested in March for public intoxication. Two months later, head coach Kevin Sumlin dismissed a pair of key defenders -- Darian Claiborne and Isaiah Golden -- after they were arrested and charged with aggravated robbery. Then the news broke this week with Stansbury's departure and the suspension of Davis.
August, 28, 2013
8/28/13
9:00
AM ET
COLLEGE STATION, Texas -- Texas A&M held its regularly scheduled weekly news conference on Tuesday in advance of its season opener against Rice on Saturday. While many wonder about the status of quarterback Johnny Manziel, there are other things to keep an eye on. Here are five storylines facing the Aggies as they await the Owls at Kyle Field:
1. Will Manziel play?
That's what Texas A&M fans and much of the college football wants to know: will Heisman Trophy winner Johnny Manziel start on Saturday for Texas A&M? The question remains unanswered officially. Athletic director Eric Hyman released a statement on Monday evening indicated that he instructed the coaching staff and players to not comment on Manziel's status. When Kevin Sumlin was asked about it on Tuesday he said "We're not discussing that....I can't talk about how that decision is going to be made and what goes into that decision. I said from day one, the first day [of training camp], that there will be a lot of people involved in that decision. So what goes into how that decision's made, obviously I can't discuss." So for now, the wait continues.
[+] Enlarge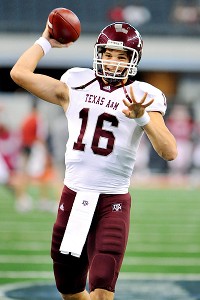 Icon SMIIf defending Heisman Trophy winner Johnny Manziel is held out Saturday against Rice, it could be up to junior Matt Joeckel to lead the Aggies.
2. What if Manziel doesn't play?
At this point, the Aggies turn to either junior Matt Joeckel or true freshman Kenny Hill. Both received praise from coaches and teammates alike on Tuesday. Senior running back Ben Malena said he believes the team will be comfortable with whoever is taking snaps on Saturday. Offensive coordinator Clarence McKinney said offensively, the Aggies would still remain the same. Joeckel brings the presence of a pocket passer who has already spent a year learning the offense while Hill is a dual threat who can run and throw and has had to learn the offense quickly. But on Tuesday, the Aggies appeared confident in both of them should either be pressed into duty.
3. New faces
Sumlin advised fans attending Saturday's game to "buy a program or bring a flip card," because of how many newcomers will see time on the field. Of the 31 players who signed with the Aggies in February, Sumlin said he expects at least 10 to play a role this season, and perhaps as many as 15. Some of the notable newcomers to look for on Saturday include freshmen receivers Ricky Seals-Jones and LaQuvionte Gonzalez, tight end Cameron Clear, who was a juco transfer, linebacker Tommy Sanders -- also a juco transfer -- and true freshman linebacker Shaan Washington. Look for even more newcomers to get looks on special teams, including some of the aforementioned names.
4. Missing personnel
There are suspensions facing three defensive players: senior defensive tackle Kirby Ennis, junior cornerback Deshazor Everett and junior safety Floyd Raven, all three of whom had off-the-field legal trouble this offseason. Ennis and Raven will miss the entire game; Everett will miss a half. Ennis is a starter, so that means you could see a true freshman -- either Isaiah Golden or Hardreck Walker -- in his place when the Aggies go to four defensive linemen. In place of Everett, also a starter, defensive coordinator Mark Snyder said that the Aggies will rotate cornerbacks. Expect to see a heavy dose of Tramain Jacobs but possibly some freshmen such as Alex Sezer, Victor Davis or Tavares Garner as possibilities.Raven isn't listed as the starter at free safety like he was coming out of spring football. Instead, it's junior Clay Honeycutt, who Snyder was complimentary of on Tuesday. Honeycutt, a former high school quarterback at Dickinson (Texas) High, has come a long way according to Snyder and has earned himself the start against Rice.
Also of note, running back Brandon Williams [foot surgery] might be limited. Offensive coordinator Clarence McKinney said "I wouldn't expect to see a lot from Brandon on Saturday."
5. Familiar foes
The Aggies and Owls haven't met on the field since the Southwest Conference folded in 1995, as both teams were part of the now-defunct league, but the coaching staffs do have recent history. David Bailiff is in his seventh season at Rice, a rival of Houston, where Sumlin was the head coach for four seasons (2008-2011). Snyder also stood on a sideline opposite Bailiff when Snyder was the head coach at Marshall from 2005-09. Sumlin's staff also recruited Rice starting quarterback Taylor McHargue when Sumlin was with the Cougars. So there is plenty of familiarity, at least in terms of coaching staffs, between the two squads.
SEC SCOREBOARD
Saturday, 12/20
Monday, 12/22
Tuesday, 12/23
Wednesday, 12/24
Friday, 12/26
Saturday, 12/27
Monday, 12/29
Tuesday, 12/30
Wednesday, 12/31
Thursday, 1/1
Friday, 1/2
Saturday, 1/3
Sunday, 1/4
Monday, 1/12
Tweets from https://twitter.com/ESPNCFB/lists/sec