September, 30, 2014
Sep 30
12:30
PM ET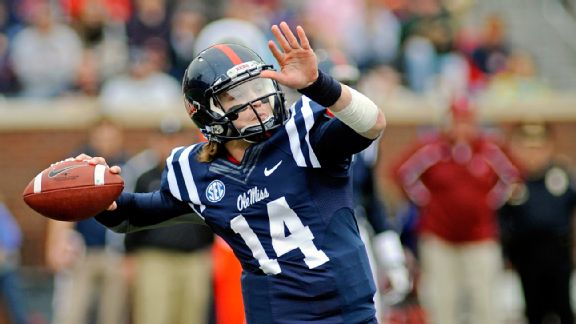 Thomas Graning/AP ImagesBo Wallace's impressive QBR numbers suggest he could lead the Rebels to a win at home.
Ole Miss
could be embarking on one of the most successful seasons in the program's history.
The Rebels are 4-0 for the first time since 1970 and have a top-10 ranking in the Associated Press poll for only the second time
in the past 44 years
. To top it off, ESPN's "College GameDay" crew is headed to the Grove for the
first time in the pregame show's histor
y, as the Rebels host
Alabama
in one of the most important games ever played in Oxford.
Since Alabama has won the past five meetings between these teams by a combined score of 155-34, many may be writing this game off as one of those early season tests the Tide tends to pass with ease.
Anyone with that mindset would do well to reconsider.
June, 27, 2014
Jun 27
3:00
PM ET
We continue our
"most important game" series
, which looks at the most important game for each SEC team in 2014. These are the games that will have the biggest impact on the league race or hold special meaning for one of the teams involved. Today, we take a look at Ole Miss.
Most important game:
Nov. 1 vs Auburn


Key players:
Every time you think about this Ole Miss team, you usually always come back to quarterback
Bo Wallace
. He's had his issues with injury and inconsistency since he arrived in Oxford. But he and Ole Miss' staff are hoping this season is different. For the first time in years, Wallace's shoulder isn't bothering him, which should help with the velocity and accuracy of his passes. Against a very athletic Auburn front, Wallace will have to be at his best when it comes to managing plays out of the backfield.
What will help him is the fact that he has one of the SEC's freakiest athletes at wide receiver in sophomore
Laquon Treadwell
. With Donte Moncrief gone, Treadwell will have even more on his plate. The good news is that the's more than capable of dealing with all that responsibility and attention. After all, he led Ole Miss with 72 receptions last year. Treadwell won't be on his own, though.
Keep an eye on receivers
Vince Sanders
and
Quincy Adeboyejo
; Hugh Freeze believes they could have breakout seasons this fall. Add in tight end
Evan Engram
, and the Rebels should have a formidable passing attack against a more seasoned secondary.
One way to make sure that passing game goes well is for left tackle
Laremy Tunsil
to protect Wallace. Whether Auburn defensive end
Carl Lawson
is healthy or not might not matter with the talent the Tigers have up front, so Tunsil will be pretty busy. So will defensive end
C.J. Johnson
, who brings back the pass-rushing dynamic the Rebels lost when he left last season with a season-ending leg injury. If you want to stop Auburn's offense, you have to get to the quarterback and disrupt the zone-read. That will be Johnson's job.
Containing Auburn's running backs will be very important, too, meaning defensive tackle
Robert Nkemdiche
will have to clog things up front, and safety
Cody Prewitt
will have to play more in the box, while also watching quarterback
Nick Marshall
's arm. He should get help from fellow safeties
Trae Elston
and
Tony Conner
in that department, along with linebacker
Serderius Bryant
, who can act like a spy against Marshall.
Why it matters:
Freeze said this spring that he didn't think he'd be prepared to talk about bowl games until his third year with the Rebels. Well, that went out the window when he took Ole Miss bowling in his first year. He did it again last year, and now has even higher expectations in Year 3. Ole Miss has some depth issues along its offensive line and at receiver, but there is enough overall talent for the Rebels to make a legitimate run at the SEC West title. That's why getting a victory over reigning SEC champ Auburn is so important. If the Rebels are going to take that next step as a program, they need a win like this. Take down one of the big boys and you'll get real respect in this league. A win such as could unload momentum for the Rebels and it will be crucial for their race in the West.
May, 23, 2014
May 23
1:30
PM ET
Despite
a difficult schedule
in 2014, Ole Miss could pose a real threat in the SEC West this fall. The freshman phenoms are back for Year 2, and quarterback
Bo Wallace
, who threw for 3,346 yards a year ago, is the league's top returning passer.
We caught up with co-offensive coordinator/quarterbacks coach Dan Werner to see how the Rebels progressed during the spring and where they're at offensively.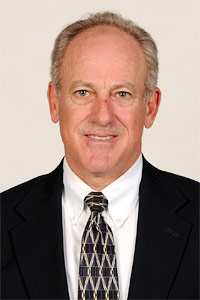 Courtesy of Ole MissOle Miss offensive coordinator Dan Werner believes the Rebels have much better depth heading into the 2014 season.
How'd you believe the offense came along during spring practice?
Werner:
The thing that I'm really pleased about is our depth at basically all positions other than the offensive line. We're a little thin there. But we have two backup quarterbacks that are going to battle it out that we feel good about. We've got three or four running backs that we feel good about. Probably four or five to six wide receivers along with some young guys coming in, true freshmen we feel like can help. I feel like we're at a much better spot now than we were last year and definitely than the year before.
How about wide receiver? How do you replace a guy like Donte Moncrief?
Werner:
Laquon Treadwell
, who played the slot for us last year as a true freshman, has moved outside to take Donte [Moncrief's] place and really looked good in the spring. I feel like he could be a dominant guy out there.
Vince Sanders
was banged up most of the spring, but he had a great year last year so we know he's going to be a player. We just have to get him back healthy, which he is now.
Quincy Adeboyejo
had a really good spring. [He's] another kid who was a true freshman last year -- saw some playing time, not a whole lot, but really came on by the end of the year and had a really good spring. Then we've got a bunch of backups that played well, along with the young guys coming in.
In a league with a lot of new faces at quarterback, how nice is it to have Bo back?
Werner:
It's big. Last year at this time, he was still coming off his surgery, so we weren't even sure how he was going to be able to throw. The year before that, he hadn't even won the job yet. So even though he's been a two-year starter going on his third year, this is the first year that he's really come in knowing he's the guy. Instead of learning or trying to work on his throwing, we're taking it to that next-level stuff.
March, 5, 2014
Mar 5
9:00
AM ET
Schedule:
The Rebels opened practice Tuesday evening. Friday and Saturday practices will be open to the public throughout the spring, beginning with a morning workout on March 7. Other open practices include March 21, March 28, March 29, April 4 and the Grove Bowl on April 5 at 1 p.m. ET inside Vaught-Hemmingway Stadium.
What's new:
Yet again, coach Hugh Freeze was able to keep his staff intact. The expectations, however, are a bit higher in Year 3 of the Freeze era in Oxford.
[+] Enlarge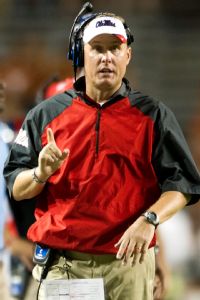 Cooper Neill/Getty ImagesExpectations are higher in Year 3 for Hugh Freeze and Ole Miss.
On the move:
Defensive end
Channing Ward
will work at tight end for the Rebels this spring. Sophomore running back
Kailo Moore
is moving from running back to cornerback. Defensive tackle
Carlton Martin
is moving to offensive guard. Cornerbacks
Quintavius Burdette
and
Quadarias Mireles
are moving to slot receiver. Defensive back
Chief Brown
will work at the hybrid husky spot.
D.T. Shackelford
, who played both linebacker and defensive end last year, is moving to middle linebacker and
Laquon Treadwell
is moving from inside receiver to the outside spot.
On the mend:
Offensive lineman
Aaron Morris
, who is coming off of a torn ACL he suffered last season, will be limited this spring. Fellow offensive lineman Christian Morris is out for the spring after undergoing surgery to repair an injured Achilles. Defensive tackle
Woodrow Hamilton
is out for the spring after breaking his foot, while offensive tackle
Austin Golson
will be limited after undergoing offseason shoulder surgery.
New faces:
The Rebels welcomed in six early enrollees this year. Two are true freshman: Safety
C.J. Hampton
and quarterback
Kendrick Doss
. Two are also junior college transfers: Athlete
Jeremy Liggins
and linebacker
Christian Russell
. Defensive end
Marquis Haynes
is coming over from prep school and
Christian Morris
transferred from UCLA.
Question marks:
Outside of rising sophomore
Laremy Tunsil
, who is the unquestioned starter at left tackle, the offensive line has plenty of mystery. Coaches will be looking for bodies and answers this spring after losing three senior starters. Not having Aaron Morris or Christian Morris, who could push for a starting job this fall, at full strength certainly hurts. Redshirt junior
Justin Bell
started all 13 games last year (seven at right guard, six at left guard), which will add stability inside with Aaron Morris limited. Mr. Reliable at center,
Evan Swindall
, is gone too, leaving a big hole there. The Rebels are also looking for a backup to quarterback
Bo Wallace
with
Barry Brunetti
gone. Redshirt freshmen
DeVante Kincade
and
Ryan Buchanan
will challenge Ross. Liggins could also get some work at quarterback. With the graduation of
Mike Marry
and the arrests/suspensions of
Denzel Nkemdiche
and
Serderius Bryant
, the Rebels now have some holes at linebacker this spring.
Key battle:
The loss of Swindall, who made 35 career starts with the Rebels, is going to hurt. They will mainly work with Bell, redshirt sophomore
Robert Conyers
and junior
Ben Still
, who played in five games last year and served as Swindall's backup, at center. Conyers also played in five games last year and has the ability to line up at both center and tackle.
Breaking out:
With top-flight wide receiver
Donte Moncrief
gone, the Rebels will turn to Treadwell to be the new go-to for Wallace. He'll need some help, and Freeze thinks that rising senior
Vince Sanders
could be that guy. Overshadowed a bit last year, Sanders caught 21 passes for 325 yards and a touchdown. Injuries limited him to playing in nine games, but he has the ability to be a valuable playmaker this season. He has good size and speed to make plays down the field and over the middle. Remember, he registered more than 500 yards and had four touchdowns in 2012. Also, keep an eye on rising sophomore cornerback
Derrick Jones
, who played in nine games and made three starts last year. He'll be in a battle for one of the corner spots this spring and could be a big-time player for the Rebels.
Don't forget about:
Redshirt junior defensive end
C.J. Johnson
only played in four games last year before undergoing season-ending ankle surgery. Having him back on the field should give the Rebels a big lift off the edge, especially when it comes to the pass rush. That consistent outside threat was lacking after Johnson went down, resulting in Ole Miss finishing the season tied for 12th in the SEC with just 19 sacks after ranking second with 38 in 2012. That year, Johnson led the Rebels with 6.5 sacks. He's not just extremely important on the field; he's a top leader in the locker room.
All eyes on:
Wallace could enter the 2014 season as the SEC's top quarterback. Now, some people might scoff at such a statement, but the league lost a great group of QBs, and Wallace has shown good flashes here and there. He has all the tools to be a top player in this league, but he has to work on his decision making. He has a knack for rushing throws and being careless with the ball. Heading into his final year and spring with the Rebels, it's time for Wallace to take that final step as this team's quarterback. He has to conquer the mental part of his game this spring.
September, 17, 2013
9/17/13
2:00
PM ET
Hours after running Bevo out of the Lone Star State, the Ole Miss football team received an early-morning surprise.
As the team bus pulled up to the football complex around 4 a.m., the Rebels were welcomed home from their 44-23 win over Texas by a few fans reveling in their arrival. For players who have seen some truly dark days in Ole Miss' program, Sunday's reception was an odd, yet comforting sight.
"It was pretty cool. It felt good," senior running back
Jeff Scott
said.
"They showed how dedicated they are to this program."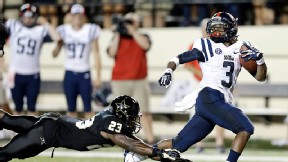 AP Photo/Mark HumphreyOle Miss has come a long way since Jeff Scott arrived on campus.
During Scott's four years with the program, that dedication has been on and off. Ole Miss won a combined six games in his first two years, with just one of those games an SEC victory. The Rebels lost 16 SEC games in a row from 2010-2012.
Scott watched Houston Nutt get fired and was there when the school brought Hugh Freeze back. The former Ole Miss assistant arrived with more questions than excitement. But after a return to the postseason, seven victories and a monster recruiting class in his first season, Freeze brought some hope.
That hope turned into inflated expectations entering the 2013 season, but after a 3-0 start and a Texas-sized victory heading into a bye week, the Rebels have gone from forgotten to formidable.
"It's huge," quarterback
Bo Wallace
said of the win at Texas. "You have to look at how far we've come. Last year at this time, we were really soul-searching this weekend after the Texas game, trying to find ourselves.
"Anytime you can win a game that people say you aren't supposed to win, you can turn some heads. That's what we have to do: Turn some heads and get people excited about our program and keep climbing in the polls and keep winning games."
Considering the depth issues the Rebels had last year, a victory like this didn't seem possible. On Saturday, Ole Miss was down key players such
Aaron Morris
,
Denzel Nkemdiche
and
Vince Sanders
, yet blew out the Longhorns on the road. Thanks to a stacked freshman class, the Rebels' depth has promise.
"The sky is the limit for this team when we have all hands on deck," Scott said. "It's crazy what this team can do because the potential is there."
Last year, the Rebels were hurting after a 66-31 thumping served up by the Longhorns inside Vaught-Hemingway Stadium. The same place they were greeted by a devoted group of fans early Sunday morning was the same place Texas nearly laid them to rest a year earlier.
It's a different time at Ole Miss. The Rebels are ranked No. 21 in The Associated Press poll. They own the SEC's No. 4 offense (490 yards per game) and defense (332.7). Next weekend, this team will travel to Tuscaloosa to play No. 1 Alabama in a game that will bring major attention and could have major SEC West implications.
All these positive vibes have the Rebels beaming, but they also understand that they have to move on from Saturday's win. As Freeze says, they have to "throw it in the trash" and prepare for what's next. This team is far from perfect and feeling too good about this victory could cause the Rebels to lose sight of a season that is still very long.
"We definitely have some confidence, but at the same time we can't let ourselves be too overconfident," Wallace said. "But we have a mature team, and I don't think we'll have any problems with that."
For Freeze, Saturday's victory was special because of where he saw the program upon his arrival. Academic and discipline issues rocked a team full of potential. Now, the distractions have dissipated, the discipline has increased and players are producing.
"It' definitely a big step in the right direction," Freeze said. "If you were to tell me on my first day on the job that we would have gone to a place like Texas and pull off a win at their place, it probably would have been difficult for me to believe at that point. So I do think that it is a sign that we're moving in the right direction."
June, 28, 2013
6/28/13
3:00
PM ET
Every year, players come and go in college football. With the turnover, teams can either grow or take steps back.
It's time to check out Ole Miss' strongest position and weakest position heading into the 2013 season:

Strongest position: Wide receiver
The Rebels have a lot of talent coming back at wide receiver and should get use out of a highly ranked freshman as well. Everything starts with junior
Donte Moncrief
, who is still one of the most underrated receivers in the SEC. He'll enter the 2013 season riding a wave of momentum from a 2012 season in which he led Ole Miss with 66 catches for 979 yards and 10 touchdowns. He turned into one of the league's best deep threats, and while he doesn't possess elite speed, he isn't afraid to outmuscle defenders for the ball with his size (6-foot-3, 216 pounds). He'll get good help with
Ja-Mes Logan
and
Vince Sanders
both returning. Last year, they combined for 82 catches and 994 yards and five touchdowns.
Philander Moore
was dismissed this spring, but he'll likely be replaced by incoming frosh
Laquon Treadwell
, the top receiver in the 2013 recruiting class. Treadwell will eventually replace Moncrief and should make an immediate impact as a downfield threat.
Collins Moore
is another upperclassman who returns as well. There are some depth issues behind the top four guys, but the Rebels have a very strong starting lineup.
Weakest position: Tight end
Ole Miss is starting over at tight end with three seniors leaving. The Rebels had just one scholarship tight end on the roster this spring -- and true freshman
Christian Morgan
suffered a torn meniscus, leaving his status for the upcoming season unknown. Coming out of spring, walk-on senior
Jack Nuismer
was listed No. 1 on the Rebels' depth chart, but he hasn't caught a pass in his career. What certainly doesn't help is that freshman
A.J. Jackson
was ruled academically ineligible for the 2013 season, meaning the Rebels will have throw incoming freshman
Evan Engram
into the fire immediately this fall. The Rebels just don't have quality bodies at this position.
June, 3, 2013
6/03/13
5:00
PM ET
Looking at ESPN NFL Insider KC Joyner's recent piece on whether
West Virginia's offense can stay elite
got me to thinking: Can the SEC's top offenses from 2012 replicate last year's success?
The SEC is bringing back some real offensive firepower in 2013. Sure, this is still a defensive league, but as we've seen over the past couple of years, the offenses are really evolving and getting better.
So can the top five SEC offenses from last year duplicate what they did in 2012? Let's take a look:

1. Texas A&M
2012 total offense:
558.5 yards per game
2012 scoring offense:
44.5 points per game
The Aggies bring back Heisman winner
Johnny Manziel
, but a lot of Johnny Football's supporting cast is gone. Gone are offensive coordinator Kliff Kingsbury, left tackle Luke Joeckel and senior receivers Ryan Swope and Uzoma Nwachukwu. Joeckel was the best tackle in the SEC last year, Kingsbury and Manziel had a special on-field relationship, and those receivers are taking 1,398 yards and 15 touchdowns.
The Aggies have a stacked backfield that should be headlined by senior
Ben Malena
and Oklahoma transfer
Brandon Williams
, and
Mike Evans
leads a younger but very talented receiving corps. But teams will have better game plans for Manziel and those youngsters at receiver will have to grow up quickly. Manziel is special, but that target on his back is enormous. The Aggies were great on offense last year, and they'll be good again, but I expect the Aggies' numbers to dip in 2013.

2. Tennessee
2012 total offense
: 475.9
2012 scoring offense:
36.2
The Vols lost their starting quarterback and top four receiving targets. Tyler Bray accounted for 3,612 passing yards and 34 touchdowns. His top four targets, including Justin Hunter and Cordarrelle Patterson, caught 187 passes for 2,914 yards and 26 touchdowns. Tennessee returns one of the top lines around and has a solid trio at running back, but so much is different on offense.
Can the Vols adapt to Butch Jones' new hurry-up offense before the season starts? Can either
Justin Worley
or
Nathan Peterman
play beyond their inexperience this fall? There isn't a lot of experience at quarterback or receiver, and that's a major problem when Tennessee's offense revolved around its passing game last year.

3. Georgia
2012 total offense:
467.6
2012 scoring offense:
37.8
Record-setting quarterback
Aaron Murray
is back along with his entire offensive line, arguably the top running back duo in the SEC (
Todd Gurley
and
Keith Marshall
) and a host of talented receivers. Tavarres King and
Marlon Brown
, ranked first and third on the team in receiving last year, are gone, but
Malcolm Mitchell
is back and
Michael Bennett
should be healthy for the start of the season. Bennett might have been the Dawgs' top receiver before he went down with an ACL injury early last season.
There are some young players to keep an eye on as well in
Chris Conley
and
Justin Scott-Wesley
. Junior college transfer Jonathan Rumph and seasoned tight end
Arthur Lynch
should both be valuable options as well. This could be one of the most balanced offenses in the country this fall.

4. Alabama
2012 total offense:
445.5
2012 scoring offense:
38.7
Running back Eddie Lacy and three starters along Alabama's offensive line are gone. Two of those linemen were first-round picks and Lacy was a second-rounder. But quarterback
AJ McCarron
is back and he has a lot to work with.
Amari Cooper
is one of the top receivers in the league and
Chris Black
should be 100 percent this fall, giving McCarron another deep threat to complement Cooper and
Kenny Bell
.
Kevin Norwood
is also a reliable target for McCarron.
We know the offense goes through the running game first, and Alabama's backfield is once again stacked.
T.J. Yeldon
will battle to be one of the top rushers in the league and he'll have big boy
Jalston Fowler
and speedster
Dee Hart
to share time with. Youngsters
Kenyan Drake
and Derrick Henry, who is returning from a spring injury, should both contribute as well. Henry can be used in both the rushing and passing game. Alabama's line seems fine, so there isn't much worry in Tuscaloosa.

5. Ole Miss
2012 total offense:
423.8
2012 scoring offense:
31.5
The Rebels return a lot of pieces on offense and you'd think they'd be even better in Year 2 of Hugh Freeze's spread offense. Ole Miss managed to get through last season without any major injuries. Even Freeze doesn't know if that's likely to happen again. If it does, the Rebels should be fine, considering starters
Bo Wallace
(quarterback),
Jeff Scott
(running back) and
Donte Moncrief
(wide receiver) are all back. There are some talented younger players the Rebels can use as well, but the continuing theme in Oxford is that there are still depth issues along the offensive line and at receiver.
Any sort of injuries to those positions could rock the Rebels. Plus, Wallace is coming off of shoulder surgery and threw 17 interceptions last year. Wallace can't be as careless with the ball this fall.
Vince Sanders
and
Ja-Mes Logan
, along with true freshman Laquon Treadwell, should take some pressure off Moncrief, and the Rebels are also deep at running back, but the Rebels won't sneak up on people this fall.
July, 11, 2012
7/11/12
2:00
PM ET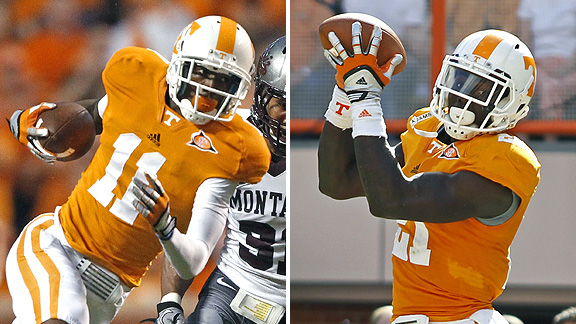 AP Photo/Wade PayneJustin Hunter (11) and Da'Rick Rogers (21) are considered to be the best receiving duo in the SEC.
Our SEC position rankings continue with a look at schools' wide receiver and tight end groups.
Past rankings:
On to the league's wide receiver/tight end groups:
1. Tennessee:
The Vols are equipped with two of the top wideouts in the league with
Da'Rick Rogers
, who was second in the SEC in receiving last year, and
Justin Hunter
, who might be the SEC's top deep threat. It sounds like Hunter will be 100 percent this fall after his ACL injury last year. Junior college transfer Cordarrelle Patterson is big, fast and possesses the big-play gene. The speedy
Zach Rogers
is back and is so is talented tight end
Mychal Rivera
.
2. Arkansas:
Cobi Hamilton
is now Arkansas' primary receiver, and he might be the league's most complete wideout. He can make the big-play and elude defenders along the way. While
Marquel Wade
's status is still unclear, if he does return, he'll be a major lift for this offense because of his playmaking ability in the slot.
Julian Horton
and
Javontee Herndon
have always impressed coaches in practice and now will get their chances to in games. Tight end
Chris Gragg
should be even more involved and is the league's top tight end.
3. Georgia:
While
Malcolm Mitchell
could go back and forth between receiver and corner, when he's at receiver he's Georgia's top offensive threat and was one of the league's best as a rookie. There are vets behind him, starting with reliable senior
Tavarres King
, who had a very good spring, senior
Marlon Brown
, who seemed to take a big step in his game this spring. Sophomores
Michael Bennett
and
Chris Conley
combined for 48 catches for 608 yards and seven touchdowns last year. Unproven tight ends
Arthur Lynch
and
Jay Rome
will replace Orson Charles and Aron White.
4. Texas A&M:
This isn't the fastest group out there, but there are some pretty reliable weapons, starting with star
Ryan Swope
, who could have left for the NFL after catching 89 passes for 1,207 yards and 11 touchdowns last year.
Uzoma Nwachukwu
was third on the team with 50 catches for 639 yards and three tight ends --
Nehemiah Hicks
,
Michael Lamothe
and
Hutson Prioleau
-- return. Keep an eye on junior
Nate Askew
, who could be a downfield threat this fall.
5. LSU:
Odell Beckham
Jr. was one of the top rookies last year and could be even better in Year 2. He'll be joined by potential deep threat and big-play target
Jarvis Landry
, who developed some good chemistry with quarterback
Zach Mettenberger
this spring.
Russell Shepard
is talented, but he's been wildly inconsistent. Keep an eye on junior
James Wright
and incoming frosh
Avery Johnson
, who is the younger brother of Patrick Peterson. Also, tight end
Chase Clement
is on the John Mackey watch list.
[+] Enlarge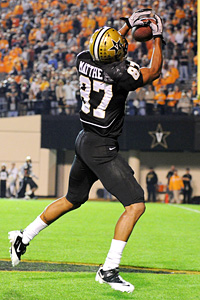 Don McPeak/US PresswireWide receiver Jordan Matthews is one player the Commodores will be counting on this fall.
6. Vanderbilt:
This group surprised last year and returns most of its components, starting with
Jordan Matthews
, who was fourth in the SEC in receiving last year. Sophomore
Chris Boyd
was solid last year, hauling in 31 catches and eight touchdowns.
Jonathan Krause
is very good in space and should see his role increase this fall after a solid spring. The coaches are excited about former QB
Josh Grady
moving to receiver. Replacing tight end Brandon Barden won't be easy.
7. Alabama:
There is more speed out wide in Tuscaloosa, but there's a lot more youth. The Tide could turn to freshmen Chris Black, Amari Cooper and Eddie Williams to help develop a more downfield passing game. More will be expected from veterans
Kenny Bell
and
Kevin Norwood
, while sophomore
DeAndrew White
possesses a ton of speed. Still no word on
Duron Carter
. Tight end
Michael Williams
was solid last year, but will be used even more this fall.
8. Mississippi State:
There is a lot of experience here, but this group has still underperformed at times, especially senior
Chad Bumphis
, who has yet to live up to all the hype that followed him from high school. Seniors
Chris Smith
and
Arceto Clark
combined for 65 catches last year, while the staff is very excited about the big-play potential redshirt freshman
Joe Morrow
possesses. Tight end
Malcolm Johnson
serves as a very reliable tight end target, as well.
9. Missouri:
The Tigers lost two starting receivers and stud tight end Michael Egnew, but three of the top five pass catchers are back, including inside threat
T.J. Moe
, who led Mizzou in receiving last year. Big things are expected from
Marcus Lucas
, who can stretch the field with his speed and physicality, and the coaches think
L'Damian Washington
can also be a downfield threat. Also, Dorial Green-Beckham, last year's top recruit, should make an immediate impact.
Eric Waters
is replacing Egnew, but has just two career catches and suffered a knee injury this spring.
10. Auburn:
Emory Blake
is one of the league's top downfield threats and has been one of Auburn's most consistent offensive weapons. So has tight end
Philip Lutzenkirchen
, who should be more of a passing threat with the addition of transfer fullback
Jay Prosch
. There is a lot of depth, but it's unproven.
Trovon Reed
was supposed to be a star, but had a lackluster second year. Seniors
Travante Stallworth
and
DeAngelo Benton
have 15 and 14 career catches, respectively.
Quan Bray
has shown potential and could have a bigger role this season and keep an eye on freshman Ricardo Louis.
11. Florida:
The Gators have struggled here since 2009 and still lack proven playmakers.
Andre Debose
is probably the best bet to be one, but he's been very inconsistent.
Quinton Dunbar
has the speed to be an outside threat, but caught just 14 passes last year. And the coaches are still waiting for senior
Frankie Hammond
Jr. to turn things up. True freshman Latroy Pittman had a great spring and the coaches are excited about his potential. Tight end
Jordan Reed
is one of the most athletic players in the league and will be a bigger target with two young quarterbacks throwing the ball.
12. South Carolina:
Now that Alshon Jeffery is gone, the Gamecocks have questions and inexperience here. The fast, athletic
Ace Sanders
is the only returning pass catcher with at least 20 catches from last year (29). The hope is
Bruce Ellington
will be more of a factor this fall. Tight ends
Justice Cunningham
and
Rory Anderson
combined for 26 catches and four touchdowns.
Damiere Byrd
has blazing speed, but caught just one pass last year.
DeAngelo Smith
had a solid spring, and the coaches hope he can be a downfield threat. A lot will be expected from incoming freshman Shaq Roland.
13. Ole Miss:
Sophomore
Donte Moncrief
is a budding star in this league and thinks he'll be even better in Hugh Freeze's spread offense.
Ja-Mes Logan
caught 20 passes last year, but had a very good spring. But Nickolas Brassell was an academic casualty and
Randall Mackey
had to move over from quarterback. The coaches are looking for consistency from
Terrell Grant
and
Vince Sanders
, who are both pretty unproven. Tight end
Jamal Mosley
is expected to do more in the spread and averaged 13.8 yards per catch last year.
14. Kentucky:
Joker Phillips' goal this spring was to find more playmakers and he thinks he did with sophomore
Demarco Robinson
, who had five receptions last year, and redshirt freshman
Daryl Collins
. The hope is that they'll take some pressure off of
La'Rod King
, who is really the only proven receiving threat on the team. Tight ends
Ronnie Shields
and
Tyler Robinson
did well this spring, but combined for just 10 catches last year.
April, 16, 2012
4/16/12
11:15
AM ET
While there were six SEC spring games this weekend, six other teams also took part in scrimmages over the the weekend:
ARKANSAS

Quarterback
Tyler Wilson
had yet another big scrimmage for the Razorbacks. Wilson completed 39 of 49 passes for 448 yards and three touchdowns during Friday's scrimmage. Wilson completed 20 consecutive passes at one point.
Wilson has yet to throw an interception in Arkansas' three spring scrimmages. He led the offense on scores on seven of the offense's 11 possessions Friday.
The good news for Wilson is that his production has come against the first-team defense. The bad news for Arkansas is that his production has come against the first-team defense. But maybe Wilson is just playing that well this spring.
Wide receiver
Marquel Wade
led Arkansas with nine receptions for 98 yards, while tight end
Chris Gragg
caught eight passes for 83 yards and a touchdown on Friday. Receiver
Javontee Herndon
added five receptions for 73 yards and two scores.
Defensive tackle
Robert Thomas
led the defense with four sacks, while defensive end Austin Flynn added three sacks.
Wide receiver
Cobi Hamilton
, linebacker
Tenarius Wright
and tight end
Austin Tate
all sustained injuries Friday, but coaches didn't feel they were serious.
Check out more from Arkansas' scrimmage
here
and
here
.
KENTUCKY

The Wildcats took part in a very spirited scrimmage Saturday. It was one that left coach Joker Phillips proud of both the offense and defense.
The 90-minute scrimmage featured the first-, second- and third-team offense and defense. The offense started things well, with quarterback
Maxwell Smith
leading a 70-yard drive on 13 plays. He capped the drive with a 21-yard touchdown pass to wide receiver
La'Rod King
.
Smith finished the scrimmage completing 25-of-38 passes for 227 yards and four touchdowns. King also led the offense in receiving with seven catches for 76 yards and two scores.
Kentucky's defense stepped up considerably after that, allowing just one touchdown and a field goal on the next 10 possessions, including seven three-and-outs.
You can find more info on Kentucky's scrimmage
here
.
MISSISSIPPI STATE

Despite a fast start by the offense, the defense won Mississippi State's scrimmage Friday after forcing five turnovers late.
The first- and second-team defense held the offenses to four touchdowns and a field goal on 27 possessions. They also registered seven sacks and four interceptions.
After quarterback
Tyler Russell
led touchdown drives of 75 and 80 yards on the offense's first two possessions, the defense stepped up, forcing a few three-and-outs for the first- and second-team offense.
Russell had an impressive outing inside Davis Wade Stadium, passing for 310 yards, two touchdowns and three interceptions.
Wide receiver
Joe Morrow
had arguably the play of the day when he caught an 83-yard touchdown pass. He sprinted 50-plus yards to the house after spinning off of cornerback
Corey Broomfield
about 30 yards up field. Morrow finished with 103 receiving yards, while tight ends
Malcolm Johnson
and
Brandon Hill
registered 110 and 75 receiving yards, respectively.
The player of the day might have been senior cornerback
Darius Slay
, who intercepted three passes.
Head coach Dan Mullen missed the practice after the birth of his daughter Friday.
For more on Mississippi State's scrimmage, check
here
and
here
.
OLE MISS

It was an air affair in Oxford, as Ole Miss quarterbacks combined for eight touchdowns in the Rebels' Saturday scrimmage.
Barry Brunetti
finished the day with 119 passing yards and two touchdowns. He also rushed seven times for 41 yards and two more scores.
But he didn't do much to separate himself from junior college transfer Bo Wallace, who threw for 113 yards and three touchdowns. He also carried the ball five times for 32 yards and another score.
However, both had their hiccups, as Wallace completed less than 45 percent of his passes and Brunetti threw two interceptions. Coach Huge Freeze told reporters after the scrimmage that he had mixed emotions about both, but felt Wallace played a little better Saturday.
"Standing out there it's real clear to me our quarterbacks, our personnel, we don't quite understand the game," Freeze said. "Third-and-2 we don't know those things. We have very little awareness of those at times. We get in second-and-5s and we get negative plays because we try to do more than we can do. Then it puts you in third-and-8, instead of just keeping it third-and-5. There's so many things that we have to understand."
Brunetti threw two 20-yard touchdowns, one to wide receiver
Ja-Mes Logan
and one to receiver
Vince Sanders
. Logan also caught two touchdown passes from Wallace, who also hit receiver
Terrell Grant
for another score.
For more on Ole Miss' scrimmage, you can go
here
and
here
.
TENNESSEE

Justin Hunter
picked up right where he left off the last time he played inside Neyland Stadium.
After missing most of last season with an ACL injury, Hunter caught three passes for 70 yards, including a 50-yard touchdown pass in his return to Neyland.
Quarterback
Tyler Bray
completed his first seven passes of the day and finished with 180 yards and a touchdown on 13-of-23 passing.
While Hunter had a solid outing, sophomore wide receiver
Jacob Carter
was the top receiver of the day, catching four passes for 102 yards.
Marlin Lane
, who has improved a lot this spring, had the big day that he needed with his 71 rushing yards and a touchdown on 12 carries.
Defensively, the Vols got sacks from defensive linemen
Jordan Williams
,
Willie Bohannon
and
Steven Fowlkes
. Defensive backs
Justin Coleman
,
Izauea Lanier
and
Rod Wilks
added six tackles.
For more on Tennessee's scrimmage, go
here
.
TEXAS A&M

As the quarterback race continues in College Station, redshirt sophomore
Jameill Showers
stood out in Texas A&M's scrimmage over the weekend. He threw for more than 150 yards and two touchdowns. He also threw an interception, but only after it was dropped by a receiver.
Showers played in seven series with both the first- and second-team offense.
Redshirt freshman
Johnny Manziel
split snaps with Showers, throwing for more than 150 yards and two touchdowns as well, but he threw two interceptions, with one that was returned for a touchdown by junior defensive back
Toney Hurd
Jr.
None of the offenses' possessions reached double digits in plays. Turnovers, sloppy play and penalties hurt the offense in the Aggies' first open scrimmage of the spring.
"We just have to be more consistent in our play on both sides of the football, and that's why we're here," coach Kevin Sumlin said. "For the quarterbacks to go operate the way they did, checking plays and moving around, it's encouraging. It gives us a real starting point."
Sophomore linebacker
Donnie Baggs
, junior linebacker
Charlie Thomas
, junior linebacker
Domonique Patterson
and senior linebacker Jonathan Stewart all registered sacks in the scrimmage.
For more on the Texas A&M's scrimmage, go
here
and
here
.
July, 6, 2011
7/06/11
1:15
PM ET
On Tuesday, Tobias Singleton confirmed to The Clarion Ledger that he had
enrolled at Ole Miss
. On Wednesday, he started summer school, a team spokesman confirmed to ESPN.com.
The NCAA Clearinghouse reviewed Singleton's high school transcript after his ACT score increased from a 16 to a 24. The Clearinghouse is accustomed to reviewing such high jumps in scores, so it came as no surprise when Singleton was flagged.
Getting Singleton on campus and ready to compete this summer is pretty big news for the Rebels. Singleton, who ESPN Recruiting ranked as the No. 21 receiver in the country and the No. 128 player overall in the 2011 recruiting class, finished his senior season at Madison (Miss.) Madison Central with more that 1,800 yards of total offense and 19 touchdowns.
With the Rebels short on proven playmakers at wide receiver, the 6-foot-1, 190-pounder is expected to compete immediately for playing time.
Singleton not only possesses quality speed, but he's extremely elusive in the open field. He's someone Ole Miss' coaches are hoping they can use early in the Rebels' offense.
Ole Miss is in desperate need for receiving weapons. Running back
Brandon Bolden
was Ole Miss' leading receiver last year, grabbing 32 passes for 344 yards. Returning junior
Melvin Harris
was second in receptions with 30 and had 408 receiving yards. The only other receiver returning with double-digit catches from 2010 is
Ja-Mes Logan
(29 catches for 387 yards).
The Rebels currently have no proven downfield threat or a receiver who makes defenses adjust what they do. It's still too early to ask Singleton to be that player, but there's no doubt that Ole Miss' staff is expecting him to be that kind of player down the road.
This spring, offensive coordinator David Lee had mixed emotions when discussing his receiving corps. While there were flashes here and there by players, the one consistent factor was the knack for dropping passes.
One real bright spot was redshirt freshman Vince Sanders, who had a game-high 96 receiving yards in the spring game and possesses that big-play ability the Rebels are seeking on offense.
Now, the focus is grooming Singleton, who will be joined by fellow in-state receiver Nickolas Brassell. Brassell is more of a slasher on offense and caught 52 passes for 877 yards and 13 touchdowns as a senior.
It's not ideal to put freshmen in these kinds of situations, but the Rebels' coaches won't be afraid to play true freshmen. The Rebels
need
them and the freshmen will have to learn very quickly if they want to make meaningful contributions to a team looking to rebound from a sloppy 4-8 campaign from a year ago.