November, 16, 2014
Nov 16
4:30
PM ET
Another interesting week in the SEC and plenty of great plays league-wide. Let's take a look at our five favorites from Week 12:
Chubb train coming through
This was originally ruled a touchdown but later overturned (correctly) but that doesn't make the play any less spectacular because Georgia freshman running back
Nick Chubb
's broken tackle is what makes it. Chubb powers through Auburn's
Jonathon Mincy
to stay on his feet and if not for his right foot stepping on the out of bounds, he would have been in for six. As it is, it winds up as a nice 27-yard gain on a screen pass from
Hutson Mason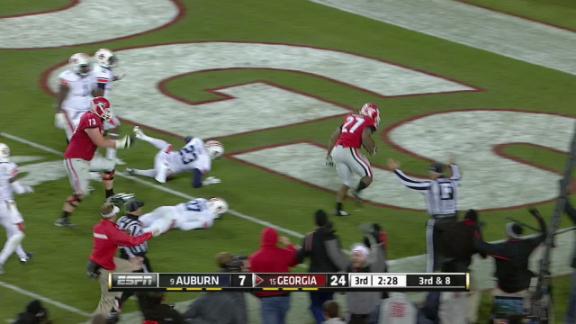 Heard's timely block
Florida held a 17-10 lead with less than a minute left and that's when South Carolina came up with a huge special-teams play. Receiver
Carlton Heard
sprinted up the middle and got his hands on the
Kyle Christy
punt, giving South Carolina possession in a prime area for the eventual game-tying score.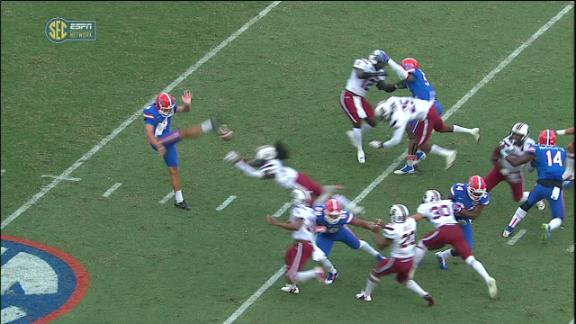 Mizzou magic
Missouri had much success on third down in its win over Texas A&M but this was perhaps the best conversion of the night. On third-and-5,
Maty Mauk
found himself under pressure, backing up almost 20 yards behind the line of scrimmage before firing a strike to
Darius White
, who hauled in the pass one-handed for a 21-yard gain and a first down.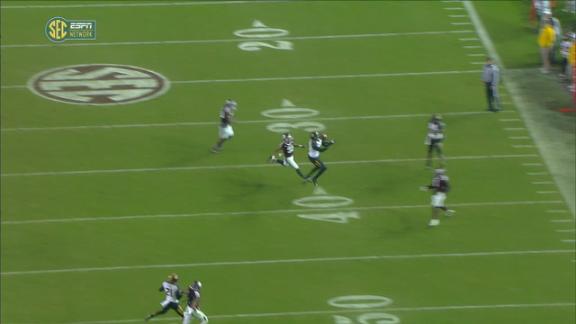 Extra effort
Tennessee is enjoying offensive success since
Joshua Dobbs
took over as the quarterback. Saturday was a nice day as he threw for 297 yards and three touchdowns and one of them came courtesy of some extra effort by
Von Pearson
. On this play, Pearson is met by a Kentucky defender near the goal line but Pearson simply continues churning his legs and forcing his way into the end zone for six.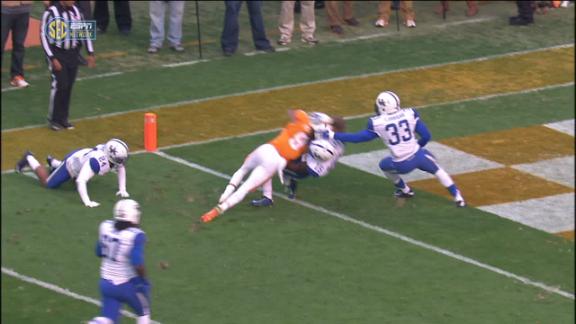 Cooper's catch
Amari Cooper
is quite simply one of college football's best receivers and he shows us weekly why he has that status. On Saturday in Alabama's win over Mississippi State, he caught eight passes for 88 yards but none prettier than his 50-yard reception from
Blake Sims
in which Cooper high-pointed the ball on a leap in between two Bulldogs defenders. The catch set up a 1-yard
Derrick Henry
touchdown run that gave Alabama a 19-0 lead.
(No video, CBS game)
September, 22, 2014
Sep 22
4:00
PM ET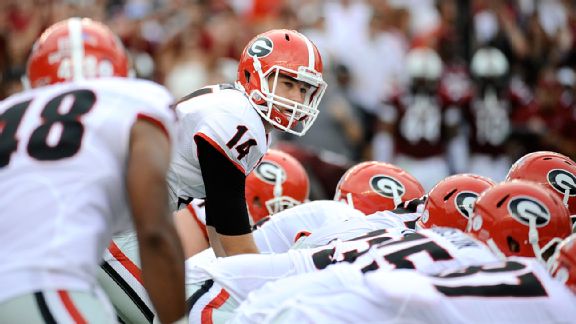 AP Photo/Rainier EhrhardtThe Volunteers' secondary will be a good test to see whether Hutson Mason can stretch the field.
Georgia's showdown with Tennessee on Saturday is the perfect test for the Bulldogs at this point in the season. The Vols (2-1, 0-0 SEC) pose the exact threat that Georgia needs in order to take the next step in its 2014 progression.
We know the 12th-ranked Bulldogs (2-1, 0-1) can run for days (they're second in the SEC averaging 304 rushing yards per game and lead the league with 7.7 yards per rush), but the jury is still out on whether quarterback
Hutson Mason
can consistently throw down field. We also need to see Georgia's secondary step up and show that it can start limiting the big plays in the passing game.
Look, the East is an absolute mess right now. There is no dominant team, but even though the Dawgs are looking up at South Carolina in the division after a head-to-head loss in Columbia, they still might have the best path to Atlanta. Having running back -- and Heisman Trophy contender --
Todd Gurley
gives Georgia a chance in any game. And did I mention that the East is a total crapshoot?
But if the Dawgs are going to avoid another loss or slogging through conference play, they have to be able to throw the ball and stop the pass.
Mason knows this offense backward and forward. No one is debating that, but what we haven't seen from him is any sort of down-field threat. The longest pass Mason has completed this year is a 36-yarder to
Isaiah McKenzie
on the first play from scrimmage for the Dawgs against South Carolina. After that, Mason was reduced to intermediate passes against a defense that
wanted
Mason to try and win the game, meaning they were more concerned with Georgia's running game.
Think about this: South Carolina's defense, which had allowed 832 passing yards in its first two games allowed Mason to throw for just 191 yards.
You have to take advantage of a defense like that, and Mason didn't.
I totally get that not having
Malcolm Mitchell
and
Justin Scott-Wesley
on the field takes away two huge big-play threats, but
Chris Conley
is a vertical monster and you can't sit there and tell me that no one else is able to run some deeper passing routes in that receiving corps. Whether there's a confidence issue there with the receivers or Mason, if Georgia's offense is going to take some heat off of Gurley, it needs to be able to spread the field more with its passing game, and Tennessee's secondary provides a nice challenge for Mason.
Tennessee cornerbacks
Cameron Sutton
and
Justin Coleman
and safety
Brian Randolph
pose the biggest threat to Georgia's passing game so far. The Vols had yet to allow 200 yards passing until Oklahoma's
Trevor Knight
threw for 308 two Saturdays ago, but with two weeks to prepare, you have to think that this secondary will be polished for the Dawgs. but here's something that should perk Mason's ears: Tennessee surrendered
five passing plays of 20-plus yards to Oklahoma.
Saturday could prove to be a real turning point for Mason, as a passer, if he performs well against Tennessee's secondary. The Vols won't make it easy, but it's a great way to boost his confidence if he can start to get into rhythm throwing down field.
As for Georgia's secondary, the combo of quarterback
Justin Worley
(721 yards, six touchdowns and three interceptions) and receiver
Marquez North
(14 catches, 173 yards and two touchdowns) is a challenge for anyone. Worely has mad some fantastic throws during the early part of the season, while North continues to show why he needs to be in the conversation with the league's top receivers.
You also can't forget about Alton "Pig" Howard or
Josh Smith
, who have combined for 23 catches this year. Smith is still nursing a high-ankle sprain, but he hasn't been ruled out of Saturday's game.
Need a dynamic weapon to take some pressure off of North, well, the Vols have one in freshman receiver
Josh Malone
, who seems to be improving each week.
Georgia's secondary looked good against Troy, but so has everyone else this year. It didn't look good against South Carolina when
Dylan Thompson
torch the Dawgs over the middle of the field and finish with 271 yards and three touchdowns.
There has been a lot of rotation in Georgia's defensive backfield, and defensive coordinator Jeremy Pruitt has made it clear that he's going to challenge his secondary and put them in more man-to-man situations.
Well, this is a great game to see how far those guys have come.
September, 12, 2014
Sep 12
8:19
AM ET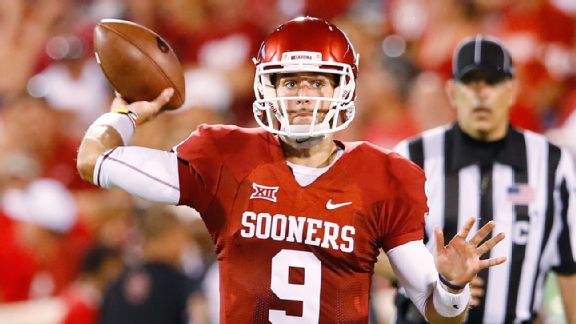 Kevin Jairaj/USA TODAY SportsThe Vols would be wise to blitz QB Trevor Knight and force OU to rely heavily on the passing game.
Tennessee
has held steady at most Vegas books as a three-touchdown underdog Saturday at Oklahoma. It would clearly be a significant, ahead-of-schedule upset if the Volunteers were to win in Norman, Oklahoma.
Even UT coach Butch Jones was aware this week of Bob Stoops' 88-5 home record. (I tried to be comforting, reminding Jones that three of the five losses have come since 2011.)
But c'mon, we've learned enough about college football to know that the unexpected is to be expected. Week 3 looks on paper like a dud, so naturally it will provide indelible games and impactful results. That's how it goes.
For Tennessee, here's the game plan that can, at minimum, keep the Vols hanging around in the second half on the road against the
Oklahoma Sooners
.
Knight under center
Oklahoma QB
Trevor Knight
is the central character, after talking with Big 12 and SEC coaches about the game.
If Tennessee has designs on winning, or at least staying in the game, it needs to do the following where Knight is concerned:
•
Hit him:
"Knight doesn't like [to be hit]," a Big 12 coach told me. "He didn't finish some games last year."
Let's be clear: No one is advocating trying to injure a player, not at all, but it's significant to note that coaches still aren't sold on Knight's durability.
We know Knight became a darling after the Sugar Bowl win over Alabama -- but he could not finish the previous game against Oklahoma State. Backup
Blake Bell
entered and bailed out the Sooners with a late TD drive, the only offensive TD of the game for OU.
August, 31, 2014
Aug 31
11:00
PM ET
There's been quite a bit of excitement in Knoxville recently, and it was easy to see why with Tennessee's opening-day performance Sunday. In front of a capacity crowd -- the first sellout in a home opener since 2007 -- the Volunteers dominated a dangerous Utah State team who many thought could pull off the upset,
38-7
.
A little old, a little new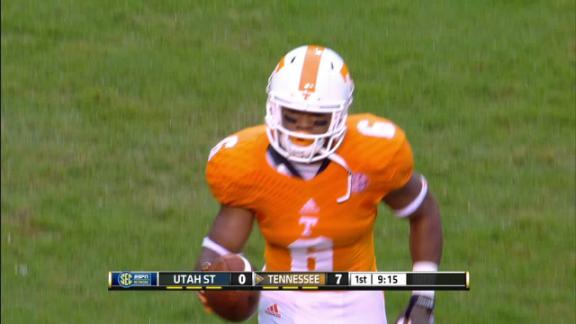 After scoring the opening touchdown, Tennessee's special teams came up with a big play, and it was fitting that senior linebacker
A.J. Johnson
made the play. Johnson, an All-SEC talent who could've left early for the NFL, ran down on kickoff coverage and jarred the ball loose from the Utah State returner. To nobody's surprise it was
Todd Kelly Jr.
, one of 21 UT true freshmen (and 32 newcomers) to play Sunday night, who was there to recover the fumble.
Fourth-down stand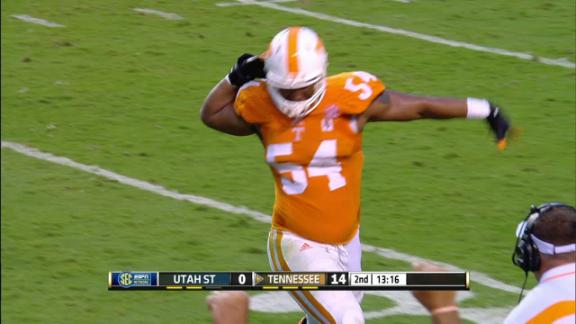 All we've heard about this offseason is how the Volunteers are having to replace every starter on both their offensive and defensive lines. Well, the defensive line is tired of hearing about it. They held
Chuckie Keeton
and Utah State to 34 yards rushing in the first half, and when the Aggies tried to go for it on 4th-and-1 early in the second quarter,
Jordan Williams
and
Derek Barnett
were there to fill the hole and stuff Utah State, forcing a turnover on downs.
Welcome to Rocky Top, Von
Everybody saw
the sick one-handed touchdown grab
that junior college transfer
Von Pearson
made in spring practice, so it should come as no surprise that Pearson caught a touchdown in his first game as a Volunteer. No, the catch wasn't an instant SportsCenter Top-10 nominee, but it was certainly more meaningful. The play capped off a 13-play, 69-yard drive that ate up six minutes of clock and gave Tennessee a 24-0 lead.
More from Johnson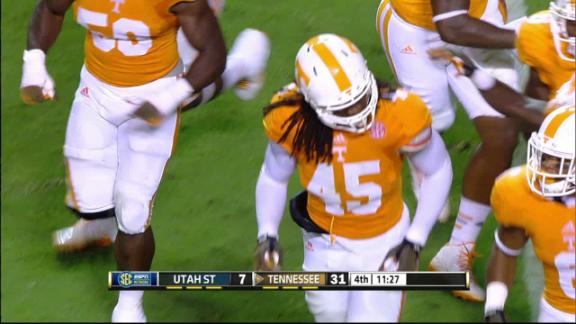 Did you think Johnson was done just yet? The guy didn't turn down the NFL and come back to Tennessee to not make plays. With the Volunteers already up 31-7 early in the fourth quarter, Johnson got the capacity crowd back into it when he intercepted Keeton and nearly took it back for a touchdown. It's safe to say he's not regretting his decision to stay. If anything, his stock will continue to rise with more games like this.
August, 4, 2014
Aug 4
12:00
PM ET
With camps underway or about to open, there is no shortage of news and notes from around the SEC. Let's dive right in:
June, 25, 2014
Jun 25
3:30
PM ET
We continue our
"Most important game" series
, which looks at the most important game for each SEC team in 2014. These are the games that will have the biggest impact on the league race or hold special meaning for one of the teams involved. Today we take a look at Tennessee.

Most important game:
Nov. 22 vs. Missouri
Key players:
By this point in the season, we'll know plenty about Tennessee's offense. Whether the quarterback situation is ironed out once Missouri gets into town is a mystery at this point, but all signs point to
Justin Worley
as being the starter heading into the season. His play will be crucial to Tennessee's success. Inconsistency at quarterback doomed this offense last year, but Worley showed some promise. Eyes also will be on sophomore
Marquez North
, who led Tennessee with 496 receiving yards last season. That number will have to increase if this offense is going to get off the ground, but North could have a big day against a very inexperienced Missouri secondary. The hope in Knoxville is that North gets some help from true freshman Josh Malone and junior college transfer Von Pearson. Both were on campus during the spring and both have the big-play ability to give Worley a chance to make some big plays against this secondary. Tennessee lost all five starters along its offensive line, but junior
Marcus Jackson
is back after redshirting last year. Behind him, you have running backs
Marlin Lane
and Jalen Hurd, who will have to be active against a solid Missouri defensive line. Hurd could be the one to watch, as he has the skill to be a star in this league. On defense, linebackers
Curt Maggitt
and
A.J. Johnson
will be key. Johnson will have to direct things and contain Mizzou's explosive running game, while Maggitt will have to generate consistent pressure on quarterback
Maty Mauk
, considering the Vols also are rebuilding their entire defensive line. Safety
Brian Randolph
and cornerback
Cameron Sutton
will have to be on their toes against Mauk, who isn't afraid to sling the ball around.
Why it matters:
With so many questions surrounding this team, we don't know if the Vols are a bowl team right now. The month of September has zero gimmies for Butch Jones' group, and October features Florida, Ole Miss and Alabama. With trips to Oklahoma and Georgia on the September slate, Tennessee needs to go at least 2-2 before October arrives, where Tennessee has to get at least one win (Chattanooga). The Florida game (Oct. 4) is important -- and the Vols could certainly win it -- but the season isn't over if Tennessee loses it. That might not be the case against Mizzou. Kentucky and Vanderbilt are on the schedule in November, so those wins are important, too. But dropping the Missouri game could end all hope for the postseason. If Tennessee wants to make it back to a bowl game for the first time since 2010, it has to beat Missouri. Two years ago, this game took four overtimes to complete and pretty much cost the Vols a trip to the postseason. Tennessee can't afford to let history repeat itself.
May, 12, 2014
May 12
1:00
PM ET
Having things unsettled at quarterback in the SEC isn't exactly a recipe for success. And it certainly doesn't help a coach who is entering his second year on the job.
But that's the hand that Butch Jones was dealt at Tennessee, as he enters summer No. 2 with the Vols.
However, it's not exactly bleak when it comes to Tennessee's passing game. Finding a quarterback is of top priority for the Vols, but the good news is that whichever QB takes the reins this fall should have a big-time, top-flight receiver to sling the ball to.
[+] Enlarge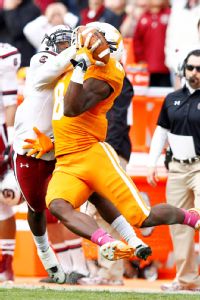 Charles Mitchell/Icon SMIMarquez North made big strides in the spring, and more WR help is on the way for the Vols.
If you haven't already met rising sophomore
Marquez North
,
say hello to one of the best catches
your eyes will have the pleasure of seeing.
If that wasn't enough for you, North finished his freshman season with a team-high 496 yards on 38 receptions. He had just one touchdown grab last year, and that number will have to increase in 2014, but North likely won't have an issue doing that.
Even with the quarterback position unsettled, there are a few things working in North's favor this year.
For starters, North was working mostly with raw talent last year. He was an athlete who could go on the field and find the ball. Through the first six games, North averaged three catches for 29.9 yards per game. During his last five games, North averaged four catches for 63.4 yards per contest. During that last stretch, North saw South Carolina, Alabama, Missouri, Auburn and Vanderbilt. Three of those defenses -- Alabama, South Carolina and Vanderbilt -- ended the season ranked in the top 25 nationally in total defense.
As the year went on, North simply got better. He learned, using his ever-growing knowledge to be a legit threat for the Vols. That's exactly what you want to see out of young players, especially one who could be a real game-changer for a team that needs some more excitement in its offense.
What Vols coaches and fans should be excited about is that North also took a few big steps forward in his development this spring. He added some bulk and looks even more the part physically. He's better with checks at the line and ran crisper routes this spring. He's learning to do more than just be an athlete. He's turning into a well-rounded wide receiver.
He'll also have more help around him this fall with the additions of freshman
Josh Malone
and junior college transfer
Von Pearson
. That will give North a lot of room to breathe and roam around the field. It won't make sense for defenses to key on just him this fall.
And that will make North that much more potent for the Vols. We saw flashes of what North could be, and we'll start to see what he really is this fall. That's very good news for the Vols.
May, 1, 2014
May 1
9:00
AM ET
Spring practice has concluded for all 14 SEC schools, meaning the start of preseason practice can't be too far away.
But before we flip the page to summer workouts and the rest of the newcomers who'll be arriving in the coming months, let's take a look at those new faces on campus who made the biggest splashes this spring -- junior college transfers and early enrollee true freshmen.
We've come up with 10 in the Eastern Division and will unveil 10 more in the West later today.
Here's a look at the East:
[+] Enlarge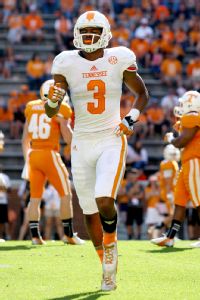 Randy Sartin/USA TODAY SportsFreshman wide receiver Josh Malone is one of many new Volunteers that turned heads this spring.
Drew Barker, QB, Kentucky:
Even though
Patrick Towles
played better in the spring game, Barker impressed the Kentucky coaches this spring and heads into the summer right in the thick of the Wildcats' starting quarterback race. True freshman starters at quarterback are rare in the SEC, but Barker is a rare talent.
Duke Dawson, CB, Florida:
Florida coach Will Muschamp likes his group of young cornerbacks, and what's not to like with sophomore
Vernon Hargreaves III
leading the way? Dawson, a true freshman, stepped right in this spring, picked up the system and played well enough that he could be the Gators' starter at the nickel position.
Kenya Dennis, CB, Missouri:
With
E.J. Gaines
departing, the Tigers needed some reinforcements at cornerback. Dennis, a junior college newcomer, showed enough this spring that he could be a key addition in that secondary rotation.
Jalen Hurd, RB, Tennessee:
The Vols have been searching for that go-to running back for several years now. They think they've found him in Hurd, one of the top-rated high school backs in the country last year. The 6-3, 221-pound true freshman showcased power and speed this spring.
C.J. Johnson, DT, Kentucky:
The defensive line should be one of the strengths of Kentucky's team next season, and even with the Wildcats losing their top three defensive tackles, they feel good about what Johnson will provide in the middle. Similar to
Za'Darius Smith
at end last season, Johnson could be the second straight junior college player to make a big impact for the Cats.
Abu Lamin, DT, South Carolina:
Not only did the Gamecocks lose
Jadeveon Clowney
at end, but they also lost
Kelcy Quarles
at tackle. That's why they went out and got Lamin from junior college, and he proved to be a physical presence inside this spring.
Josh Malone, RB, Tennessee:
One of several impressive true freshmen for the Vols, Malone put on a show in the spring game with three touchdown catches.
Marquez North
didn't have a lot of help last season at receiver. Having a big-play threat like Malone on the other side should only make North more dangerous in 2014.
Von Pearson, WR, Tennessee:
The Vols shouldn't lack playmakers at receiver next season. Pearson, a junior college transfer, made waves all spring with some of his acrobatic catches. He'll almost certainly be a starter in the season opener.
A.J. Stamps, S, Kentucky:
The Wildcats had a big need at safety, and Stamps jumped in and gave the entire secondary a boost with his play this spring. Coach Mark Stoops really likes Stamps' versatility. He's athletic enough to match up and play man coverage in certain sets.
Jalen Tabor, CB, Florida:
Dawson wasn't the only true freshman cornerback to make his presence felt this spring at Florida. Tabor, one of the top-rated cornerback prospects in the country, made a strong bid to be the Gators' starter opposite Hargreaves next season.
March, 14, 2014
Mar 14
12:00
PM ET
It's Friday! That means some much deserved time off, the continuation of the SEC hoops tournament in Atlanta and the opening of a few more spring football practices around the SEC. Alabama gets going on Saturday, and Arkansas kicks off on Sunday. To get you ready, here's some reading material that should get you through Friday and on into the weekend.