November, 7, 2014
Nov 7
1:00
PM ET
Vanderbilt coach Derek Mason hasn't forgotten about the ugly start to his first season as the Commodores' coach, he just chooses not to dwell on it.
After reaching a bowl game the past three years (a school record) and having back-to-back nine-win season for the first time ever, the Commodores plodded out to an excruciating 1-5 start that included an embarrassing 37-7 home loss to Temple and getting outscored 150-61 in four SEC games.
The transition from the wildly successful James Franklin was going to be tough for anyone, but after unprecedented wins under Franklin, Mason's start was as major letdown.
[+] Enlarge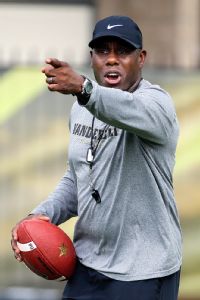 AP Images/Mark HumphreyDerek Mason believes his team is emerging from its early season struggles.
But as the Commodores get set for Saturday's showdown with a Florida team clawing its way back into the SEC Eastern Division race, Mason sees renewed energy in his team. He has found a group that's more like a family and has slowly started to build some confidence.
"It takes a little time to catch rhythm, especially in a conference like the SEC," Mason said, "but we feel good about the way this program is headed and the strides we're making week in and week out. We have to continue to be about the work that looks like progress."
Stuck at the bottom of the SEC East, the Commodores (3-6, 0-5 SEC) aren't the edgy group they were under Franklin, but they've shown improvement in the past couple of weeks, doubling their September win total.
Back then, things were a disaster. There was no cohesion, as the offense sputtered behind an awkward quarterback rotation and the defections of talent such as running back
Brian Kimbrow
and receiver
Jordan Cunningham
.
Original starter
Patton Robinette
couldn't stay health,y and backups
Stephen Rivers
and
Wade Freebeck
struggled with consistency. Unfortunately for Mason, finding the right guy meant taking a journeyman approach to the quarterback position.
Mason had a young team across the board and complicated matters by some young coaching of his own.
There are always growing pains under a new regime. Parts don't always fit and philosophies clash. Players left because of that, and Mason's coaching fluctuated at times. It seemed as though Vanderbilt had destroyed everything built in the previous three years.
But in the last few weeks, Mason says his team has found some continuity and a quarterback. Redshirt freshman
Johnny McCrary
has started the last two games after coming off the bench to lead Vandy to a close win over Charleston Southern. In two starts, McCrary has averaged 238.5 passing yards with seven touchdowns. He took Missouri down to the wire (on the road) and engineered a 42-28 win over Old Dominion.
Mason has learned to adapt to and utilize his team's strengths more. That's why the Commodores are running more, giving freshman
Ralph Webb
a bigger role, and working their tight ends more to help inexperienced receivers.
The defense is making strides, and while the Commodores are out of the SEC East race, Mason feels his team is finding a blue-collar mentality and becoming a tighter unit.
"These guys have gotten in the boat, grabbed an oar and rowed," Mason said. "We really don't care who's in front of us or really what the mission is. We just know we have a mission and we're all trying to get to the same destination together."
There's never a road map for these situations. It isn't easy to win at Vandy, and Mason coached from behind after graduation poached a handful of leaders and the core of Vandy's recruiting class fell apart after Franklin left.
Staying relevant is now the most important goal for a team that could slip instantly in recruiting. Even with a challenging debut, Mason said his message to recruits hasn't changed. He still believes he's selling excellence at Vandy and can find premier athletes to help this program "rise above the rest and really be a powerhouse program."
And what better way to generate some momentum than winning Saturday?
"I think that makes for a pretty good cocktail when you talk about parents and student-athletes looking for the best bang for their buck, in terms of the opportunity to compete and get a world-class education," Mason said.
"We look forward to what the future holds, and the future starts Saturday."
September, 24, 2014
Sep 24
10:00
AM ET
Several true freshmen once again made an impact last week in the SEC -- particularly in Georgia's rout of Troy, when former high school teammates
Sony Michel
and
Isaiah McKenzie
stole the show. They're on our list of five SEC freshmen who stood out (and five more worth mentioning) last Saturday.
CB Tony Brown, Alabama
What he did:
Against Florida, the former five-star prospect made the first start of his young career at Alabama. Put up against the likes of
Demarcus Robinson
, he didn't back down. He ended up with three tackles, including one that went for a loss, and helped contribute to a secondary that limited QB
Jeff Driskel
to just 9 of 28 passing.
What it means:
Alabama desperately needed help at cornerback.
Bradley Sylve
showed in the season opener he can't hold down a starting job, and
Eddie Jackson
hasn't proven he can stay healthy enough to start either. Though Brown is young, he seems like the man for the job. Growing pains will likely occur, but his ceiling is certainly high. (Alex Scarborough)
WR Malachi Dupre, LSU
What he did:
Dupre caught touchdown passes of 31 and 30 yards in the final two minutes of a 34-29 loss to Mississippi State, helping the Tigers close within striking distance after trailing by 24 points early in the quarter. Dupre finished with four catches for 120 yards, notching the first 100-yard outing of his young career.
What it means:
Dupre didn't make much of an impact in LSU's first three games, and in truth he didn't make an enormous impact in the first three quarters against Mississippi State. But he was one of the key figures in LSU's comeback bid, and that might be a sign of things to come for the former No. 1 receiver prospect. (David Ching)
QB Brandon Harris, LSU
What he did:
Like Dupre, Harris made his presence felt in the closing minutes against Mississippi State. He first entered the game with 3:43 to play and LSU trailing 34-16 and promptly led touchdown drives of 95 and 30 yards. Harris drove the offense to the Mississippi State 46 on LSU's final drive and attempted a game-winning heave to the end zone, only to have the pass intercepted at the goal line by
Will Redmond
.
What it means:
Harris nearly led LSU to what would have been one of the most miraculous comeback win in its history. He finished 6-for-9 for 140 yards and two touchdowns in barely more than two series, while
Anthony Jennings
was 13-for-26 for 157 yards in three-and-a-half quarters. The freshman provided a spark that Jennings did not, and that seems to have reignited the Tigers' quarterback battle. (David Ching)
RS Isaiah McKenzie, Georgia
What he did:
With a zig-zagging 52-yard score against Troy, McKenzie provided Georgia's first punt return for a touchdown since
Brandon Boykin
did it against Michigan State in the Outback Bowl at the end of the 2011 season. McKenzie also ran twice on sweeps and picked up 54 yards, including one that one for a 49-yard gain.
What it means:
Opponents had punted 160 times since Boykin's touchdown and Georgia had not scored once. In fact, the Bulldogs hadn't broken a return longer than 30 yards since then. But McKenzie and sophomore
Reggie Davis
(51 yards) both broke long punt returns in the Troy game, so perhaps Georgia's unproductive return game might actually develop into a weapon like it was several years back. (David Ching)
RB Sony Michel, Georgia
What he did:
With
Todd Gurley
taking a seat on the sideline early and
Nick Chubb
and
Keith Marshall
limited by injuries, Michel got a chance to be the star in Georgia's backfield against Troy. He made good use of the opportunity, rushing 10 times for 155 yards and three touchdowns. His long run of the day, which covered 75 yards, actually didn't go for a score, but it set up his 8-yard score on the next play.
What it means:
Georgia has no shortage of backfield talent, so don't look for Michel to post enormous numbers this season -- particularly if Gurley remains healthy. But Michel and Chubb have already given Bulldogs fans reason to be excited about the running game even after their Heisman Trophy-contending star leaves campus. The freshmen look like future stars themselves. (David Ching)
Other notables:
QB Kyle Allen, Texas A&M:
Took over for
Kenny Hill
in a 58-6 rout of SMU and went 8-for-15 for 130 yards and connected with
Jeremy Tabuyo
on a 50-yard touchdown strike.
RB Leonard Fournette, LSU:
Rushed seven times for 38 yards, all in the first half, caught a pass for a 1-yard gain and returned three kickoffs for 60 yards against Mississippi State.
QB Wade Freebeck, Vanderbilt:
Replaced injured starter
Patton Robinette
against South Carolina and went 11-for-20 for 168 yards, one touchdown and one interception.
OT Cam Robinson, Alabama:
Started at left tackle for the fourth time in four games and continues to impress at the position. In last Saturday's win against Florida, the Gators rarely pressured quarterback
Blake Sims
. Meanwhile, Alabama's offense generated 672 yards of total offense.
S Armani Watts, Texas A&M:
Started at safety against SMU and posted five tackles and one stop for a 3-yard loss.
September, 17, 2014
Sep 17
9:00
AM ET
The SEC quarterback competitions are fading fast.
Nick Marshall
is back for Auburn.
Patrick Towles
(Kentucky) and
Justin Worley
(Tennessee) have exceeded expectations. And
Kenny Hill
has gone from competing for the starting job to competing for the Heisman Trophy.
That leaves Alabama, LSU and Vanderbilt. All three schools seem to have settled on a signal caller for the time being, but how long will it last? We should find out a lot more this Saturday as they all have SEC opponents on the docket.
Alabama
Starter:
Blake Sims
Backup:
Jake Coker
How Sims performed:
Alabama fans are starting to accept that Sims is the team's quarterback and why not? The senior hasn't done anything to relinquish the job. If anything, he's shown improvement with each game. On Saturday against Southern Miss, he completed 12 of his 17 passes for 168 yards and a touchdown and also rushed for 46 yards and a score. Both Coker and
Alec Morris
came in during the second half, but neither played meaningful minutes.
What it means:
Sims is the starting quarterback until he gives up the job. If he keeps managing the offense and not turning over the football, the coaches are not going to pull him. That said, he faces his toughest test this Saturday against Florida. The Gators return all four starters on the defensive line, and with Vernon Hargreaves III at cornerback, Sims can no longer only throw the ball to his favorite receiver
Amari Cooper
. Will we see Coker? Not unless things go awry, but Sims has to play well for Alabama to win.
– Greg Ostendorf
Sims' hold on position:
8.5
LSU
Starter:
Anthony Jennings
Backup:
Brandon Harris
How Jennings performed:
Although Jennings (11-for-18 for 139 yards, INT) tossed his first interception of the season in last Saturday's 31-0 win against Louisiana-Monroe, he continues to do a solid if unspectacular job at quarterback. His passing numbers would have been better if not for a series of drops and he's minimizing his mistakes. He also showed some nifty moves in escaping from a sack and then ran for a 22-yard gain. To this point, he has been what LSU's coaches want him to be: A steady game manager.
What it means:
The ULM game made it even more evident that Jennings holds a clear lead over Harris as the starter. Jennings played every offensive snap until the Tigers led 24-0 late in the third quarter. Once Harris got into the game, he screwed up at least two play calls and had to scramble for yardage once everyone else ran a different direction than he expected. Until he has a firm grasp on the playbook, Harris won't truly challenge for the starting job.
– David Ching
Jennings' hold on position:
8
Vanderbilt
Starter:
Patton Robinette
Backup:
Wade Freebeck
,
Stephen Rivers
,
Johnny McCrary
How Robinette performed:
Exploring all options to find a quarterback, Derek Mason went with the true freshman Freebeck against UMass. That experiment lasted all of a quarter before Mason pulled him in favor of Robinette, the team's original starter. The sophomore took advantage. In three quarters, Robinette threw for 147 yards, rushed for 35 yards and scored two touchdowns to lead the Commodores back from an 11-point second-half deficit and notch their first win of the season.
What it means:
Has Vanderbilt finally settled on a quarterback? Don't assume anything with Mason calling the shots, but he did say Tuesday that Robinette is their guy until something happens to change that. It sounds like Robinette will have a longer leash this Saturday against South Carolina, and maybe that will give him a little added confidence. It also wouldn't be surprising if a different quarterback finished the game.
– Greg Ostendorf
Robinette's hold on position:
4
September, 10, 2014
Sep 10
9:00
AM ET
After Week 2, the quarterback battles in the SEC seem to be dwindling.
Nick Marshall
returned as the starter for Auburn while it looks like both Kentucky and Tennessee have found their man. The same can't be said just yet at Alabama and LSU, and nobody knows what's going on at Vanderbilt. The SEC quarterback tracker is back. Have a look.
Alabama
Starter:
Blake Sims
Backup:
Jake Coker
How Sims performed:
Sims continues to do what coach Nick Saban and his staff value most: manage the offense. It might not be flashy, but Sims has taken what the defense has given him time and time again. Relying on mostly short, quick passes, Sims threw for 228 yards and two touchdowns on 12 of 14 passing against Florida Atlantic. He also ran in a touchdown from 7 yards out.
What it means:
Sims has done nothing to lose the starting job, but it's still what he hasn't done -- throw the football deep -- that's most troubling. Coker, on the other hand, can do that. In fact, he seemed intent on chucking it deep in his first real action under center for the Crimson Tide. Coker was 15 of 24 for 202 yards and a touchdown against FAU. But it was what he couldn't do -- manage the offense, minimize mistakes -- that is keeping him from truly challenging Sims.
– Alex Scarborough
Sims' hold on position:
8
Auburn
Starter:
Nick Marshall
Backup:
Jeremy Johnson
How Marshall performed:
After missing the first half in the opener, Marshall returned as the starter in Week 2 and played well. He threw for over 100 yards, rushed for over 100 yards and scored twice. A solid effort, but by no means was it perfect. He completed just 10 of his 19 pass attempts, and he fumbled on the opening drive. With that said, the Auburn offense still racked up over 400 yards through three quarters with Marshall under center.
What it means:
The big takeaway from Saturday was that Johnson didn't see the field until the fourth quarter with the Tigers already ahead 45-13. That's not the "role" we all envisioned for Johnson after Week 1. I believe it was Gus Malzahn's way of re-enforcing the fact that Marshall is this team's quarterback. If there was any doubt at all after the Arkansas game, he wanted to make it crystal clear on Saturday.
– Greg Ostendorf
Marshall's hold on position:
10
Kentucky
Starter:
Patrick Towles
Backup:
Drew Barker
and
Reese Phillips
How Towles performed:
After passing for 377 yards in the opener, Towles did his damage on the ground in a 20-3 win against Ohio. Towles had 22 rushing attempts (five of which were sacks) for 59 yards, with six runs covering 10 yards or more. He also went 17-for-31 for 170 yards and tossed an 8-yard touchdown pass to
Dorian Baker
for the Wildcats' first score. If there was anything to criticize, it's that the Wildcats' offense bogged down after jumping out to a 17-0 lead.
What it means:
It was another impressive, and turnover-free, start from Towles, who won the starting job during preseason camp. He's about to face an enormous step up in competition, however. Saturday's visit to Florida, which allowed just 125 yards in its season-opening 65-0 win over Eastern Michigan, is going to be one of the toughest tests of the season for Kentucky's reconstructed offense. If Towles can stay composed and move the offense against the Gators, Kentucky will truly have something to get excited about.
– David Ching
Towles' hold on position:
9
LSU
Starter:
Anthony Jennings
Backup:
Brandon Harris
How Jennings performed:
Jennings took the majority of snaps in a 56-0 rout of Sam Houston State and connected with
Travin Dural
for three touchdown passes -- including a 94-yard score on LSU's first play from scrimmage. Jennings also ran eight times for 43 yards and played by far his most efficient game yet out of three college starts. It was another step in the right direction after a solid second half in the Tigers' comeback win against Wisconsin in the opener.
What it means:
We saw Harris (4-5, 62 yards, TD) get his first substantial playing time against SHSU, too, and the freshman made a couple of huge plays -- most notably a 46-yard touchdown run. LSU coach Les Miles was critical of the freshman's fourth-quarter fumble, but it was overall a strong home debut for Harris. He's probably not ready to push Jennings for the starting job yet, but we're going to see a lot more from the freshman as the season progresses.
– David Ching
Jennings' hold on position:
6
Tennessee
Starter:
Justin Worley
Backup:
Joshua Dobbs
and
Nathan Peterman
How Worley performed:
It was another impressive performance from Worley. He completed nine straight passes to start the game and finished 22 of 38 for 247 yards and two touchdowns. He even rushed for a third score. The only negative came in the third quarter when Arkansas State defensive back
Money Hunter
, son of
Detroit Tigers
outfielder
Torii Hunter
, dove in front of one of Worley's passes and intercepted it.
What it means:
Through the first two games, Worley is looking like the most improved player in the SEC. The two touchdown throws to
Marquez North
on Saturday were not easy throws, and he put them on the money. The senior quarterback will have to play a nearly flawless game this weekend if the Volunteers hope to upset Oklahoma on the road, but win or lose, Worley is still the guy for Tennessee.
– Greg Ostendorf
Worley's hold on position:
9
Texas A&M
Starter:
Kenny Hill
Backup:
Kyle Allen
How Hill performed:
Hill wasn't quite as accurate in his second game (17-of-26) as he was in his debut (44-of-60) but still performed well, throwing for 283 yards and four touchdowns with zero interceptions. Offensive coordinator Jake Spavital said he wants to see Hill improve on his intermediate and deep-pass accuracy and the Aggies took more shots downfield in their win over Lamar than they did in their season opener vs. South Carolina. Allen got some work in both the first and second half once the Aggies had a big lead.
What it means:
Spavital called the game in such a way to work on some areas where Hill isn't as strong and by doing that, Hill was out of his comfort zone a little, but he handled it well overall and turned in a strong performance. A game against an FCS opponent was an opportune time to get a live look at how Allen would perform. He had some freshman moments, like throwing an interception on his first drive, but bounced back well. Still, Hill did just fine and while Allen is not backing down, Hill is the starter.
– Sam Khan
Hill's hold on position:
10
Vanderbilt
Starter:
TBD
Options:
Wade Freebeck
,
Johnny McCrary
,
Stephen Rivers
,
Patton Robinette
How Rivers performed:
Rivers got the nod last week but the performance wasn't pretty. He was 6-of-25 passing for 60 yards and no touchdowns in a 41-3 loss to Ole Miss. Head coach Derek Mason noted that "we should have done a better job of using those guys' skill sets and getting the ball in playmakers' hands," and said that they've made schematic changes as a result. It is worth noting that Mason stuck with Rivers for the entire game Saturday rather than playing musical chairs with the quarterbacks, as he did in the season-opening loss to Temple.
What it means:
The Commodores still don't have a starter at the moment, as Mason referenced the quarterbacks will compete for the right to start this week. Now, there's a fourth name in the mix in addition to Rivers, Robinette and McCrary -- Freebeck, the true freshman from Florida. Mason said he's very much in the competition this week. Who starts this weekend against Massachusetts is anyone's guess. For what it's worth, Mason promised "explosive offense." We'll see.
– Sam Khan
Rivers' hold on the position:
0
February, 5, 2014
Feb 5
8:35
PM ET
The Southeastern Conference had a strong finish the 2014 recruiting class. Alabama, which received a commitment from four-star outside linebacker
Rashaan Evans
(Auburn, Ala./Auburn) on Wednesday, finished with the top overall class by a landslide, and seven of the top 10 recruiting classes in the country are in the SEC. Here's a closer look at some of the top news from around the SEC on national signing day.
Top class
[+] Enlarge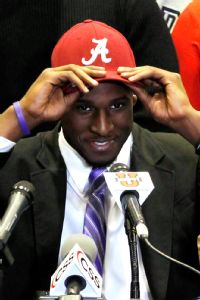 AP Photo/Butch DillESPN 300 OLB Rashaan Evans, who chose Bama over Auburn, made a great class even better.
There is no question Alabama had the top overall class. The Crimson Tide finished with 27 signees, including 19 ranked in the ESPN 300 and five five-star prospects. In addition to the incredible class Alabama put together leading up to signing day, the Crimson Tide were also able to land Evans, the No. 52 player in the country. Evans chose Alabama over arch-rival and hometown Auburn Tigers.
The Alabama class was led by the No. 1 offensive tackle in the country,
Cameron Robinson
(West Monroe, La./West Monroe), the No. 2-ranked defensive end
Da'Shawn Hand
(Woodbridge, Va./Woodbridge) and the No. 2-ranked cornerback in the country
Tony Brown
(Beaumont, Texas/Ozen), who is already enrolled.
The SEC West alone had three schools, Alabama, LSU and Texas A&M, finish in the top five of the final recruiting team rankings. In all, 13 of the 14 SEC schools finished in the top 40 of the team recruiting rankings.
South Carolina, LSU and Georgia finish strong
South Carolina had arguably the best finish of any class in the SEC. The Gamecocks were able to flip ESPN 300 defensive end
Dexter Wideman
(Saluda, S.C./Saluda) from Florida State and defensive tackle
Blake McClain
(Jacksonville, Fla./Sandalwood) from Nebraska. They were also able to land ESPN 300 defensive backs
Chris Lammons
(Fort Lauderdale, Fla./Plantation) and
Wesley Green
(Lithonia, Ga./Martin Luther King) giving the Gamecocks a very athletic secondary.
If South Carolina was the best, LSU wasn't far behind. The Tigers were able to land the No. 1 wide receiver in the country
Malachi Dupre
(River Ridge, La./John Curtis) and ESPN 300 defensive tackle
Travonte Valentine
(Hialeah, Fla./Champagnat Catholic). Dupre chose LSU over UCLA, Ole Miss, Alabama and FSU. Valentine had decommitted from three different schools – Louisville, Florida and Miami -- over the course of his recruitment before finally settling on LSU. The Tigers were also able to hang on to defensive end
Davon Godchaux
(Plaquemine, La./Plaquemine), who had been wavering on his commitment leading up to signing day.
Georgia, meanwhile, added five-star defensive end
Lorenzo Carter
(Norcross, Ga./Norcross), who chose the Bulldogs over LSU, FSU and Florida. They also added four-star wide receiver
Isaiah McKenzie
(Plantation, Fla./American Heritage). The ESPN 300 wide receiver wasn't even considering Georgia until earlier this week, but a late offer from the Bulldogs was enough for McKenzie to pull the trigger and sign with Georgia.
Several schools lose commits
Signing day was full of surprises, including several prospects who backed off of their commitments and signed with a different school. Three-star defensive tackle
Cory Thomas
(McCalla, Ala./McAdory), a long-time Tennessee commit, spurned the Volunteers and signed with Mississippi State. But not all was good news for Mississippi State. Ole Miss was able to steal junior college defensive back
Tee Shepard
(Fresno, Calif./Holmes CC), the No. 22-ranked player in the ESPN JC 50. The Vols took another hit when three-star offensive tackle
Orlando Brown Jr.
(Duluth, Ga./Peachtree Ridge) unexpectedly signed with Oklahoma. The Volunteers, however, were able to land four-star defensive tackle
Michael Sawyers
(Nashville/The Ensworth School), and had the No. 5 recruiting class in the country -- one that included 11 players ranked in the ESPN 300.
Quarterback
Treon Harris
(Miami/Booker T. Washington) backed off his pledge to FSU and signed with Florida. Offensive tackle
Andrew Mike
(Tucson, Ariz./Sabino) was only a part of Vanderbilt's class for one short day, but the three-star tackle flipped on Tuesday night and signed with Florida on Wednesday. Four-star Alabama safety commit
Chris Williams
(Kingsland, Ga./Camden Co.) flipped and signed with UCF because of personal family reasons. Four-star wide receiver
DeSean Blair
(Jacksonville, Fla./Sandalwood) flipped his commitment from Louisville and signed with Missouri.
Vanderbilt able to rebound
The Vanderbilt class may not be filled with four- and five-star prospects, but the job new head coach Derek Mason did to rebuild the Commodores' class is nothing short of amazing. After James Franklin left to take the head coaching job at Penn State and a string of decommitments followed, Vanderbilt was down to eight verbal commitments. After an impressive few weeks of recruiting the Commodores finished with 22 signees, including 17 prospects ranked three stars or higher.
The class is led by ESPN 300 defensive tackle
Nifae Lealao
(Sacramento, Calif./Capital Christian) and four-star running back
Dallas Rivers
(Stone Mountain, Ga./Stephenson). After losing ESPN 300 quarterback
Kyle Carta-Samuels
to Washington, Vanderbilt was able to flip Pitt quarterback commit
Wade Freebeck
(Fort Lauderdale, Fla/St. Thomas Aquinas) and former ECU commit
Shawn Stankavage
(Raleigh, N.C./Cardinal Gibbons).
September, 5, 2012
9/05/12
12:20
PM ET
By
Recruiting Nation staff
| ESPN.com
Michael DiRocco writes
: Brent Pease wants to get RB Mike Gillislee about 15-22 carries a game, he says, while seeking a clear No. 2 back to emerge so he can keep his starter in top form.
DiRocco
: CB Jeremy Brown, who started 10 games in 2010 but missed all of 2011 with a knee injury, will play this week, coach Will Muschamp said. Brown had been out with an offseason wrist injury.
Derek Tyson writes
:

2014 QBs Will Grier and Wade Freebeck have UF offers, while several more prospects remain possibilities to become Gators quarterbacks.
Note: Join GatorNation's DiRocco for a
chat at 4 p.m. ET
.
SEC SCOREBOARD
Friday, 12/26
Saturday, 12/20
Monday, 12/22
Tuesday, 12/23
Wednesday, 12/24
Saturday, 12/27
Monday, 12/29
Tuesday, 12/30
Wednesday, 12/31
Thursday, 1/1
Friday, 1/2
Saturday, 1/3
Sunday, 1/4
Monday, 1/12
Tweets from https://twitter.com/ESPNCFB/lists/sec