September, 8, 2012
9/08/12
10:48
PM ET
No. 3 LSU's home date with Washington was one of the biggest nonconference games on the docket for Week 2 of the 2012 season. Unfortunately for football lovers it didn't live up to that billing, as the Tigers steamrolled the Huskies in a
41-3 white-washing
. Here's the quick gist from Baton Rouge, La.


It was over when:
LSU running back
Kenny Hilliard
dove into the end zone early in the third quarter to give the Tigers a 27-3 lead. The score gave LSU a lopsided scoreline to go along with what was an absolutely dominating box score. The Tigers outgained Washington 437 yards to 183 and limited the Huskies to a startling 26 yards rushing. Red zone woes forced the Tigers to settle for two field goals in the second quarter, holding them to a modest 20-3 lead at halftime. Hilliard's touchdown broke that open.
Game ball goes to:
Alfred Blue
continued his strong start to the season with a 101 yards on just 14 carries. On LSU's second possession of the night, he coasted untouched through the Washington defense for a 21-yard touchdown and a 7-3 lead that the Tigers would not surrender. It was Blue's second straight 100-yard game, making him the first LSU back to open the season with two 100-yard games since Charles Scott in 2008.
Injury bug:
Washington had already lost starting right tackle
Ben Riva
and starting running back
Jesse Callier
in the season opener. Those injury woes continued early on Saturday night when the Huskies lost another offensive tackle,
Erik Kohler
, to a re-aggravated knee injury. The Huskies' ability to protect quarterback
Keith Price
was already an issue, and the loss of Kohler only exacerbated that. Price was on the run for his life all night and finished with just 157 yards and an interception.
Dropping the ball:
LSU quarterback
Zach Mettenberger
had a solid night in his second outing. He completed 12 of 18 passes for 195 yards and a touchdown. That said, the Tigers' receivers did him no favors by dropping five passes on the night. LSU wide receiver
Odell Beckham
Jr. had an especially forgettable night, as he dropped several passes in addition to fumbling away the kickoff that led to Washington's lone field goal.
What it means:
Not much we didn't already know. The Tigers took care of business with a 38-point win despite some sloppy mistakes, but this was never supposed to be a major test on the schedule. The Huskies look like they'll go as far as their quarterback can carry them this season -- but that won't be far if they can't find a running game to keep defenses honest and off Price's back.
March, 27, 2012
3/27/12
9:00
AM ET
The Pac-12 is the conference of quarterbacks. The SEC is all about defense.
Oh, and winning national championships.
But as good as the defenses are in the SEC, what role does poor-to-middling offense play in that perception? As in, what would happen if those defenses played against a series of future NFL quarterbacks, as Pac-12 (and Big 12) defenses do?
The question before us is this: How would USC quarterback
Matt Barkley
do against those rough-tough SEC defenses?
Ted Miller
: It's sort of a chicken and the egg question. Are SEC defenses so good because they rarely play against A-list quarterbacks? Or do Pac-12 quarterbacks pile up eye-popping numbers because they don't play against SEC defenses?
[+] Enlarge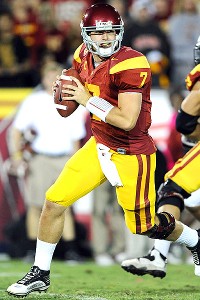 Harry How/Getty ImagesWould Matt Barkley be as successful if he played against SEC defenses all season?
Is it more notable that four of the top 11 quarterbacks in the nation in terms of passing efficiency in 2011 were from the Pac-12, compared to none in the top 20 from the SEC? Or is it more important that six SEC defenses ranked in the top 17 in pass efficiency defense compared to zero for the Pac-12?
It's hard to say. It's likely a person's home -- Los Angeles or Baton Rouge -- has a large influence on his or her opinion.
Pac-12 fans would be prone to point out: In 2005, LSU ranked No. 3 in the nation in passing efficiency defense. But in the Tigers' trip to Tempe that season, Arizona State's Sam Keller completed 35 of 56 passes for 461 yards with four touchdowns and no interceptions in a 35-31 defeat.
Or this: LSU's defense did a nice job against Oregon's offense in the 2011 season opener. Of course, the Ducks scored more points on LSU than ANY OF THE OTHER 13 TEAMS LSU PLAYED.
Apologies for the caps lock. Reckless typing.
While we can all acknowledge the SEC -- at least the elite teams -- play better defense than the rest of the nation, it is also worth noting that when future first-round NFL draft picks played quarterback in the SEC, they put up good numbers, whether we're talking about the Manning brothers, Matt Stafford or Cam Newton. And I'm sure, one day in the future --perhaps this decade! -- we'll be able to add a name to that list.
There are some nice quartebacks in the SEC:
Tyler Wilson
,
AJ McCarron
and
Aaron Murray
. All three seem like they'd have a good chance of winning the backup job at USC. Maybe.
Chris Low
: No way am I going to argue that Barkley wouldn't have success in the SEC.
He's a future pro and probably the front-runner to win the Heisman Trophy in 2012.
The question is: How much success would he have, and would he hit the proverbial wall going against SEC defenses on a weekly basis?
My feeling is that all quarterbacks hit that wall. Any coach will tell you (ask your buddy Lane Kiffin) that what separates SEC defenses is the speed in the front seven, particularly in the defensive line. There are fast players all over the country in college football, but the SEC has cornered the market on fast, explosive defensive linemen and pass-rushers who also have the size and strength to overpower people.
That's the difference, and that's where Barkley would notice the greatest difference.
It wasn't a banner year for quarterbacks in the SEC last season. And, yes, I realize that's an understatement. But it was a banner year for premier defensive players. That's why the first round of the NFL draft next month is going to look like an SEC who's who. As many as 10 SEC defensive players could go in the first round.
Don't sleep on the SEC's quarterback class this coming season, either. Wilson may be a future first-rounder. Murray has thrown nearly 60 touchdown passes in his first two seasons, and we all saw what McCarron did in the BCS title game against an LSU defense that was outstanding.
Barkley's a big-time talent, no question. But it's a different game when you're trying to throw from your back.
And in this league, ALL QUARTERBACKS (sorry, my caps tend to lock up, too) encounter that problem.
Ted Miller
: Truth is, Wilson, Murray and McCarron are good quarterbacks who look like guys with NFL futures. Loved how McCarron handled the pressure of the title game, and Murray has Pac-12-type talent.
[+] Enlarge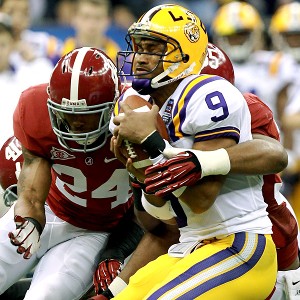 Ronald Martinez/Getty ImagesAlabama's defense smothered Jordan Jefferson and the LSU Tigers in the BCS championship game.
We're trash talking here, but if you can't acknowledge what is real, well, then it's just noise.
And the reality of this debate is this: Barkley would be more challenged on a weekly basis by SEC defenses than by Pac-12 defenses -- which I believe are underrated but still a step behind the SEC for the reasons the Inimitable Low mentioned above. If Barkley played at Vanderbilt, Mississippi State or Kentucky, he'd just be the best quarterback in the history of those programs while leading those teams to "historic" seasons. Like a third-place finish in their divisions.
Yet what makes Barkley, Barkley is not just Barkley. It's USC. It's his supporting cast. It's receivers
Robert Woods
and
Marqise Lee
, who will both have NFL careers. And two tight ends who will also. And a good offensive line, and a 1,000-yard rusher who averaged 6.9 yards per carry in 2011 (
Curtis McNeal
).
By the way, if you wonder where USC's true potential Achilles heel is this year, it's the defensive line. The Trojans have three A-listers -- guys who would be touted in the SEC -- but are thin thereafter. That's a problem for a team that views itself as a national title contender.
That's ultimately the rub here, too. If all goes according to plan, Barkley and USC should be in position to play for the national title. It's hard to imagine that wouldn't be against another SEC team.
Now, Chris, wouldn't it be fun if it were USC and LSU? Recall that in 2003, LSU won 1/16 of the national title when no one in the entire world thought LSU was better than USC, other than computers obviously loaded with all sorts of viruses.
Or USC-Alabama? Great history, and Saban versus Barkley & Co. would certainly attract plenty of eyeballs.
Chris Low
: One of the most compelling things that could happen to college football next season would be for USC and Barkley to take their shot at an SEC defense in the money game.
Then, we could quit debating and let it play out on the field. As much as I knew that Alabama and LSU were the two best teams in the country last season, there was a part of me that wanted to see Oklahoma State against either the Alabama or LSU defense in the BCS title game.
It's the matchup we all want to see: A high-powered offense versus a suffocating defense.
Maybe that's what we'll be treated to this fall.
Of course, I go back to the 2010 national title game, and Oregon had been short-circuiting scoreboards all season long. The Ducks go up against an Auburn defense that had been opportunistic, but wasn't one of the best in the SEC that season statistically. But in that game, Auburn put the clamps on Oregon and won 22-19.
The Tigers won because the Ducks couldn't block Nick Fairley.
And that's what the Trojans would run into if they find themselves up against an SEC team next January in Miami.
It won't come down to Barkley. Sure, he'll make a few plays. He's legit. But what it will come down to is the group of guys blocking for Barkley, and that's where it always gets ugly against SEC defenses.
In the meantime, just make sure the Trojans get there. They've been known to stumble along the way, and what we're left with is a bunch of hollow chatter about what they would have done (or could have done) had they made it to the party.
We'll check the guest list in December and chat again then.
January, 12, 2012
1/12/12
7:37
PM ET
It's been a revolving door on Tennessee's coaching staff ever since the season ended, and head coach Derek Dooley moved quickly to fill his latest opening.

The Vols announced on Thursday that Sam Pittman had been hired to coach the offensive line after Harry Hiestand bolted for the Notre Dame offensive line job.

Pittman was at North Carolina for the past five seasons and part of Butch Davis' original staff there in 2007. Just prior to the 2011 season, Pittman was promoted to associate head coach, replacing John Blake, who resigned one game into the 2010 season after being linked to NCAA allegations that triggered an investigation of the Tar Heels' football program. Pittman was named as one of the country's top 25 recruiters by ESPN.com in 2011. He was at Northern Illinois before joining Davis at North Carolina.

The Vols have seen five different assistant coaches to leave since the end of their 5-7 season. One of those, receivers coach Charlie Baggett, was not retained. Defensive coordinator Justin Wilcox and linebackers coach Peter Sirmon left for the same jobs at Washington, while special teams coordinator/tight ends coach Eric Russell left to join Mike Leach's staff at Washington State.

Dooley is targeting Alabama linebackers coach Sal Sunseri and Navy defensive coordinator Buddy Green to replace Wilcox. Dooley has talked with both Sunseri and Green in the last two days. Dooley has offered the special teams coordinator's job, meanwhile, to San Diego Chargers assistant Rich Bisaccia, who just finished his first season as the Chargers' special teams coordinator. Bisaccia was previously the associate head coach and special teams coordinator for the Tampa Bay Buccaneers.

Dooley had already hired Jay Graham to coach the Vols' running backs. Graham, a former star running back at Tennessee, had been at South Carolina the past three seasons.
January, 5, 2012
1/05/12
4:01
PM ET
Has something seemed odd to you about the BCS bowls this year? Does it seem like ... oh wait, West Virginia just scored again.
Does it seem like ... wait, there goes
De'Anthony Thomas
. Don't think he'll get caught from behind.
Does it seem like ... wait, would somebody please tackle
Justin Blackmon
?
Does it seem like there have been a lot of points this bowl season?
It's not just you. There have been a lot of points. More points than ever before. And by huge quantities.
So far, BCS bowl teams have averaged a total of 77 points in the Rose, Fiesta, Orange and Sugar bowls. That, folks, is nearly 26 points more than last year (51.6). And it's nearly 11 points better than the previous high of 66.3 from 2001-02.
Perhaps pairing two SEC teams in the title game has created a black hole sucking all defensive stinginess into the LSU-Alabama rematch, which you might recall went 9-6 with no touchdowns in their first meeting. West Virginia scored 10 touchdowns -- 10! -- against Clemson. Alabama gave up 12 TDs all season.
Speaking of Clemson: ACC. Well, well, well.
After the Tigers ingloriously fell 70-33 to the Mountaineers, we got our second story from the BCS bowl season: The ACC's insistence on throwing up on itself in BCS bowl games.
The conference that was once expected to challenge the SEC is now 2-13 in BCS bowl games. That's hard to do. You'd think in 15 BCS bowls the conference could get lucky at least five or six times. But no, it insists on making ACC blogger Heather Dinich, a genuinely nice person, into some sort of Grim Reaper
every bowl season
.
Heck, the Big East has won seven BCS bowls -- second fewest among AQ conferences -- but it's 7-7.
Of course, this all ties together, and we're here to bring out a bow, but first a warning: If you don't want to read about how good the SEC is for the 56,314th time this year, then stop reading. I'd recommend an episode of "South Park" or perhaps a John le Carré thriller as an alternative for passing the time.
We can all agree the SEC plays great defense right? Alabama and LSU will play for the title Monday with the nation's top-two defenses. Do you think perhaps that it's not a coincidence that the conference that is 16-7 in BCS bowl games plays great defense?
The only other AQ conference with a winning record in BCS bowl games is the Pac-12, which is 11-7. The Pac-12 isn't known for defense, either, but USC was when it won the conference's last national title in 2004.
The only team to win a BCS national title without an elite defense was Auburn in 2010, but the Tigers' defense seemed to find itself late in the season. Since 1999, eight national champions had a top-10 defense. Other than Auburn, the lowest-rated defense to win a BCS national title was Ohio State in 2002. It ranked 23rd in the nation in total defense.
Three of the four BCS bowl games have been thrillers. Two went to overtime. We've seen big plays all over the field in the passing game and running game. Yet, if things go according to script in the title game, we'll see none of that. We might not see more than a couple of plays that go for more than 20 yards. We might not see any.
Some might call that boring. It might seem that both offenses are so paranoid of making a mistake that they are stuck in mud, both in game plan and execution.
But, snoozefest or not, when the clock strikes zero a team from the SEC will hoist the crystal football for a sixth consecutive time.
That might say something about playing better defense.
November, 10, 2010
11/10/10
3:00
PM ET
It's time for a blogger debate! And it doesn't get much better than when we match the SEC and Pac-10.
Our topic: No. 1 Oregon and No. 2 Auburn. Who's better and why?
Both are unbeaten, and if the season ended today, they'd play for the national title.
We've got lots of football left, and probably many more plot twists in the hunt for the national title, but there's no reason we can't engage in a hypothetical, is there?
So the Pac-10 blog -- Ted Miller -- and the SEC blog -- Chris Low -- have decided to meet for some civilized debate on Auburn versus Oregon.
Ted Miller
: Chris, since things are so quiet in the sleepy SEC, I think we should spice things up with a Pac-10-SEC blogger debate! It seems like a long time since we last had a debate between our two conferences. How'd that one go? Let's see I championed Taylor Mays and you celebrated Eric Berry. Wait.
Why did I bring that up
?
Anyway, our topic is Oregon and Auburn: Who's better and why.
[+] Enlarge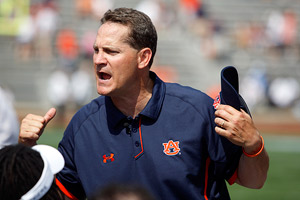 John Reed/US PresswireGene Chizik has silenced those critical of his hiring last year but getting Auburn off to a 10-0 start this season.
This is a potential national title game between the No. 1 Ducks and No. 2 Tigers, who are both unbeaten and feature Heisman Trophy candidates leading high-powered offenses.
You get first blood. Tell me about Auburn. It seems like it wasn't too long ago that Jay Jacobs was getting hounded for hiring Gene Chizik. Guessing that's died down a wee-bit.
Chris Low
: No doubt, Ted. I wonder where that obnoxious guy is now, the one yelling at Jacobs as he was leaving the airport after finalizing the deal with Chizik? Maybe Jacobs knew what he was doing after all. The guy with the 5-19 record at Iowa State has done all right by himself on the Plains. He has a Heisman Trophy-caliber quarterback and the SEC's leading rusher in Cam Newton, a 6-foot-6, 250-pound freak of nature who runs like Bo Jackson and also has an NFL arm. Keep your eyes, too, on freshman running back Mike Dyer, who they haven't had to lean on much this season, but is oozing with talent and has fresh legs for this stretch run. The Tigers' defensive numbers are nothing to write home about, but they do have the kind of dominant interior defensive lineman, Nick Fairley, who can take over games. Georgia coach Mark Richt said Fairley's the closest thing he's seen to Warren Sapp. Auburn's calling card defensively has been making plays at key times in the fourth quarter. The Tigers have been a serviceable defense through three quarters this season, but they've been a championship-caliber defense in the fourth quarter -- which is why they're 10-0.
So tell me about Oregon?
[+] Enlarge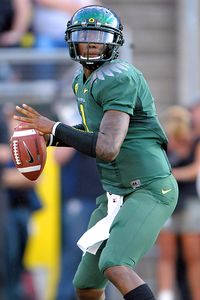 Kirby Lee/Image of Sport/US PresswireSophomore Darron Thomas was thrust into the starting quarterback job and has performed admirably.
Ted Miller
: Speaking of coaches: How about Oregon's Chip Kelly? How could he possibly expect to top winning the Pac-10 and playing in the Rose Bowl his first season? How about contending for a national title in his second? The Ducks, however, expected to be here when the 2009 season ended because just about everybody was coming back from the Pac-10 champions. That is until a guy you are now familiar with -- quarterback
Jeremiah Masoli
-- got caught up in some off-field issues and eventual got himself booted from the team. That seemingly left a void behind center, but sophomore
Darron Thomas
has not only filled Masoli's shoes, he's gone up a few sizes: He's 15th in the nation in passing efficiency and 21st in the nation in total yardage. Meanwhile, speedy running back
LaMichael James
is the top Heisman alternative to your guy, Newton. As for the defense, it's like the offense: Extremely fast. It ranks 13th in the nation in scoring defense and it has forced 28 turnovers, second-most in the nation. Folks often underestimate the Ducks' defense because it gives up some yards -- it ranks 29th in the nation in total defense -- but that's because the offense scores so quickly: The nation's No. 1 offense ranks 115th in the nation in time of possession. But the Ducks only give up 4.45 yards per play. Our factoid of the day is that number would rank No. 1 in ... wait for it ... the SEC!
Obviously, we're talking about two very good teams that have done impressive things on their way to remaining unbeaten. I know we both have Oregon ahead of Auburn in our power rankings, but give me the case for Auburn.
Chris Low
: Ted, I think what separates Auburn is Newton. Nobody has been able to stop him. If you commit to taking away the run, he's proved he can beat people throwing the ball. And if you come after him and/or don't have enough people in the box, he's been magic running the ball. Keep in mind, too, that we're not talking about a 220-pound guy running the ball. We're talking about a 250-pound guy who's physical, tough and doesn't run out of bounds. In the red zone, he's the great equalizer, because he gains 3 yards when he falls forward and has the size and the strength to push the pile. On top of it all, he's always a threat to throw the ball. Similar to Oregon, Auburn doesn't flinch if somebody puts 30-plus points on the board, because the Tigers' mentality is that they're going to score 50. Their offensive coordinator, Gus Malzahn, will make you defend everything -- reverses, throwback passes, passes to the backs, even passes to Newton. He caught a touchdown pass two weeks ago against Ole Miss. The Tigers also play at a tempo on offense that has opposing defenses gasping for air in the fourth quarter. But when they have to, they can put teams away and finish games by running the ball. They're fourth nationally (one spot ahead of Oregon) this week in rushing offense with an average of 307.2 yards per game. Auburn's top four rushers -- Newton, Dyer,
Onterio McCalebb
and
Mario Fannin
-- are all averaging at least 6.4 yards per carry. Do the Ducks have any answers for that running game?
[+] Enlarge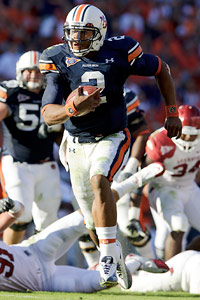 Paul Abell/US PresswireAuburn's Cam Newton is just as dangerous with his arm as he is on his feet.
Ted Miller
: That's what's so interesting about this as a potential national title game match -- there's an odd familiarity that both teams will have with each other despite never crossing paths. My guess is Malzahn and Kelly already have studied each other, just in terms of mutual admiration. And both defenses will be familiar with up-tempo, no-huddle, spread-option offenses that can power you and finesse you and throw downfield. Further, the Ducks have played against a number of big, fast, capable quarterbacks with NFL futures: Washington's
Jake Locker
, Ohio State's
Terrelle Pryor
and Stanford's
Andrew Luck
. The results have been mixed. Last year, Luck and Pryor got them. Luck beat the Ducks with uncanny downfield accuracy, which is why he'll go No. 1 in this spring's NFL draft. Pryor shocked them with the best passing game of his career in the Rose Bowl. Locker missed this year's game, but he's never had much luck against Oregon. In general, Oregon has a good run defense: Opponents are averaging 3.38 yards per rush. But the Ducks are undersized. A physical Stanford team had some success, rushing for 177 yards. But one thing about Oregon on both sides of the ball: It is masterful with halftime adjustments. They shutout Stanford, owners of the nation's No. 5 scoring offense, in the second half, and have given up just 48 points in the second half this year -- just seven in the fourth quarter!
Obviously, two very good teams that have done impressive things on their way to remaining unbeaten. I know we both have Oregon ahead of Auburn in our power rankings, but give me the case for Auburn if it played Oregon in the national title game. How do you see it going?
Chris Low
: Well, if that happens, the first thing we all better make sure we have is a calculator. That and make sure there's no danger of a power surge to the scoreboard. You're right about Oregon. Nobody in the country has been better in the second half. The Ducks' ability to score points in bunches is amazing, but the Tigers are equally adept at going on head-spinning scoring sprees. Just ask Arkansas, which saw Auburn roll up 28 points in the fourth quarter in Xbox-like fashion. I have no doubt that an Auburn-Oregon matchup would be played in the 40s. I think the difference, though, would be Auburn's ability to put the breaks on the track meet and run the football in the fourth quarter, especially with Newton being so good at converting on third down. So I'm going Auburn 45, Oregon 41 in a game that rates up there with the Texas-USC classic to decide the 2005 national title.
Ted Miller
: That's clearly something we can all agree on: This likely would be a highly entertaining, offensively driven national title game if these two teams manage to get themselves there. Further, I think, after never getting a USC-SEC title game, folks on both coasts would enjoy an SEC-Pac-10 matchup. No trash-talking there, right? And I do see a clear advantage for Auburn: It has been tested. It's played five games decided by eight points or fewer, and three decided by a field goal. The Ducks closest game? An 11-point win at Arizona State. But that's also why I'd pick Oregon in this one. Oregon beat the No. 6 team in the nation, Stanford, by 21 points. It shut Andrew Luck out in the second half. And I look at all of Auburn's close games: Mississippi State, Clemson, South Carolina, Kentucky and LSU, and think: None of them would be within 10 points of the Ducks. Maybe LSU, because any game Les Miles touches is surprising. And I think Vegas would agree with me. So if we ended up with an Oregon-Auburn national title game, my guess is the Tigers would go TD for TD with the Ducks in the first half, then the Ducks would pour it on late for a 50-35 win. But I reserve the right to change my mind, particularly because I think the Tigers' toughest test -- Alabama -- is ahead.
Moreover, both teams should be advised: You probably should get to the Jan. 10 date in Glendale before you start trash-talking each other. At least before you use your best stuff.