March, 28, 2013
3/28/13
4:50
PM ET
OK, I know I didn't cover all of the
memorable SEC upsets from the last 30 to 35 years in my earlier post
.
And, yes, I've already heard from some of you about those that weren't included.
So as promised -- and hoping that there are a few more compelling upsets to come in the NCAA tournament -- below are several more upsets involving SEC teams that fans have either tried to keep alive all these years or do their best to forget.
I've also included non-conference games and bowl games in this batch, and they're listed chronologically.
Texas A&M 29, Alabama 24 (2012):
The Aggies were a 13-point underdog on the road against the No. 1 Crimson Tide, and Johnny Football delivered the performance that won him the Heisman Trophy.
South Carolina 35, Alabama 21 (2010):
The No. 1 Crimson Tide had their 19-game winning streak snapped before a raucous crowd at Williams-Brice Stadium. Steve Spurrier said afterward that his Gamecocks played close to perfection on offense. Naturally, South Carolina lost the next week at Kentucky.
Jacksonville State 49, Ole Miss 48, 2 OTs (2010):
Ole Miss, coming off a nine-win season, opened the 2010 season by blowing a 21-point halftime lead and losing at home to the FCS Gamecocks.
Vanderbilt 17, South Carolina 6 (2007):
The Gamecocks debuted at No. 6 that week in the first BCS standings, but were stunned at home by the Commodores. It was one of two SEC wins that season for Vanderbilt.
Kentucky 43, LSU 37, 3 OTs (2007):
Braxton Kelly's stop of Charles Scott on fourth-and-2 in the third overtime preserved Kentucky's biggest win in decades and sent the No. 1 Tigers packing even though they rebounded to win the national title that season.
Auburn 20, Florida 17 (2007):
Wes Byrum kicked a 43-yard field goal as time expired to end an 11-game winning streak for the defending national champion Gators and hand Urban Meyer his first loss in the Swamp.
Vanderbilt 24, Georgia 22 (2006):
Bryant Hahnfeldt kicked a 33-yard field goal with seven seconds left to cap a game-winning 65-yard drive for the Commodores, whose only other wins that season were over Duke, Tennessee State and Temple.
Mississippi State 38, Florida 31 (2004):
It's an upset Ron Zook remembers all too well. It cost him his job.
Auburn 23, Florida 20 (2001):
The No. 1 Gators were a three-touchdown favorite and had won their first five games by a 244-45 margin. The unranked Tigers, though, sent Jordan-Hare Stadium into a frenzy when Damon Duval booted the game-winning 44-yard field goal with 10 seconds to play.
Mississippi State 47, Florida 35 (2000):
The No. 3 Gators had their 72-game winning streak against unranked teams snapped in Starkville as the Bulldogs rolled up 351 yards on the ground.
Arkansas 28, Tennessee 24 (1999):
The Vols were No. 3 and pointing toward a run at a second straight national title, but Clint Stoerner and the Hogs exacted revenge from the heartbreaking loss the year before in Knoxville when Stoerner stumbled and fumbled. When it was over, the Hogs' fans tore down the goalposts and paraded them up and down Dickson Street.
Georgia 20, Auburn 16 (1986):
It was a bitter home loss for the No. 8 Tigers and cost them a share of the SEC championship. It's a game that's probably best remembered for the water cannons at Jordan-Hare Stadium being turned onto the Georgia fans while they celebrated on the field after the game.
Miami (Ohio) 21, LSU 12 (1986):
The eventual SEC-champion and Sugar Bowl-bound Tigers opened the season by taking down No. 7 Texas A&M and rose to No. 8 in the polls. The very next week, they were ambushed at home by Miami (Ohio).
Tennessee 38, Auburn 20 (1985):
The Vols knocked eventual Heisman Trophy winner Bo Jackson out of the game and blistered the No. 1 Tigers in Knoxville behind four touchdown passes from Tony Robinson.
Georgia 10, Texas 9 (1984):
The Bulldogs capped the 1983 season by upsetting No. 2 Texas in the Cotton Bowl and knocking the previously unbeaten Longhorns out of the national title picture. Vince Dooley said that Texas defense was one of the best he's ever seen.
Tulane 31, LSU 28 (1982):
It's the last time Tulane has beaten LSU, which was ranked No. 7 entering the game and would go on to play in the Orange Bowl that season.
Georgia Tech 24, Alabama 21 (1981):
This ranks right up there with some of the more improbable upsets in history involving SEC teams. Alabama was ranked No. 2, but managed to lose in Birmingham to a Georgia Tech team that finished 1-10 that season -- the lone win coming over the Tide.
January, 24, 2011
1/24/11
10:40
AM ET
A couple of quick tidbits involving SEC players in the East-West Shrine Game over the weekend:
Tennessee defensive end Chris Walker helped punctuate the East's 25-8 win by sacking Virginia Tech quarterback Tyrod Taylor inside his own 2-yard line, forcing a fumble. The ball rolled into the end zone and was recovered for a East touchdown by North Carolina's Marvin Austin.
It wasn't the best day for Auburn place-kicker Wes Byrum, who kicked the game-winning field goal in the Tostitos BCS National Championship Game. He was 1-of-3 on field goals in the Shrine Game, missing a 44-yarder that was short and a 27-yarder that was wide right. According to the Scouts Inc. analysts who were at the game, Byrum's lack of leg strength was noticeable in the windy conditions.
Georgia linebacker Akeem Dent, who was second in the SEC this season with 126 tackles, showed up several times during the game, particularly on special teams. The Scouts Inc. analysts were impressed with his straight line speed, and his productivity on special teams should only help his draft stock.
Florida defensive end Justin Trattou had a sack in the game.
January, 11, 2011
1/11/11
12:27
AM ET
GLENDALE, Ariz. – Auburn made it five in a row for the SEC, winning a defensive battle of all things to defeat Oregon
22-19
on Monday night in the Tostitos BCS National Championship Game.
Here's an instant analysis of the game:


How the game was won:
Auburn drove 73 yards in seven plays for Wes Byrum's game-winning 19-yard field goal as time expired. The Tigers needed that final drive after Oregon scored and added the tying two-point conversion following a
Cam Newton
fumble. It wasn't the offensive shootout everybody was predicting. The two defenses were the show most of the night, and Auburn made more plays on that side of the ball than Oregon.
Turning point:
On Auburn's second play during its game-winning drive, freshman running back
Mike Dyer
looked like he was down. But the whistle never blew, and he took off for a 37-yard gain down to the Oregon 23.
Turning point II:
It looked like Auburn might be on the verge of putting the game away in the fourth quarter, but Newton had the ball poked out of his hands by Oregon's Casey Matthews. The Ducks, trailing 19-11, took over and tied the game with a touchdown and two-point conversion.
Star of the game:
Even though Auburn defensive tackle Nick Fairley made one bonedhead play when he shoved
LaMichael James
in the helmet while James was on the ground, Fairley was a dominant force in the middle of that Auburn defensive line and was a big reason the Ducks never really got untracked.
Unsung hero:
Dyer came up huge for the Tigers on that final drive. Not only did he have the big 37-yard run, but his 16-yard run down to the 1 set up Byrum's game-winner.
Stat of the game:
Auburn wouldn't allow Oregon to run the ball and held the Ducks to 75 rushing yards on 32 attempts.
What it means:
Auburn completed a stunning two-year turnaround. The Tigers suffered through a losing season in 2008, and two years later, they're the national champions. It was Auburn's first national championship since 1957. It's also the fifth straight year that an SEC team has won the national title. That's five titles by four different SEC schools, too.
January, 9, 2011
1/09/11
9:00
AM ET
SCOTTSDALE, Ariz. -- Well, here Auburn is, unbeaten and playing in the Tostitos BCS National Championship Game two years removed from suffering through a losing season.
If you're an Auburn fan, the Tigers weren't easy on the old ticker this season. They rallied from two-touchdown deficits four different times to win games, including the epic 24-point comeback at Alabama.
[+] Enlarge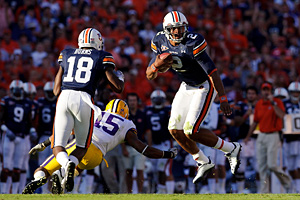 Paul Abell/US PresswireQB Cameron Newton (2) gets past LSU safety Brandon Taylor (15) for a wild touchdown run during Auburn's 24-17 win on Oct. 23.
It was truly a thrill-a-minute ride, and here's a look back at the top 10 plays (in reverse order) that paved the way for Auburn to meet Oregon on Monday night on college football's grandest stage:
10.
Everything counts in a championship season, even good "field-goal defense." Clemson's Chandler Catanzaro, a walk-on redshirt freshman, missed a 32-yard field-goal attempt in overtime. He had just made a 27-yarder to seemingly send the game into a second overtime, but the Clemson center, Dalton Freeman, double-clutched the snap. Clemson was moved 5 yards back, and Catanzaro hooked his kick wide left, giving Auburn a 27-24 win in overtime in a game the Tigers trailed 17-0 late in the first half.
9.
Speaking of field goals, Auburn's Wes Byrum has five game-winning field goals during his career. One of those came as time expired this season against Kentucky, a 24-yarder allowing the Tigers to escape 37-34 on the road the sixth week of the season. Byrum's game-winner came on the tail end of a 19-play, 86-yard drive by the Tigers that consumed nearly seven and a half minutes of the fourth-quarter clock.
8.
In the first South Carolina game, the Gamecocks turned the ball over on each of their last four possessions. The final one came when freshman quarterback
Connor Shaw
lofted a pass to
Alshon Jeffery
in the end zone. Jeffery got his hands on the ball, but was hit by Zac Etheridge. The ball popped out, and Demond Washington made a diving interception with 54 seconds to play, preserving Auburn's 35-27 win.
7.
Cam Newton
made so many spectacular plays this season that they all run together. But his 49-yard touchdown run against LSU to put Auburn ahead 17-10 on its first possession of the second half was in a class all by itself. He broke tackles. He showed tailback-like moves in the open field. He accelerated. He wasn't going to be kept out of the end zone on a run they will be talking about on the Plains for years to come.
6.
The offenses were scoring at will, and the defenses almost seemed helpless when Arkansas visited Jordan-Hare Stadium on Oct. 16. The Tigers led 44-43, and the Hogs had a third-and-1 at their own 43.
Broderick Green
motored around right end for the first down, but fumbled after being hit by Craig Stevens. Etheridge picked up the ball and raced 47 yards for a touchdown. It was close as to whether or not Green was down before the ball came loose. The play was reviewed, and the replay official confirmed the call on the field. Auburn went on to dominate the fourth quarter and win 65-43.
5.
Etheridge's fumble return for a touchdown was just the first of several big defensive plays by Auburn in the fourth quarter of that Arkansas game. On the Hogs' next offensive play following Etheridge's return,
Tyler Wilson
threw a ball over the middle that senior middle linebacker
Josh Bynes
read perfectly and intercepted. Bynes returned it 33 yards to the Arkansas 7-yard line, setting up Newton's 3-yard touchdown run to break the game wide open. Bynes intercepted another Wilson pass three offensive plays later to seal the deal.
4.
The Tigers knew they had to make something happen right out of the gate coming out of halftime against Alabama, and that's exactly what they did. Trailing 24-7 at the half, Auburn got a 70-yard touchdown pass from Newton to
Terrell Zachery
on the Tigers' second offensive play of the second half. It was a deep ball down the left sideline, and Alabama safety Mark Barron appeared to be in position to make a play. But Barron had torn his pectoral muscle in the first half and was unable to pick his arm up and knock the ball away. Zachery made the catch and raced to the end zone. Just like that, what was once a 24-0 lead had been cut to 10 points with an entire half to play.
3.
Auburn piled up a staggering 440 rushing yards against LSU in its 24-17 win. But with just under six minutes to play, the game was deadlocked at 17-17. Somebody needed to make a play.
Onterio McCalebb
was that somebody. He showcased his speed by racing 70 yards for a touchdown on a jet sweep. McCalebb got key blocks from
Kodi Burns
and Zachery on the play, made one cut and was gone. It was the knockout blow for Auburn in a game that was teetering up until that point.
2.
Antoine Carter didn't score a touchdown. He didn't ring up a key sack. But he did save the Tigers' season with the kind of hustle that epitomizes why you never give up on a play. Alabama was leading 21-0 in the first half, and running back
Mark Ingram
caught a pass and broke loose for what looked like might be another touchdown. Ingram stumbled briefly, which allowed a hustling Carter just enough time to get to Ingram and poke the ball away. Carter, a senior defensive end, had to run nearly 50 yards from where he started. He got to Ingram at the Auburn 18-yard line and knocked the ball loose. Instead of going out of bounds, it squirted through the end zone for a touchback. A 28-0 lead there would have probably been insurmountable, but Auburn had new life thanks to Carter never giving up.
1.
Auburn junior defensive tackle
Nick Fairley
was to the Tigers' defense what Newton was to the offense. He led the SEC with 10.5 sacks, and none were any bigger than his sack of Alabama quarterback
Greg McElroy
. The Crimson Tide, leading 24-7, had the ball second-and-goal at the Auburn 8-yard line and were about to salt the game away for good in the final minute of the half. On the snap, Fairley exploded off the ball and got to McElroy in a flash, forcing a fumble. Fairley was on the ground by that point, but saw the ball rolling around. He was able to beat all of the Alabama players and pounce on the fumble at the Auburn 12. It was a huge momentum swing going into halftime, keeping the Crimson Tide from scoring any more points. If they score there and go up 31-7, the game's over. Fairley had other ideas with his version of a hat trick -- sack, forced fumble and recovered fumble -- and Auburn rallied in the second half for an improbable 28-27 victory.
August, 23, 2010
8/23/10
2:00
PM ET
Five of the SEC's 12 place-kickers have been named to the watch list for the 2010 Lou Groza Award, which goes annually to the top place-kicker in college football.
Making the list were:
Wes Byrum, Auburn
Josh Jasper, LSU
Spencer Lanning, South Carolina
Caleb Sturgis, Florida
Blair Walsh, Georgia
Picking the first-team All-SEC place-kicker this season could be a chore. Among them, Byrum, Jasper, Lanning and Walsh missed just nine field goals a year ago. Sturgis misfired on eight, but was 6-of-9 beyond 40 yards and hit a 56-yarder against Georgia, the longest field goal in the SEC last season.
November, 10, 2009
11/10/09
1:50
PM ET
Posted by ESPN.com's Chris Low
Scanning the list of semifinalists for the 2009 Lou Groza Award is pretty telling when you start rating the quality of place-kickers in the SEC.
In short, this league has a few guys who can kick the ball.
Five of the 12 SEC place-kickers made the
semifinal cut for the Lou Groza Award
, which goes annually to the nation's best place-kicker. There are 20 kickers on the list.
Representing the SEC were Auburn's Wes Byrum, South Carolina's Spencer Lanning, Florida's Caleb Sturgis, Alabama's Leigh Tiffin and Georgia's Blair Walsh.
Byrum and Walsh each have missed only one field goal this season. Walsh is 7-for-7 from 40 yards or longer and 3-for-3 from 50-yards or longer.
Tiffin is tied with UCLA's Kai Forbath for the national lead with 20 field goals made, while Sturgis has the SEC's longest field goal this season at 56 yards.
Lanning may be the neatest story of the five. He didn't even have a scholarship prior to this preseason and has handled the Gamecocks' place-kicking and punting duties and has also kicked off some.