January, 19, 2012
1/19/12
4:02
PM ET
Our recruiting folks at ESPN have gone back and
re-visited the 2008 signing class
and assessed how the marquee prospects in that class fared in college.

It's one of my favorite exercises, because it's a reminder that recruiting is anything but an exact science, and that evaluating recruiting classes and prospects on signing day is a dicey proposition.
Everybody is trying to recruit great players, but what matters is what you do with those players once you get them on your campus.
Of the 25 top prospects in the 2008 class, seven signed with SEC schools.
No. 2 on that list was Julio Jones. No. 5 was A.J. Green, and No. 8 was Patrick Peterson.
I'd say the analysts got those three right. They were all great players who earned numerous awards and accolades, and all three were taken among the top six picks in last year's NFL draft.
But for every Julio Jones, A.J. Green and Patrick Peterson, there's a
Will Hill
,
Dee Finley
,
Chancey Aghayere
and Burton Scott.
All four were ranked among the top 25 prospects in the nation by ESPN in 2008, but for varying reasons, they never flourished in college.
Hill, a safety who signed with Florida out of West Orange, N.J., was the No. 3 overall prospect in 2008. He had a promising freshman season, but struggled with consistency his next two seasons. He declared early for the NFL draft and wasn't selected, and wound up playing in the Arena Football League.
Finley, another safety who signed with Florida out of Auburn, Ala., was No. 10. He was sidetracked by injuries and off-the-field issues during his career and announced that he was transferring to North Alabama.
Aghayere, a defensive end who signed with LSU out of Garland, Texas, was No. 14. He's a rising senior, but has played mostly in a reserve role for the Tigers. He didn't make any starts this season and finished with three total tackles.
Scott, an athlete who signed with Alabama out of Prichard, Ala., was No. 19. He moved from running back to cornerback after arriving at Alabama, but wound up transferring and played at South Alabama this past season.
Florida signed an SEC-high six players in 2008 that were ranked among the top 55 prospects nationally. The Gators signed 10 players who were ESPNU 150 prospects.
It's a haul that looked terrific at the time, but four seasons later, the Gators lost six football games and didn't beat anybody in 2011 (in the FBS ranks) that finished with a winning record.
There's also the flip side.
Alabama's 2008 class was ranked No. 3 by ESPN, and it's a class that was the driving force behind the Crimson Tide's dizzying run the past few years, which includes two national championships.
So, again, there are always hits and misses in recruiting, and those players who miss sometimes do so for reasons that go well beyond football ability. What's more, classes that look like a million dollars on signing day don't always look so good three and four years later.
Just something to remember with national signing day approaching.
Here's a look at the remaining ESPNU 150 prospects in 2008 who signed with SEC schools:
January, 25, 2011
1/25/11
12:40
PM ET
By
ESPN.com staff
| ESPN.com
Making the rounds in the SEC:
January, 14, 2011
1/14/11
1:32
PM ET
By
ESPN.com staff
| ESPN.com
Florida safety Will Hill has decided to turn pro, meaning the Gators held onto one of their top junior defensive backs thinking about making the jump to the NFL.
Cornerback Janoris Jenkins earlier said he he would remain in school for his senior season.
About the only SEC player who's yet to make a decision about his future is Georgia outside linebacker Justin Houston, although he's expected to turn pro. The deadline to declare for underclassmen is Saturday, and then they have three days to withdraw their name as long as they don't sign with an agent.
Here's an updated list of SEC players declaring for the draft:
Randall Cobb, WR, Kentucky
Marcell Dareus, DE, Alabama
Nick Fairley, DT, Auburn
A.J. Green, WR, Georgia
Tori Gurley, WR, South Carolina
Will Hill, S, Florida
Mark Ingram, RB, Alabama
Julio Jones, WR, Alabama
Ryan Mallett, QB, Arkansas
Cam Newton, QB, Auburn
Patrick Peterson, CB, LSU
Stevan Ridley, RB, LSU
December, 30, 2010
12/30/10
12:10
PM ET
By
ESPN.com staff
| ESPN.com
The SEC bowl bonanza begins today. Happy bowling! Here are a few links to get you started:
September, 18, 2010
9/18/10
3:32
PM ET
KNOXVILLE, Tenn. -- Florida already leads the country with eight interceptions and has one of the best defensive backfields in the country.
But the Gators are getting junior safety Will Hill back today from a two-game suspension.
The Gators have supreme confidence in their defensive backs and will no doubt dare Tennessee to beat them down the field. The Vols'
Tauren Poole
is leading the SEC in rushing through two games, and the Gators will look to stop him early and force
Matt Simms
to beat them throwing the ball.
September, 16, 2010
9/16/10
3:37
PM ET
By
ESPN.com staff
| ESPN.com
Tennessee coach Derek Dooley doesn't mince words when he surveys his offense two games into the season.
"Until we get our passing game going, we're going to struggle," he said.
He also knows the game this Saturday probably isn't the best time to be getting that passing game going.
Not against Florida.
The Gators lead the country with eight interceptions and have taken two of those back for touchdowns. It was an interception return for a touchdown last week in the Oregon game that precipitated the Ducks' 48-13 rout of the Vols.
To put Florida's eight interceptions in perspective through two games, seven of the SEC teams were at 13 interceptions or fewer for the entire season a year ago.
Simply, it's one of the best defensive backfields Tennessee will face all season, and junior safety Will Hill has yet to even play. He was suspended for the first two games, but is scheduled to make the trip this weekend.
"What you see is a real confident group, a tremendously athletic and fast group, and you see a group in the secondary that when the ball goes up in the air, they act like it's their ball, and that's what you want every defender to think," Dooley said.
The Gators will almost certainly load the line of scrimmage and dare the Vols to beat them with the pass. As effective as
Tauren Poole
has been at running the ball for Tennessee in the first two games (an SEC-leading 272 yards), the Vols have struggled to make a lot happen in their passing game.
Tennessee is last in the SEC in pass efficiency with only one touchdown pass and two interceptions. The Vols are also completing an SEC-low 54.2 percent of their passes.
September, 4, 2010
9/04/10
1:57
PM ET
By
ESPN.com staff
| ESPN.com
Florida safety Will Hill isn't playing in Saturday's opener for unspecified reasons.

In his absence, true freshman Matt Elam has been involved in several nice plays. Elam was already going to play a lot even if Hill was available to play.
August, 23, 2010
8/23/10
12:09
PM ET
By
ESPN.com staff
| ESPN.com
Making the rounds in the SEC:
August, 2, 2010
8/02/10
9:42
AM ET
By
ESPN.com staff
| ESPN.com
Six SEC players, including Florida teammates Janoris Jenkins and Will Hill, are on the 2010 Jim Thorpe Award preseason watch list.

The Jim Thorpe Award is presented annually to the nation's best defensive back, and it hasn't been an award that the SEC has dominated through the years. Tennessee safety Eric Berry was named the 2009 winner, but he was only the fourth SEC player in the last 20 years to win the award.

That said, the SEC should have a good chance to make it two in a row this season. In addition to Jenkins and Hill, the other four from the conference on the preseason watch list are LSU cornerback Patrick Peterson, Alabama safety Mark Barron, South Carolina cornerback Stephon Gilmore and Georgia cornerback Brandon Boykin.

The SEC, Big 12 and ACC all placed six players on the list, which included 35 players.

Here's the entire list:
Prince Amukamara, CB, Nebraska
Mark Barron, S, Alabama
Brandon Boykin, CB, Georgia
Curtis Brown, CB, Texas
Kendric Burney, CB, North Carolina
Brandon Burton, CB, Utah
Rashad Carmichael, CB, Virginia Tech
Quinton Carter, S, Oklahoma
Chimdi Chekwa, CB, Ohio State
Don Decicco, S, Pittsburgh
Ras-I Dowling, CB, Virginia
Blake Gideon, S, Texas
Stephen Gilmore, CB, South Carolina
Brandon Harris, CB, Miami
Will Hill, S, Florida
Jermale Hines, S, Ohio State
Brandon Hogan, CB, West Virginia
Davon House, CB, New Mexico State
Duke Ihenacho, S, San Jose State
Jaiquwn Jarrett, S, Temple
Janoris Jenkins, CB, Florida
Jeron Johnson, S, Boise State
Tejay Johnson, S, TCU
Shiloh Keo, S, Idaho
Brian Lainhart, S, Kent State
DeAndre McDaniel, S, Clemson
Rahim Moore, S, UCLA
Johnny Patrick, CB, Louisville
Patrick Peterson, CB, LSU
Tyler Sash, S, Iowa
Robert Sands, S, West Virginia
Jimmy Smith, CB, Colorado
Trevin Wade, CB, Arizona
Deunta Williams, S, North Carolina
Aaron Williams, CB, Texas
July, 28, 2010
7/28/10
10:19
AM ET
By
ESPN.com staff
| ESPN.com
The SEC lost a bevy of great defensive backs from a year ago.
In fact, 12 were taken in the NFL draft, and seven went in the first three rounds. Gone are Eric Berry, Joe Haden, Kareem Jackson, Major Wright, Javier Arenas, Chad Jones, Myron Lewis, Walt McFadden, Marquis Johnson, Kendrick Lewis, Reshad Jones and Trevard Lindley.
What's that leave in the way of the top defensive backfields in the SEC for 2010?
Here's a look:
[+] Enlarge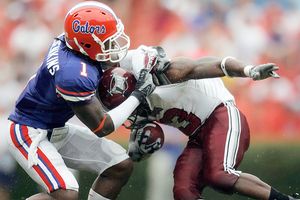 Cliff Welch/Icon SMI Janoris Jenkins is one of the mainstays in the Florida defensive backfield.
1. Florida:
It's a testament to how well the Gators have recruited that they own the top secondary in the SEC even after losing Haden and Wright early to the NFL. Janoris Jenkins is one of the top cornerbacks in the league, and good luck in finding a better safety tandem than Will Hill and Ahmad Black. Talented freshmen are waiting in the wings, too, like Matt Elam and Joshua Shaw.
2. South Carolina:
The Gamecocks were second in the league last season in pass defense and should be even harder to throw the ball on in 2010. Sophomore Stephon Gilmore is one of the best young cornerbacks in college football, and his former high school teammate, safety DeVonte Holloman, may be one of the breakout players in the league. Senior Chris Culliver, a second-team All-SEC selection last season, also returns and is switching from safety to cornerback.
3. LSU:
If you're looking for the fastest secondary in the SEC, look no further than the unit the Tigers will put on the field this season. Patrick Peterson is the best cornerback in the country -- period -- and his running mate on the other side, Morris Claiborne, has been turning heads since the spring. They may end up being the best cornerback tandem in the league. Jai Eugene has moved from cornerback to safety, while Brandon Taylor returns at the other safety. He, too, is a former cornerback.
4. Auburn:
There's nothing like adding three veteran leaders back to the mix, and that's what Auburn will do with senior safeties Zac Etheridge, Aairon Savage and Mike McNeil. All are returning from serious injuries. One of the priorities this season is to get junior cornerback Neiko Thorpe more help. He played too many snaps a year ago. Demond Washington is returning to his cornerback position after filling in at safety last season.
5. Vanderbilt:
Don't blink. Vanderbilt has consistently played some of the best pass defense in the SEC under Jamie Bryant, who oversees the Commodores' secondary. Safety Sean Richardson and cornerback Casey Hayward are returning starters, and both have what it takes to be All-SEC players. Junior Jamie Graham has settled in at the other cornerback after playing receiver earlier in his career. Nickelback Eddie Foster also returns, and the Commodores liked what they saw this spring from freshman safeties Jay Fullam and Kenny Ladler.
6. Alabama:
The only guy who won't be new for the Crimson Tide this season in the secondary is junior safety Mark Barron, who led the SEC with seven interceptions a year ago. Everybody else who was in the rotation is gone. Alabama still has plenty of young talent in its defensive backfield, but there could be some growing pains early. Sophomore cornerback Dre Kirkpatrick has unlimited potential. There's also a chance that junior college cornerback DeQuan Menzie could be back after tearing his Achilles tendon in the spring.
7. Georgia:
The Bulldogs gave up far too many big plays in the secondary last season and allowed a league-high 25 touchdown passes. They should be better in 2010, particularly with the addition of junior college safety Jakar Hamilton, who was one of the stars of the spring. Junior cornerback Brandon Boykin has the skills to be one of the league's top cover guys, but the Bulldogs are still thin at the cornerback position. They can't afford any injuries.
8. Tennessee:
The dismissal of starting safety Darren Myles Jr. following his arrest and involvement in a bar brawl drops the Vols down a spot or two. They don't have a lot of depth behind him. The leader of the unit is sophomore free safety Janzen Jackson, who can be one of the best defensive backs in the league if he stays out of trouble off the field. Junior cornerback Art Evans is underrated and will be the Vols' top cover guy.
9. Mississippi State:
The Bulldogs got big performances from freshmen last season in their secondary, which means their pass defense should improve considerably from their No. 11 showing in the SEC a year ago. Sophomore cornerback Corey Broomfield had six interceptions, and sophomore Johnthan Banks had four interceptions. Banks is moving from free safety to cornerback this season. Also look for a big junior season from strong safety Charles Mitchell, who is Mississippi State's enforcer back there.
10. Kentucky:
With Lindley missing four full games last season with a high ankle sprain, the rest of the Wildcats' defensive backs were forced to step up their games. Three starters return, including budding star Winston Guy at free safety. Cornerbacks Paul Warford and Randall Burden are also back, as Kentucky started five defensive backs in most games. Finding another safety will be key this preseason.
11. Ole Miss:
The lone returning starter is senior safety Johnny Brown, who's coming off his best season. The Rebels' other safety a year ago, Kendrick Lewis, was one of their mainstays on defense, and replacing him won't be easy. Junior college newcomer Damien Jackson will draw that job, and he was extremely impressive in the spring. Ole Miss will be both inexperienced and thin at the cornerback positions.
12. Arkansas:
The Hogs gladly welcome back junior cornerback Isaac Madison, who missed all of last season with a knee injury. Their pass defense suffered with Madison out of the lineup, and they finished last in the league, allowing 401.2 yards per game. They also gave up 22 touchdown passes. To get more speed on the field, Arkansas moved Rudell Crim to safety during the spring. Ramon Broadway returns at the other cornerback and Elton Ford at the other safety.
October, 11, 2009
10/11/09
1:35
AM ET
By
ESPN.com staff
| ESPN.com

Posted by ESPN.com's Chris Low
BATON ROUGE, La. --
Tim Tebow
might have been the story, but he wasn't the difference.
| | |
| --- | --- |
| | |
| | Kevin C. Cox/Getty Images |
| | Quarterback Tim Tebow got the most attention but coach Urban Meyer said Florida's dominant defense was the key to victory. |
The difference was a Florida defense that was good enough to win a national championship a year ago and was in national championship form Saturday night in Tiger Stadium.
The
No. 1-ranked Gators buried No. 4-ranked LSU 13-3
with the kind of suffocating defensive performance their defensive coordinator, Charlie Strong, has been pushing for ever since last season ended.
"What we have to do is become a dominant defense," Strong said during the spring. "We've made a bunch of big plays when we've needed to, but I want to see us become dominant."
Strong's boss, Florida coach Urban Meyer, would call what he witnessed Saturday night dominant.
"Defensively, it was one of the best efforts I've ever seen at containing athletes," said Meyer, whose Gators have still only given up two touchdowns in five games.
Of course, at halftime Saturday, you would have thought they'd given up two touchdowns in the second quarter with the way Strong was unloading on his guys.
"He had some words for us, but I can't repeat what he said," Florida sophomore safety Will Hill said.
Strong was peeved that his defense allowed LSU to drive 77 yards for a field goal in the second quarter and tie the game at 3-3.
From there, the Tigers managed just 58 yards.
"We weren't going to do anything to put our defense in a bad situation," said Tebow, who admitted he picked his spots on when to lower his head after suffering a concussion two weeks ago. "This wasn't a game where we were going to spread it out. We were going to try and be more physical, control the ball, take care of the ball ... and trust in our defense."
With a defense like Florida's, why not trust it?
The Tigers probably thought there were 12 men on the field most of the night. They managed just 162 total yards against the Gators and were 1-of-9 on third down.
Quarterback
Jordan Jefferson
was sacked five times and pressured relentlessly.
"We have that mentality of the Baltimore Ravens in that 2000 season," Florida senior linebacker Ryan Stamper said. "If we get three points, we feel like we should win the game. All the offense has to do is get three points, and we're going to win."
The Tigers' only scoring drive was aided by a couple of personal foul penalties and the only time an LSU receiver got loose all night against a Florida secondary that has few, if any, peers nationally.
Brandon LaFell
hauled in a 26-yard pass.
"If it wasn't for that, I don't think they would have scored at all," Stamper said.
In fact, that was the plan. And not that Hill was unconcerned about his teammate, but he didn't spend much time during the week wondering about Tebow's status.
"We knew he was going to suit up, but we didn't know if he was going to play or not," Hill said. "We didn't really care, because we had to play defense.
"The defense knew what we had to do to come out and win this game."
Was it good enough to be classified as dominant?
"That was a first step toward it," Hill said.
July, 18, 2008
7/18/08
8:00
AM ET
By
ESPN.com staff
| ESPN.com
Posted by ESPN.com's Chris Low
Selecting impact newcomers can really be a crap shoot. Case in point: We knew the kid had talent, but did anybody really see Knowshon Moreno breaking out in that crowded Georgia backfield and having the kind of monster season he did a year ago? On the other end of the spectrum, remember how junior college transfer Kenny O'Neal was going to swoop in and be Tennessee's deep threat in the passing game last year? Well, he caught two passes all season and is no longer in the program. So with a deep exhale, I give you the SEC's Top 10 impact newcomers for the 2008 season. Some are transfers. Some are redshirt freshmen, and some are true freshmen. One is reintroducing himself to the league after a year sabbatical. We'll check this list again in late October and see how many I hit and how many I missed:
1. Jevan Snead, QB, Ole Miss: Quarterback woes have haunted the Rebels ever since Eli Manning left. Not anymore, though. Snead, a gifted 6-3 transfer from Texas, finally gets to show off his arm, mobility and smarts in 2008.
2. Chris Rainey, RB, Florida: Granted, it's not like the Gators are lacking in the offensive playmaker department. But even with Tim Tebow and Percy Harvin running around, Urban Meyer will find a way to get this speedy redshirt freshman the ball.
3. Demetrice Morley, S, Tennessee: He's not exactly completely new, having played as a freshman in 2006. But Morley is back after flunking out a year ago and will pair with Eric Berry to give the Vols one mean safety duo.
4. Chris Todd, QB, Auburn: It sounds like new Auburn offensive coordinator Tony Franklin is relegated to playing two quarterbacks early. If Todd's shoulder problems subside, the juco transfer is clearly the best option as a passer.
5. Raven Gray, DE, Auburn: Had it not been for the knee surgery that kept him out all spring, Gray would be even higher on this list. Tommy Tuberville called the touted juco transfer as good a defensive lineman as he's signed at Auburn.
6. Will Hill, S, Florida: With Dorian Munroe lost for the season, the Gators' depth at safety just got worse. Hill, a true freshman from Jersey City, N.J., and one of the plums of the class, will get every chance to start right away.
7. Jerrell Harris, LB, Alabama: Similar to Florida's safety issues, Alabama needs immediate help at linebacker. The 6-3, 215-pound Harris may be the answer on the strong side. Only a true freshman, Harris has great speed and pop.
8. Enrique Davis, TB, Ole Miss: Another new face Ole Miss fans will see early and often this season. Davis, one of the top prep school players in the country last year, is Houston Nutt's kind of back. He has power and speed.
9. Julio Jones, WR, Alabama: The much ballyhooed Jones looks like an NFL receiver right now, even if he is only a true freshman. We know he's oozing with talent. If he's also a quick learner, SEC defenses had better beware.
10. Blair Walsh, K, Georgia: Take one look at Georgia's schedule, and it's a safe bet the Bulldogs will be in a bunch of close games this season. Walsh, a true freshman, steps in as their kicker and should get a chance early to show off his strong leg.
In closing: I reserve the right to place asterisks in front of the names of defensive tackle Jerrell Powe and outside linebacker Patrick Trahan, both of Ole Miss, and defensive end Gerald Williams and tight end Brandon Warren, both of Tennessee. All four are transfers still awaiting final word on their eligibility for this season. At this point, it appears that all four have a pretty good shot to make it, which would be good news for the Rebels and Vols. I could also pick three or four more players from Alabama's highly rated signing class that will have an immediate impact. Others to watch are safety Mark Barron, receiver Burton Scott, cornerback Alonzo Lawrence and offensive tackle Tyler Love. And, yes Georgia fans, I, too, am anxious to see freshman receiver A.J. Green play. One final name I'll leave you with is Charles Mitchell of Mississippi State. The state of Mississippi's top prospect last year will start out at safety for the Bulldogs, but is physically ready to play just about anywhere ... and play well.
July, 10, 2008
7/10/08
6:50
PM ET
By
ESPN.com staff
| ESPN.com
Posted by ESPN.com's Chris Low
After consulting with ESPN recruiting guru Tom Luginbill and several others around the conference, here's a look at the 15 freshmen (true and redshirt) most likely to have the biggest impact this season.
Obviously, this could change depending on injuries, academics and upperclassmen making a move this August. It's also not necessarily a list of the 15 most talented freshmen or 15 highest rated freshmen.
It's 15 guys who could have a profound impact based either on need or the fact that they're just that good. They're listed alphabetically:
Jake Bequette, DE, Arkansas: After redshirting last season, Bequette was good enough during the spring that the Razorbacks were able to move Malcolm Sheppard inside to tackle. Bequette finished the spring as one of the Hogs' most improved players, according to Arkansas coach Bobby Petrino.
Aaron Boyd, WR, Kentucky: Boyd is the younger brother of former Kentucky quarterback Shane Boyd. He had plenty of offers, but stayed home to play for the Wildcats. He fills a huge void at receiver, where just about everybody who made a play for the Wildcats last season is gone.
Enrique Davis, RB, Ole Miss: He signed with Auburn originally out of high school, but settled on Ole Miss after attending Hargrave (Va.) Military Academy last year. And why not? Davis is Houston Nutt's type of back -- big, bruising and blessed with breakaway speed. He'll get the ball early and often this season.
Aaron Douglas, TE, Tennessee: Shoulder surgery has slowed Douglas somewhat, but he's the kind of athletic tight end new offensive coordinator Dave Clawson is looking for in his West Coast offense. The Vols will use two tight ends a good bit this season if everybody's healthy.
Robert Elliott, RB, Miss. State: One of the country's top-rated running back prospects two years ago, Elliott showed flashes of brilliance last August in camp, but was held back by some fumbling problems. He's had the reshirt year to mature and will team with Anthony Dixon and Wade Bonner to give the Bulldogs a potent running game.
A.J. Green, WR, Georgia: One of the top receiving prospects in the nation last year, Green could quickly become one of Matthew Stafford's favorite targets. The Bulldogs are looking for more playmakers at receiver, and Green is one of those guys who stretches the field with the best of them.
Jerrell Harris, LB, Alabama: It's no secret that Alabama needs linebackers. Harris could factor in on the strong side immediately. He has great speed and finds the football. The Crimson Tide had some pretty good success with another freshman linebacker last season ... Rolando McClain.
Will Hill, S, Florida: The 6-3, 200-pound Hill is a punishing hitter who figures to get a shot right away in the Gators' secondary. They won an intense recruiting battle with Florida State and Southern California to get him and won't waste any time putting him out there.
Omar Hunter, DT, Florida: The unofficial count of how many times Urban Meyer mentioned Omar Hunter's name this spring was somewhere around double digits. The Gators need defensive tackle help, and the 6-1, 300-pound Hunter has all the tools to be a great one.
Julio Jones, WR, Alabama: He has the look of a five-year NFL veteran. The 6-4, 210-pound Jones was one of the crown jewels of Alabama's top-rated recruiting class. Senior quarterback John Parker Wilson will be looking for a big, athletic target this season, and Jones certainly fits that bill.
Caleb King, RB, Georgia: Get ready for a one-two punch at tailback in Athens. Knowshon Moreno was the redshirt freshman everyone couldn't wait to see at Georgia last season (and with good reason). This season, it's King, who gives the Bulldogs another explosive running threat in their backfield.
Alonzo Lawrence, CB, Alabama: Nick Saban played a lot of nickel and dime packages last season and is always looking for more depth in the secondary. Lawrence made his name by shutting down fellow Alabama signee Julio Jones in the Alabama vs. Mississippi high school all-star game.
Jarrett Lee, QB, LSU: A highly rated prospect coming out of Texas, Lee redshirted last season. But with Ryan Perrilloux gone, Lee moves to the forefront of the Tigers' quarterback race along with junior Andrew Hatch. Another one to watch is 6-5, 220-pound true freshman Jordan Jefferson, especially if he can handle the mental jump to college football.
Charles Mitchell, S, Miss. State: The state of Mississippi's top prospect last year, Mitchell is enrolled in second-session summer school classes at Mississippi State. He'll start out at safety, but could play just about anywhere -- including offense. He's one of those rare prospects who was physically ready to play college football the day he signed.
Chris Rainey, RB, Florida: The star of the Gators' spring game, Rainey received a medical redshirt last year after injuring his shoulder. Not only is he super fast, but he has moves that are even scarier for a defender in the open field. Rainey has beefed up and is now pushing 180 pounds. He has a chance to be one of the SEC's most exciting players.
SEC SCOREBOARD
Friday, 12/26
Saturday, 12/20
Monday, 12/22
Tuesday, 12/23
Wednesday, 12/24
Saturday, 12/27
Monday, 12/29
Tuesday, 12/30
Wednesday, 12/31
Thursday, 1/1
Friday, 1/2
Saturday, 1/3
Sunday, 1/4
Monday, 1/12
Tweets from https://twitter.com/ESPNCFB/lists/sec