March, 20, 2013
3/20/13
2:30
PM ET
Bret Bielema guided Wisconsin to Big Ten championships and Rose Bowl appearances each of his last three seasons in Madison.
But when Arkansas called, he was immediately interested and admits that there was a burning desire to see how he would fare in college football's toughest conference.
Bielema takes over an Arkansas program that fell flat on its face in 2012 following the Bobby Petrino scandal last spring and Petrino's subsequent firing. The Hogs dipped to 4-8 last season under interim coach John L. Smith after winning 10 or more games each of the previous two seasons under Petrino and playing in the Sugar Bowl following the 2010 season.
The Hogs are still searching for their first SEC championship, and Bielema said that's the goal.
Here's Part II of our Q&A with Bielema:
Was it even more crucial, moving over to the SEC, to make sure you brought in proven recruiters?
Bret Bielema:
It was extremely important to hire a group of coaches who were relentless recruiters. I think this is the first time I can say that all nine of my assistants are detail guys and they love to recruit. That's going to pay dividends, and they all have a vast amount of experience. We've got NFL. We've got SEC. We've got every type of conference known to man. It's going to be fun to watch this group grow. If you talked to every one of my assistants, no one is enjoying this more than we are. I've got a group that's engaged with a lot of different chemistry and a lot of different personalities coming through, and they've all been great.
[+] Enlarge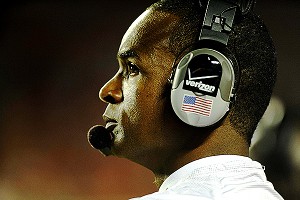 Steve Mitchell/USA TODAY SportsArkansas assistant Randy Shannon, the former Miami head coach, should provide a lift to the Hogs' recruiting efforts in Florida.
You went down to South Florida and got a couple of coveted prospects in your first signing class (running back Alex Collins and offensive tackle Denver Kirkland). What recruiting territories will be critical for you at Arkansas?
BB:
With Randy (Shannon) and Charlie (Partridge) and my success in South Florida, we expected to have success there and thankfully had it. A big push for us is that we're putting six recruiters in the state of Texas. We have to be more than competitive in North Texas and East Texas for us to have a chance here at Arkansas. We play Texas A&M for the next 10 years in Dallas. That has to be a big, big area of emphasis for us.
What will be your biggest adjustment as a head coach in the SEC?
BB:
Without a doubt, the recruiting landscape. It's not an adjustment, just different from what I've done. Great recruiters can recruit anywhere. That's the philosophy I took into this year, and we'll carry it forward.
What about the league? How long will it take you to get up to speed on the league?
BB:
My summer project is to watch seven to 10 complete games of everybody on our schedule. I'll watch the TV copy and football copy and get a feel for what's happening during the course of the game. It will be great teaching. I also have to get to know the personality of my team, if I can go for it on fourth-and-2 or do I kick a field goal. Those are all things in progress for me.
Have you gotten a feel for the leadership on this team yet?
BB:
The most pleasant surprise when I came here was the group of 22 seniors who walked into my office who have tremendous respect for Arkansas and what it can be. They're extremely eager to jump in and change gears. The last 18 months haven't been something that was very special to them. There's been a lot of disappointment and a lot of heartache, and they're hungry. I really don't care how many of those guys are going to be All-Americans or NFL draft picks. But it's been very apparent to me that it's very important to them to be at Arkansas and to be a Hog.
Even with all your success at Wisconsin, did you find yourself wondering about the SEC and whether or not you could win big in this league?
BB:
As the SEC began to build its superiority in college football, that naturally appealed to any competitor. As we had success at Wisconsin, I had more and more opportunities. I'm not one of those coaches that likes to have my name out there. Other coaches throughout the world of college football love to see their name being mentioned for different jobs. I'm just not one of those guys. That's why we took the world by storm when I came here. Nobody really knew about it. I made sure it was done that way.
What about the Arkansas job appealed to you?
BB:
A lot of it was finding the right fit in the SEC. I'm not saying Arkansas and Wisconsin are identical twins, but I think they're from the same family. They're proud states, have great fan support and have a handful of good players every year. You're going to have to go out of state every year to complement your whole team to win a championship, and that's some of the challenges we have here at Arkansas.
Does your philosophy change any now that you're in the SEC?
BB:
In today's world of up-tempo offenses and all the things that go into it, you need to have depth in the defensive line. And offensively, you've got to be able to knock somebody off the line of scrimmage. You can't rely on tricking somebody. If your offensive game plan is built around tricking someone, you don't have a chance. You've got to be able to put a hat on a hat and play big-boy football and be able to play in a world where you're tougher than the guy in front of you.
December, 4, 2012
12/04/12
10:28
PM ET
Anytime a head-coaching job opens in the SEC, the athletic director at that school stands at the podium and promises his fans with conviction that he's going to go out and hire a proven winner.

Sometimes that's a difficult promise to keep, especially when three other schools in your league are coach-shopping at the same time.
But say this for Arkansas athletic director Jeff Long: He delivered on
bringing a guy to the Ozarks
whose record needs no deciphering.
Bret Bielema was 68-24 (.739) in seven seasons as Wisconsin's head coach, the ninth-highest winning percentage among active coaches in the NCAA with at least five years of experience. He guided the Badgers to their third consecutive Big Ten championship this season, and they became the first team to represent the Big Ten in three straight Rose Bowls since Michigan in 1976-78.
Over the past four years, Wisconsin has won 40 games, which is tied for the most of any four-year stretch in school history.
Long wanted a proven winner, and he got one.
But winning in the Big Ten and winning in the SEC are two different worlds. That's not a slight against Bielema. It's just the way it is.
The fact that Bielema would leave Wisconsin was stunning to a lot of people there. Clearly, though, he's not afraid of a challenge.
He'll get a daunting one at Arkansas, which plays in the toughest division (SEC West) in all of college football and doesn't have the luxury of producing the kind of homegrown talent most of the SEC states do.
Moreover, going into the state of Texas and getting players will be harder than ever with Texas A&M making the kind of splash it did in its first season in the SEC.
The biggest question Bielema will have to answer is whether or not he can recruit at a high level in the SEC. He's smart enough that he'll hire guys who know the Hogs' key recruiting territories, but the head coach has to be a good closer in this league.
As successful as Bielema has been at Wisconsin, the proof will be in the pudding as to whether he can score big on the recruiting trail.
But when it comes to coaching and developing hard-nosed football teams committed to running the ball and playing sound defense, Bielema has cornered the market on that brand of football in the Big Ten.
It just so happens to be the same brand that wins championships in the SEC.
Bobby Petrino got the Hogs within striking distance of a championship and took them to a BCS bowl before it all came crashing down with that ill-fated motorcycle ride last April.
Bielema will take his shot at finishing what Petrino started.
February, 3, 2012
2/03/12
4:15
PM ET
Talk about the irony of all ironies.
Urban Meyer is being called out again by one of the rival coaches in his league about recruiting tactics.
Remember the firestorm Lane Kiffin started almost three years ago to the date when he accused Meyer of cheating, albeit wrongly, during a post-signing day celebration?


That was an SEC tussle. Meyer was at Florida at the time and Kiffin at Tennessee for his 14 months of scorched earth detail.
It made for some pretty captivating theatre, as Kiffin was clearly doing anything and everything he could to get under Meyer's skin. What ended up happening was that Kiffin got under SEC commissioner Mike Slive's skin more than anybody, which led to Kiffin being officially reprimanded by the SEC and landing a permanent spot in Slive's doghouse.
Now, here we are three years later, and Kiffin is at USC, where he's toned it down considerably and done a terrific job coaching the Trojans despite severe NCAA sanctions, and Meyer is just wrapping up his first recruiting class, a star-studded one, at Ohio State.
This time, it's Wisconsin's Bret Bielema accusing Meyer of "illegal" recruiting tactics, although Bielema declined to be specific. One of the things that apparently irked Bielema was Meyer taking offensive lineman Kyle Dodson away from Wisconsin when Dodson had been committed to the Badgers.
That doesn't exactly qualify as illegal, but it does qualify as being funny, especially to those of us in SEC locales.
Come on, they're squabbling in the Big Ten about one school stealing another school's recruits?
In the SEC, that's a pre-requisite for recruiting. They give courses in this league on how to flip players and how to make your school look really good and the school(s) you're recruiting against look really bad.
Some call it negative recruiting. Others call it surviving in the dog-eat-dog world of the SEC.
It's a big-boy league, and that's not changing any time soon.
Meyer knows that better than anyone. The pressure to win in this league is mind-numbing and never subsides. It's one of the main reasons he's no longer coaching in the SEC, although the football games on Saturdays at Ohio State generally rise above the level of just another extracurricular activity.
Perhaps the most telling thing to come out of this whole ordeal was Bielema's quote to Matt Hayes of The Sporting News.
"I can tell you this: We at the Big Ten don't want to be like the SEC -- in any way, shape or form," Bielema said.
As Hayes points out in his piece, Bielema was referring to recruiting tactics and not necessarily the success the SEC has had on the field, specifically winning six straight BCS national championships.
Hey, Bielema is truly one of the good guys in the coaching profession and has done a bang-up job at Wisconsin.
But the truth is that until the Big Ten quits worrying so much about how the SEC goes about its business and instead gets down to the business of winning some games that count, any comparison of the two leagues is pointless.
And that's in any way, shape or form.
January, 5, 2012
1/05/12
4:01
PM ET
Has something seemed odd to you about the BCS bowls this year? Does it seem like ... oh wait, West Virginia just scored again.
Does it seem like ... wait, there goes
De'Anthony Thomas
. Don't think he'll get caught from behind.
Does it seem like ... wait, would somebody please tackle
Justin Blackmon
?
Does it seem like there have been a lot of points this bowl season?
It's not just you. There have been a lot of points. More points than ever before. And by huge quantities.
So far, BCS bowl teams have averaged a total of 77 points in the Rose, Fiesta, Orange and Sugar bowls. That, folks, is nearly 26 points more than last year (51.6). And it's nearly 11 points better than the previous high of 66.3 from 2001-02.
Perhaps pairing two SEC teams in the title game has created a black hole sucking all defensive stinginess into the LSU-Alabama rematch, which you might recall went 9-6 with no touchdowns in their first meeting. West Virginia scored 10 touchdowns -- 10! -- against Clemson. Alabama gave up 12 TDs all season.
Speaking of Clemson: ACC. Well, well, well.
After the Tigers ingloriously fell 70-33 to the Mountaineers, we got our second story from the BCS bowl season: The ACC's insistence on throwing up on itself in BCS bowl games.
The conference that was once expected to challenge the SEC is now 2-13 in BCS bowl games. That's hard to do. You'd think in 15 BCS bowls the conference could get lucky at least five or six times. But no, it insists on making ACC blogger Heather Dinich, a genuinely nice person, into some sort of Grim Reaper
every bowl season
.
Heck, the Big East has won seven BCS bowls -- second fewest among AQ conferences -- but it's 7-7.
Of course, this all ties together, and we're here to bring out a bow, but first a warning: If you don't want to read about how good the SEC is for the 56,314th time this year, then stop reading. I'd recommend an episode of "South Park" or perhaps a John le Carré thriller as an alternative for passing the time.
We can all agree the SEC plays great defense right? Alabama and LSU will play for the title Monday with the nation's top-two defenses. Do you think perhaps that it's not a coincidence that the conference that is 16-7 in BCS bowl games plays great defense?
The only other AQ conference with a winning record in BCS bowl games is the Pac-12, which is 11-7. The Pac-12 isn't known for defense, either, but USC was when it won the conference's last national title in 2004.
The only team to win a BCS national title without an elite defense was Auburn in 2010, but the Tigers' defense seemed to find itself late in the season. Since 1999, eight national champions had a top-10 defense. Other than Auburn, the lowest-rated defense to win a BCS national title was Ohio State in 2002. It ranked 23rd in the nation in total defense.
Three of the four BCS bowl games have been thrillers. Two went to overtime. We've seen big plays all over the field in the passing game and running game. Yet, if things go according to script in the title game, we'll see none of that. We might not see more than a couple of plays that go for more than 20 yards. We might not see any.
Some might call that boring. It might seem that both offenses are so paranoid of making a mistake that they are stuck in mud, both in game plan and execution.
But, snoozefest or not, when the clock strikes zero a team from the SEC will hoist the crystal football for a sixth consecutive time.
That might say something about playing better defense.
December, 5, 2011
12/05/11
9:10
PM ET
My Heisman Trophy ballot has changed every week for the last couple of months.
I'm not surprised there are more than three players going to the trophy presentation.
Five players were invited to New York for Saturday night's Heisman Trophy presentation -- quarterbacks
Andrew Luck
of Stanford and
Robert Griffin III
of Baylor, tailbacks
Montee Ball
of Wisconsin and
Trent Richardson
of Alabama and cornerback Tyrann Mathieu of LSU.
It's a shame the Heisman Trust didn't have room for three more quarterbacks because Houston's
Case Keenum
, USC's
Matt Barkley
and Boise State's
Kellen Moore
were just as deserving.
With five finalists going to New York, it figures to be one of the closer votes in recent Heisman Trophy history.
The closest vote in Heisman Trophy history came just two years ago, when Alabama tailback Mark Ingram edged Stanford's Toby Gerhart by only 28 points. Ingram received 227 first-place votes, Gerhart got 222 and Texas quarterback Colt McCoy, the second runner-up, received 203.
Given the number of finalists and their geographical regions, we could have another really close finish on Saturday night.
Luck, the runner-up to Auburn's Cam Newton last season, entered the 2011 season as the Heisman Trophy favorite. His performance didn't slip much this season, as he completed 70 percent of his passes for 3,170 yards with 35 touchdowns and nine interceptions.
I still feel Luck might be the most valuable player on any team in the country. Without him, there's no way the Cardinal is ranked No. 4 in the country and playing No. 3 Oklahoma State in the Tostitos Fiesta Bowl. Luck has done more with less, as Stanford lacks the game-changing playmakers that other teams have.
But Luck might still be the second-best quarterback in New York. Griffin, who is widely known as RG3, completed 72.4 percent of his passes for 3,998 yards with 36 touchdowns and six interceptions. He also ran for 644 yards with nine touchdowns.
Without him, the Bears wouldn't have beaten TCU, Oklahoma and Texas. Griffin's one drawback: He had a late interception that sealed the Bears' fate in a 36-35 loss at Kansas State on Oct. 1 and threw two picks in a 59-24 loss at Oklahoma State on Oct. 29. But with everything else RG3 has done this season, it's easy to give him a mulligan for the miscues.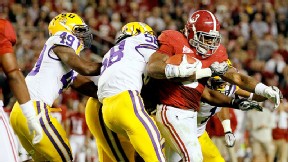 Kevin C. Cox/Getty ImagesRunning back Trent Richardson has been at his best in Alabama's biggest games.
I still believe Richardson is the best player in the country. He looked like the best player on the field in No. 2 Alabama's 9-6 loss in overtime to No. 1 LSU on Nov. 5. He had 89 rushing yards and 80 receiving yards in a game where every yard mattered. He finished the season with 1,583 yards with 20 touchdown runs and three touchdown catches. He's also Mr. Dependable, not losing a fumble in his past 520 touches and only once in 614 career touches.
Ball has been a scoring machine for the No. 10 Badgers this season, running for 1,759 yards with 32 touchdown runs and six touchdown receptions. His 38 total touchdowns are one shy of matching former Oklahoma State running back Barry Sanders' NCAA single-season record of 39 set in 11 games in 1988. Ball's production helped lead the Badgers to a Jan. 2 date against Oregon in the Rose Bowl Game presented by VIZIO.
Mathieu fell off my ballot after he was suspended from playing in the Tigers' 45-10 victory over Auburn on Oct. 22 for smoking synthetic marijuana. But his big plays helped the Tigers overcome deficits in each of their last two victories, over Arkansas and Georgia in the SEC championship game.
Mathieu -- aka the "Honey Badger" -- is the best player on the top-ranked team. He leads the Tigers with 70 tackles and has forced six fumbles and recovered five. He also is the most dynamic punt returner I've seen since Florida State's Deion Sanders. Mathieu has scored four touchdowns -- two on fumble returns and two on punt returns.
To penalize Mathieu for one foolish mistake wouldn't have been right. After all, Newton was briefly ruled ineligible at Auburn last season and 2010 Heisman Trophy finalist
LaMichael James
of Oregon was suspended from playing in last season's opener.