November, 20, 2013
Nov 20
1:00
PM ET
TUSCALOOSA, Ala. -- There hasn't been much of a letdown in production from Alabama's defense compared to seasons past. The top-ranked Crimson Tide is still among the top-10 nationally in rushing yards allowed per game, passing yards allowed per game, third down conversions, first downs allowed and total defense. It's given up the fewest touchdowns (12) and the fewest points per game (10.2) in all of college football.
[+] Enlarge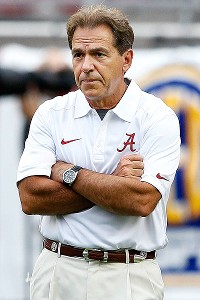 Kevin C. Cox/Getty ImagesNick Saban likes the way his Alabama defense has been rushing the passer this season.
One could nitpick and note its lack of a premiere cornerback or a true vocal leader, and he or she wouldn't be wrong.
Deion Belue
is good, but he's not a shutdown corner like Dee Milliner and Dre Kirkpatrick. And while
C.J. Mosley
is no doubt the leader of the defense at linebacker, he'd be the first to admit he's the kind to lead through actions and not words, unlike, say, Nico Johnson of a year ago or Dont'a Hightower before him.
But whatever the defense's minor flaws this season, there is one area that's gone under the radar where Alabama has actually improved from years past: rushing the passer. Through 11 games, the Tide has pressured the quarterback 26.1 percent of the time, compared to 22.5 percent in 2012 and 23.8 percent in 2011. UA leads the SEC in pressure percentage, which ESPN Stats and Info calculates as hurries plus knockdowns, divided by total dropbacks.
"I think we're making some improvement there," Alabama coach Nick Saban said of rushing the passer following last Saturday's 20-7 win at Mississippi State. "I think it's going to be critical we can do that in the future."
Alabama dialed up the pressure on Mississippi State, especially in the second half.
A'Shawn Robinson
, the Tide's standout freshman defensive lineman, had another sack against the Bulldogs, his fifth of the season.
Denzel Devall
(3),
Adrian Hubbard
(2) and
Ed Stinson
(1.5) trail Robinson for the team lead.
The weekend before against LSU, Alabama tackled quarterback
Zach Mettenberger
for no gain and then sacked him three straight times to end the game.
But if you follow Saban, you know he's not overly concerned with sacks. They have nothing to do with winning, he says, nothing at all. Rather, he wants to "affect the quarterback" where they're throwing the ball off balance and before they're ready, which can results in a much more beneficial stat: turnovers.
So in terms of a stat Saban would care more about -- hurries plus knockdowns, but excluding sacks -- hybrid linebacker/defensive end
Xzavier Dickson
holds the lead with 13, trailed by Hubbard (12), Robinson (12), Stinson (9) and Devall (6), according to ESPN Stats and Info.
However you define pressure, Alabama's defense is getting it at an impressive pace, and it will need to continue to do so in two weeks against No. 6 Auburn.
Not only do the Tigers lead the SEC in rushing, they have allowed the third fewest sacks in the league and the 10th fewest tackles for loss in the country.
Auburn doesn't throw the ball much, but the hope for Alabama is that it will be in quarterback
Nick Marshall
's face when he does. It won't be easy, but whether it's a sack or a pressure, the Tide needs to continue to get in the backfield and disrupt.
But however the Iron Bowl goes, expect Alabama's defense to continue its upward trend of affecting the quarterback in the coming seasons. Robinson is just a freshman, and we haven't yet seen the progression of his fellow rookies
Jonathan Allen
,
Dee Liner
and
Tim Williams
. If
Dalvin Tomlinson
can come back from injury, he's another guy who can rush the passer. And with last weekend's commitment of
Da'Shawn Hand
, the No. 2 defensive end prospect in the ESPN 300, even more help is on the way.
March, 25, 2013
Mar 25
11:40
AM ET
Making the rounds at SEC spring camps and looking closer at some of the experimentation going on and players getting a look at new positions:
ALABAMA
Cyrus Jones
,
Christion Jones
and
Dee Hart
have all been working with the Alabama defensive backs. The Crimson Tide are looking for more depth in the secondary, particularly at cornerback.
John Fulton
is out this spring. There's a decent chance that Christion Jones may end up back at receiver. He tied for second on the team last season with four touchdown receptions and is very good after the catch.
Also, junior
Xzavier Dickson
has been getting time with the outside linebackers and defensive ends.
ARKANSAS
The Hogs have moved sophomore
Demetrius Dean
from tight end to fullback and hope to pair him back there with
Kiero Small
. Dean was listed at 270 pounds last season, and coach Bret Bielema said Dean would have to continue trimming down. But with Dean's ability to catch the ball, Bielema said he's a better fit in this new system at fullback than he would be at tight end.
FLORIDA
True two-way players are rare in the SEC, but it sounds like junior
Loucheiz Purifoy
is going to be a busy young man in the fall. He's looked good at receiver this spring, and the Gators are hopeful he'll be that dynamic playmaker they've been missing on the perimeter offensively. He's going to play extensively at receiver, but he's also not giving up his cornerback duties totally.
Sophomore
Antonio Morrison
, who made one of the plays of the year last season with his forced fumble in the Florida State game, has shifted over to middle linebacker now that Jon Bostic is gone. Morrison is a terrific talent, but played at just under 220 pounds last season at weakside linebacker. The Gators anticipate him being 230 pounds or more by the start of the season.
Max Garcia
has settled in a left guard for the Gators. He transferred in from Maryland and sat out last season. He was a tackle for the Terrapins, but has moved inside at Florida and is working alongside promising sophomore
D.J. Humphries
, who's bulked up to more than 280 pounds and is working at left tackle.
LSU
So far, so good with Le'El Collins moving from left guard to left tackle, which is really Collins' natural position. One of the keys was dropping a few pounds, but coach Les Miles has liked what he's seen to this point.
There's still a chance that
Lamin Barrow
could move inside and be the Tigers' middle linebacker next season after racking up 104 tackles at weakside linebacker a year ago. But
D.J. Welter
is also getting a lot of work at middle linebacker and could keep Barrow on the outside if Welter wins the middle job. Barrow got work at both middle linebacker and weakside linebacker in Saturday's scrimmage.
MISSOURI
Evan Boehm
was one of the SEC's top freshmen a year ago and started all 12 games at left guard, but he's been at center all spring and will apparently stay there. The Tigers like having Boehm in the middle of that offensive line.
Brad McNulty
has traded places with Boehm and is working at left guard. Missouri was forced to play several different combinations in its offensive line last season because of all the injuries up front.
TENNESSEE
The Vols' offensive line should be among the best in the SEC in 2013. Four starters return, and all four will have a chance to play in the NFL. The one starting spot open (left guard) has been a battle between junior
Marcus Jackson
and senior
Alex Bullard
. Jackson started five games at left guard as a true freshman in 2011. Bullard, a transfer from Notre Dame, has started at guard and center during his career and has also worked some at left tackle this spring.
TEXAS A&M
Sophomore Floyd Raven, who was a cornerback last season, is making strides at free safety for the Aggies. He's always been a big hitter and intercepted a
Johnny Manziel
pass in Saturday's scrimmage.
On the offensive line, the Aggies entered the spring planning to move
Jake Matthews
from right to left tackle and
Cedric Ogbuehi
from right guard to right tackle, and that's the way they've been lining up. The two new faces up front are sophomore
Mike Matthews
at center and redshirt freshman
Germain Ifedi
at guard.
VANDERBILT
The Commodores are continuing to build depth on their defensive line, and with a few guys out this spring, they've taken a look at
Caleb Azubike
inside some at tackle. Azubike has bulked up to 270 pounds and had four sacks from his end position last season. Redshirt freshman
Adam Butler
has also moved from offensive line to defensive tackle.
Senior end
Walker May
and junior tackle
Barron Dixon
have been out with injuries this spring, but both will be fine for the fall. The Commodores are also without senior tackle
Jared Morse
, who's not in school this semester after a violation of university rules. But there's optimism that he'll be back in the fall as well.
November, 27, 2012
11/27/12
11:33
AM ET
By
Recruiting Nation staff
| ESPN.com
Alex Scarborough writes

: What's the key to beating Alabama? In its three losses since 2010, and a near-miss against LSU this year, it's been an uptempo passing attack.
Greg Ostendorf writes

: More than 20 players from the Peach State will line up for the Tide in Saturday's SEC title game, though the Dawgs have won some key recruiting battles between the programs.
Note: Join Ostendorf at 1 p.m. ET/noon CT
for a chat in the TideNation forum, The Tusk

.
November, 14, 2012
11/14/12
1:09
PM ET
By
TideNation staff
| ESPN.com
Alex Scarborough writes:
It took a couple of months, but the loss of several key defenders to the NFL has finally cost Alabama, as the Crimson Tide have suffered from a lack of big plays.
Scarborough:
Big 3 –
Alabama's Nick Saban believes SEC team could make BCS title game.
October, 31, 2012
10/31/12
3:00
PM ET
TUSCALOOSA, Ala. -- Kirby Smart came in with scruff on his face that looked less like a 5 o'clock shadow and more like a day-after cover. In fact, it was only midday on the University of Alabama campus and the Crimson Tide's defensive coordinator was in a hurry.
It's LSU week in the football offices and Smart has his work cut out for him. His young defense has been the best in the country this season, coming in first in all four major defensive categories, but on Saturday it will face a top-5 team that knows its strength: power football.
"They really run the ball well," Smart told ESPN's Samantha Steele. "You have to stop them."
Even when they do get bogged down, the Tigers don't give up.
"They're stubborn with the run and that's toughest to defend," Smart continued.
Alabama has the bodies to match up with LSU up front. Smart said that despite losing three-quarters of his starters from a year ago, he feels UA has more depth on the line, and possibly less in the secondary. When you're going up against a team with a sometimes shaky starter in
Zach Mettenberger
and a consistently bruising rushing attack, that's a good thing. Not that Smart is sleeping on the passing game.
"Zach throws a good deep ball," Smart explained. The lanky quarterback who transferred to LSU from Georgia has thrown for 1,419 yards, seven touchdowns and four interceptions this season.
Starting cornerbacks
Dee Milliner
and
Deion Belue
will be tasked with defending LSU's weapons on the outside. Milliner leads the country in passes defended, a stat that combines pass breakups with interceptions. Belue hasn't been much easier to throw on either. The junior college transfer stepped in as the starter opposite Milliner right away.
LSU coach Les Miles told ESPN on Tuesday that his team will have to throw the ball against Alabama, something the secondary is prepared for.
"We know they are going to run the ball and take shots down the field," UA safety
Robert Lester
said. The senior from southern Alabama has gone back-to-back weeks with an interception, his last coming in the end zone against then-undefeated Mississippi State. "As long as we're prepared for it and we know at least something that is coming, I think we'll be good."
Lester is one of the few returning starters from a year ago. Smart and head coach Nick Saban had to rebuild Alabama's defense this offseason, incorporating first-time starters such as Milliner and Belue, as well as sophomores such as
Trey DePriest
and
Vinnie Sunseri
who starred on special teams last season.
Smart said he's seen a more hungry, more coachable group of players this season. The latter might contribute to the scruffy beard.
"There's a lot of work, a lot of effort," Smart explained.
In Baton Rouge, the Crimson Tide will need all the effort they can muster. Only one team will leave Death Valley on the fast track to the SEC Championship Game, and the defense is likely to be the difference in who comes out on top.
October, 31, 2012
10/31/12
2:21
PM ET
TUSCALOOSA, Ala. -- At the University of Alabama, Goliath feels more like David. The team with the undisputed No. 1 defense in the country has a pair of stars playing with a chip on their shoulders.
"All we heard all summer is we wouldn't be good enough," UA linebacker
Nico Johnson
told ESPN's Samantha Steele.
Johnson said he didn't feel like the defense got the respect they deserved after losing seven starters to the NFL over the offseason. Those who returned came back during spring and fall practice ready to work hard to prove the doubters wrong, incorporating rookies like
Deion Belue
at cornerback,
Xzavier Dickson
at Jack linebacker and
Ha'Sean Clinton-Dix
at safety.
The transition, by all accounts, has been seamless. UA is No. 1 in the country in all four major defensive categories, giving up less than 9 points per game. In fact, the defense has actually gotten better at creating more big plays, coming in this week on pace to surpass last year's number of interceptions, fumble recoveries and sacks.
But there's a standard Alabama's defense is living up to, said fellow linebacker
C.J. Mosley
. The standard isn't about statistics or standings. It's about blocking out the hype and getting better every week. With LSU on tap Saturday, the challenge is bigger than ever. The Tigers have a physical running game unlike anything the Tide has seen this season.
"We know what kind of game it's going to be," Mosley told Steele.
Johnson said the defense is preparing as it does for every game: "Like it's our last."
Two years ago, LSU beat Alabama with a late touchdown in Baton Rouge. That season, Alabama fell to South Carolina and Auburn in dramatic fashion as well. Johnson said he felt like the defense let them down then and he's not ready for a repeat this season.
"We feel like this year we can't let that happen," Johnson said.
September, 20, 2012
9/20/12
12:45
PM ET
Panthers-Giants tonight. Should be a good one.
September, 8, 2012
9/08/12
7:20
PM ET
TUSCALOOSA, Ala. -- Alabama head coach Nick Saban didn't want his team taking Western Kentucky lightly, and although it might not have looked exciting, the Crimson Tide
cruised to a 35-0 win
as they get ready for Arkansas next week.


Quarterback
AJ McCarron
finished 14-of-19 for 219 yards and matched a career high with four touchdown passes. Freshman sensation
T.J. Yeldon
had just 25 yards rushing but caught four passes for 47 yards. Fellow freshman
Kenyan Drake
added a 32-yard touchdown run late in the game.
The defense gave up 224 yards to the Hilltoppers, but the unit forced four turnovers to keep the shutout intact. Junior college transfer
Deion Belue
made the first interception of his career at UA.
It was over when:
You could make a case it was when Western Kentucky got off the bus, but the Hilltoppers made it closer than the experts predicted. Still, when McCarron connected with
Christion Jones
on a 22-yard touchdown pass to make it 21-0 with 6:53 remaining in the first half, there was no coming back.
Game ball goes to:
The easy choice would be to give it to McCarron, who tied a career high with four touchdowns, but wide receivers Christion Jones and
Kevin Norwood
each caught two scores and gave the Tide the big play ability they lacked a year ago. Now a junior, Norwood has emerged into a playmaker and one of McCarron's favorite targets.
Stat of the game:
Alabama committed just one penalty all game. This has to make Saban happy after the Tide committed seven penalties for 55 yards last week against Michigan.
Unsung hero:
The Alabama pass rush looked to be more effective against the Hilltoppers and leading the way was redshirt freshman
Xzavier Dickson
. The outside linebacker seemed to be in the backfield all game. His biggest play came midway through the second quarter when he sacked the quarterback, forced a fumble and kept WKU off the board.
What it means for Alabama:
Regardless of what head coach Nick Saban says, this was just a tune-up for next week's showdown at Arkansas. Alabama's offense looked efficient and McCarron keeps improving. The defense didn't give up the big play, but WKU showed it could move the ball. Turnovers were key and will be key again next week.
What it means for WKU:
Nobody expected the Hilltoppers to win or even keep it close for that matter. They didn't look scared, though. This is a good football team who has the talent to compete in the Sun Belt this year. Playing in this type of environment can only help down the road.