May, 23, 2012
5/23/12
2:27
PM ET
By
ESPN.com staff
| ESPN.com
Kipp Adams writes

: Talented O-lineman Brandon Kublanow has long considered an offer from UGA to be a dream, but a host of other programs thought the same of him. He took his time through the recruiting process, but followed his heart Wednesday and became a Bulldog.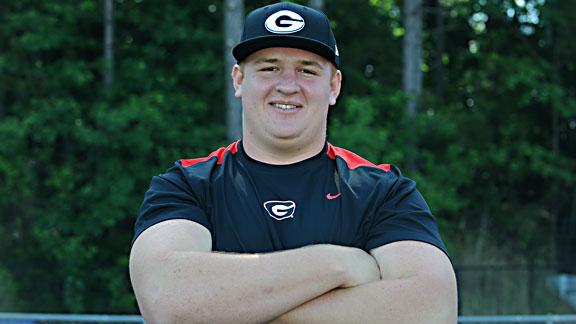 Adams

: Super competitive, strong and intense, Kublanow will afford Georgia great versatility on the O-line. It also doesn't hurt that his HS coach says Kublanow is the best lineman he has seen in 16 years of coaching.
Video interview:
Brandon Kublanow
DawgNation Roundtable

: UGA tied for the second biggest NFL class in the 2012 draft, and it could've been bigger. Who among the newest Bulldogs to go pro will have a banner career?
May, 1, 2012
5/01/12
2:55
PM ET
Everybody talks about the best value picks come NFL draft time.
In other words, who were the best football players to go later in the draft?
Now that everybody else has had a say, I'll weigh in with regard to SEC players.
Below are my value selections. These guys either went in the last three rounds of the draft or went undrafted, and I'm betting that all five will be contributors in the NFL. They're listed alphabetically:
Josh Chapman, DT, Alabama:
The
Indianapolis Colts
took Chapman with the first pick of the fifth round, and all you really need to know about Chapman is that he played most of last season with a torn ACL. He waited until after the season to have surgery. That decision hurt his draft stock, but helped his team and was a big reason the Crimson Tide won their second national championship in the last three years. Had Chapman not been recovering from surgery at draft time, he would have gone a lot higher. He should be cleared for practice in July and will have a great chance to win the starting nose guard job this fall.
Tim Fugger, DE, Vanderbilt:
The Colts took Fugger with the seventh pick of the seventh round, and he projects as an outside linebacker in the Colts' 3-4 scheme. The thing you love about Fugger is how smart, tough and intense he is. Plus, he ran a 4.6 40-yard dash in his workout at 250 pounds. He has a knack for making big plays, as evidenced by his eight sacks and three forced fumbles last season, and he doesn't take plays off. There are more than a few former Vanderbilt defenders earning a living in the NFL right now. Fugger has everything it takes to join that fraternity.
Chris Rainey, RB, Florida:
The
Pittsburgh Steelers
took Rainey with the 24
th
pick in the fifth round. Just from a special teams perspective alone, Rainey figures to be a huge asset. He has game-changing speed and will certainly be a threat in the return game, but what a lot of people forget is that he's also Florida's all-time leader with six blocked kicks. There's just no substitute for the kind of speed Rainey possesses, and he's proven than he can both run and catch the football. The Steelers will find a niche for him, and Rainey will put his speed to use in a number of different ways.
Danny Trevathan, LB, Kentucky:
The
Denver Broncos
took Trevathan with the 18
th
pick in the sixth round. There were some who didn't think Trevathan would be drafted at all, but a savvy football personnel guy is always going to take a chance on a player as productive as Trevathan was during his career at Kentucky. He racked up 287 total tackles over his last two seasons and was one of the surest tacklers in the SEC. He doesn't have ideal size (6-0, 237), and he's not very fast (4.82 in the 40). But turn on the tape and watch him make play after play against some of the best competition in the land. The guy's a football player, and he'll get it done on defense and on special teams at the next level.
William Vlachos, C, Alabama:
Vlachos was not drafted and agreed to a free-agent deal with the
Tennessee Titans
. Let's face it. If Vlachos were about three inches taller, he would have gone as high as any center in the draft. But he's barely 6-0, and we all know the NFL's hang-up with measurables. It's a given that Vlachos isn't going to get any taller, but he's a natural when it comes to playing center. He was the engine for that Alabama offensive line last season and has started for three years. He's as smart as he is tough and always wins the leverage battle because he plays so low. Go ask
Trent Richardson
and Mark Ingram what they think of Vlachos, who went up against everybody from Nick Fairley to
Michael Brockers
to
Fletcher Cox
during his career.
April, 26, 2012
4/26/12
1:32
PM ET
By
ESPN.com staff
| ESPN.com
Michael DiRocco writes

: Florida is likely to have just two prospects -- defensive tackle Jaye Howard and running back Chris Rainey -- selected in the NFL draft.
April, 18, 2012
4/18/12
10:00
AM ET
A record 26 players are expected to be in attendance at the 2012 NFL Draft at Radio City Music Hall in New York City. Twelve are from the SEC, including five from Alabama.
Todd McShay's most recent
mock draft

had 11 SEC players going in the first round (not counting Texas A&M quarterback
Ryan Tannehill
). That number would tie a conference record set in 2007. Last year, the SEC had 10 players drafted in the first round.
Here are the 12 SEC players who have invites to this year's draft:
April, 5, 2012
4/05/12
1:00
PM ET
LSU defensive coordinator John Chavis seeks out the cameras and microphones the way a vampire does daylight.
But when it comes to having his players' backs, Chavis is going to be there all day and every day.
So when he heard the fallout from former LSU cornerback
Morris Claiborne
's reported score of four on the Wonderlic Test, Chavis was eager to set the record straight.
"I've heard what's out there about that test, but I also know the kid, who he is and what he did for us," Chavis said. "We run a very multiple scheme. You don't just line up and play in our scheme. You have to know what's going on and be able to make adjustments.
"You have to be able to think and move and do those things, and let me tell you: I've coached a lot of great players, and Mo Claiborne had no problem picking up anything in our system and doing all the things we wanted him to do."
Claiborne, who gave up his senior season to enter the draft, is rated as the No. 5 prospect overall on Mel Kiper's latest Big Board. He won the Thorpe Award last season as the top defensive back in college football.
However, it leaked out earlier this week that he scored a four on his Wonderlic Test at the NFL combine. The NFL average on the test is 21.
"I don't know how many defensive backs I've coached that have gone on and played and been successful in the NFL, and Mo will handle it as well or better than any of them that we've had," said Chavis, who was the defensive coordinator at Tennessee for 14 seasons before moving to LSU in 2009.
Chavis pointed out that two-thirds of LSU's defensive calls in the season opener against Oregon last season were made on the field. Furthermore, Claiborne moved inside to nickel the week of the Arkansas game after
Eric Reid
was injured and unable to play.
"If we had asked him to play safety, he would have and could have done that," Chavis said. "He had three days to get ready at the nickel spot, which is a totally different animal, and was going against some talented Arkansas receivers in the slot and was able to do that with no problem at all.
"The bottom line is that Mo Claiborne can make adjustments and understands concepts, and obviously, people know that he can play the game."
March, 21, 2012
3/21/12
4:25
PM ET
By
ESPN.com staff
| ESPN.com
David Helman writes

: The home stretch for the NFL draft begins in earnest Thursday for LSU alums, as the Tigers prepare for their annual pro day.
March, 6, 2012
3/06/12
1:19
PM ET
By
ESPN.com staff
| ESPN.com
Kipp Adams writes

: After he committed to UGA last summer, wide receiver Tramel Terry faced backlash in his home state of South Carolina. He took a step back to reconsider, but finally realized his heart is with Georgia.
David Ching writes

: Former UGA tight end Orson Charles has taken stock of where tight ends are typically selected in the NFL draft. He is determined to stay patient and work hard. And, he says, "I just want a job."
Radi Nabulsi writes

: 2013 DT Montravius Adams enjoyed his Athens visit.
Radi Nabulsi: UGA pro day photo gallery
.
Ching writes

: DeAngelo Tyson hopes he turned heads at pro day.
March, 5, 2012
3/05/12
4:05
PM ET
By
ESPN.com staff
| ESPN.com
Radi Nabulsi writes

: In this week's team mailbag, DawgNation addresses pressing questions from our Insiders about who might change positions or double up on positions, how the backup QB situation will shake out, and making second-half corrections.
David Ching writes

: Quick pro day observations from Athens.
Kipp Adams writes

: The Georgia Bulldogs' first Very Important Dawg Day in review.
February, 23, 2012
2/23/12
2:00
PM ET
Alabama running back
Trent Richardson
won't
participate in on-field drills during the NFL combine
this week after undergoing minor knee surgery.
ESPN NFL Insider Adam Schefter reported Wednesday that Richardson's representatives sent all 32 NFL teams a memo about the procedure. The memo said that Richardson will be able to participate in on-field activities by the end of March, which means he won't take part in them during Alabama's pro day, which is set for March 7.
Richardson suffered the injury during practice leading up to the Allstate BCS National Championship Game, a game in which he ran for 96 yards and a touchdown (the lone TD in the two meetings between Alabama and LSU). It doesn't appear to be very serious, as Richardson is being held out of on-field drills only as a precaution.
That's very good news for Richardson and NFL teams. Richardson didn't need the NFL combine in order to stay in the first round of April's draft. He might have needed it to insure that he's a surefire top-10 pick, but that's all. In a pre-combine video, in which Richardson was shown training for the combine, he said that he wanted to show everyone that he's the best prospect there by blowing up the drills.
There's little reason to believe he wouldn't have, either.
Now, he won't be able to do that, but it's hard to believe that his accomplishments during his only season as a starter won't be enough reassurance for scouts, coaches and general managers. He set school single-season rushing records with 1,679 yards and 21 touchdowns, accounting for more than 36 percent of Alabama's offense in 2011. Not to mention, he won the Doak Walker Award as the nation's top running back and was a unanimous first team All-American and All-SEC member.
Although he won't be able to wow people on the field this week, he'll still have the opportunity to wow them during the interviewing process, which is a tremendously important part of the combine.
February, 15, 2012
2/15/12
2:19
PM ET
The SEC had seven players selected among the top 15 picks in last year's NFL draft, and ESPN's Mel Kiper is projecting a similar haul for the SEC in 2012.
Kiper has four SEC players going in the top 10, led by Alabama running back
Trent Richardson
to the
Tampa Bay Buccaneers
with the No. 5 overall pick. Kiper predicts that nine of the top 17 selections will be SEC players, and he has 10 SEC players overall going in the first round.
One of the players Kiper has sliding up into the bottom part of the first round is LSU receiver
Rueben Randle
.
Kiper predicts that four Alabama players will go in the first round and three LSU players. Alabama also had four players go in the first round last year.
Here's a look at where Kiper has SEC players going in his latest mock draft:
No. 5 -- Alabama RB Trent Richardson, Tampa Bay Buccaneers
No. 6 -- LSU CB Morris Claiborne, Washington Redskins
No. 8 -- LSU DT Michael Brockers, Carolina Panthers
No. 10 -- Alabama OLB Courtney Upshaw, Buffalo Bills
No. 12 -- South Carolina DE Melvin Ingram, Seattle Seahawks
No. 14 -- Alabama S Mark Barron, Dallas Cowboys
No. 15 -- Mississippi State DT Fletcher Cox, Philadelphia Eagles
No. 16 -- Georgia OT Cordy Glenn, New York Jets
No. 17 -- Alabama CB Dre Kirkpatrick, Cincinnati Bengals
No. 30 -- LSU WR Rueben Randle, San Francisco 49ers
May, 9, 2011
5/09/11
9:00
AM ET
As is customary this time of year, it's time to look into the future of the NFL draft.
This year, 10 SEC players went in the first round of the draft, while seven went the year before. In
his first mock draft for 2012
, ESPN draft analyst Todd McShay has just six SEC players going in the first round.
Let the way-to-early debate begin.
The top SEC player on the board is South Carolina wide receiver
Alshon Jeffery
, who will be a junior this fall. McShay has Jeffery going seventh to the Seattle Seahawks.
One of the more interesting SEC prospects is former Florida cornerback Janoris Jenkins. Jenkins was dismissed from the team in late April after having two marijuana-related arrests in a span of three months. His future in college football is unknown. He could enter this year's supplemental draft or he could opt to go the Division II route and play one more year of organized football before he heads to the NFL. If he elects to stay in school, he could be the No. 1 corner prospect on the board. McShay has him going 10th to Cincinnati Bengals.
Of course, Alabama is well represented in the first round again. McShay has three Tide players going, including junior running back
Trent Richardson
at No. 12 to the St. Louis Rams.
For the second year in a row, McShay has Stanford quarterback
Andrew Luck
going No. 1 overall. His new team? The Cleveland Browns.
Here's a look at where he has all six players going:
No. 7 -- WR Alshon Jeffery (South Carolina), Seattle Seahawks
No. 10 -- CB Janoris Jenkins (Florida), Cincinnati Bengals
No. 11 -- CB Dre Kirkpatrick (Alabama), San Francisco 49ers
No. 12 -- RB Trent Richardson (Alabama), St. Louis Rams
No. 16 -- CB Stephon Gilmore (South Carolina), Detroit Lions
No. 27 -- S Robert Lester (Alabama), Baltimore Ravens