Photo by Ray Amati/NBAE via Getty Images
Dwight knew he was supposed to be concentrating on the game but when the chorus of YMCA kicked in, he couldn't help himself.
Photo by Sam Greenwood/Getty Images
The Jaguars kicked off last night's game by pretending they already play in London. ('Cause of the fog. London is foggy. Nevermind.)
AP Photo/Phil Coale
"OK, you guys lie down and I'll see how many of you I can jump over."
AP Photo/The Canadian Press, Larry MacDougal
It's great that you found time to practice your splits, Jonathan, but you're supposed to stop the puck.
Photo by Sam Forencich/NBAE via Getty Images
Juwan Howard makes the prudent decision to just sit back and watch this one happen. Good move.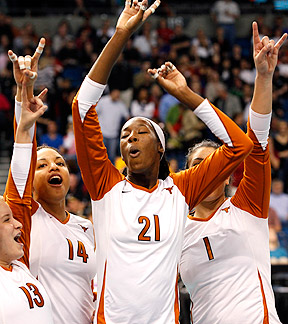 AP Photo/Mike Carlson
The Texas volleyball team, which earned a spot in the NCAA finals last night, proves the Longhorn sign is even more threatening when covered with athletic tape.