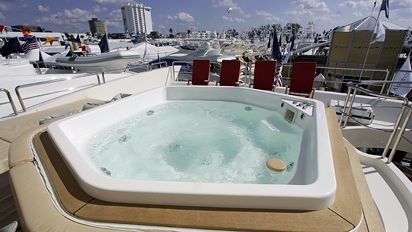 Robert Sullivan/Getty Images
The brochure says this deck jacuzzi seats six, but we doubt it'd fit a single Flozell Adams.
Tiger Woods loaded up his yacht Privacy with provisions from Costco and an entourage of golfing pals over the weekend, setting course for the Bahamas. And yes, we take great satisfaction in the fact that Costco is still the supplier of choice for Eldrick and Co. Billionaire athletes ... they're just like us! And what can you say about the aptly named Privacy. It's the greatest forward-thinking tag for a vessel since Presidential Candidate Gary Hart got caught with Donna Rice aboard the Monkey Business.
With all the personalities in sports you'd think more athletes would have their own yachts. Here are a few we'd like to see in port:
Serena Williams' Serenity
Dwight Howard's Lois Lane
Tim Lincecum's Freak Frigate
Chris Johnson's 1,215 All-Purpose Fathoms
Ron Artest's Tru Yawt
Michael Phelps' I Can Swim Faster Than This Boat
Doug Christie's No Ordinary Boat