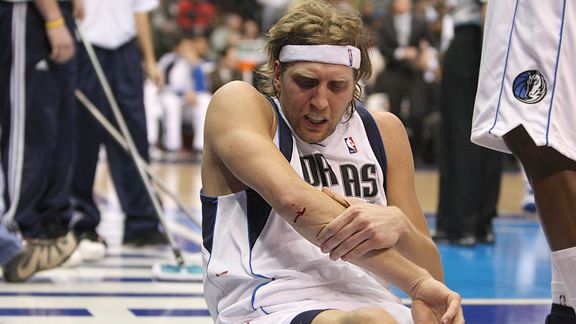 Matthew Emmons/US Presswire
Dirk takes a moment to feel Carl Landry's spirit flow through his body.
Last night was Dirk Nowitzki's first game first game back for the Mavericks after his bizarre collision with Houston's Carl Landry on Friday. You know the one, where two of Landry's teeth ended up "embedded" in Dirk's elbow.
Dirk was taken to the ER and sat out of Sunday's game against Cleveland. Landry, meanwhile, had five hours of dental surgery and sat out of Saturday's game against Oklahoma City. They were both back in their respective lineups last night though. And, oddly enough, they both scored 27 points — Dirk in a loss to Portland, Landry in a win over the Clippers.
A little weird, right? Especially considering Landry's 27 was a career high, 17 points above his normal scoring average, and Nowitzki's 27 was on the lower end of his scoring spectrum. Also, they each had one assist while Landry had two blocks and Nowitzki had two steals. Frankly, the whole thing is a little too "Freaky Friday" for our taste.
You know, Freaky Friday. The remake one. With Jamie Lee Curtis and Lindsay Lohan before she was bat crazy, and Jamie's the mom and Lindsay's the daughter, and they don't understand each other and until they eat a fortune cookie or something and suddenly Jamie's in Lindsay's body and Lindsay's in Jamie's?
Was the collision Dirk and Carl's fortune cookie? Have they actually switched places a la Jamie and Lindsday? Or is it subtler? Do they have some weird tooth-and-flesh bond now, where one's performance on a given night is destined to influence the other's? Like Dirk hits a fadeaway in Boston and out of nowhere (or so he thinks) Carl gets a second wind in Phoenix?
Dallas plays Memphis Saturday while the Rockets take on the Magic tonight. We'll be watching Darl (or Landitzki, if you prefer) to see how long the freakiness continues flowing.