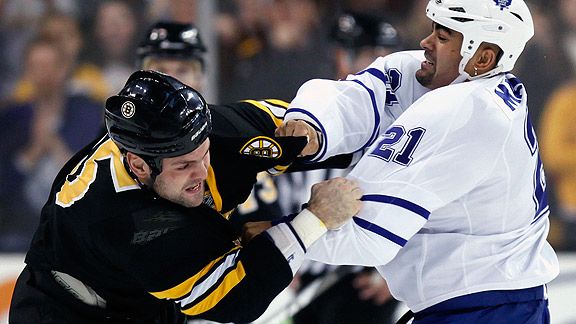 AP Photo/Michael Dwyer
"Take your helmets off and fight like real men!"
December 23, 1979 — Bruins-Rangers. Madison Square Garden. The entire Bruins roster, save one, piled into the stands for what The New York Times dubs "one of the most memorable fan-athlete confrontations in sports." And we think that might be an understatement. After a 4-3 Boston win, Bruins defenseman Mike Milbury ended up climbing over the glass (which was actually lower back then but raised in response to this blowout) and hitting a fan with a shoe! Why Millbury had a shoe with him and, subsequently decided it was worth throwing at a fan, is beyond us. There's a lot of things about the 70s that we don't fully understand. He was suspended for six games, another Bruin was suspended for eight, and every Bruin but Mr. Never-Leave-The-Bench was fined $500. Read a more thorough account in today's New York Times.