AP Photo/Lori Shepler
Los Angeles Lakers guard Kobe Bryant, right, shoots against Detroit Pistons guard Ben Gordon (7) during the first half of an NBA basketball game Tuesday, Nov. 17, 2009, in Los Angeles.
Kobe Bryant scores 40 points for the 100th time in his NBA career Tuesday night, becoming the 3rd player in NBA history to do so joining Michael Jordan and Wilt Chamberlain.
NBA History: Most Career 40-point Games
Wilt Chamberlain 271
Michael Jordan 173
Kobe Bryant 100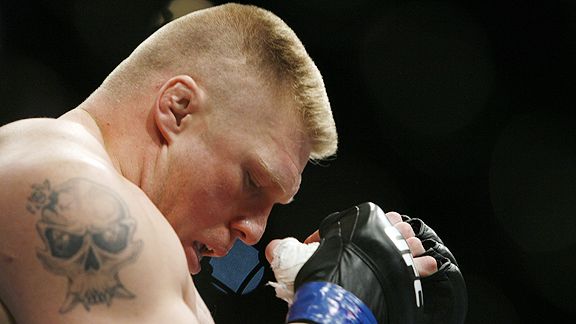 AP Photo/Eric Jamison
Brock Lesnar before his win over Randy Couture for the UFC World Heavyweight mixed martial art championship match.
UFC heavyweight champion Brock Lesnar is back home in Alexandria, Minnesota recovering from a bacterial infection. Lesnar was released from a hospital in North Dakota Monday after undergoing intestinal surgery. UFC President Dana White told the LA Times doctors are waiting to see if more surgery is needed.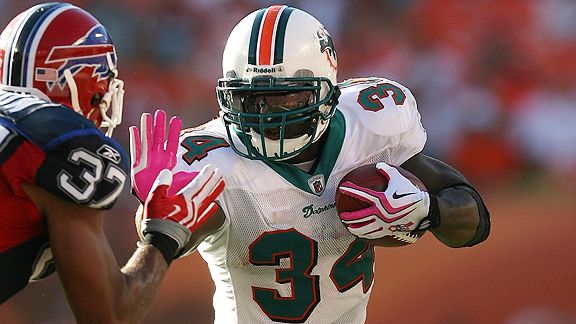 Mark J. Rebilas/US Presswire
Running back Ricky Williams #34 stiff-arms George Wilson #37 of the Buffalo Bills
Ricky Williams will replace Ronnie Brown in the starting lineup for the first time this season. He'll also become the primary triggerman if the Dolphins run the wildcat formation. At 32, Williams has rushed for 558 yards and is averaging a career-best 5.3 yards per carry. Fantasy spin: with Brown out, Williams' should see at least double his regular touches and Carolina's defense is not very stout against the run. Williams is a low RB1 or high RB2 option this week.