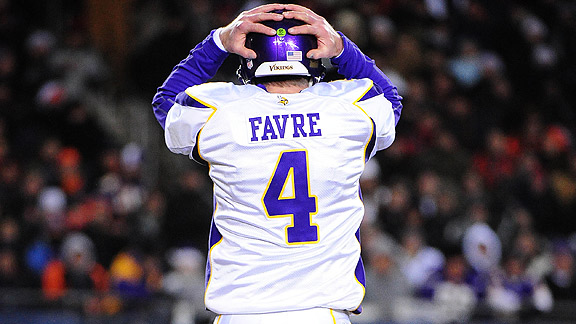 (Kyle Terada/US Presswire)
EXTRA SAUCE
So if I understand it correctly, on Sunday your Saints missed a kick, then went to overtime only to lose, which meant that on Monday, they clinched the top seed in the NFC because the Vikings missed a kick, then went to overtime only to lose. For the Vikings, their third loss in four games means they don't even control their own destiny for a first-round bye, for crying out sakes. Because now, with a win over the Cowboys, the streaking Eagles (riding 6 straight wins) can grab the No. 2 seed and the bye that goes with it. Momentum: It's not just for breakfast anymore.
More from The Rundown - including why Monta Ellis slept great and the big number (with a "B") that's keeping Tiger's sponsors from getting any sleep - after the jump.
GOLDEN STATE'S IRON MAN
In yesterday's win over the Celtics, Monta Ellis played his seventh complete game of the season for the Warriors. That gives him three more than all other NBA players combined this season. And the only other NBA players to play an entire game this season are Ellis's teammates: Anthony Morrow (twice), Vladimir Radmanovic (once) and C.J. Watson (once).
12,000,000,000
That's 12 BILLION. With a "B". And in American dollars, that is the total amount of stock market value lost by the corporate sponsors of Tiger Woods since he first crashed his SUV a little over a month ago, according to the Wall Street Journal.
Your stock can only go up once you let The SportsCenter Rundown crash your inbox bright and early each and every morning. Get it done by signing up right here. It don't cost nothin'.