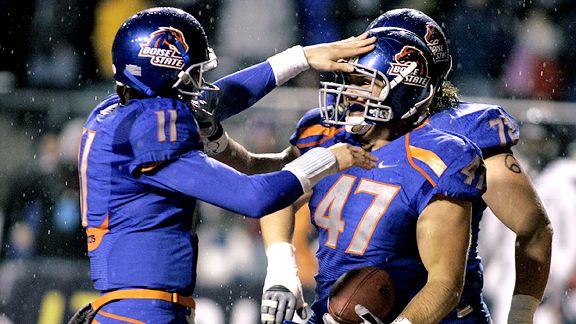 Brian Losness/US Presswire
We don't know what Kellen's doing, but it must be working — the Boise State QB is the best passer in the nation.
We're all pretty pumped about the Fiesta Bowl tonight (8:00 p.m. ET), which pits No. 4 TCU against No. 6 Boise State. Two undefeated, well-matched teams featuring the best offense in the nation against the best defense in the nation.
Some are arguing it should really be a semifinal to a non-existent national championship game. Either way, everyone's saying it's going to be one of - if not the best - bowl games of the season. How much do you know about it? That's right, it's Fiesta Bowl Quiz Time!
Which of these football players was NOT named a Fiesta Bowl MVP?
A. Colt McCoy, Texas
B. Pat White, West Virginia
C. Ian Johnson, Boise State
D. A.J. Hawk, Ohio State
Answer: A — Ian Johnson. But you probably know his name. He's the Boise State player who scored the game-winning two-point conversion for a 43-42 overtime win against Oklahoma in the 2007 Fiesta Bowl then proposed to his girlfriend, Boise State head cheerleader Chrissy Popadics. Apparently, they're still married and he's on the Minnesota Vikings practice squad.
A Horned Frog (as in the TCU Horned Frogs) is
A. A Frog
B. A Horny Toad
C. A Horned Lizard
D. A Made-Up Animal
Answer: C — A Horned Lizard. We hear in Texas "horned frog" is a nickname for "horned lizard," which is odd because it seems like just a different, longer name and not like a nickname at all. Also, the TCU horned frog used to be called the All-American Frog. But now it's called Super Frog, which apparently is better.
This season, Boise State quarterback Kellen Moore …
A. Had the nation's highest pass efficiency rating
B. Set a school record for touchdowns
C. Threw for more than 3,300 yards
D. All of the above
Answer: D — All of the above. Moore – who some say was robbed of a Heisman finalist nod – followed up a freshman season in which he threw for 3,486 yards and 25 touchdowns with a 3,325-yard, 39-touchdown (school record) sophomore season. His passing efficiency rating of 167.35 was the best in the nation.
How many BCS Bowls has TCU been to, including this Fiesta Bowl?
A. 1
B. 3
C. 4
D. 6
Answer: A — 1. Yup, this is the Horned Frogs first-ever BCS bowl. This will be Boise State's second trip to a BCS bowl – they played (and beat) Oklahoma in the 2007 Fiesta Bowl. This is the first time in BCS history that two non-BCS teams are meeting in a BCS bowl.
How many losses has Boise State had in the past two seasons?
A. 3
B. 2
C. 1
D. 0
Answer: C — 1. To TCU! In last year's Poinsettia Bowl! The Horned Frogs lost that game, 17-16, but went undefeated (13-0) this year.
How many pounds of meat did the Boise State team eat at Fogo De Chao in Scottsdale, Ariz. last week?
A. 170
B. 230
C. 360
D. 450
Answer: D — 450. Which is about four pounds of meat per person. "Ew" for some. "Delicious" for others. Either way, TMZ found it interesting enough to post a video.