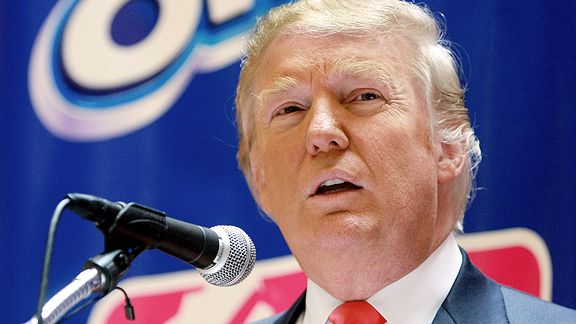 Photo: Mike Coppola/FilmMagic/Getty Images
"Celebrity Apprentice Season 3 is gonna be Huuuuuuuge."
NBC announced their official roster for the third season of Celebrity Apprentice and the stars are anything but lacking. The cast is headlined by past reality stars Bret Michaels (Rock of Love) and Sharon Osbourne (The Osbournes), but we're obviously pulling for the athletes to avenge Annie Duke's season two loss to Joan Rivers. The season premiere isn't until Sunday, March 14th, but that didn't stop us from breaking down the jocks chances at winning the Apprentice crown and $250,000 towards their favorite charity.
Darryl Strawberry: Straw has already proven that new jobs don't faze him when he won the 1983 NL Rookie of the Year with the Mets. His Starting Lineup figurine was one of the most popular during the mid-eighties and having an "in" with toy companies can't hurt on a show about business. He also knows a thing or two about winning under pressure as he was part of the famous '86 Mets World Series team that made Bill Buckner a household name. Straw's talent isn't the issue; it's his behavior. On top of fighting Keith Hernandez on picture day and reportedly threatening to bust Wally Backman in the face, Strawberry was known to oversleep practice and team workouts on more than one occasion. Ultimately, in his playing days, Straw appeared to be more of a "Me" guy than a team player and that doesn't bode well for a lengthy stay on Apprentice.
Prediction – 10th place
Goldberg: It must be stated that if you take away Goldberg's muscles and add a bit of hair then we're looking at the star of Die Hard, 12 Monkeys, and other great films too numerous to list here. Now we can proceed. Don't sleep on Goldberg in this competition. He took WCW by storm starting his career 108-0 and beating Hollywood Hogan for the WCW Heavyweight title. He's also dabbled in major motion pictures where he's speared nurses, so NBC cameras should not hinder the wrestling superstar's chances. Our only worry is his boardroom prowess. Goldberg is a man of few words and that can often lead to failure under Trump's interrogation.
Prediction – 6th place – Trump has a flair for the dramatic. He'll take a liking to Goldberg
Summer Sanders: Summer Elisabeth Sanders took home two good medals in the 1992 Summer Olympics for swimming, but that was almost 20 years ago. Since then, she's hosted multiple sports shows including Fox's The Sports List (2004) as well as NBA Inside Stuff (2007). Coupled with her Stanford education it's evident S-Squared encompasses the intelligence and poise needed to survive the boardroom scrutiny. If she has the foresight to take on the role of project manager early on, she can easily win over The Donald. How can you pick against a woman who works this hard in her prenatal workout?
Prediction – 1st place
Michael Johnson: Like Summer Sanders, Johnson is an Olympic champion winning gold medals (4) in three different Olympics ('92, '96, '00). He's been known as a bit of a showboater in the sports world adorning gold shoes as he raced for his then-world record 200-meter time in the '96 Atlanta Olympics. Gene Simmons (fired in episode 3 of season 1) can tell you that Trump does not put up with gloating. What really concerns us about Johnson is his ability to step up his game when challenged by another top competitor. When Johnson raced fellow Olympic champ Donovan Bailey for the title of "the world's fastest man," Johnson crumbled under the pressure and pulled up lame a third of the way through the race. As we all know, The Donald doesn't like excuses, regardless of the circumstances.
Prediction – 12th place
Maria Kanellis: Kanellis competed in multiple beauty pageants before finally finding her role as a wrestler for WWE. What's her biggest win as a wrestler, you wonder? How about the 2009 Slammy Award for the WWE's Best Diva, which doesn't inspire much confidence. To be honest, we don't think there's much to like about Kanellis in this competition.
Prediction – Last Place