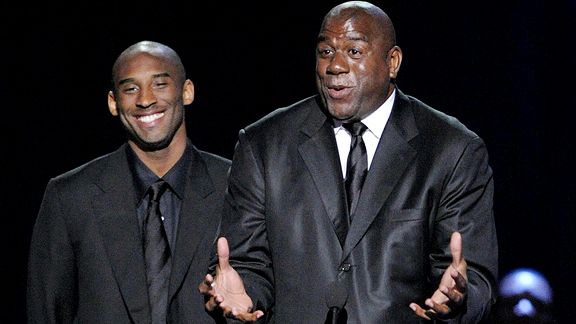 AP Photo
"In the words of T.I., 'We can do whatever we like.'"
So, Magic Johnson wanted to go to a Knicks game last month. But apparently, the Knicks denied Magic comp tickets because of all the stuff Magic's said about former Knicks coach and team prez Isiah Thomas.
As you can imagine, we have many, many questions. First and foremost, Magic even needs a comp ticket? He can't just show up to Madison Square Garden – or any NBA arena at any time for that matter – and get in with a wave and a smile? He hasn't earned that status? And if he's not at that level, is anyone?
We just assumed there was a list of certain NBA players – current and former – who could literally do whatever they wanted when it came to anything League related. You're telling us the following list does NOT exist?
Tier One: Go Right Ahead, Sir
Requirements: You've transcended sports. You're referred to by only one name; you have an imposing physical figure; people refer to other players as "the next you"; you've won an MVP award (preferably more than one).
Perks: Entry into any NBA event (games, slam dunk contests, NBDL games, practices, etc.) no questions asked; David Stern acts as your personal concierge; free merchandise at any NBA store; Yao Ming is on call to reach anything you can't.
Members:
Russell
Dr. J
Magic
Bird
Jordan
Shaq
Kobe
LeBron
Tier Two: The Gold Club
Requirements: People that don't follow the NBA know your name, either because you're that good, you've done a lot of T-Mobile commercials, or you're really short or really tall.
Perks: Will-call tickets waiting for you at any NBA arena; hotel rooms reserved for you (but not paid for) in cities hosting the NBA All-Star game; 50 percent off at the NBA store; Paul Shirley will run your twitter account.
Members:
Kareem Abdul-Jabbar
Charles Barkley
Patrick Ewing
David Robinson
Hakeem Olajuwon
Steve Nash
Tim Duncan
D-Wade
Gheorghe Muresan
Christian Laettner
Spud Webb
Muggsy Bogues
Tier Three: Thanks for Playing
Requirements: You've somehow helped the league, either by making it popular in China, making the best player to ever play better, or forcing the introduction of the NBA dress code.
Perks: Free refreshments at any NBA arena (but not beer); seat upgrades at any NBA arena (if you happen to be sitting in the winning row); free socks with any purchase at the NBA store.
Members:
Moses Malone
Karl Malone (only if accompanied by John Stockton)
Tony Parker (only if accompanied by Eva Longoria)
Reggie Miller
Clyde Drexler
Yao Ming
Scottie Pippen
Dominique Wilkins
Kevin Garnett
Allen Iverson
You get the idea. This is an ever-evolving list that requires serious contemplation. We feel quite certain that we'll be revisiting it and expanding it often.