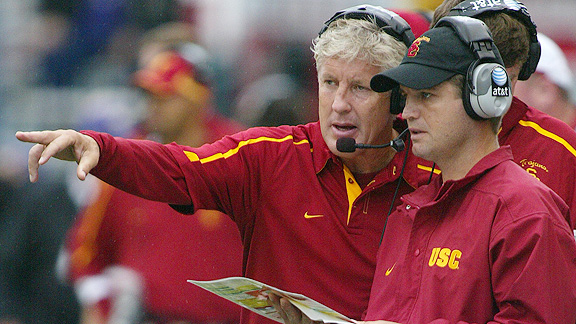 (Jesse Beals/Icon SMI)
BATES TO JOIN CARROLL IN SEATTLE
Two sources tell Chris Mortensen that Jeremy Bates, who was scheduled to interview with the Bears for their offensive coordinator's job, has decided instead to accept the same job with Pete Carroll and the Seahawks. Bates was the offensive coordinator for Jay Cutler and the Denver Broncos in 2008, but was swayed by the long-term security with Carroll in Seattle.
More of what's happening At This Hour, including arrests in the deadly attack at the African Cup of Nations and Michael Vick talking about his future in the NFL, after the jump.
TWO ARRESTED IN TOGO ATTACK
According to Angolan state radio, two people were arrested yesterday in connection with Friday's deadly attack on the Togolese soccer team. An assistant coach, the team spokesman, and the bus driver were killed in the attack. The team has since withdrawn from the international competition.
VICK ADDRESSES NFL FUTURE
The Philadelphia Eagles have a $5 million option on Michael Vick for next season, and while he says he'd prefer to start, he also says he would welcome a return to the team even if he remained a backup. Saying he knows he can still play at a high level, he tells the Philadelphia Inquirer, "Everybody wants to be a starter in this league and everybody wants to play...I feel like I'm probably better than I ever was in my career, as far as the mental aspect of the game. Physically - that will come. That is easy."