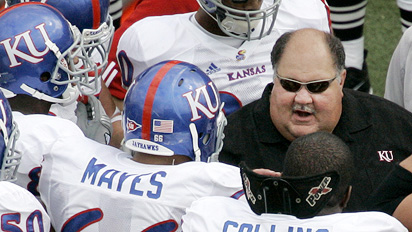 AP Photo/Charlie Riedel
*What Kansas athletic director Lew Perkins will try to gather in interviews with current and former players as well as parents is if coach Mark Mangino has engaged in isolated incidents or a pattern of behavior in treatment with players that would be deemed inappropriate. Five former players I spoke with Wednesday night said they were not surprised by the Kansas investigation and some cited examples of ways they were spoken to they deemed hurtful. Though it would be easy to dismiss the players as bitter or overly sensitive, the feeling I got after reflecting on my conversations with them is that they were truly pained by language they felt was demeaning, personal and frankly, mean-spirited. Is that a fire-able offense? Maybe. It it an offense that could cause Perkins to attempt to fire Mangino with cause? Maybe. I know that while some physical contact between player and coach is viewed as normal, the players I spoke with felt there was too much of it from Mangino, the coach who said Wednesday night that "I have not done anything that's inappropriate." Former wide receiver Dexton Fields, who had a successful Kansas career, told me: "Why would I want to play for somebody that demoralizes me or downgrades me? It weighs on your mentality. When I first got there, it was like, 'OK this is college.' But then it kept happening to everybody. I thought, Is this what football is really about?'"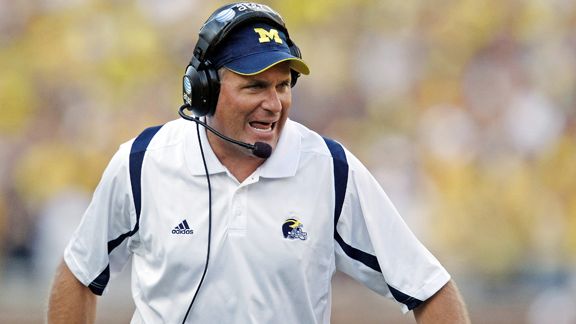 AP Photo/Tony Ding
*Michigan coach Rich Rodriguez says the process of filing forms that log hours players devote to football was corrected as soon as he learned it wasn't happening. Rodriguez declined further comment, but a person close to the situation told me the responsibility to file those forms lies with the director of football operations and compliance director. That source said that Michigan's president is asking why those two employees - who were holdovers from a previous coaching regime and had previously filed the forms as required - stopped doing so.
*Also coach Rich Rodriguez said he "lectured" Tate Forcier last week about missing a mandatory study session. Forcier said they had an "argument." Rodriguez said he opened a dictionary to educate Forcier on the difference between a lecture and an argument.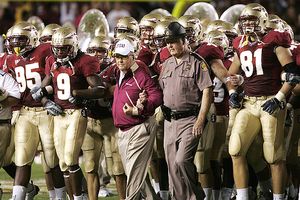 AP Photo/Phil Coale
*Florida State coach Bobby Bowden has the support of high-profile alum Governor Charlie Crist, who said Wednesday that Bowden deserves respect. A person close to the FSU situation told me Tuesday that if Bowden returns for one more season - as he desires - it will be because outgoing president T.K. Wetherell "cannot pull the trigger on his friend." Wetherell played for Bowden. Working against Bowden is the fact that head board of trustee Jim Smith - on record as saying Bowden should be out after this season, is heading the search committee for the school's next president. This could get unfortunately bloody after the season is over.
*If and when Virginia coach Al Groh is fired, Richmond head coach Mike London, a former Virginia assistant, is the clear top choice at this time, I am told. Temple coach Al Golden would also have to be considered, though Golden could be a future candidate to replace Joe Paterno, for whom he played at Penn State.
*If the Louisville job opens, as expected, look for former Auburn coach Tommy Tuberville and former Tennessee coach Philip Fulmer to explore the possibility.
*Though Auburn offensive coordinator Gus Malzahnwants to be a head coach, he'll wait for the right position. Don't expect Memphis or Western Kentucky to be Malzahn's next landing spot.
*Memphis has interviewed former Ole Miss assisant Hugh Freeze, a very successful former high school coach. But I still believe Larry Porter, the LSU running backs coach, is the clear top choice and leader for the position to succeed Tommy West.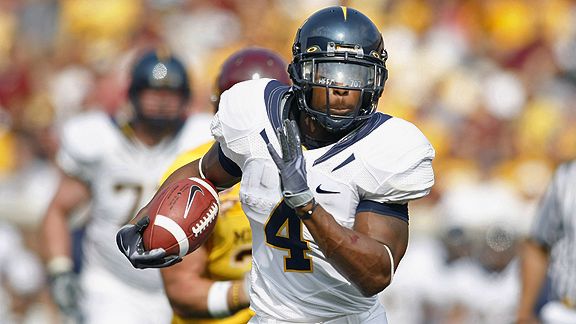 Bruce Kluckhohn/US Presswire
*Cal running back Jahvid Best (concussion) said he hopes to return to the field on Dec. 5 against Washington.
*I have a pretty cool Facebook friend in Conrad Dobler, noted as perhaps the "dirtiest" player in the history of the NFL. Anyhow, Dobler and I exchanged messages about Brandon Spikes' attempted eye gouge of a Georgia player a few weeks ago. Here's what Dobler had to say: "He [Spikes] did not need to sit on the bench for half a game. He should have been sent to a shrink to see what makes him so psycho. As far as when I was playing, that stuff happened seldom or never. That's bush league stuff. BUT some of the stuff you see in the NFL today is also bush league." There you have it. Conrad Dobler on Brandon Spikes.
*It turns out the NCAA says about two-thirds of college football players are graduating. A quick look at the top 10 in the BCS standings reveal that some schools (Cincinnati, 70 percent) are doing well, while others (Texas and Georgia Tech, 49 percent), really aren't do very well.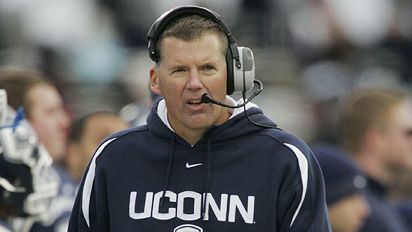 David Butler II/US Presswire
*If Mark Mangino is fired, yes UConn coach Randy Edsall would be a natural fit. Perkins once hired Edsall, a disciplinarian who has shined in the way he handled the awful murder of player Jasper Howard. He'd have to listen.