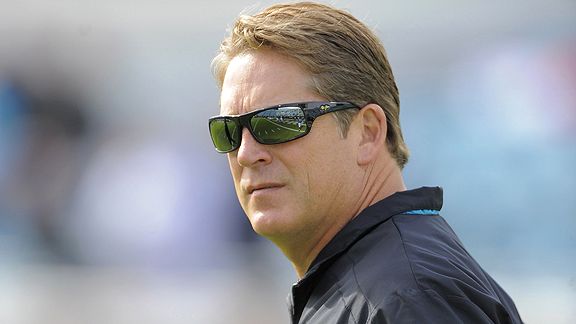 Scott A. Miller/US Presswire
Del Rio Stays Put
Jack Del Rio will return as the head coach of the Jacksonville Jaguars for the 2010 season. It was reported Del Rio, a USC alum, received an offer to coach the Trojans, but team owner Wayne Weaver confirmed Tuesday Del Rio will return for his eighth season as head coach (58-57).
AP: File Photo
More Wizards Discipline
The Washington Wizards (12-23) are searching for answers on-and-off the court. Wizards head coach Flip Saunders is in his first season with the team and is missing players for a variety of reasons. The challenge for Saunders is no longer just x's and o's; it's beyond the game. As Saunders tries to right the Wizards ship tonight against his former team the Detroit Pistons (11-25), he promises, "There is definitely going to be discipline."
AP: File Photo
CuJo Retires
Curtis Joseph retired from the NHL on Tuesday. Joseph leaves as the goaltender with the most victories without Lord Stanley's Cup. He ended his 19-year career with the Toronto Maple Leafs.