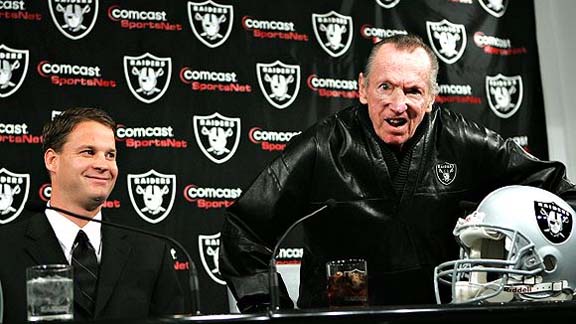 The last time Lane Kiffin was a head coach in California? All smiles.
TENNESSEE SOUR MASH
So 408 days after telling Tennessee fans that they would sing "Rocky Top" all night long after beating Florida, Lane Kiffin un-volunteers from Tennessee for another go-round at Southern Cal. In all, he went 7-6 in Knoxville, coaching just 13 games for Tennessee. Still, that didn't stop enraged Tennessee fans from turning the Vol Walk into an angry parade through the streets, burning mattresses (well, at least one mattress) and painting rocks (well, at least the big UT Rock). Instead, you would think they would just hug each other and sing "Rocky Top" all night long. Because if you rely on the Wikipedia as much as I do, it turns out to be just a song that laments the loss of a way of life, with longing for a place called "Rocky Top," where there is no "smoggy smoke". Interesting.
More from The Rundown, including the forced evacuation of an NBA arena and a brand new perspective on penalty minutes in hockey, after the jump.
CLOCK VIOLATION
The Clippers were up 12 on your Grizzlies late in the third quarter when the alarm bells started going off. Literally. A water line broke in the fire sprinkler system and caused the FedEx Forum to be evacuated. The resulting 36-minute delay was just enough time for your Grizzlies to game-plan a rally and pull off the two-point win. Of course, it's just the latest in a season full of odd delays in NBA games. There was the Christmas day game between the Cavs and Lakers that was delayed when it started raining yellow foam hands. Then there was the Halloween night game between the Kings and Spurs where Manu Ginobili turned into Batman. And then there was the preseason game at The Garden between Maccabi Elite and the Knicks, where the Maccabi coach was ejected and wouldn't leave the court.
"What would be more jarring for a college hockey player: Seeing a 29-year-old former NHL player lining up on his wing, or seeing one that served five years after pleading guilty in a failed murder-for-hire plot before being paroled?"
- Not our poll question, but instead here's your interesting read o' the day.
The Rundown is always an interesting read, bright and early every day. But you knew that already. And if you didn't, that means you haven't yet signed up for it. Do it here. Do it now.