January 13, 2010 2:40 PM ET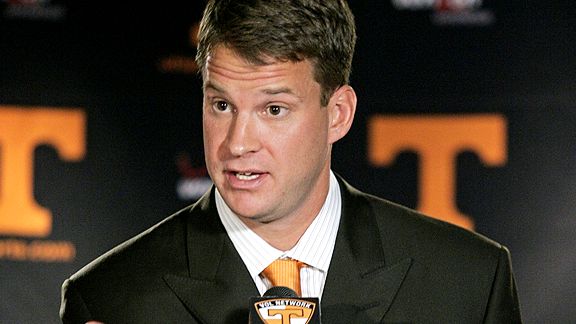 Photo: AP Photo/Wade Payne

"To be honest, I like the tie okay but I was looking for something in more of a red hue."
Just hours after Jack Del Rio put an end to the speculation of coaching Trojan football as well as teaching
Formal Wear 101
at USC, Lane Kiffin accepted Pete Carroll's former job. This marks the third head-coaching job for Kiffin in the last 17 months (Raiders, Volunteers and Trojans). His departure from Tennessee after only one season is the shortest tenure by a Volunteer head coach since Jim McDonald coached one year back in 1963. Kiffin's resignation requires him to pay $800,000 to the University of Tennessee, a debt former Trojan and Hollywood director Ron Howard will likely add on to the budget of his next major motion picture.
Kiffin was a member of the USC coaching staff between 2001 and 2006 and served as the Trojans offensive coordinator during his final two years. It should be noted that during Kiffin's time as the USC offensive coordinator it was Steve Sarkisian that called the Trojans offensive plays, not Kiffin.
Being the lead dog at USC is a major undertaking and with it comes a ton of responsibility. To succeed, Kiffin will need to surround himself with the right talent. He should consider hiring some former USC Trojans in unique roles.
Offensive Coordinator
-
George Lucas
: Lucas may not have the highest coaching IQ, but his imagination is off the charts. If you thought hook n' ladder and statue of liberty were innovative, wait until you see the
howling of Chewbacca
.
Aeronautics Coordinator
-
Neil Armstrong
: Who wouldn't want to be first astronaut to walk on the moon AND coach USC football? Armstrong received a Master of Science degree in aerospace engineering from USC in 1970. And having a space shuttle flyover prior to each game would definitely score with recruits.
Quarterbacks Coach
-
Randy Johnson
: Johnson just retired from the San Francisco Giants a few days ago and the 6'10 left-hander would be the perfect mentor for sophomore quarterback Matt Barkley. Who better to learn throwing mechanics from than a four-time CY winner who has the second most K's in MLB history? We do recommend Johnson's tutelage take place indoors; there's no telling what he could do to a bird with a football.
Halftime Speaker
-
Cheryl Miller
: USC alumnus John Wayne was perfect for this role, but The Duke is no longer with us. Reggie's big sister is a close second. Cheryl Miller was a four-time All-American basketball player for the Trojans and won back-to-back NCAA titles for USC in 1983 and 1984; she's a born winner and USC expects to win. Who better to light a fire under the Trojans when they have their inevitable lapse against another unranked opponent than one of USC's all-time biggest winners?
Tags: MLB, Duke, Pete Carroll, Lane Kiffin, Matt Barkley, Oakland Raiders, Jacksonville Jaguars, Jack Del Rio, Randy Johnson, San Francisco Giants, Tennessee Volunteers, Reggie Miller, USC Trojans, Neil Armstrong, Kindergarten Cop, George Lucas, Cheryl Miller, Steve Sarkisian, Ron Howard, Hollywood, Chewbacca, CY, John Wayne, Jim McDonald