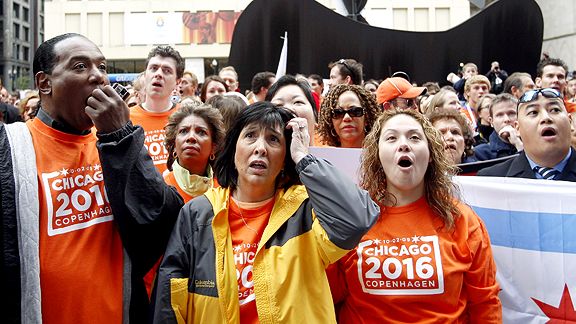 Photo: Jerry Lai/US Presswire
Chicagoan's react to the news that native son, Steve Urkel, will not be carrying the Olympic torch in 2016.
On Tuesday, the U.S. Soccer Federation selected 21 stadiums in 18 major U.S. cities as part of the U.S. plan to host the World Cup in 2018 or 2022 and the city of Chicago was absent from the outline. The U.S. bid book isn't submitted to FIFA until May, but American organizers feel the Windy City has no chance of getting back in the running. Evidently, Jay Cutler's league-leading 26 interceptions bothered the USSF just as much as it did Bears fans.
This unfortunate news hits Chicagoans just months after the city's residents gathered in the streets to find out they had been eliminated from contention of hosting the 2016 Summer Olympics. Chicago's Soldier Field was one of the host stadiums when the U.S. had the 1994 World Cup, but its 61,000 seating capacity is now an issue. "It would have been by about 10 percent the smallest stadium," said USSF president Sunil Gulati. The current stadiums selected by the USSF have an average capacity of 78,000 and allow the sale of a record five million tickets.
Stadium issues aside, here are a few of the other less talked about but equally compelling reasons why America's third-largest city may have been left off the USSF World Cup ticket.
- Steve Bartman not only cursed the Cubs, but the entire city when he caught that ball at Wrigley in 2003.
- Chicago-style pizza is an acquired taste and the rest of Earth is not quite ready for thick crust pizza.
- The USSF has siderodromophobia (fear of trains) and Chicago's 'L' train is the main form of transportation.
- Chicago's world-renowned Weiner Circle is way to small to serve five million fans.
- The USSF are architecture aficionados and were offended by Chicago's renaming of the Sears Tower as the Willis Tower.
- It's fun to see Bill Murray get upset (just ask the Academy of Motion Pictures who never awarded him a much-deserved Oscar for his role in Lost in Translation).