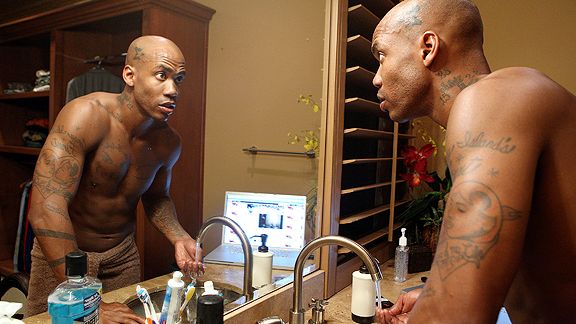 Shareif Ziyadat/FilmMagic
We hear "Starbury TV" was huge in the People's Republic.
As the rest of the country shores up its supply of Vaseline, the Chinese Basketball Association gets ready to welcome its newest player, Stephon Marbury, to the mix.
Marbury, a 32-year-old free agent, agreed to a deal with the CBA's Shanxi club and is supposed to arrive there next week. Many theories are being floated as to why the two-time NBA All-Star, who said he was taking a year off of basketball to pursue business interests, is taking his game eastward.
Ex-coach Doc Rivers and ex-teammate Ray Allen think Marbury's going over there to prove he can still play, setting the table for a possible NBA comeback. Others think it's all to promote his clothing and sneaker brand, Starbury, which is manufactured in China. But could it be that Starbury got a glimpse of himself in this youtube clip crossing over Yao Ming and pictured that's what playing in China would be like all the time? Probably not.
Whatever the reason, there are a few things Marbury should keep in mind. Most importantly, it seems the Sports Illustrated cover jinx still applies in China, so Marbury would do well to stay away from the cameras. But don't take our word for it. Ask Bonzi Wells, the last NBAer to get signed by Shanxi. Wells scored 48 points in his debut a year ago and was averaging more than 30 points a game, but got cut after this story (and after he failed to return promptly from a team break).
Of near-equal importance, Marbury might want to come up with his own translated nickname, less his new Chinese fans create one for him. Otherwise he's likely to suffer the same fate as Tim "Stone Buddha" Duncan, as he's known in China, Kobe "Little Flying Warrior" Bryant, Richard "Man in the Mask" Hamilton or Dirk "German Racecar" Nowitzki.
Finally, Marbury shouldn't even think about moonlighting in China's Dream Basketball League, an organization set up so shorter players could have a level playing field (all players have to be 6-foot-2 or shorter). Marbury's right on the line, but we think he really shouldn't test the waters in light of the outburst that happened last summer when a too-tall player tried to take the court. Other than that, it seems Marbury's good to go.