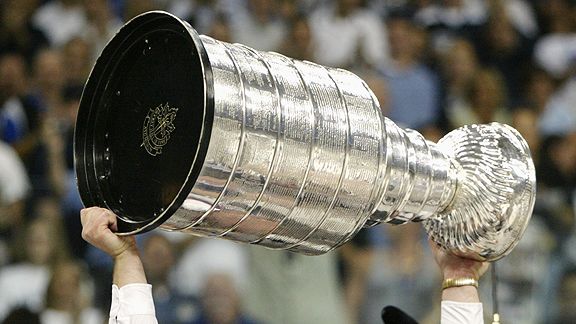 Photo: Brian Bahr/Getty Images
Clue #1: The thief wore sleeves and a gold bracelet.
Hockey Hall of Fame employee Mike Bolt and Lord Stanley's Cup got caught up in a fierce game of hide-and-seek over the weekend. Bolt, who tours the cup across North America and beyond, was taking the NHL's most prized possession from Newark, NJ to Vancouver for a charity event but the Stanley Cup never landed in the Canucks' hometown. A new employee at Air Canada, believing he was doing a favor, accidentally shipped the cup back to its home in Toronto instead of its destination of Vancouver. Bolt had no idea of the disappearance until he landed in Vancouver and Air Canada paged him to let him know of the mishap. We wish we were there to see Bolt scream Kevin "Stanley!" and pass out, but we were busy watching the Jets surprise the Chargers.
The cup was recovered but didn't make it to Vancouver in time for the charity event. "It'd be nice to see Air Canada make a small donation to the Vancouver Canucks Foundation or the charity that the money would have gone to," Bolt said. Ultimately, the victim here is the cup. Stanley isn't accustom to this sort of treatment; he's on the road for 250 days a year and expects five star service all the way. It was just months ago Kurt Russell was professing his love to Stanley while treating him to a beautiful steak sandwich with melted gruyere. Unfortunately for Russell, plans fell through when Stanley was introduced to Heroes star Hayden Panetierre; who could blame him?
The case of the missing cup has been closed and while the city of Vancouver never received a visit from the Silver Stallion, things could have gone much worse. After winning the Western Hockey League's Memorial Cup in 2008, the Spokane Chiefs hoisted their trophy into the air only to crack it in half. Bolt would have a much tougher time carrying the cup back to NHL commissioner Gary Bettman if it looked like the Liberty Bell.