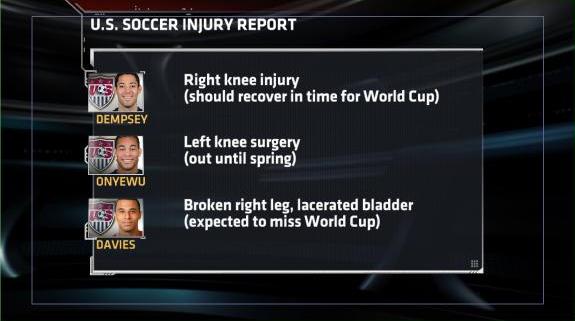 Take Vince Carter out of an NBA lineup, and what have you lost? A guy who can make a spectacular play at anytime. A weapon the opposing team must always be aware of no matter how "silent" a night he might be having. Now put Vince on the USA soccer team, he's Clint Dempsey. Tuesday the team learned its explosive defender will not need surgery on a knee injured this past weekend. Dempsey was hobbled in an English Premier League game, and his manager feared Dempsey had torn his knee ligaments. U.S. coach Bob Bradley saying he's confident Dempsey will be ready to go when the World Cup begins in June.
Other injuries to U.S. players include Oguchi Onyewu who is out until the spring after left knee surgery and he's iffy for the World Cup, plus Charlie Davies, he's doubtful, severely injured in a car accident in which he broke his leg and suffered a lacerated bladder.
The United States plays in group C in the 2010 FIFA World Cup. The first game is June 12 vs England, followed by Slovenia on June 18th and they complete group play with Algeria on June 23rd.
More: Dempsey Remains The U.S. Team's Enigma | 2010 FIFA World Cup | U.S., El Salvador discussing possible Feb. 24 friendly