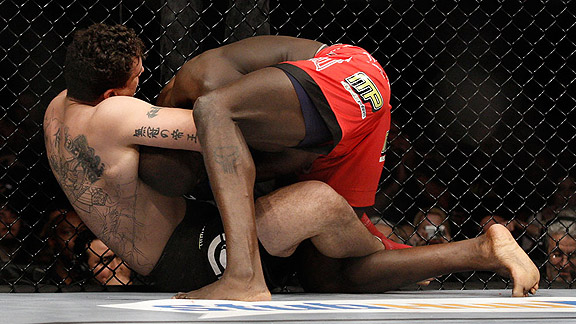 Ed Mulholland/ESPN.com
We're not sure if anything in Power Rangers history can prep you for this style of combat.
Jason David Frank, better known as Tommy the Green/White/Red Zeo Ranger from the Mighty Morphin Power Rangers series is about to step into the octagon. His MMA debut match is set for January 30. No word on whether he'll be fighting a pack of random masked goons before the main event, but rest assured there will be absolutely no assistance from Zordon.
We hope that Frank's entry opens up a whole new chapter of beloved former kids show stars making the transition to mixed martial arts:
Dustin Diamond – "Screech" from "Saved by the Bell" has already tried pro wrestling and boxing, why not make the next logical step?
Miley Cyrus – All she needs to do is pack on forty pounds of muscle, slap herself with "The Virus" tag and the kid'll be the sport's biggest female crossover star since Gina Carano. Party in the U.S.A. indeed.
Nick Jonas – But only if his first fight is against his brother Joe. Joe has it coming. He knows why.
Emmanuel Lewis – "Webster" has a striking background in tae kwon do and karate. Unfortunately, he may not qualify in the same weight class as Gary Coleman.
He-Man – Georges St. Pierre's not going to be able to touch this guy, what with the Power of Grayskull and all.
According to the Bleacher Report article, Frank's fight is scheduled to air on HDNET a week or two after the match. We hope all Power Rangers from across the generations will be in his corner.