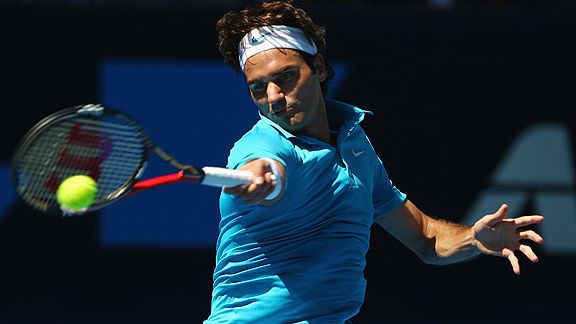 FEDERER, WILLIAMS SISTERS ADVANCE IN MELBOURNE
Men's top seed Roger Federer breezed into the third round at the Australian Open after a 6-2, 6-3, 6-2 win over Victor Hanescu. Meanwhile, the women's top seed Serena Williams beat Petra Kvitova of the Czech Republic 6-2, 6-1. And Venus Williams defeated Austrian Sybille Bammer 6-2, 7-5.
More of what's happening At This Hour, including why Forte is not so strong and where Dan Uggla will play on Opening Day, after the jump.
SURGERY FOR FORTE
Multiple sources tell the Chicago Tribune that Bears running back Matt Forte is recovering after surgery on his left knee. The arthroscopic procedure was performed within the past two weeks.
MARLINS EXPECT UGGLA IN UNIFORM ON OPENING DAY
Florida Marlins president David Samson said on his radio show yesterday that he expects Dan Uggla to be his team's Opening Day second baseman. It's the first public statement by the club that Uggla should remain there after months of speculation that he would be traded.