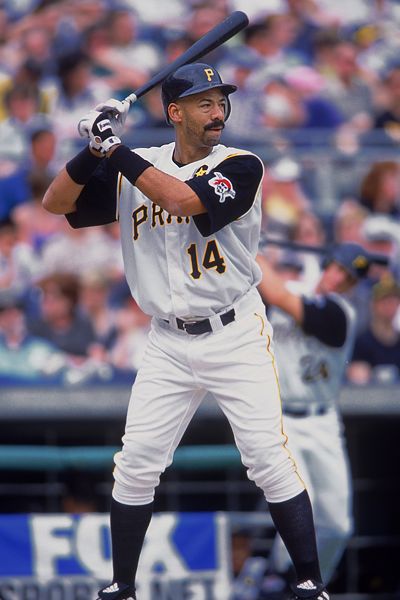 Tom Pigeon /Getty Images
If they didn't pay for Derek Bell, the Pirates could have bought a lot of toy mustaches.
MLB free agency begins at 12:01 AM Friday, which means Christmas comes early for Scott Boras, who is looking to add Matt Holliday to his $100 Million Collection (A-Rod, Zito, Beltran and Teixeira). But for every Burnett and Sabathia signing that helps win a World Series, there's a Denny Neagle contract (5-51 million by the Rockies) that steers a franchise off a cliff. Here's a fond look back at some free agent contracts that should serve as cautionary tales over the next few weeks and months.
Jamie Navarro, SP White Sox 1997-99: Navarro received $5 million per year and never had an ERA below 5.79 while leading the league in wild pitches twice. The second time was for good measure.
Russ Ortiz, SP D-Backs 2005-06: Ortiz signed a 4 year-$33 million contract and was waived after his 2nd season when he won just 5 of 24 starts while posting a 7.33 ERA over two years.
Mo Vaughn 1B/DH Angels 1999-01: Vaughn began his career as an Angel by falling down the dugout steps on the first play of the first game. His sprained ankle would be foreshadowing for the days to come as Mo played just 2 years of his 6 year $80 million deal with the Angels before missing all of 2001 with an injury and, ultimately, getting traded to the Mets.
Derek Bell, RF Pirates: The Pirates (of course) inked Bell to a 2 year 9.75 million dollar deal in 01'. Even though he played in just 46 games, he would lead the Pirates to the 2001 World Series. Or not.