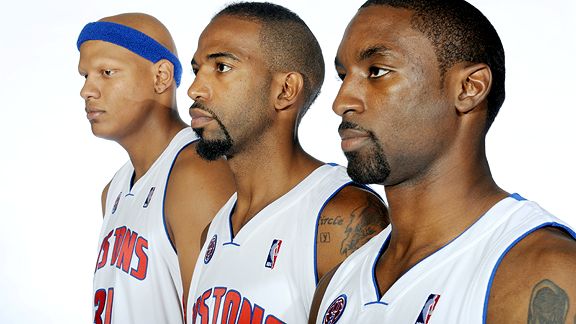 Photo: Allen Einstein/NBAE/Getty Images
Are these real players or wax sculptures?
Whatever water the New York Mets have been drinking has seemingly invaded the pipes of Detroit. After a slew of injuries, the Pistons have lost 16 of 20 games and sit 15-28, six games out of the last spot of the Eastern Conference playoffs.
"You've had a lot of your main guys out. I've been out a lot of games; Ben's (Gordon) been out; Will (Bynum) has been out. It's been tough. It's been like training camp all season. You get a little rhythm and a guy goes out. You try to find a rhythm and another guy goes out. I don't think I've ever been a part of something like this," said veteran guard Richard Hamilton who's missed 16 games this season. Hamilton may not have an MD, but he's done his best to play team doctor urging Charlie Villanueva to get fitted for a protective mask that would make even Jason Voorhees jealous. On top of absorbing the punishment of low-post elbows, the translucent facial shield doubles as a welder's mask giving Villanueva the option of fusing together custom choppers after the game.
After opening their six-game home stand with an impressive win versus the Celtics on January 20th, the Pistons have dropped two straight to the Pacers and Blazers, and then face the Grizzlies, Heat and Magic before heading out to the friendly NBA waters of New Jersey next Tuesday. While injuries have definitely affected Detroit's ability to gel as a team, Pistons Coach John Kuester also sees a lack of passion in his players. "It bothers me when both rookies and veterans don't give it everything that they have. I know we're capable of it. I've seen it at times." The Nets have certainly been the cure for losing ways, but Kuester needs a long-term solution for his team's lack of motivation. We have a soft spot for guys named Kuester so we put together a list of activities the Pistons could partake in to generate team chemistry and unity.
- Trust falls off the stairs of the Palace of Auburn Hills. Please be careful whom you hire as your spotter.
- Hire motivational speaker Tony Robbins to perform pregame and halftime speeches.
- Require each player to play at least one hour of Bill Laimbeer's Combat Basketball to increase mental intensity.
- A team rap battle hosted by Detroit's own Eminem. This way, Coach John Kuester can speak his mind and gain his players' respect.
- Matching tattoos so the Pistons 2009-2010 team will be forever linked to each other.
- On the Pistons next road trip out west, they should take an excursion to the nearest vineyard and spend the day stomping grapes. It's therapeutic and relaxing.